34 Best Holi Quotes, Wishes and Messages to Greet Your Loved Ones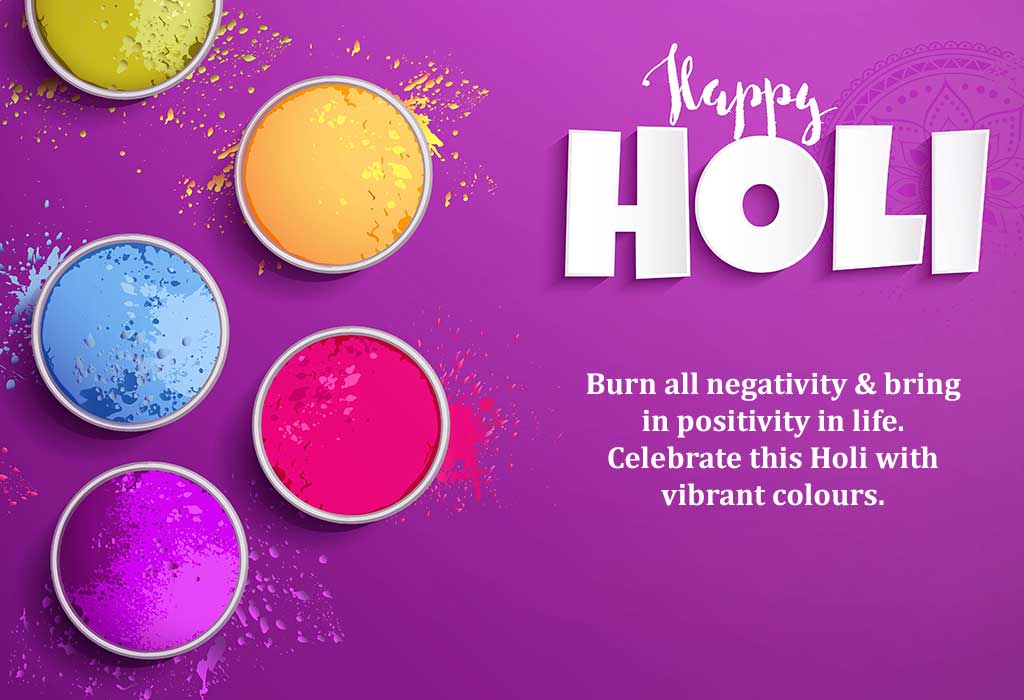 It is that time of the year when spring blossoms make the city bright and beautiful. It is also time for the festival of colours. Everybody is getting their pichkaris and buckets ready to mix in the colours. Shopfronts display a spectral range of coloured powders in pretty mounds. Sweet shops too are churning out everyone's favourite gujjiya and thandai. There are a few stories behind the celebration of this colourful and high-spirited festival. Holi is celebrated to signify the victory of good over evil. It is said that the asura Hiranyakashyapu tried to have his son Prahalad burnt by seating him with his sister Holika who had means of being immune to harm by fire. But Prahalad being a Vishnu devotee, chants the Lord's name and is saved from the fire while Holika burns down to ashes. Colours were added to the celebration because it is said that Lord Krishna coloured Radha playfully to make her complexion similar to his.
Whatever reason you choose to celebrate Holi for, make sure that you have the right words to wish your loved ones, especially those who cannot be with you in person. Spread the colours and love using these quotes and messages.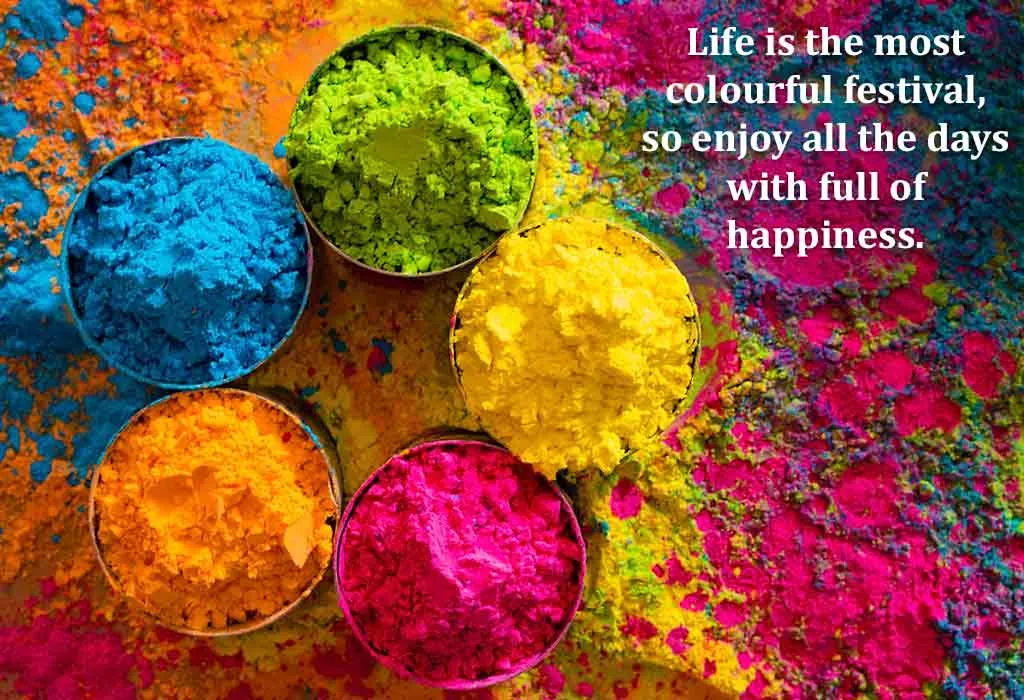 Happy Holi Quotes, Wishes & Messages for Your Family & Friends
Here are some sweet and loving quotes that you could use this 'Holi-day' to wish people you know:
May the colours of Holi spread the message of peace and happiness, camaraderie, love and joy.
Dipped in hues of love and trust has come the festival of Holi.
Holi is the day to express love with colours. It is the time to show affection. All the colours that are on you are of love.
Don't forget to share the gujiya and thandai! Dance, sing and be merry!
The festival of colours is here! Happy Holi!
May God gift you all the colours of life – colours of joy, colours of happiness, colours of friendship, colours of love and all the other colours you want to paint in your life.
Celebrating the colours of our beautiful relationship, I wish you and your family all the bright hues of life. Have a colourful Holi!
May God paint the canvas of your life with the colours of joy, love, happiness, prosperity, good health and success. Wishing you a happy Holi!
Life is the most colourful festival, so enjoy all the days with full of happiness.
Burn all negativity & bring in positivity in life. Celebrate this Holi with vibrant colours.
Happiness is when you see brightness even in darkness, so keep on walking with a colourful mind to bring out the best colour in you.
Here's a wish for your boss and colleagues – Bright colours add a spark to life in many ways, Motivation from you brightens our days. Let this festival of colours being you more Joy, let us spread laughter at work, every man, woman, and every boy! Happy Holi!
Let us spread glee and colour, not pain and blood, for peace should prevail during festivities and always.
A true and caring relationship doesn't have to speak loud; a soft-spoken message is just enough to express your heartiest feelings. Enjoy the festival of Holi with lots of fun.
Moments of Holi are to be celebrated together,
So that the memories can be cherished later,
These are the Memories I wish to live with forever,
Have a wonderful and colourful Holi!
Here's a thoughtful message to send to your teachers on Holi – Holi spreads colours in everyone's life, but teachers spread true knowledge in our life. Happy Holi sir/ma'am!
A touch of green I send to you, a drop of blue to cool the hues, a tinge of red for warmth and zest for a colourful Holi! Wish you a happy & colourful Holi.
As flowers would not be beautiful, if they had no colours,
Life too would be unhappy, if there was no happiness and joy,
Happy Holi!
A little wish for you on the auspicious occasion of Holi. May you always be healthy, content and happy. Wishing you and your family a very happy Holi.
Paint the town red, paint it blue, colour your friends and your family, too. Make merry and do the dance, Holi is here, it is your best chance!
Every holiday is not a 'Holi'Day! Have fun! Happy Holi!
I pray to the Lord Almighty that each day of the year is fun-filled like the joyous festival of colours. Happy Holi!
Let us forget all our differences and enjoy this joyous day together. We wish you a very Happy Holi!
The time has come to do away with all animosity and start a new phase of friendship and love. Happy Holi!
The day of enjoyment and fun is back again, for it is the amazing festival of Holi!

Holi comes just once a year, so let's celebrate it with zeal and enthusiasm. Happy Holi!
May Lady Luck always shine on you and fill your heart and life with vibrant colours. Happy Holi!
May you paint the lives of your friends and family with the colours of peace, love and joy. We wish you a very Happy Holi!
Make each day of your blessed life a festival. Fill it with beautiful colours and live it to the fullest. Happy Holi!
The festival of fun, frolic and gujiyas is back! Wish you a Happy Holi!
On this auspicious day of Holi, don't simply enjoy colours, but make it more vibrant by adding colours to others' lives.
Nayi khushi aur nayi umang ke sath is baar ki holi bhi ho hamari apke saath! Holi ki hardik shubhkamnayen!
May this year's gulal game bring cheer and joy in all our lives. Happy Holi to you and your family!
Wishing you a very joyous and colourful Holi, dear friend!
May the colorful festival of Holi bring good luck and prosperity to your life. Happy Holi 2023 and have fun!
Holi is a time when we forget our age, cultural differences, and communities. People get together and celebrate with colours, sweets, and merry-making. Traditionally, the celebration goes on for three days. These days, the colours used are chemical versions and one must be cautious and careful while applying these colours to each other. It is also essential to remember to respect others while applying colour. Hope this Holi is a safe and pleasant one for you. Have a happy and colourful festival!
Also Read:
How to Make Safe and Natural Holi Colours at Home
Best Holi Gifts for Your Loved Ones
Iconic Dance Songs for Your Holi Party