Green Coffee for Weight Loss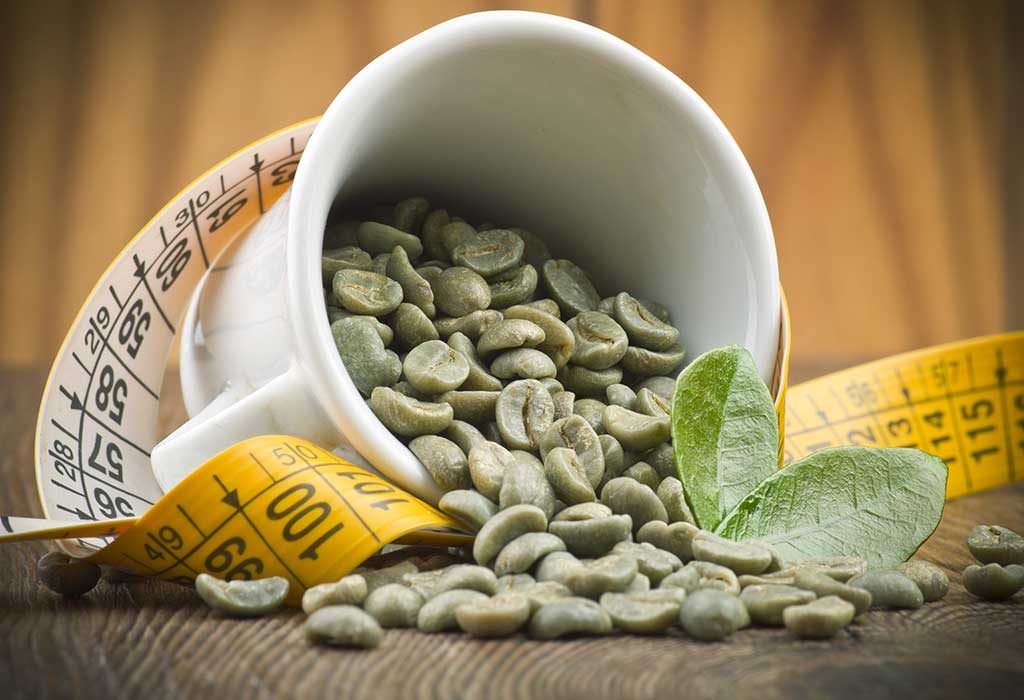 Green coffee is a well-known supplement for weight loss. Green coffee is basically raw, unroasted coffee beans, which is now being used for weight loss. Other than promoting weight loss, green coffee can even help in regulating blood sugar levels and improving memory in adults. If you are thinking of including this beverage in your diet for weight loss, find out how you can make it a part of your weight loss diet.
What Is Green Coffee Extract and How Does It Work?
Unroasted green coffee beans are used to make the green coffee bean extract. Coffee beans contain a compound called chlorogenic acids. These acids have antioxidant properties, which make green coffee good for weight loss and for lowering blood pressure. When the coffee is roasted, the chlorogenic acid content is reduced, which is why drinking our regular coffee does not promote weight loss.
Chlorogenic acids being rich in antioxidants can block the production of any new fat cells in the body and burn the fats that are already present in the body. Drinking green coffee can prevent free radicals from damaging the body by strengthening the immune system of the body. Green coffee even stops the accumulation of fats present in the body and lowers the amount of sugar being produced in the blood.
Green coffee is also known to improve the metabolism of the body. Drinking green coffee also curbs binge eating since it has the ability to keep one full for long periods of time. It also contains amino acids, proteins, and vitamins, all of which promote weight loss.
Is It Safe to Drink Green Coffee?
The caffeine content and chlorogenic acids in green coffee may not be the same in different brands of the coffee. Sometimes, a low-quality green coffee can also be sold as good quality green coffee. If you happen to buy it, the caffeine content in the low-grade green coffee can interact with other supplements or drugs that you might be taking at the time and may have a negative reaction. So, you must buy a good brand of green coffee.
If green coffee is consumed in excess, it may cause headaches, nausea, depression, anxiety, insomnia, indigestion, fatigue, increased heart rate, ringing ears, loss of calcium and magnesium. Therefore, it is suggested that one must consult a doctor before making green coffee a part of their diet.
Which Type of Green Coffee Is Good for Weight Loss?
There are two types of green coffee which can help in effective weight loss.
1. Green Coffee Extract
With high levels of nutrients and chlorogenic acids, green coffee extract comes in the powdered form or in the form of pills. During the processing of the green coffee extract, most of the chlorogenic acid is extracted.
2. Soluble Green Coffee
Soluble green coffee, which resembles instant green coffee can be made easily. All you will need is some powder and hot water to make soluble green coffee. Soluble green coffee comes in three forms – freeze dried, granulated, and powdered. From these, the freeze-dried variety of coffee is the best. Strong coffee infusions are frozen and then vacuumed to dehydrate the crystals of coffee. You can use this form of soluble green coffee to lose weight.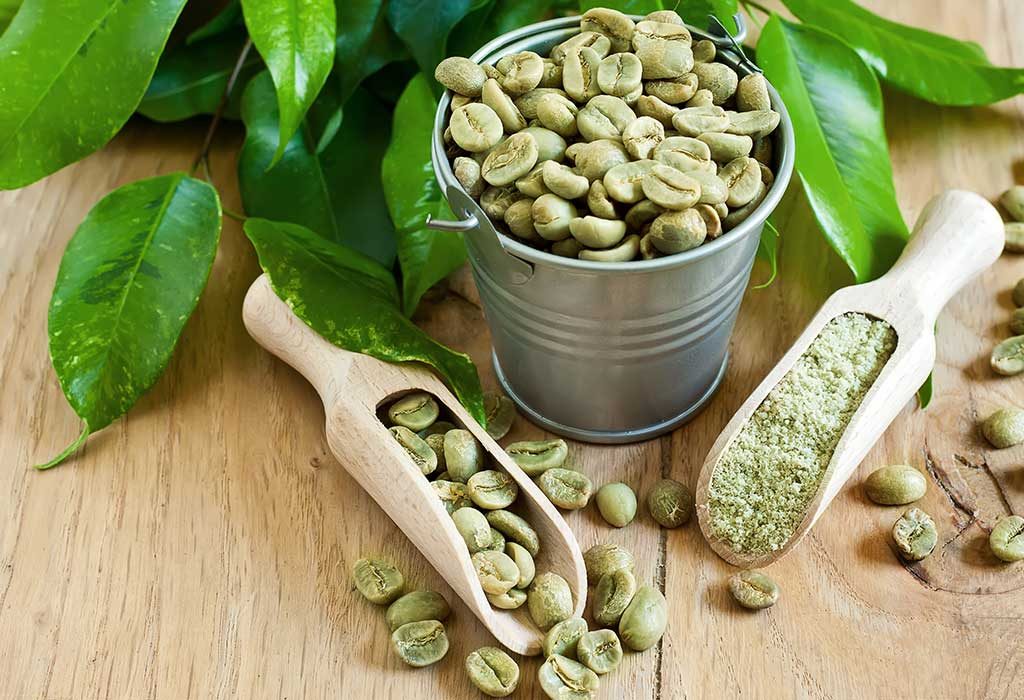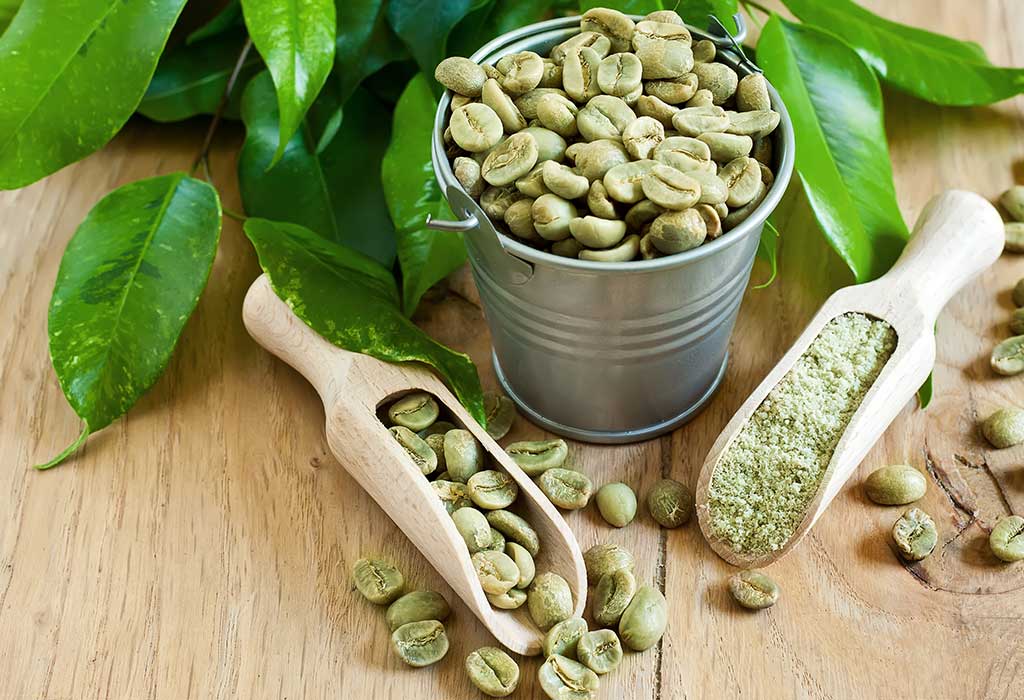 How to Use Green Coffee for Losing Weight
If you are ready to try green coffee beans for weight loss, here's how you should go about it for best results.
1. Select the Best Green Coffee
First, select the best brand of green coffee and make sure that the brand you buy is not a low-quality coffee. It is best to pick organic green coffee if you want to lose weight as it is free of any chemical pesticides. All you will need to do is grind the coffee beans in a coffee grinder, then steep it in hot water for about five minutes.
2. Add Supplements
If you don't like drinking just plain green coffee, you can always add some supplements to make it better. You can add turmeric, cinnamon, mint leaves, or ginger to enhance the benefits of the coffee.
Green coffee and turmeric is a great idea since it can boost metabolism, reduce inflammation and also increase insulin sensitivity. Let half a teaspoon of turmeric root seep in the tea for at least five minutes before drinking. Crush the turmeric for best results.
If you want to use cinnamon, steep one-inch stick of cinnamon in a cup of water overnight and then make your green coffee in the morning using the cinnamon water. Cinnamon is known to have anti-inflammatory properties, which help regulate blood sugar levels, reduce LDL, and improve the sensitivity to insulin. Mint leaves help flush out toxins from the body, thus aiding in weight loss. All you need to do is steep a few mint leaves in your green coffee for five minutes before drinking it.
Ginger is another ingredient that you can add. The gingerol present in ginger produces a thermic effect on the body and also helps to improve the sensitivity to insulin which makes it a great addition to your green coffee. Start brewing your green coffee and then add some crushed ginger to it. Allow the ginger to seep in the green coffee for five minutes, then strain and enjoy.
3. Do Not Consume Sugary Foods
Avoid eating foods high in sugar if you are trying to lose weight with green coffee. If you snack on desserts, it would work against the green coffee, and you will end up seeing no results. If you feel like you need to snack on something, rather than reaching for that bag of potato chips, opt for nuts, seeds, or vegetables like carrots, cucumbers, and cherry tomatoes.
4. Do Not Drink Green Coffee Right After a Meal
Drinking green coffee immediately after a meal will cause you to have an upset stomach and can even cause food poisoning if it reacts badly with the food that you have just consumed. So avoid consuming it after meals.
5. Follow a Healthy Lifestyle
Follow a healthy lifestyle if you want to lose weight. Drinking green coffee can help in weight loss, but along with that, you will also have to exercise and eat healthy food on a daily basis. By incorporating these two habits into your lifestyle along with the consumption of green coffee, you will get the best results.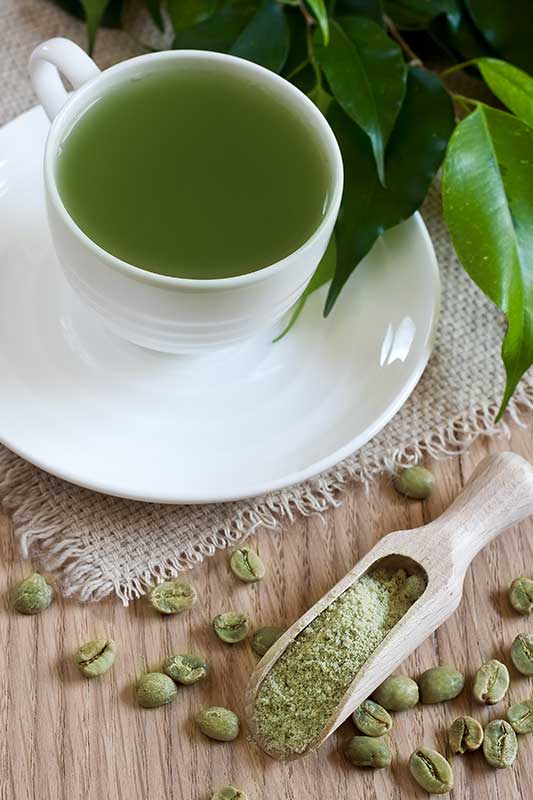 When to Drink Coffee for Weight Loss
To gain the maximum benefits from this beverage, you need to drink it at the right time. The best time to drink green coffee is mentioned below.
You should drink it in the morning—before or after work out.
You can have it with breakfast.
You can drink it before lunch.
Recommended Dosage of Green Coffee for Weight Loss
The recommended dosage of chlorogenic acid is 200-400 mg per day for losing weight. You can consult a nutritionist to find out how many cups of coffee you should drink on a daily basis for losing weight.
How Many Cups of Green Coffee Should You Consume Per Day?
You can drink 3-4 cups of green coffee per day for losing weight. Avoid drinking too many cups of green coffee, as it may affect your health negatively.
Does Green Coffee Really Promote Weight Loss?
Although many studies claim that green coffee can help one lose weight, nothing can be said for sure. The effects of drinking green coffee may be different on different individuals. You can always try it after consulting with a nutritionist.
Drinking green coffee has many benefits. And it can promote weight loss if you follow a healthy lifestyle. However, before you start drinking it, remember to check with your doctor if you are on any medication and only start after gaining consent.
Also Read:
Ways to Use Green Tea for Weight Loss
Benefits of Drinking Hot Water for Weight Loss
Effective Fat Burning Foods for Weight Loss