Fun And Romantic Date Night Games To Play With Your Partner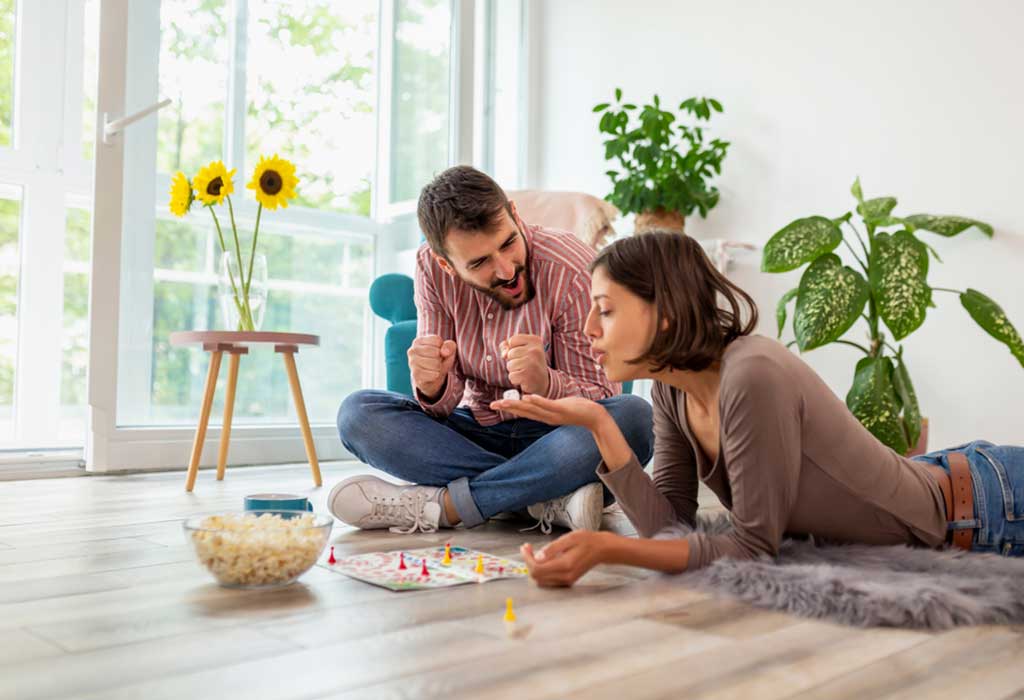 In this Article
Even though we're spending more time at home due to the pandemic, it's crucial to make date nights special. Wondering, how couples do that? There are lots of creative ways to make your at-home date nights fun and romantic!
Best Date Night Games Ideas For Couples
Keeping the spark alive in a long-term relationship is no easy feat. Most often, couples get caught up in the struggle of everyday existence, becoming slaves to a routine. After a time, the novelty fades, and we are left with the familiar. Familiarity may allow a deeper intimacy and feeling of security and safety, but it also begets boredom. To keep things as exciting as they were, in the beginning, would require effort. It can involve playing traditional Date night card games, board games, questions games, and new-age video or online games. Win, lose or draw, a game night helps you break the monotony. Some of the best date night board games would increase intimacy, allow couples to spend quality time together, and add spontaneity to your relationship. Here are some ideas about enjoyable games to play on your date night.
1. Board Game Date Night
Dust off the games and challenge each other to a fun evening of competition. You can choose classic games like Jenga, Scrabble, and Sorry or try the new ones such as Azul, Fog of Love, and Talk Flirt Dare. Up the stakes by requiring the loser to give up on clothing, one piece at a time.
2. Cook a Gourmet Meal at Home
Food tastes best when made with love. Cooking as a couple could be your recipe for romance. Go easy on recipes and use a meal kit that delivers pre-cut and pre-portioned ingredients to focus on the togetherness. Alternatively, you can choose a dish with an exotic name or sensual ingredients to make most of the time together.
3. Project a Movie in the Backyard
A movie projector offers several options for fun all summer long. You can even bring it outside to bond over a movie or any sports games of mutual choice. Hang some fairy lights or place some flameless candles around to create the right ambiance.
4. Workout Together
Bonding over a workout session could give you dual benefits. You gain health, get back to shape, and also get to spend time with the person you love. You can fix a regular fitness routine, do yoga or undertake an online Zumba class to motivate each other to reach your goals.
5. Painting At-Home Date Night
You don't have to be an artist to play this game. Get some cheap canvases, watercolors, oil paint, or acrylics to express yourself through art. Paint each other nude like Leo and Kate in Titanic to make your romantic date night memorable.
6. Karaoke Night
You don't need a fancy karaoke machine for this activity unless you and your partner are huge karaoke fans. A wireless microphone will also work as you sing your hearts out together or do a duet competition by playing a YouTube video with song lyrics on the TV.
7.Go on a Virtual Tour of Museums Around the World
If you're unable to travel but love history and art, you can visit some of the top museums worldwide by taking a virtual tour to enrich your knowledge together on a home date night.
8. Go on a Book Journey Date at Home
Find a cozy spot at home, grab a few of your favorite books or magazines. Read out the favorite paragraphs to each other or take silly quizzes or make travel plans as you go through books on exotic locations. What matters most is being with someone who shares your intellectual curiosity and interests.
9. Go Camping in your Living Room
Camping is a great date-night idea to become one with nature. But you can replicate an adventurous experience by enacting a pretend play on camping in your living room or backyard.
10. Play Blind-Folded Game
The cheeky blindfold game can get pulses racing in the bedroom and get you both in the mood. You and your partner can take turns to feel, taste, and smell the items to guess what they are after being blindfolded.
11. Write Poems
Brainstorming literary ideas with an artsy partner can be an excellent way to spend time together. You can recite love poems by Shakespeare, Keats, Byron, Blake, and Shelley or write a sensual poem of your own to describe the feelings for each other and fuel your romantic imagination.
12. Origami Challenge
If you and your partner are creatively inclined, origami can be a great pastime. There are plenty of YouTube videos to refer to. Once you master the craft, make the activity a timed challenge with alluring rewards in the form of a personalized gift.
13. Guess The Movie
If your partner likes movies, check their knowledge by letting them guess the movie's name from the clues provided by you. You can prepare a list of trivia questionnaires consisting of dialogues that are quoted from your favorite movies.
14. The Sing-Along Challenge
String together a bunch of super catchy hit songs and take turns to sing based on the last word you sang. Not hitting every note, singing off-tune, or using the wrong lyrics may give you a reason to laugh about it.
15. Emoji Translation
Emojis are an easy way to convey feelings to your significant other when you cannot express them through words. So, send personal emoji through text and let your partner guess the meaning and the excitement to follow.
16. Charades
Charades are pantomimes involving the enactment of signs and gestures from the clues given in chits of paper. You can select movie or book names, song titles, jokes, dialogues, or share any incident common to you both. Funny charades, words, and silly phrases can also let the laughs roar.
17. Play your Favorite Character
If you and your partner are movie buffs, pick a popular movie and choose the characters you want to play. Pick famous personalities such as Hulk, Iron Man, Captain America, and Thor and enact them in your style. Put on a rom-com and act out a scene that can be recorded and watched together on the following date night.
18. Play Card Game
Card games contain deep and thoughtful questions intended for couples. They require a low time commitment and are bound to make you feel closer and more connected to your partner. Choose from a couple of games like ERS, Gin Rummy, Go Fish, poker, drinking games like King's Cup, and Ride the Bus.
19. Front Page Puzzle
Sitting down to do a puzzle with your other half is a lighthearted way to spend quality time together. It's a collaborative effort that doesn't require too much strategic thinking.
20. Play Would you Rather
This question-and-answer game involves a partner picking one of the two options given to them. You can be silly, flirt, laugh, and even tease each other with questions.
21. Spa Night at Home
Give each other a massage or a foot spa treatment on your date night. Fill the tub with colorful bath bombs and light up a scented candle or an oil diffuser to soothe the senses. Consider slipping into a comfy spa-style robe and slippers and relax and unwind.
22. Stare Off
"Eyes are the windows to the soul," but it turns out they are also the windows to the heart. Look into your partner's eyes without blinking can stimulate affection and produce passionate feelings for each other.
23. Guess Who
Give the traditional game Guess a makeover by reimagining the faces in the game to be people you both know or celebrities. You can play it in the same way, just without the board, and you can ask more personal things to guess who the other partner is thinking of.
24. Play Online Games
Online games catered specifically to couples are also an excellent option for long-distance relationships. Games like Mario Party, Diablo III, and 8 Ball Pool, and UNO forces you to communicate and work as a team. This strategy, sports, puzzles, and adventure quests are great tools to implement in a relationship on a date night.
25. Unsolved Case Files
You can even follow a crime podcast series or buy a cold case murder mystery game to take up a case. Everything about this game is fiction, but couples looking to escape boring date nights are amazed at the interaction and teamwork developing when working together to solve a real-life cold case by enacting as detectives.
26. Date Night Box Set with Conversation Starters
This game enables you to refuel the connection in your marriage or relationship. There is a choice in the level of intimacy you desire between talking, flirty games, and cool dares.
27. Have an Epic Night of Nerf Wars
Grab your weapons and start a Nerf war to surprise your spouse. You can take your battle outside during the summer. Add an extra element of fun by using squirt guns while, in case you're feeling extra adventurous, start a water fight to get thoroughly soaked.
28. Watch a Concert at Home
There have been tons of couch concerts hosted by individual artists and bands available on the internet. Mark the dates when they're happening, and set your date night! You can also watch old uploaded concerts at home on YouTube. Make a funky cocktail for the event and put on funky disco lights to make your show feel super curated and elegant.
29. Write your Love Story Together
Your love story is unique and deserves to be retold to your friends and future generation. Pen it down together with your spouse on your date night while cherishing the special moments of your years of togetherness. It can be in the form of a lyric to a song. Pair it up with photos, captions that define your relationship.
30. Make Cocktails Together
Learn how to make your favorite cocktail or mocktail at home. All you need is a cocktail shaker to get started to impress each other with your mixology skills.
31. Turn Your Bedroom into a Luxury Hotel
Place a bottle of wine by the bed with two wine glasses, wear cozy bathrobes, flower petals on the bed, or some chocolates by the bedside to turn your bedroom into a fancy hotel room. Play mood-appropriate music and play out a date night in a fancy hotel room.
32. Truth or Dare
Incredibly easy and fun to play, you can switch up this game for adults. Each player takes turns to pick up the phone and choose between truths or dare. If the player chooses truth, they must answer it truthfully. If they choose dare, then they must complete the action on screen. These sizzling questions can reveal dirty truths that help us understand each other in a deeper and meaningful way.
33. Make a Travel List
Traveling with your spouse is an excellent way to bond. However, planning for a trip together could also be a close substitute in the present times. Look up the most romantic places to visit for couples, select hotels, and sightseeing options. Plan for virtual shopping, native delicacies to taste, and create your travel bucket list.
34. Play Phone Games
Apps like Happy Couple have quizzes that are designed to bring a couple together. Other couples apps can help you choose a date night spot in your city if you're feeling indecisive. Asking new and innovative questions to your partner can help you learn different facets of your partner's personality that you never knew before.
35. Flatter Me
This game made exclusively for couples upholds competitive complimenting. To play, split the deck in two and set each half face down, with one in front of you and the other in front of your partner. Draw one card at a time, read the compliment and decide on the personality it fits best. The person who gets to keep the maximum number of cards at the end wins.
The results of fun date night games on a romantic date night showed an increase in oxytocin for both the partners involved. So, whether you're playing with or against each other, these recreational activities leave you feeling fulfilled, appreciated, and happy.
Also Read:
Romantic Date Night Ideas
How Well Do You Know Me – Questions for Couples
Non-Boring Winter Date Ideas For Your Partner