Farmhouse Inspired Decoration Ideas for Christmas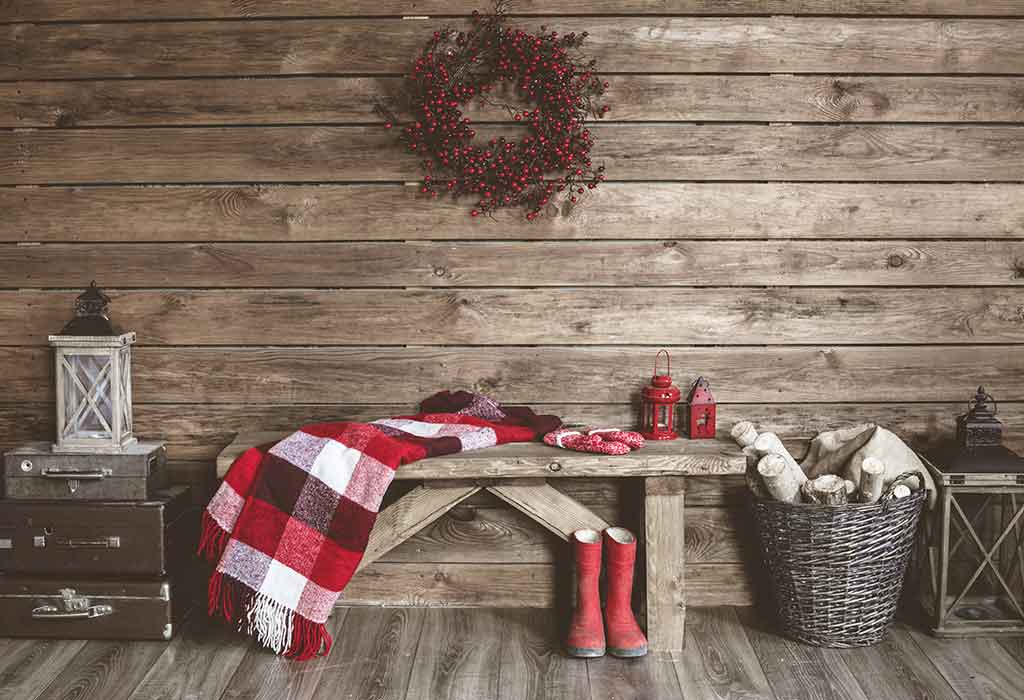 In this Article
The holiday season is a magical time of the year. Christmas might be celebrated in big cities with revelry, but there's something special about spending it in a picturesque farmhouse. Whether it is the charming color palette or rustic touches, the merriest country home exudes a warm and cozy feel. No matter where you live, there's no better way to spread the festive cheer than by incorporating those vintage decorative accents into your home on Christmas.
Wonderful Farmhouse Christmas Décor Ideas
A charming farmhouse in a rural setting functions as the centerpiece for a whole bunch of the Christmas spirit and traditions. The antique architecture, earthy-toned wall paints, homemade stockings, and a farmhouse Christmas tree in the yard elevates the timelessness of a farmhouse that brings back childhood memories of Christmas. Even if you don't have an old rambling farmhouse of your own, you can still add some nostalgic touches to your home by infusing your rooms with winter farmhouse decor that has the same antique and timeless vibe. From wall art to throw blankets, metal accents, splashes of traditional red, white and green, animal silhouettes to natural components, there are so many options that complement your new décor and bring a warmhearted farm feel to your space. There is a sense of simplicity, playfulness, brightness, and neutrality about the farmhouse style that makes your space looks larger and more inviting. Contemporary DIY farmhouse Christmas decor combines antique and rustic decor with modern elements for a unique holiday theme look. To make sure you keep that 'farmhouse feel' all year long, here are some of the most fantastic and easy-to-make DIY farmhouse Christmas decor ideas that inspire you to undertake a family project.
1. Burlap Bows
The natural texture and neutral hue of burlap bows make them one of the best Farmhouse Christmas ornaments. Decorate your tree with an oversized bow featuring a glittered twig white pine and pinecone accents.
2. Rustic Front Porch
Give visitors a peek at what's inside with decked-out farmhouse Christmas porch ideas. Cosy-up your front porch with decorations like an antique sled, a pile of logs, and a skinny pine tree. An oversized basket stuffed with evergreen trees and a fringed red blanket can be paired with a collection of lanterns and a pile of festive birch logs. Pull out your boots and create some glossy, red galoshes that update your farmhouse-style curb appeal. Some mighty festive front-stoop planters can add a feeling of fun and whimsy to this holiday porch.
3. Twig Star Garland
A natural rustic garland made of twig looks stunning on its own or against a backdrop of evergreens. Make your home look extra farmhouse festive with embellishments like a satin ribbon and fuzzy yarn-wrapped balls attached to the garland.
4. Galvanised Metal Accents
Inspired by aged tools, galvanized buckets and pitchers are a mainstay for Farmhouse décor as they work with any color palette. This charming container can be made to hold a Christmas tree or seasonal potted plant. Be sure to add a plastic pot liner for a live plant if the bucket isn't watertight. Opt for decor items like trees, candle holders, or bells in galvanized metal.
5. Wall Hanging
Considered as one of the best farmhouse Christmas wall decors, a wall hanging made from fresh-cut evergreens from your backyard will add a lovely scent to any room and. You can collect and put up some cherished family recipes on display all year round by turning them into oversized wall art through DIY craftwork.
6. Plaid Christmas Tree
Wrap your Christmas tree in a thick plaid in red and green ribbon before filling it with pinecones, candy canes, and other wooden ornaments to enhance its traditional vibe. Mix charming ornaments with berries and burlap decorations to complete the classic style.
7. Pinecone Tree Topper
Take inspiration from the great outdoors and add nine painted frosted pinecones. Glue them up together until it forms a star shape that can be hanged right at the top of your Christmas tree.
8. Wood clock Advent Calendar
Give your Christmas countdown a rustic twist by winterizing an old clock made from reclaimed wood that looks perfectly seasonal with snowflakes and Christmas sentiments.
9. Christmas Ladder
Give your interiors a dreamy look with a wooden ladder that can act as a perfect shelf to display Led lights, fresh green wreath, Christmas tree branches, glittering baubles, lights, globes, bows, or Christmas cards from loved ones. You can also join two ladders in the form of a chic Christmas tree and decorate it with a star on top of it.
10. Rustic Mantel
A mantel makes a serious statement above your fireplace. Layer an understated rustic mantel with an eye-catching garland made from evergreen sprigs, pinecones, and red ribbon. Lean on ruffled, burlap stockings, vintage signs, and natural elements like birch to uphold country aesthetics.
11. Woodland Animal Decorations
Clip battery-operated candles to your tree to make all of the woodland creatures like deers, foxes, and owls glow at night. Hang a matte white faux deer head to your wall for a farmhouse look.
12. Seasonal Wood Sign
Customize an old wooden sign with a hand-painted holiday phrase like "'Tis the season", — and hand-painted snowflakes. Reclaimed signs are an excellent way to add an antique charm to your holiday decor. Grab a few stencils for this Christmas-themed greeting sign. Choose black and white, neutrals, or reds and green color schemes that blend well for a classic homespun aesthetic.
13. Rustic Dining Table
From classic red-and-green colors to an elegant black and white accentuated with candle holders, wreath chandelier, wintry accents like fresh sprigs of evergreen, snow-dusted pinecones, frosty trees, or floral arrangements, and your buffet table to set the snow-dusted scene. Woody centerpieces and napkin rings make your table stand out and gives your guests a taste of your creative skills apart from culinary acumen. Tiny gold bells hung in your rustic dining room, make the perfect space to welcome the morning of Christmas. Use leaf garlands as table runners and serve food in a distinctive antique assortment of white dishware or silverware to delight your guests.
14. Pillows
Swap out any neutral pillows for a classic plaid pattern, pops of holly-berry red, charming printed typography, or a Christmas woodland-inspired motif for a quick rustic and artful appeal to your living room.
15. Wreath
Perfect for a mantle, ledge, or shelf or over a bed, a wreath can be made by gluing craft store wood slices to a chipboard wreath form. Decorate with fresh-cut backyard evergreen clippings and a wintry scene of bottle-brush trees.
16. Christmas Banner
Craft a custom Christmas upholstered banner that serves as a celebratory accent for any empty walls or railings. You may customize a wood slice banner or make each pennant with letters in dark wine red against a brown burlap that can be interfaced and sewn onto a jute twine.
17. Varied Textures
Instead of going overboard with bling, incorporate some more homely elements and differently textured items like a stack of colorful pillows, festive foliage chandelier, soft throw blankets, and some woven baskets that make a signature rustic statement. Decorate the storage baskets with red bows, satin ribbons, or cute gift tags. Soft and rugged felt stockings in grey exude a modern, cool Christmas vibe. Stylish in their simplicity, wooden ornaments in simple shapes and clean lines make for a rustic decorative feature that's warm and inviting.
18. Christmas Bells
Christmas bells are classic symbols that mark day-long festivities. You can paint harmony bells in bright colors, or hang large jingle bells, metal bells, or terracotta bells decorated with plaid ribbons and mistletoe to add vintage vibes to your Christmas decoration.
19. Fireplace
Turn your fireplace into an eye-catching focal point for the holidays. Hence, create a fireplace that embraces the return to nature celebrated in farmhouse style. Stockings made of natural fibers offset by greenery and red and white socks with embroidered reindeers can be hung from the mantel trim. A vintage golden mirror above the fireplace, a decorated Christmas tree next to the fireplace with hampers and gifts displayed at the bottom, and a shiplap ornamental display leaned against a mantel can enhance the mood of the room. Put tall decorations at both ends of the mantel to give the arrangement the balance in needs.
20. Lanterns
Lanterns can be placed both inside or outside for adding an aged feel to your home. Opt for a matte black lantern or galvanized metal to bring a farmhouse look to the lantern. Choose battery-powered candles to light up your lantern without worrying about the flame dying. Add greenery and berries for a Christmas twist on a classic lantern.
Rustic Christmas decor is perfect for creating a relaxed, nature-inspired, festive scheme for festivities at your home. Festive crafts are easy and a great way to spend time with the family and save money on holiday decor. Use upcycled and natural elements to give an environmentally friendly spin to the season. So, get your creative juices flowing and turn your home into a farmhouse Christmas wonderland.
Also Read:
Vintage Christmas Decorations Ideas
Budget-Friendly Christmas Party Ideas
Easy Ways to Decorate Your Home for Christmas