Famous Indian Handicrafts That Carry the Taste of Our Culture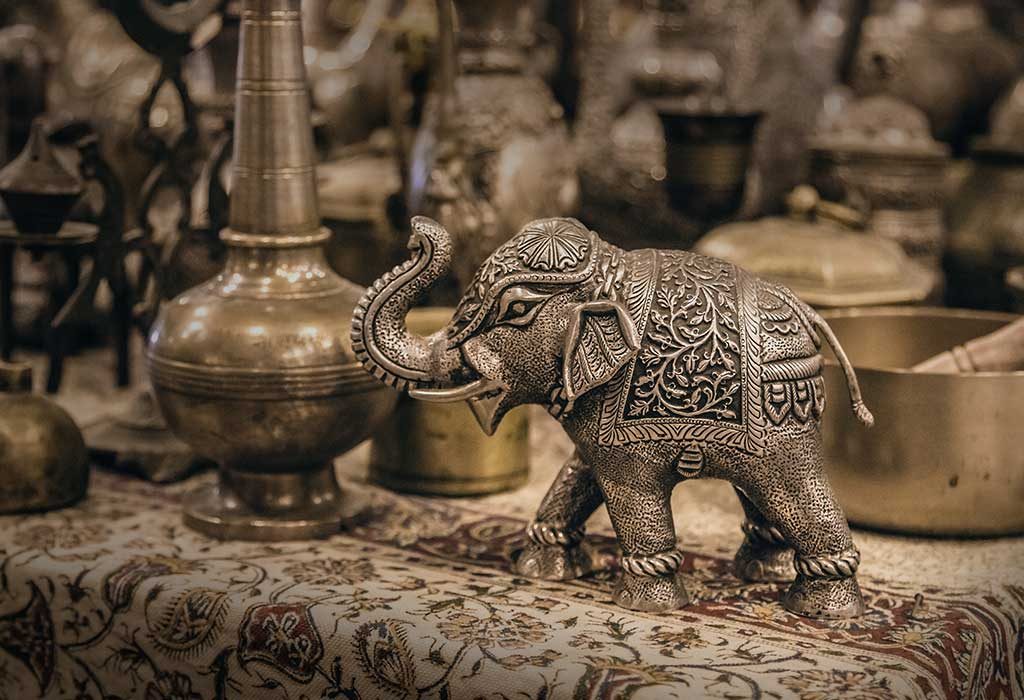 Handicraft is a process in which skilled people create many types of decorative pieces from clay, rock, paper, stone, and other cheap tools. Handicrafts are an opportunity to represent the culture, heritage, and culture of the country. This industry is a significant productive sector.
Role and Importance of Indian Handicraft Industry
Handicrafts play a very significant role in representing the traditions and culture of any region or country. Handicrafts are a medium to store and preserve the rich traditional art forms and heritage along with the talents which are associated with the people's history and lifestyle. They are hugely important in terms of the economic development of the country. They provide so many opportunities for employment.
Ethnic Indian Handicrafts That Will Steal Your Sight
1. Pashmina Shawls (Kashmir)
Pashmina is a very fine type of wool and Kashmir is where its textiles are first woven. Pashmina shawls are created from cashmere wool, and then these are transported to North India in the valley of Kashmir where the shawls are entirely hand processed. Every step to create the shawls – combing, spinning, weaving, and finishing – is completely carried out by the dedicated hands of craftsmen and women. The major area of this fine fabric production is the old and beautiful city of Srinagar. Producing a single Pashmina shawl will take around 180 hours. These fine shawls come in a variety of beautiful colours and have detailed and exquisite embroidery. Along with this beauty, they are good at keeping you warm and are popular for their softness.
2. Phulkari (Punjab and Haryana)
In the regions of Punjab and Haryana, the phulkari embroidery technique means flower work. At one time, the word was used for embroidery which then became restricted to embroidered headscarves and shawls. Phulkari is a kind of embroidery that is made of complex designs created with horizontal and vertical stitches. This entire work is done with yellow or white silk floss on the cotton khaddar, and it starts from the centre of this fabric called the 'chashm-e-bulbul'. It then spreads to the entire area of the fabric. This embroidery is very bright and colourful. Since the embroidery has very complex details, modern fashion designers are incorporating these designs in their garments, and it is widely used on bags, jackets, table-mats, cushion covers, slipper, shoes, dresses, and many more.
3. Bamboo Handicrafts (East India)
Handicrafts made from bamboo are one of the most eco-friendly crafts created in India. Bamboo handicrafts are the oldest crafts to exist. Items made from bamboo are mostly used as household items. Nowadays, artisans create many forms of decorative items from bamboo. Bamboo can be used to create dolls, baskets, toys, mats, furniture, crossbows, wall-hangings, jewellery boxes, and many more. These products are popular for their unique forms, amazing designs, and excellent craftsmanship. Bamboo products are predominantly prepared in the states of Assam, West Bengal, and Tripura.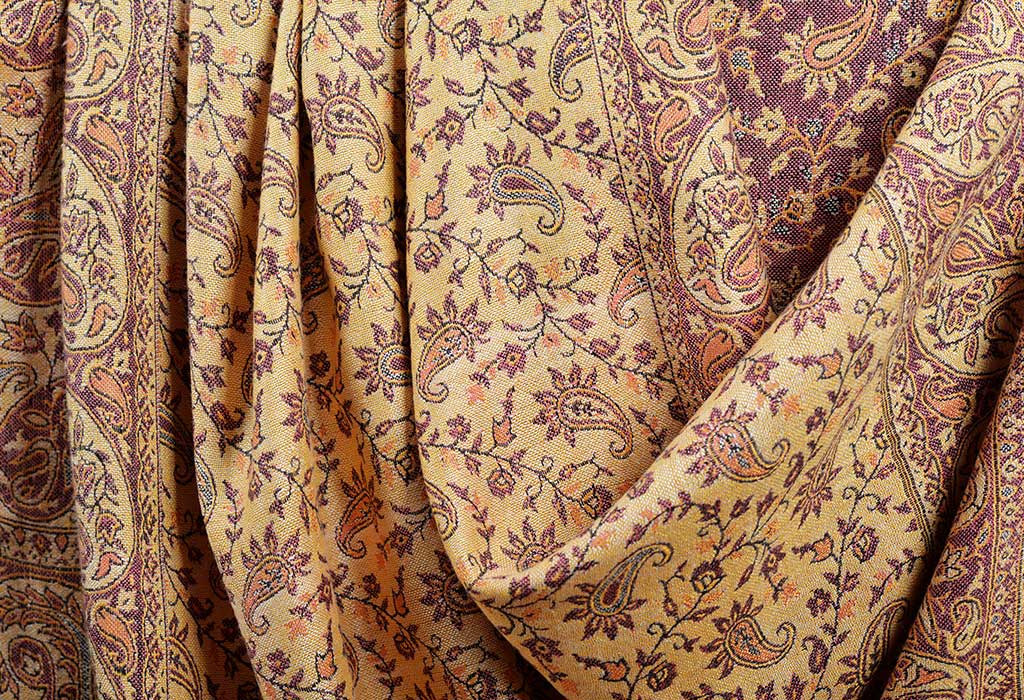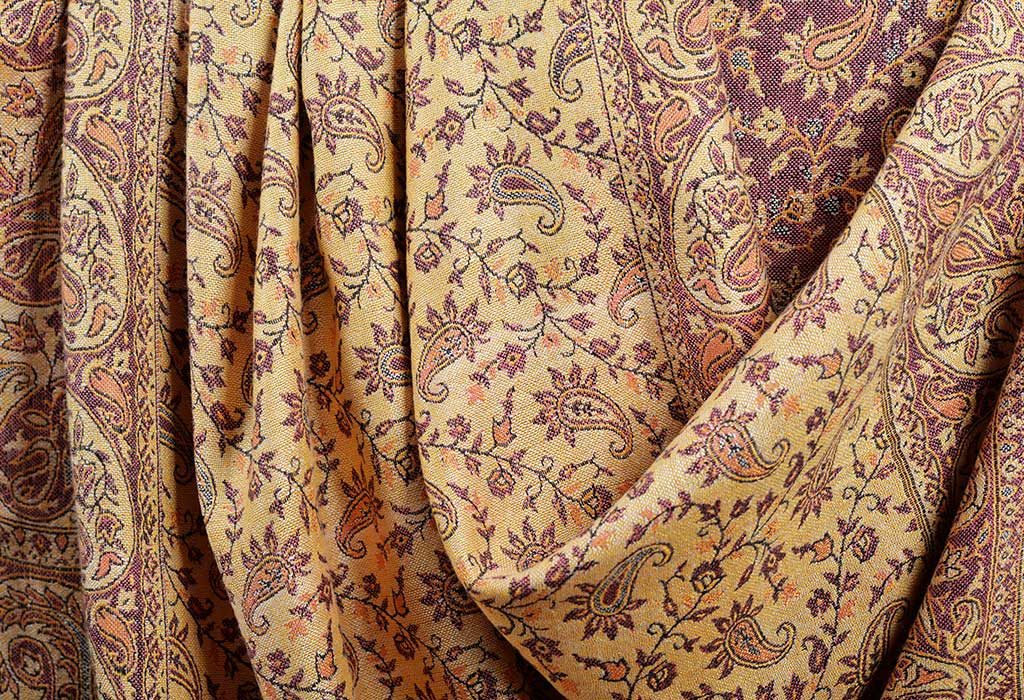 4. Brass Handicrafts (Rajasthan)
Brass is famous for its durability, and this makes it a very good material to use in making handicraft items. The artisans that deal with the creation of the brass handicrafts are specifically known as kansaris. This metal is used to make so many different items like Lord Ganesha's figure in various postures, table tops, vases, ornament boxes, perforated lamps, and even wine glasses. Most of the items made from brass are widely used in many Indian households today. Rajasthan is the main manufacturing centre of brass handicrafts. They also have antique and uniquely designs doors and windows, tables with cast iron jaalis, chairs, side-boards, swings, and even dressers that are sometimes fretted with copper and brass sheets for decoration.
5. Marble Stone Craft (Agra)
The fascination with stones has always been prevalent in India. Uttar Pradesh in India is still a rich centre of stone carving and handicrafts. The traces of this royal fascination are present in the intricately carved palaces and forts. This amazing artwork on the stone is an elegant combination of carving, engraving, sculptures and undercuts. Each design is made by cutting the rich stone and carving varying exquisite patterns on it. The craftsmen mostly use marble and soapstone. These exquisite handicrafts are in great demand in India and many other countries. The intrinsic works on the white marble fascinate the buyers. The marble handicrafts can be used for personal use as well as for creating bangles, earrings, and boxes.
6. Puppetry (Rajasthan)
Also known as kathputli, the string puppet theatre native to the Rajasthan is one of the most famous forms of the Indian puppetry and Indian wooden handicrafts. Since it is a string marionette, the puppets are controlled by a single string that passes from the head of the puppet. The puppets are made entirely out of wood, which is why they are called kathputli. However, it is also made from cotton cloth and metal wires. Some Rajasthani communities have been performing this show from the ancient times, making this form of art an eternal part of the unique Rajasthani culture and tradition. Historically, the shows made people aware of the problems in society and provided social and moral education.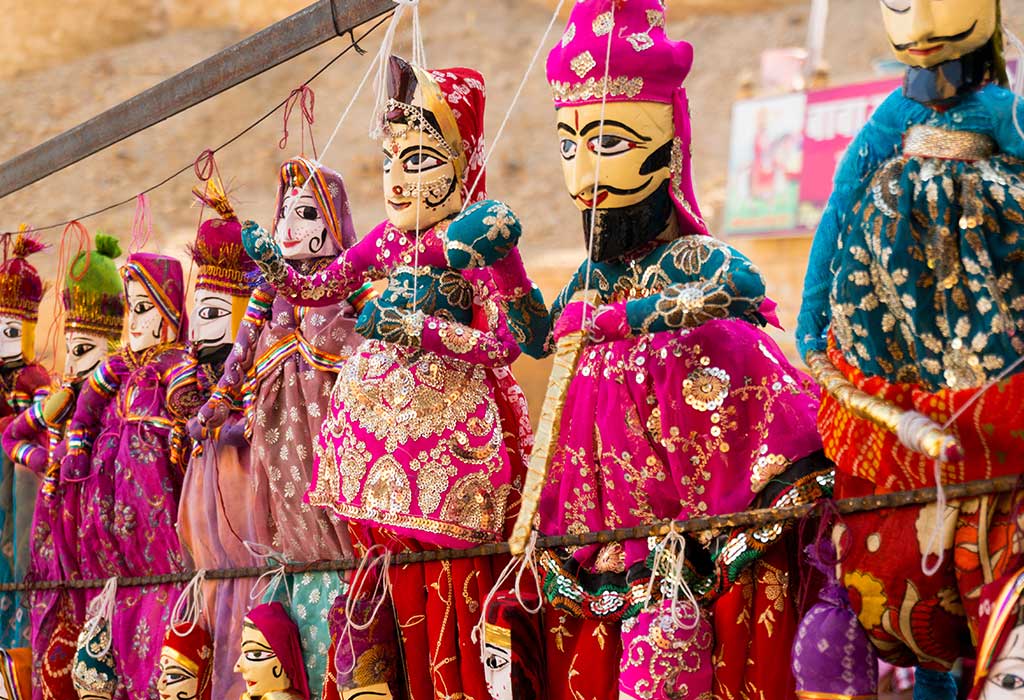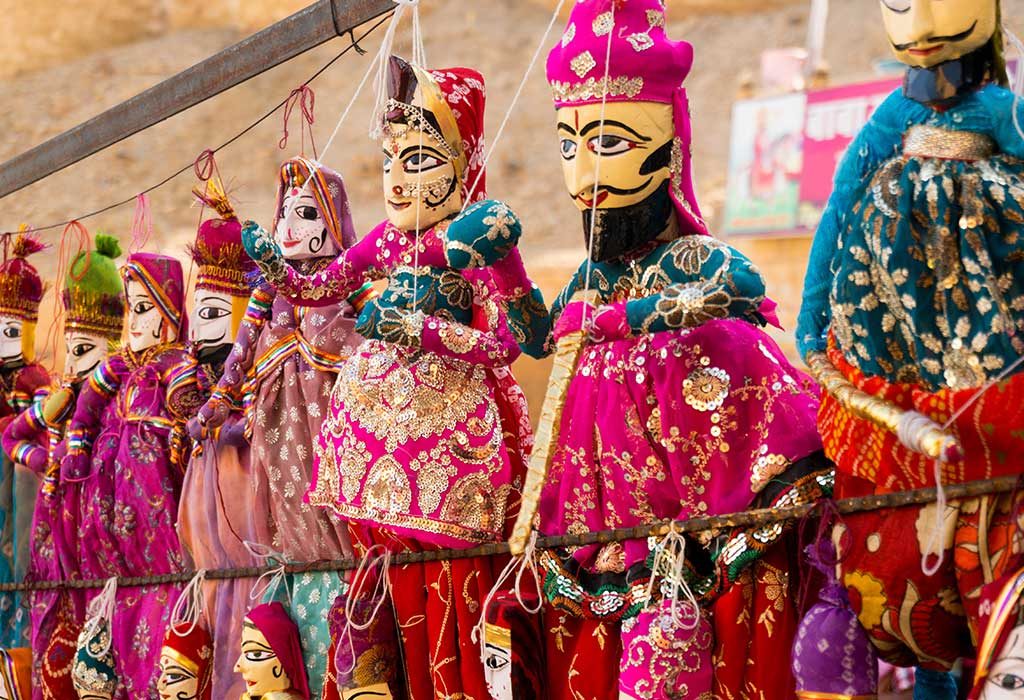 7. Lippan Kaam (Kutch)
Lippan kaam is mud and mirror work. Also known as chittar kaam, it is the traditional mural craft of Kutch. We still do not know much about the origins of lippan kaam, but various communities present in Kutch have their own distinct style of this artwork which makes it harder to trace its roots. As the dung of the camel and wild ass is rich in fibres, it is used as a binding agent. The mud is passed through a sieve for obtaining fine particles and this is used as the clay. Equal proportions of clay and mud are mixed and made into a dough for making the lippan kaam. It has many embroidery patterns and looks stunning with mirrors.
8. Bidri (Karnataka)
Bidar is the centre for the manufacture of these unique metal handicrafts, where 'bidriware' gets its name. Birdiware is really unique and famous because of its striking artwork and the metal used. This metal is a blackened alloy of copper and zinc inlaid with fine sheets of pure silver. This makes it one of the most important south Indian handicrafts exports and is commonly prized as a symbol of wealth in many places across the world. So many products are made from the metal, including pitchers, bangles, boxes, statues, masks, buttons, and many more. Tradition is to inlay various leaves, flowers, human figures, geometric designs, and stylised poppy plants with flowers.
9. The Art of Pattachitra (Odisha)
Pattachitra is the art of cloth-based, traditional handicrafts scroll painting that originated in the state of Odisha. These paintings mostly depict the traditional stories of Hindu deities and are based on the ancient Hindu myths and legends. Every colour used in the paintings is natural and they are traditional in style. The form of art dates back to over thousands of years. Individual paintings of goddesses and gods are also found along with the themes from famous stories like Ramayana and Mahabharata. The style of this artwork is a mix of both classical and folk elements.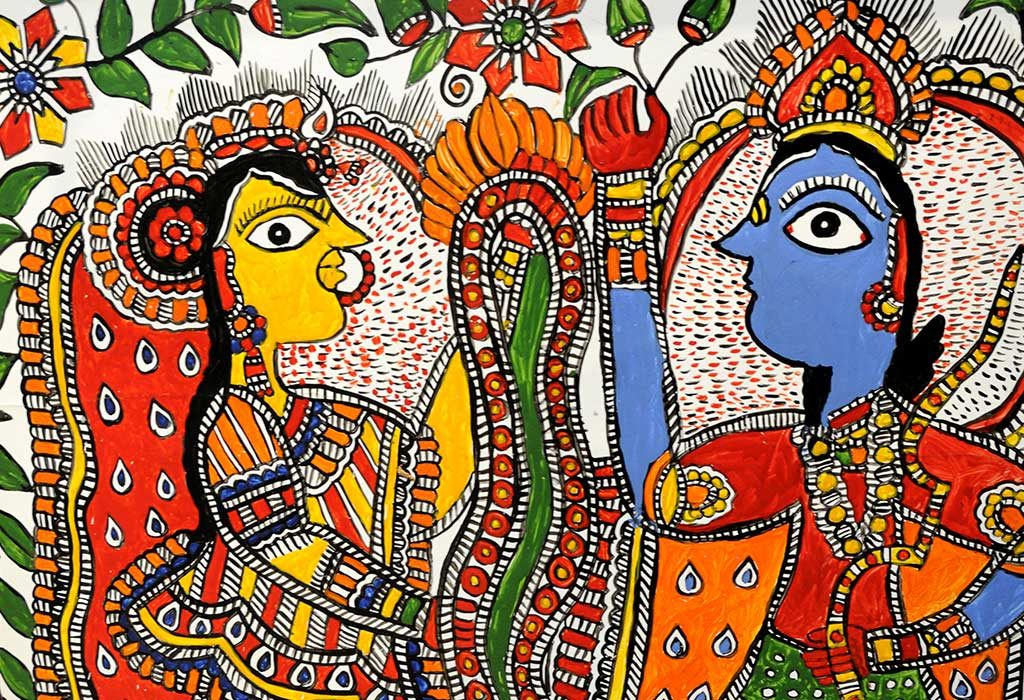 10. The Art of Madhubani (Nepal and Bihar)
Mithila painting or Madhubani painting is a style of art that is commonly practised in Bihar and the Mithila region of Nepal in India. The exact time of origin of the Mithila art is not known. These paintings are created using twigs, fingers, brushes, matchsticks, and nib-pins uses natural pigments and dyes and embellished by eye-catching geometrical patterns. The themes of these paintings are about festivals and occasions such as marriage, birth, Surya Shasti, Holi, Upanayanam, Kali Puja, and other important days in the Hindu culture and calendar.
11. The Art of Gond (Madhya Pradesh)
The art of Gond is a form of painting from tribal and folk art that is practised by Gond artists, one of the biggest tribes in India. These tribes are predominantly from Madhya Pradesh but are also found in some areas of Maharashtra, Andhra Pradesh, Odisha, and Chhattisgarh. The work of these artists is rooted in their culture and folk tales. Thus, a strong element of every painting is story-telling. The Gond paintings are a reflection of a human's close connection with his natural environment. They also use the legends and myths of India as a theme or show the images of their dreams and daily lives.
12. The Art of the Warlis (Maharashtra and Gujarat)
The Varlis or the Warlis are a tribe living in the coastal as well as the mountainous areas of Gujarat and Maharashtra. The tradition of the artistic expression of the Warlis is said to stretch back to 2500 or 3000 BCE. The wall paintings created by the Warlis are very basic graphic such as a triangle, a square, and a circle. The triangle and the circle come from the artist's observation of nature with the circle representing the moon and the sun, the triangle representing the pointed trees and mountains. The central motif is the square in each ritual painting. This is known as "chauk" or "chaukat".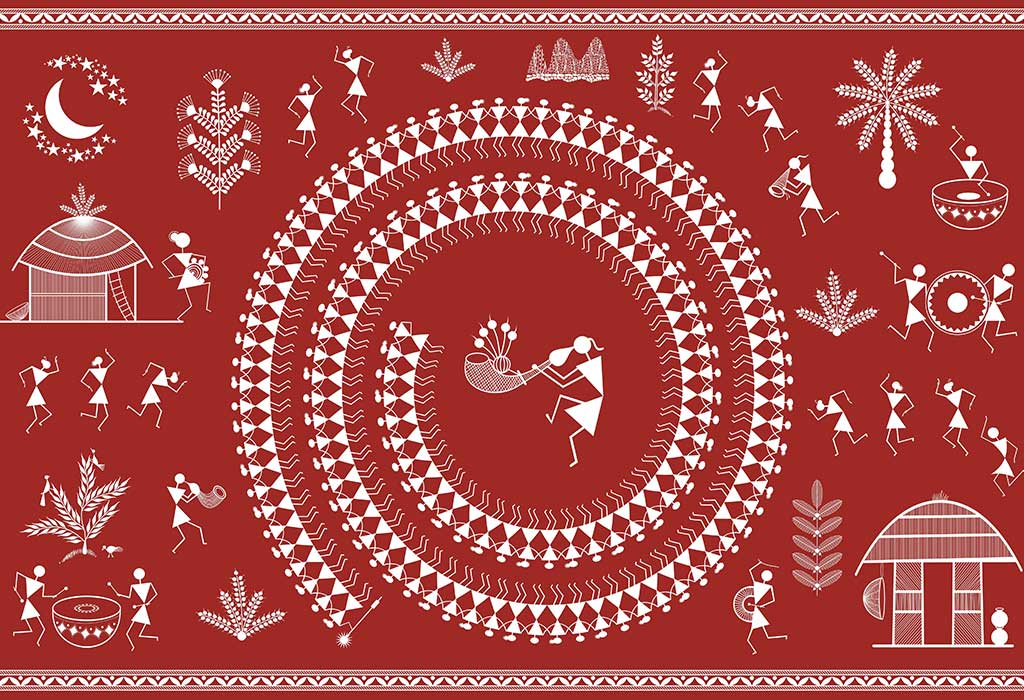 13. Leather (Maharashtra)
The well-established tradition of the manufacture of leather in India is demonstrated by the monks and old sages. Leather was utilised in creating footwear and garments as well as in making bags, tops, shield, saddles, and many more. India is famous all around the world for its leather items. Madhya Pradesh is particularly known for its leather items like bags, shoes, and clothing.
14. Shells (Gulf of Mannar, Odisha)
There are three types of shells from which craftsmen make shell handiwork in India -tortoiseshell, conch shells, and seashells are used in making various products like forks, bangles, bowls, curtains, chandeliers, and many others. The areas present near the sea like Goa, Gulf of Mannar, Odisha, and many other areas are the centres of this craftsmanship.
15. Terracotta Works (Assam)
Terracotta work is the art of making figurines and statues from clay, mud, or earth. The terracotta Indian village handicrafts in Assam have amazing imprints of its ancient and unique culture. Many years ago, the craftsmen of Assam used to mainly focus on making statues of religious symbols. Today, they are mostly focussed on designing toys, pots, dolls, artefacts, and vases. The major centre of the terracotta market of the world is the village of Dhubri in the Goalpara district of Assam.
From each region of our country come different handicrafts that increase the charm of that state. This Indian handicrafts history has evolved through many generations, and there are still innovations that continue to increase its uniqueness while preserving its roots.
Also Read:
Famous Folk Dances of India
Rangoli Designs Ideas for Gudi Padwa
Christmas Traditions Followed Around the World