Eye Catching Christmas Wreaths to Elevate Your Entrance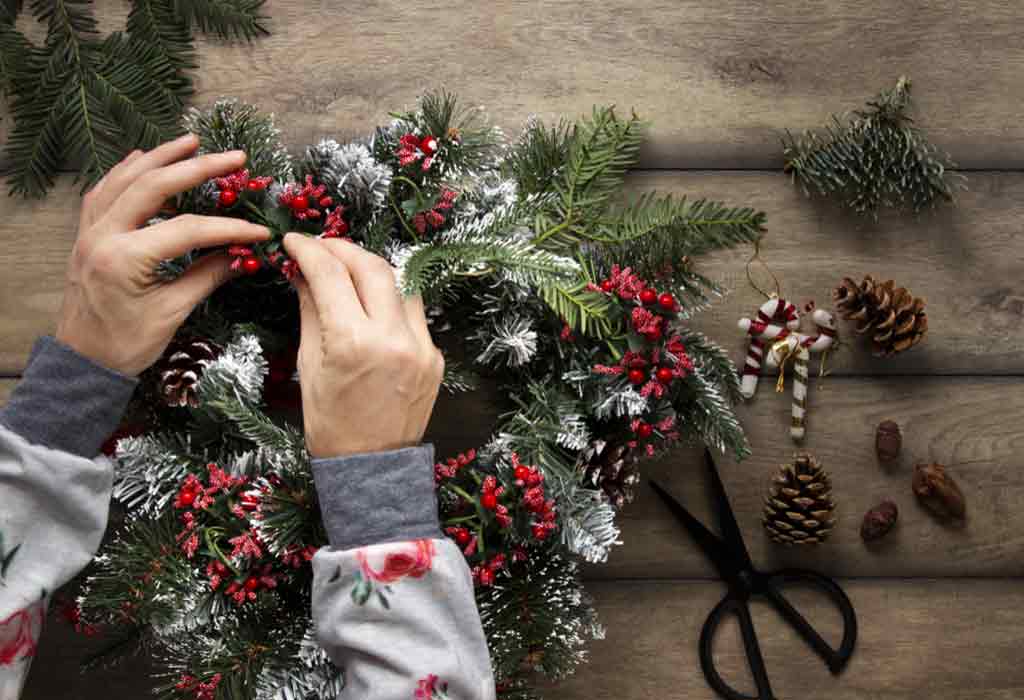 In this Article
Christmas is the perfect time to bring all of the wonder and joy of the season into your house. However, this festive season is incomplete without a beautiful wreath decorating your home. Wreaths at your entrance are the true sign of the festive spirit. These pretty pieces of decor always add to the Christmas cheer and emmit the festive vibes. A stylish outdoor Christmas wreath is a sure-shot way for expressing your Christmas joy to the world. An eye-catching wreath will add a touch of elegance to your front door and elevate your Christmas decorations.
Amazing Christmas Wreaths Ideas
Wreaths can be of any design, ranging from traditional to modern and from evergreen branches to metallic leaves to snowy pinecones. Show off your Christmas splendor to your guests with a unique wreath donning your front door. Here are some stylish ideas for Christmas wreaths:
1. Christmas Mini Ornaments Wreath
Create an elegant Christmas wreath by attaching colorful mini Christmas ornaments to a faux wreath. Go for a color of your choice, or go for the traditional red and green theme. Another unique color theme would be warm color ornaments on one side and the cool tone colors on the other side.
2. Farmhouse White Berry Wreath
Celebrate Christmas with this unique yet inexpensive Christmas wreath made from white berries and grape wine. Made by simply weaving artificial berry stems through a grape wine wreath and secured by florist wires, this rustic and elegant wreath will be appreciated by all guests. To add a finishing touch, tie a velvet ribbon bow on the hanging…
3. Woodland Wreath
For a woodland Christmas wreath, nestle repurposed brushes and cardboard cut-outs to create miniature Christmas villages in the center of pre-lit LED light studded artificial wreaths. Add neutral ornaments to the outside edge of the wreath for a glimmering lighted Christmas feeling.
4. Decoupage Ornaments wreath
Craft a beautiful ornament wreath with Christmas ornaments made from decoupage papers. Balls made from old rolls of wrapping paper will adorn your wreath. Add in faux berries to the wreath arrangement. Finish it off with a candy-striped bow…
5. Candy-cane Striped Christmas Wreath
Create a unique Christmas wreath by using red and white straws on a Styrofoam wreath. Just glue the straws around the wreath in layers. Make sure the upper straw layer is shorter than the base layer. Finally, add a red velvet bow to finish off the pretty wreath.
6. Red Flowery Wreath
This luscious wreath is simple to make with an oval floral oasis as the base. Soak the oasis until it's completely saturated, then tuck in 3-to 4-inch-long stems of flowers, berries, and greens, clustering each variety into free-flowing waves of color. The radish is the surprise ingredient here; wire tiny bunches of radishes to a floral pick and insert the floral pick into the wreath.
7. Christmas Tree Wreath
Instead of the same old circular wreath, try something different this Christmas. Create a Christmas tree-shaped wreath by laying small cedar circular wreaths in a triangle tree shape. Attach the cedar circles with wire and add a tree trunk made of sticks at the bottom. Hang the Christmas tree wreath with a pretty ribbon bow.
8. Pretty Pinecone Wreath
Create a pretty pinecone wreath by painting the pinecones and attaching them to a wire wreath with bells. A little white spray paint to represent a sprinkling of snow gives simple materials a textural lift. Vary the spray paint application such that some pinecones are completely "snow-covered" while others are gently sprinkled.
9. Red Berry Christmas Wreath
Upgrade the basic grapevine wreath by wiring seasonal red berries to it. This red berry wreath will add a cheery pop to your holiday decorations. Then, add small greenery branches, ball ornaments, and an oversized bow to make it even merrier.
10. Magical Forest Wreath
Create a Magical forest this Christmas by attaching bottle-brush trees to a faux wreath. Sprinkle artificial snow on the wreath and hang it with a sturdy hook. Tie an oversized red velvet bow to enhance the look.
11. Traditional Red Berry Wreath
Create a beautiful traditional Christmas wreath by tucking in berries and greenery in the basic fir form. Give it a casual look by using berry twigs in unequal lengths and tie a loose red bow.
12. Geometric wreath
Get away from circular wreaths and hand a geometric wreath this Christmas. Choose any geometric shape of your choice, color it gold, and fill it with greenery and berries. Add a stylish bow if you want, and your wreath is ready.
13. Felt Poinsettia Wreath
The poinsettia, perhaps even more than mistletoe, is the winter holiday plant. Use felt poinsettia flowers as an alternative to the usual traditional plants. To add rich, eternal foliage to your Christmas decor, arrange them on a false eucalyptus wreath and fasten with florists wire.
14. Snowball Wreath
Use styrofoam balls to make a pretty snowball wreath. You just need to glue Styrofoam balls on any wreath. Dry spray botches of artificial snow when they dry, tie an enormous bow and hang your masterpiece.
15. Lovely Ginch Wreath
Create a grinch wreath by spray painting a styrofoam ring and then cover it with a boa. Next, to make the wreath look grinchy, twist and attach pipe cleaners to the wreath. Finally, add assorted Christmas ornaments to complete the wreath.
16. Wooden Spool Wreath
Vintage wooden spools wrapped in various thread, baker's twine, ribbon, and rickrack add color and hint at the merrymaking taking beyond the front door.
17. Cardboard Reindeer Wreath
This Christmas, make a hunt-free reindeer bust for your entrance! A few recycled cardboard box pieces (and some red paint for the reindeer's nose!) are enough to make this a simple wreath. Wrap a winter foliage wreath around his neck to complete your Christmas wreath.
18. Citrus and Magnolia Wreath
Adorn fresh oranges on a basic magnolia wreath to make this citrus wreath. You can change the fruits to make your wreath last throughout the season.
19. Wreath in a frame
Instead of usual wreaths, go for a wreath in the frame this Christmas! Just add a bunch of poinsettias made from red felt in a frame to make this unique and pretty art piece.
20. Pom-Pom Wreath
Display a snow-inspired white pom-pom wreath this season. Glue white pom-poms of varied sizes to a basic wreath form. Finish the look with bottle brush trees and matching tassels.
21. Family Photo Vintage Wreath
Reinvent your family tree this Christmas in this vintage wreath. Glue your black and white family photos on a wire wreath form and display your family photo wreath to the world.
22. Dried Oranges with Greenery Wreath
Create a beautiful wreath by assembling dried orange slices on a foraged grouping of greenery, berries, and branches on a wire wreath form.
23. Real sage Wreath
Attached fresh sage with floral pins onto a styrofoam base to make this wreath. Finish off with a red ribbon bow.
24. Hula-hoop Christmas Wreath
This Christmas wreath made from two hula-hoops will keep your guests guessing what it is made of. Simple hula-hoops are colored and transformed into a copper-colored wreath with greenery such as eucalyptus, pine, and lamb's ear tied to it.
25. Fresh Succulent Wreath
Use fresh succulents this holiday season for the perfect winter welcome into your home. The double hopped design with succulents is simple and still has all the swags Christmas wreaths should have. Secure the succulents with floral pins and add winter berries and greenery to accentuate the display.
26. Royal Blue Berries Wreath
Twist the traditional Christmas wreath into a non-traditional wreath by adding blue faux berries to the noble fir, pinecones, and cedar wreath.
27. Festive Cork Wreath
String numerous wine corks on a wire wreath form along with red jingle bells to create this festive wreath. Add in a stylish bow to finish off your wreath.
28. Metallic Magnolia Wreath
This lovely Christmas wreath has painted magnolia leaves. For a luxurious metallic effect, paint leaves in silver, gold, and champagne colors. This handcrafted wreath is ideal for display throughout the holiday season.
29. Wheat and Berry Wreath
Turn an ordinary wreath extraordinary by adding in wheat stalks, artificial berries, and a pretty ribbon bowstring with a few silver bells for additional festival cheer.
30. The Trio of Wreaths
Make a bold statement on your entrance by stacking three wreaths strung together with a ribbon. You can use any wreath of your choice.
Your entrance wreath will be the first thing your guests will notice when they visit you this festive season. So, to create a warm welcome, adorn your front entrance with any of these eye-catching Christmas wreaths.
Also Read:
Creative Spring Wreath Ideas
Christmas Decorating Ideas for Home
Summer Wreath Ideas for Your Front Door