Explore Different Types of Sunglasses & Tips to Pick the Right One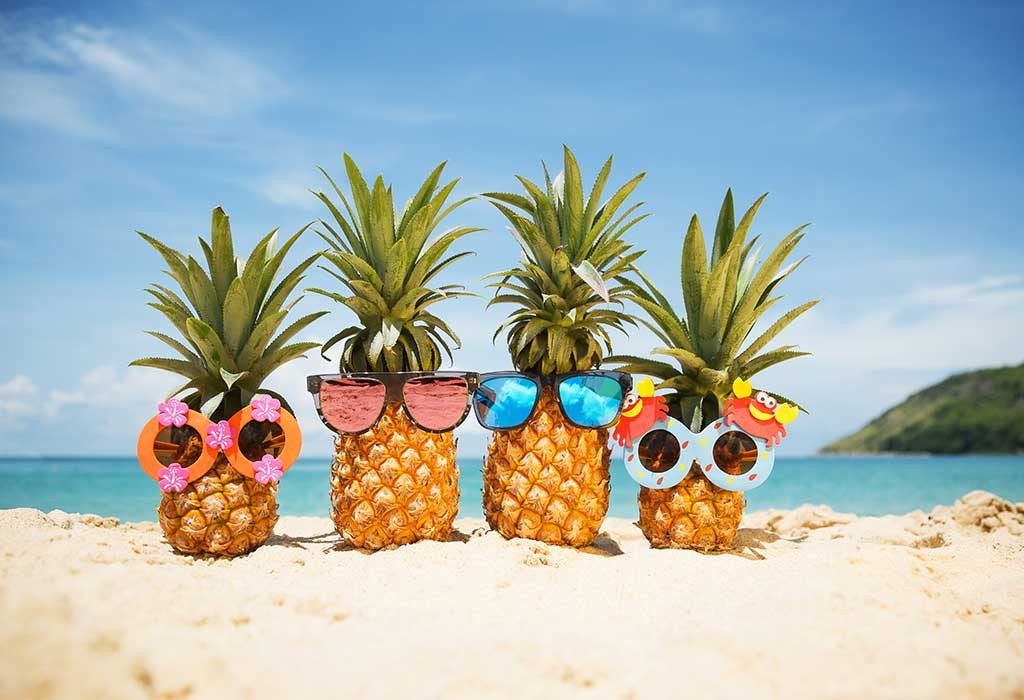 Most of us like adoring a chic pair of sunglasses not only to make a style statement, but this fashionable piece of accessory also protects our eyes from the harsh effects of the sun. However, there are several factors to consider if you want those perfect pair of sunglasses. Well, if you have not put in much thought into this matter before, we suggest that you read this post as it will help you know which all types of sunglasses are available and which ones you should pick for yourself. Happy browsing!
Different Types of Sunglasses
If you like staying in vogue and in sync with the latest trends then it becomes important that you should know about different kinds of sunglasses or types of sunglasses frames that you can pick and choose from:
1. Round Sunglasses
As the name is suggestive, these shades have round glasses and suit almost all face types. These kinds of sunglasses have been in vogue for a long time and never go out of trend. If you like to make a quirky style statement then a round pair of sunglasses is a must have in your wardrobe. These frames were first launched in the mid-twentieth century and ever since these have been liked by people.
2. Aviator Sunglasses
Remember Tom Cruise in the famous 90s flick 'Top Gun', well; no one can forget how dashing he looked in his overalls and an edgy pair of Aviators. These sunglasses were originally fashioned for pilots to protect their eyes while flying and ever since this is undoubtedly one of the most popular styles. The Aviators are characterized by sleek and thin metal frames and they are extremely light-weight and usually feature a double or triple bridge. These highly fashionable and versatile sunglasses are almost three times bigger than your eye socket and thus provide optimum protection against sun's harsh UV rays.
3. Wayfarers Sunglasses
We all know that Ray-Ban is a popular name in the world of sunglasses and these eyewear giants were the ones who gave us the famous Aviator's but not many people may be aware that they also gave us the timeless style of wayfarer sunglasses. They are super versatile and stay always in fashion. In the epic movie, 'Breakfast At Tiffney's' the ethereal beauty Audrey Hepburn revolutionized this style to the hilt. One of the most popular styles for sunglasses for women, this style is popular amongst men folks too.
4. Butterfly Sunglasses
As the name suggests, these sunglasses get their inspiration from the wings of a butterfly. If you want to a bit sassy and explore your playfulness that this is the pair that you should invest in. There are various shapes and sizes available in these but the most common ones have smaller inner edges and wider outer edges. It was almost a decade ago when this style was introduced by Prada, one of the best leading brands in the fashion and style industry. For those of you who like trying out fun and quirky styles, take a plunge into buying one of these exotic frames.
5. Cat Eye Sunglasses
These frames come in softer and graceful curved frames to bolder and fiercely edgier frames. This style of sunglasses mostly suit all face types and this sophisticated style got popular around the 50s. Cat eyes have been popular for adding an extra oomph and structure to your facial features as these mimic feline eye structure. These vintage frames should be bought if you wish to add extra sass and boldness to your look.
6. Oval Sunglasses
The larger lenses cover most part of the eyes and thus offer maximum sun protection. You can team them up with a casual look or even adorn them with a formal look. These versatile glasses should be bought if you do not like to have multiple pairs. This also works well with holiday looks too!
7. Club Master Sunglasses
A little off-beat in style but those who adorn this style like to adorn them only. The frame only covers the upper half of the lens and leaves the lower half of the lens. This adds a bit of drama to your entire look.
8. Rectangle Sunglasses
Looking for frames to add delicate angles to your facial features, well, then you should opt for rectangular sunglasses. Mostly suited to rounder face types, these shades add extra glamour to your casual, sporty or retro styles. These shades have thicker frames and thus you can opt from a wide array of patterns and designs.
9. Square Sunglasses
If you are on a lookout for a bolder pair of sunglasses and want to make a style statement, well, think no more and pick up a stylish square frame. This style adds more mystery to your entire look because most part of the eyes is hidden and it is also good for optimum sun protection.
10. Shield Sunglasses
Looking for some high-level sun protection for the eyes, well, you may opt for these sunglasses as these large single lenses are great for people who spend the most amount of time out in the sun. These frames lend a sporty charm to your look.
11. Warp Sunglasses
If you are an athlete, sport's professional or you are massively into sports and looking for a pair that feels light on the face and covers most part of your eyes, well, getting yourself a pair of wrap sunglasses will be a good deal.
12. Double Bridge Sunglasses
From round, square, rectangular to other types of frames, you can find a double bridge in almost all frames. If you wish to add more style to your eyewear, well, you should buy these!
13. Rimless Sunglasses
Directly mounted on the temples and bridges without any frame, rimless glasses can become your choice if you like to keep it simple and classy.
14. Oversized Sunglasses
These kinds not only add an extra element of glamour to your everyday look but they also help in getting maximum sun protection for the eyes. Invest in a good pair if you like adoring oversized sunglasses.
15. Embellished Sunglasses
If you thought that sunglasses only came in few shapes and sizes, well, you are gravely mistaken because these days designers put in a lot of efforts in creating statement eyewear and embellished glares are one of them. Be it crystals, stones, metal embellishments, and many others, there are massive options to choose from if you are looking for some embellishments in your glares.
How to Choose The Perfect Shades For Your Face?
In the above section, you learned that there are many options in sunglasses available in the market and it can become tedious to decide which one suit you best. So, amongst so many options which one should you choose from or which one would look best on you, well, if you want to know how to select sunglasses or pick up sunglasses that fit your face, here is how to do it:
1. According To Your Face Shape
One of the best ways of choosing the perfect shade is as per your face type. Following are some popular face types and the shades that may suit best on them:
Face Shape – Oval Face
The length of the face is more than the width of the face with wider cheekbones and rounded chin. The width of the jaw is lesser than the forehead. The aim should be not to mess with the facial features but to accentuate them.
Frames that are Suitable: Cat's eyes, Aviators, Butterfly.
Frames that are Not Suitable: Too wide glasses, narrow frames, shades with defined edges.
b. Face Shape – Round Face
This shape face has almost similar length and width with rounded chin and hairline. The frame that you choose should give visual length to your face and balance the facial features.
Frames that are Suitable: Wayfarers, Aviators, Cat's Eyes, Shades with narrow bridges, Butterfly.
Frames that are Not Suitable: Narrow frames, Coloured glasses, rounder glasses, geometrical-shaped glasses.
c. Face Shape – Heart-Shaped Face
This type of face has more length as compared to the width with a wide forehead and narrow chin. This face may appear like an inverted triangle as it narrows from head to chin. You should choose the frame that balances the upper and lower part and not to choose glasses that add bulk to the face.
Frames that are Suitable: Frameless, Aviators, Round, Wayfarers, Neutral-coloured shades, Shades with low-set arms.
Frames that are Not Suitable: Cat's Eyes, Teardrop or Butterfly, Bright-coloured frames, large and heavy frames, pointy or sharp frames.
d. Face Shape – Square Face
The length and width of this type of face are similar with angular cheekbones and wider chin. The hairline is usually straight and the jaw, forehead, and cheekbones have a similar width. Choose frames that help soften the facial features.
Frames that are Suitable: Aviator's, Frameless, Cat's Eyes, Rounded or oval frames, larger frames, coloured glasses.
Frames that are Not suitable: Frames those are bigger than the width of your face, frames with square or sharp corners, narrow and petite frames.
e. Face Shape – Rectangular Face
The width of the face is lesser than the length of the face. The jaw, cheekbones and head are almost of the same width. The hairline is straighter with an angular and broader chin. You should opt for larger frames to give an optical illusion of width to the face.
Frames that are Suitable: Rounded frames, larger frames, Aviators.
Frames that are Not Suitable: Smaller frames, colourful and bright frames, narrow glasses.
2. According To Your Lifestyle
Yes, it may sound a bit out of the box but it is true! You should pick up shades according to your lifestyle. If you are a sportsperson then you would be requiring shades that may be able to bend and twist and are sturdier. On the other hand, if you are working in a corporate and looking to make a style statement, choosing chic and dainty shades may offer a better choice.
3. According To Your Personality
Any accessory that you adorn in an extension of your personality and sunglasses also help you to achieve a similar impact. Just because something is in vogue but you are not comfortable adoring it, will not be complimenting your style at all. Therefore, be deliberate on what you want and whether you are comfortable with it before investing in a good pair of shades. Also, you can have multiple options if you like experimenting with your look and style.
4. According To Your Skin Tone
We should pay heed to our skin tone before picking up a pair of sunglasses as just the way not all frames suit all face shapes, in the similar way not all frames suit all skin colours.
a. Cooler Skin Tone
If your skin has a bluish or pinkish undertone to your complexion that your skin colour is more towards cooler hues. You should opt for frames in colours that help in enhancing the beauty of your complexion and for this you can opt for blue, grey, mauve, purple, pink, dark turquoise, black, silver, etc.
b. Warmer Skin Tone
If there an undertone of golden, bronze or yellow in your skin colour, then your skin tone comes under warmer hues. You should refrain from picking up whites or neutral shades as they would dull your complexion. You should try olive green, beige, honey, shades of brown, light turquoise, etc.
Paying heed to all these factors will help in choosing sunglasses for males and females with the least amount of hassle and confusion.
Also Read:
Choosing The Perfect Sunglasses for your Face Shape
Funny Ways We Use Our Sunglasses.