Essential Oils In Bath – Benefits & How To Use Them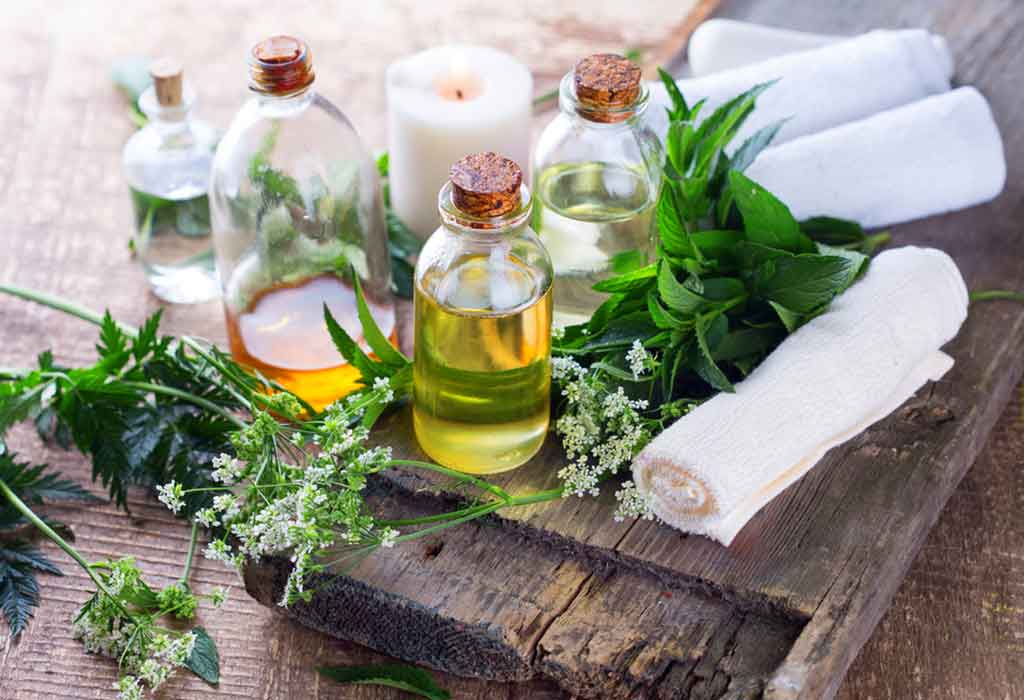 Essential oils are compounds extracted from plant parts such as leaves, trees, herbs, and bark. They capture the aroma or scent of the plant, thus having a unique fragrance profile, and are extracted using methods such as cold-pressing and distillation.
Most essential oils are combined with carrier oils to dilute them and enhance their effectiveness in baths. There are over 90 types of essential oils used in aromatherapy, and before using any of them, one must disperse these oils using products that do not trigger adverse reactions in the skin.
What Are Essential Oils?
Essential oils are concentrated by nature and considered hydrophobic liquids extracted from plant parts. Raw plant materials like flowers, buds, leaves, wood, seeds, and bark are put through distillation with water, and the oils are extracted using steam.
Essential oils have many applications and are used in cosmetic products, soaps, perfumes, and food flavoring agents. Aromatherapy is an alternative medicinal practice where these oils induce relaxation and heal the user when soaked in baths. Just two to three drops of essential oil in your bathwater is enough to feel the benefits. Some users may be allergic to the ingredients used in these oils, which is why it's essential to read the label before buying.
Are Essential Oils Safe to Use in Bath?
Essential oils are not water-soluble, so you have to mix them with a carrier oil when using them. These oils are likely to irritate your skin and trigger an adverse reaction if they're not diluted before mixing in bathwater. You can follow a dilution rate of 1% to 4% when adding essential oils to your bath.
Benefits of Essential Oils in Your Bath
If you're considering using essential oils for relaxing bath experiences, you'd be happy to know that they offer various health benefits. Essential oils have been used since time immemorial for their medicinal and healing properties, not just for stress-busting and relaxation.
Below is a list of their most popular benefits:
1. Reduces Stress And Muscle Aches
Since ancient times, aromatherapy has relieved stress, anxiety, joint pains, and muscle aches. Many use essential oils in their baths for their anxiety-relieving effects and massage the skin to relieve tension and soreness.
2. Relieves Headaches And Migraines
Essential oils have been used for years to relieve psychological problems such as headaches, insomnia, and migraines. Many have used these scents for recreational use, healing seizures, and relaxing at the end of the day.
3. Heals Inflammation
A 2010 study found that essential oils like Thyme contain high antioxidants and compounds used to heal inflammation. However, there is still more research going on in the field of aromatherapy. Evidence suggests that these oils are good for maintaining optimal skin health.
4. Promotes Great Sleep
Lavender bath oil has been shown to induce a deep and restful sleep in insomniacs. Insomniacs find their levels of melatonin to increase naturally after soaking in essential oil baths. Herbs like chamomile, vetiver, and neroli are considered among the top in this regard.
5. Improves Cardiovascular Health
Soaking in a bathtub with a few drops of essential oils can do wonders for lowering blood pressure and boosting heart health. Lowering blood pressure helps dilate blood vessels, relax more, and significantly reduce heart attack or stroke chances. Increased blood flow helps increase energy levels, recover faster, and feel better throughout the day.
Ways to Use Essential Oils in Bath
Here are four ways you can use essential oils in baths.
1. Air Freshener Sprays
You can mix eight drops of lemon and eucalyptus with three drops of lavender in water and pour it in a glass spray bottle. Shake well and use the air freshener spray to get an immediate burst of freshness in the mornings.
2. Shower Spray
If you're trying to keep your shower head clean daily, you can whip up a batch of essential oil sprays. Use a bottle to mix half a cup of vinegar and distilled water with ten drops of lemon and five drops of peppermint oil. Shake well before using it and spritz it on the showerhead for easy cleanup and maintenance.
3. Toilet Paper Rolls
You can pour a few drops of your favorite essential oils on the insides of toilet paper rolls. Every time you pull the paper out of it, you will get a burst of freshness oozing out of the tube.
4. Diffusers
You can apply scented fragrances to your bathroom using the magic of essential oils and a diffuser. Mix a few drops of your favorite aromatic herbs (about 8 to 10 drops) in water and adjust ratios according to your requirements. Give a few spritzes around your sink and shower area to make your bathroom smell fresh.
Which Essential Oils Are Best for Your Baths?
Want to start adding essential oils to your bath? Here are the top best essential oils you should try for a relaxing bathing experience:
Tea tree oil is excellent for treating fungal infections, dandruff and adding a glow to the skin. Tea tree oil is also great for healing wounds and eliminating lice.
Bergamot is a popular ingredient used in famous colognes, body lotions, and massage treatments. It is well known for reducing stress, alleviating pain, and treating inflammation.
USDA-certified organic blue chamomile is excellent for its anxiety-reducing effects in baths. Chamomile offers multiple benefits for health, such as good sleep, wound healing, smoother digestion, etc.
Sandalwood has been shown to provide antihistamines and prevent seasonal allergies on the skin when applied topically.
Lavender relieves congestion, promotes restful sleep, and is known to possess anti-inflammatory properties. Children enjoy its calming and pleasant scents in the air too.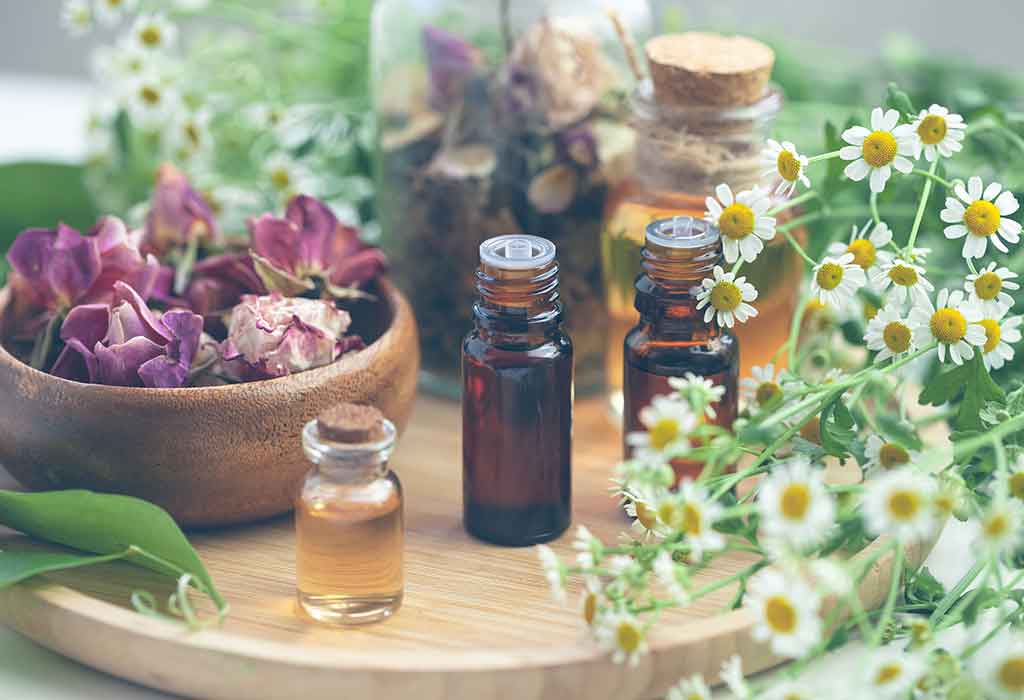 Essential Oils to Avoid
If you're planning an essential oil bath soak for kids or pregnant women, there are certain oils you should avoid. These can trigger allergic reactions among those with sensitive skin when used too much and have side effects associated with internal consumption. Here is the list:
Lavender – Lavender is not suitable for males who have not reached puberty. It affects hormonal profiles negatively.
Eucalyptus – Has the potential to cause seizures in infants and newborns
Lemon verbena – Triggers photosensitivity and can lead to fetal abnormalities in pregnant women
Fennel- Leads to issues such as nausea, vomiting, hives, and skin rashes
Peppermint- Mouth ulcers, heartburn, flushing, and bouts of diarrhea with pain in the rectum are common adverse reactions
Rosemary- Can cause blood toxicity, seizures, coma, irritation in the intestines, and fluid buildup in the lungs
Wintergreen- Wintergreen is not safe for oral consumption as it causes nausea, vomiting, diarrhea, ringing in the ears, and headaches
DIY Essential Oils Recipes for Bath
Are you looking for recipes of good essential oils for your bath? We've got you covered! You can make these using household ingredients, and they can be made with a DIY approach! Try these out…
Epsom Salt Base is a classic essential oil in shower recipe for relief from tension, inflammation, and muscle aches. Mix 1 cup of Epsom salt with 15 drops of your favorite essential oil blend. For the 15 drops – you can make the blend using five lavender drops, three fennel drops, two wild orange drops, and five petitgrain drops. Dissolve this blend in your bath water along with 1/4 cup of Epsom salt.
Fizzy Bath Bomb Blend – This recipe will make your Epsom salt bath fizzy and delightful. You need baking soda, cornstarch, 15 drops of your favorite essential oils blend, water, coconut oil, and a spray bottle to make the recipe. Mix the wet ingredients with the dry ones in a bowl and stir slowly. Knead clumps out of the mixture and add moisture using the spray bottle. Make into balls or use candy molds, remove from the molds and allow them to dry overnight after setting aside 1-2 hours. For the measurements, you will need two tablespoons of water, 1/2 cup corn-starch, 15 drops of essential oils, two tablespoons of coconut oil, 2/3 cup of baking soda, and 1/3 cup of Epsom salt.
Minty Morning Recipe – This is a refreshing body oil recipe for those who want to rejuvenate and moisturize their skin. To make this, mix eight drops of Frankincense, eight drops of orange essential oil, and four mint essential oil drops in a beaker. Blend 6 drops of pomegranate and almond oil with a few Vitamin E drops and combine with the essential oils blend. Use the resulting mix during bath times and gently massage after applying.
Simple Sugary Scrub Base – Sugary scrubs have been known for their exfoliating effects on the skin. For this recipe, you will need 1/4 cup of raw sugar, 1/4 cup of sweet almond oil, eight drops of Vitamin E, and 15 drops of an essential oil blend. For the essential oils blend, use ten drops of lemon with five drops of rosemary. Mix all the ingredients in a glass bowl and store the recipe in airtight containers. Moisten your skin and use the scrub over your body whenever you want. Rinse after you're done.
Precautions to Observe
When you're mixing essential oils in bath water, be sure to observe the following precautions:
Dilution guidelines – Read the label of the product and check to see its dilution ratios. Some essential oils do not require dilution, while others do.
Consider the type of treatment – Not all essential oils are used for body massages or aromatherapy. Some are used for their medicinal properties, and it is vital to get the right ones for your needs.
Photosensitivity factor – Citrus essential oils can lead to sunburns and are known to increase sensitivity. They should not be topically applied to the skin before sun exposure.
Safe for consumption – One should not ingest some essential oils internally. Oils like wintergreen are toxic when consumed orally.
Allergens – Some individuals are allergic to certain kinds of essential oils. For example, citrus and pine are poisonous to pets. Fennel, eucalyptus, and verbena are not safe to be diffused around babies.
Safety Tips
Using essential oils for detox bath sessions or massages for the first time? Keep these tips in mind:
Keep out of reach of children and pets – This goes without saying but keep essential oils stored in lockable cases away from kids and pets. Add child-lock protection, so they don't get into the wrong hands.
Diffuse in well-ventilated bathrooms – Respiratory tract irritation can be a problem when diffusing essential oils in non-ventilated areas.
Always Dilute – If dilution instructions are not mentioned on the label, go ahead and dilute your oil anyway. Use a suitable carrier oil for diluting your chosen essential oils.
Keep away from flame exposure – Some essential oils can be flammable, which is why you want to keep them away from fire.
Wash your hands before using them – Essential oils can seep into your eyes and trigger an irritation which is why it's best to wash hands before usage.
Essentials oils complement your adjunctive therapies and help you get through seasonal allergies smoothly. You can use these recipes for your next detox bath or make body lotions for regular use. Be sure to consult your integrative medicine practitioner once to assess which oil is the right for you.
Also Read:
Best Essential Oil for Your Skin
Essential Oils for Healthy Breast
Effective Essential Oils For Your Skin Ageing