Enhance Your Reading List With Amazing Beach Reads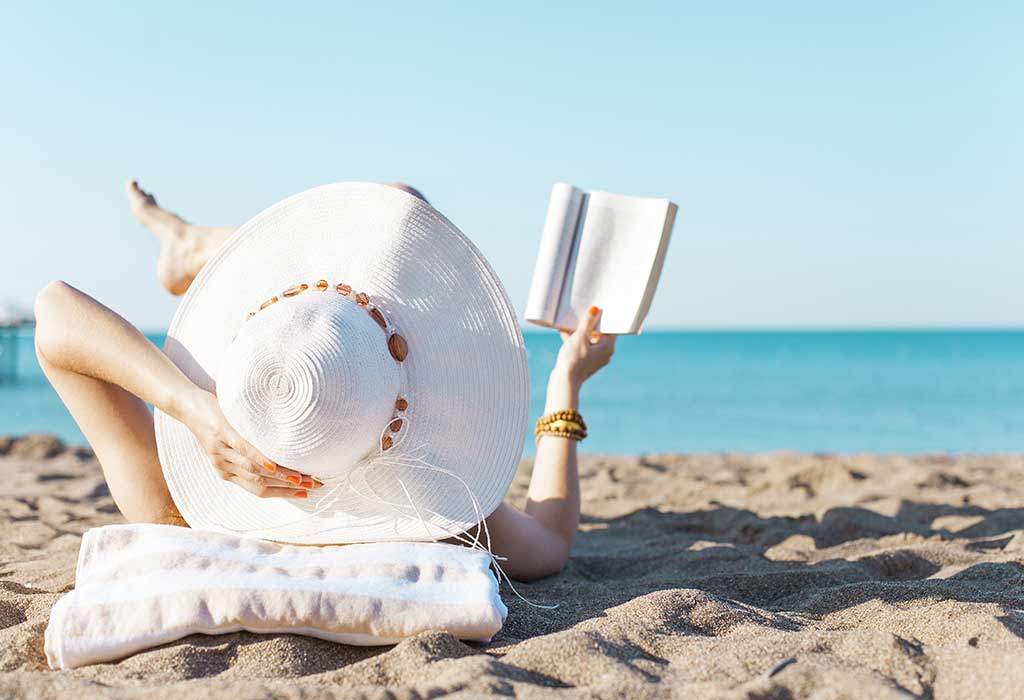 In this Article
The holiday is coming, and there are so many excellent beach books to pick from that it may be challenging to know where to begin. If you want to spice up your beach reading sessions, I've prepared a list of 15 great beach reads for you.
15 Best Beach Reads
Depending on personal preferences, here we list good beach reads, ranging from swoon-worthy romance tales to spine-tingling mysteries, so there is something for everyone to pick from. All that is left for you to do is pick up from the 15 best summer beach reads and head to the beaches.
1. Reef
Jacqueline Susann
This paperback is a stunning, realistic depiction of a very authentic setting. After being bitten by an angry jellyfish, a young lady is forced to sail across the Pacific Ocean with nothing but her beloved parrot for protection against cannibals. It's a great story replete with marine myths and tales and a lovely romance novel with a large, vibrant typeface.
2. People We Meet On Vacation
Emily Henry
Meet Poppy and Alex, the protagonists of the story. Join them as they introduce you to their favorite places to hang out and have fun without the unending scrutiny of the nosey society. The book shows a novel approach to meeting new people and breaking away from one's usual patterns of thought and behavior, guaranteed to transport you into the story and get lost in their fictional world.
3. One Last Stop
Casey McQuiston
The first in a series of books with a star-studded cast in the ending scenes, such as Jane, who travels back in time to the 1970s, this book is a combination of all your favorite genres. In addition to a fast-paced plot and an engaging main character, like Jane, the other characters are believable, the story is compelling, and the ending is unexpected. A terrific book for anyone who likes historical fiction, fantasy romance, or simply having a good time!
4. Dial A for Aunties
Jesse Q Sutanto
The debut work of Sutanto, Dial A for Aunties delves into the life of Meddelin Chan, a happy-go-lucky girl in California who accidentally kills her blind date. Now, who better to call upon to hide the body than your mother and a liege of meddlesome aunties? Follow this unexpected gang as they try to dispose of the body in a hilarious, comedic sequence replete with a glimpse into their Chinese-Indonesian culture.
5. Malibu Rising
Taylor Jenkins Reid
Malibu Rising depicts a memorable night in the lives of a family, as the members must determine how much they will take from the person who invented them and how much they will discard forever.
6. Golden Girl
Elin Hilderbrand
Vivi watches while Chief Ed Kapenash investigates her death, and she is most anxious about her last book, which contains a potentially damaging discovery. However, as buried facts are uncovered, Vivi's parents will be forced to confront the overt and covert blunders, even without help from above.
7. Mirrorland
Carole Johnstone
Mirrorland is a gripping, edgy, and wonderfully written mystery filled with romance, deception, atonement, and retribution. It is an engaging, page-turning first novel about the value of creation and the price of liberty that will have you telling the story.
8. The View Was Exhausting
Mikaella Clements and Onjuli Datta
Win knows that feigning an affair is something, but trying to commit to one indeed would have been devastating. This brings them together with a mixture of intense spice. Clements and Dutta discuss the facts of the story in brief, fascinating conversations that keep the reader interested throughout the entirety of the narrative.
9. Act Your Age, Eve Brown
Talia Hibbert
Talia Hibbert returns with yet another thrilling page-turner with a fun role as Eve Brown, a sex kitten fresh from her family's past, in Eve, the fan-voted bestseller. Eve flees to New York City after years of fighting with her siblings over her boyfriend, where she reconnects with her friend Lisa through a dating service. On the other hand, Lisa isn't sure she wants to waste her precious summer with a frat boy.
10. The Other Black Girl
Zakiya Dalila Harris
Nella Rogers, a 26-year-old freelance editorial assistant, feels trapped in the inexplicable black hole that is corporate America. She adores her wealthy, white boss, Max, but the dull, unappealing office atmosphere and Rogers' sense of invisibility make her yearn for the chaos that would be rife in her old haunts.
11. The Guncle
Steven Rowley
When Maisie and Grant's mother dies, Patrick takes on the role of primary caregiver. Despite having a prepared "Guncle Rules" handbook, Patrick has no idea what to expect or prepare because he has had such a heartbreaking experience and a slow and stagnant career as an actor. Patrick's senses are awakened to a newfound significant contribution, as well as the realization that sometimes being more excellent than life meant you are always mortal.
12. Girl A
Abigail Dean
Girl A is the story of a young, ambitious law woman named Lex, whose troubled youth was primarily spent in an elegant English mansion in the countryside. Here she was offered fairy tale recitals as a child and a weekly mass treatment for her mother, and she was able to pursue her education and find a job. But she ended up spending the majority of her life in an adult prison for her offenses.
13. Somebody's Daughter
Ashley C. Ford
Somebody's Daughter is a story about adolescence, beginning with a Black girl from Indiana whose family is shattered by imprisonment. Ashley fights to save her soul and the world around her while embarking on a life-changing quest to discover her origins.
14. While We Were Dating
Jasmine Guillory
Anna Gardiner appears to be on a mission: to become famous, and this initiative will help her achieve that goal. Ben Stephens, on the other hand, was her most excellent distraction. Why not, however, have a little harmless romantic involvement?
15. Velvet Was the Night
Silvia Moreno-Garcia
The 1970s in Mexico City. Maite lives with one thing: the newest edition of Secret Romance. During political instability, Maite retreats into tales of sensuality and peril. The renowned author of the New York Times bestseller, Silvia Moreno-Garcia, comes to a suspenseful noir thriller about a single female's career and personal goals set against a background of a gruesome murder.
Reading a book on the beach is a beautiful way to relax and appreciate the beauty of a place. When you want to spread some pleasant vibes, cherry-pick your choice from this list of the best beach reads of all time!
Also Read:
Refreshing Beach Instagram Captions
Best Books to Read in Rainy Days
Best Self-Help Books to Transform Your Life