Easy Ways to Organize Pots and Pans to Keep Them Orderly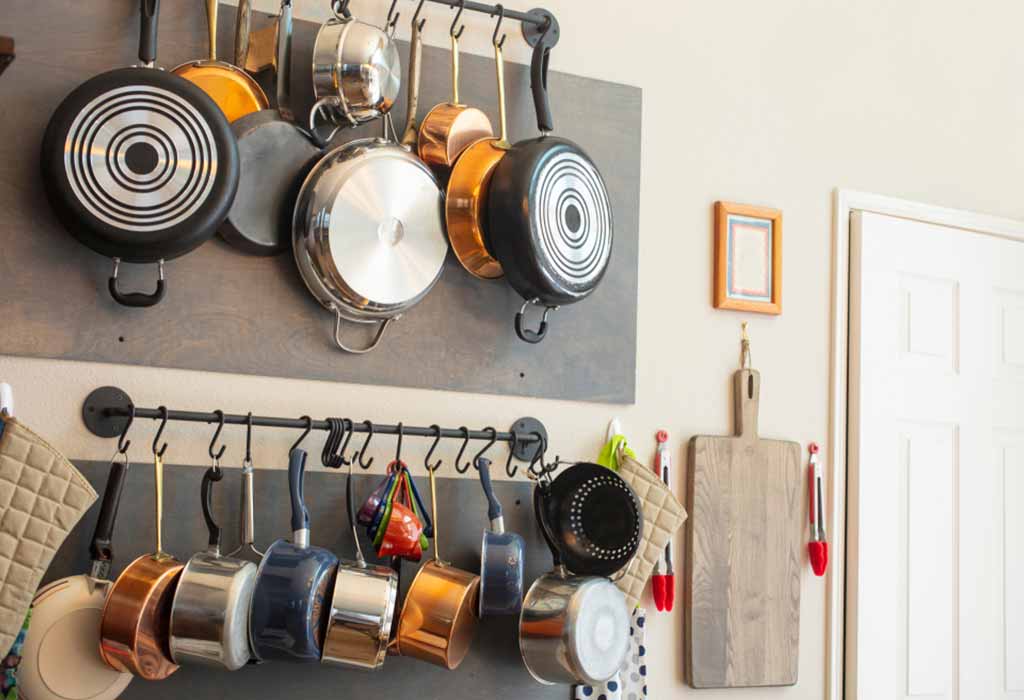 In this Article
Pots, pans, and their lids could drive anybody crazy as they are the most arduous pieces of kitchenware to handle and organize. Big, bulky, and elongated design, one often struggles to find enough space in the kitchen cabinet to slide them in comfortably. But it is not as tricky to arrange these pieces in your kitchen. Kitchen designers and interior experts have conceived some plausible pots and pan organization ideas to make your kitchen look assembled. With this list of some organizing solutions, choose your preferred and best way to organize pots and pans in your kitchen to up your kitchen's look!
Steps on How to Organize Pots and Pans
Read on to find ways to organize pots and pans in the kitchen and wrangle those awkward yet essential pieces of kitchenware to be more organized.
1. Install a sliding cabinet
Amidst your kitchen drawers, install a sliding cabinet that will let you store those pots and pans and will just slide into the wall. This is an excellent space-saving idea and a great way to organize pots and pans in a small kitchen.
2. DIY Pot Rack
Make your pot rack by hanging a wooden block on the ceiling or a wall. Attach a few hooks on the wooden blocks and hang the pots and pans from them. Save space and jazz up your kitchen with this DIY idea.
3. Hang them from pot rails on a wall
Your wall space is just waiting to be a storage space. If you have walls without cabinets, just add a rail or two with hooks to hang the cookware. Slide the lids into the rails for better storage.
4. Use organizers
Invest in pan organizers to organize your pots and pans. Stack your cookware in these wired shelves and stack them in the cupboard to avoid clutter.
5. Make use of drawers
Drawers are an easy way to avoid crawling on your knees to search for a pot or pan. Inexpensive and easy, just stack and organize pots and pans in drawers. If needed, you could just buy a cheap drawer cabinet that will exclusively serve as your pots and pans organizer.
6. Tension Rods
A cheap and brilliant hack, investing in tension rods could be the suitable solution to stand your pots, pans, and lids. This will prevent pans from toppling over and stay organized.
7. Make use of a pegboard
If you have a wall to spare, mount a pegboard to make it a more functional and stylish upgrade. Nail hooks on the pegs to create a custom fit so that you can organize your cookware. Outline each cookware with chalk for optimal storage so that you know where they belong.
8. Organizer rack for countertop
Invest in one of eight tiered pots and pans organizers that fit comfortably on any countertop. With tiers in different sizes, it can be used as a single piece or two separate pieces.
9. Open wire shelving
You can buy this individual shelf that will slide in one corner or the side of the wall. If you have a relatively large kitchen, this could be an excellent solution as it will give ample space to keep your kitchenware. It also lends a more organized look to your kitchen.
10. Innovate with the towel rod
It is incredible how the functionality and usage of a simple thing can be increased substantially with a creative idea. The towel rod in your bathroom could very well serve as a pots and pans holder. Place it by the window sill, or just hang it on a spare wall, to make more space for your pots and pans. The best thing about this idea is that you can reach it easily!
11. Stack and store in the cabinet
Pick a shelf in your cabinet that could accommodate your pots and pans. To store the lids, drill a few holes on the door and nail some hooks to plug the lids on them carefully.
12. Rolling cart
One can get wonderful stacking shelves with wheels that will let you store the pots and pans and wheel them away when they are not needed. An excellent solution for a kitchen with less space, you could use these carts to stack your heavy cast iron cookware that you don't use frequently.
Pots and pans are a bane to the kitchen, more because of their inability to be stacked away in a corner or a shelf without becoming a hindrance. But there is a way out, and the above tips could help you reorganize your shelves to make them look neat and up your entire kitchen's look.
Also Read:
Unique Small Kitchen with Island Ideas
Easy Ways to Organise Your Refrigerator
How to Organise Kitchen Cupboards, Drawers, and Cabinets