Easy Ways To Get The Perfect Beachy Waves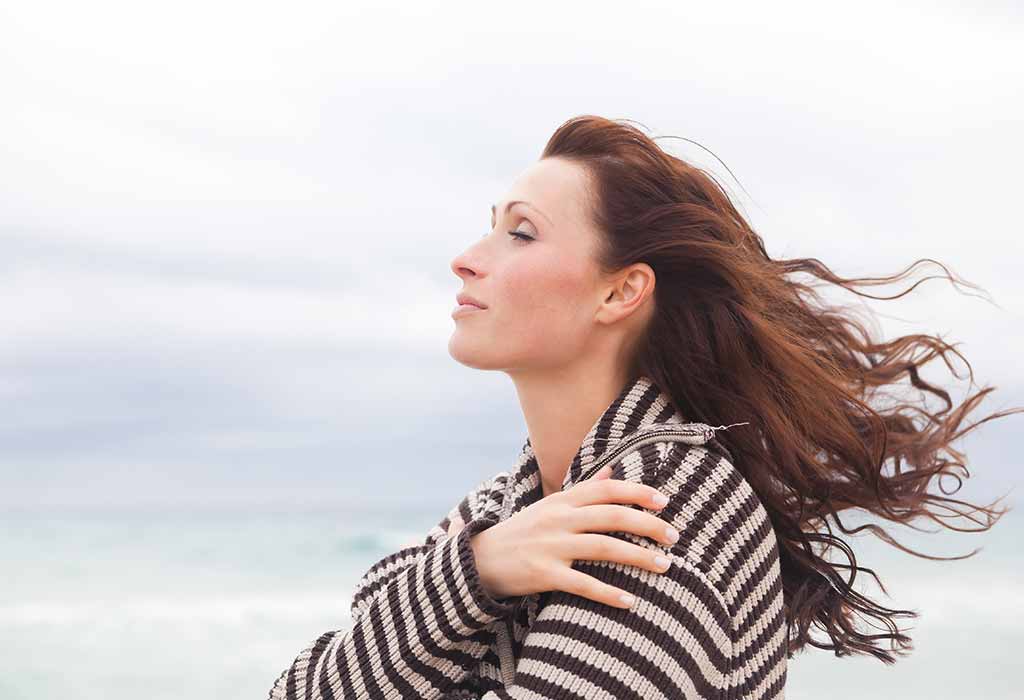 Beachy waves are fun, natural, and carefree, and we all love them because it is the perfect low maintenance hairstyle that suits every occasion, outfits, and even hair lengths! They look great on everyone- especially since the effortless look flatters all hairstyles, face shapes, ages, and is the go-to celebrity hairstyle for many people! If you ever wanted a few gorgeous temporary waves to complete your style, then all you need are a few styling tips, and you are good to go!
How To Get Beachy Waves With Curling Wand
When you want to create imperfect yet very gorgeous waves the next time, look no further than the curling wand. Curling wands, unlike curling irons, provide the waves with a natural texture and the key to perfecting this look is to leave a few inches at the end of your hair length unstyled.
Begin by misting your hair with a heat protectant to avoid breakage while heating. Post that, apply hairspray all over and brush thoroughly to overcome dryness. Take a small vertical section of your hair and wrap it around the 1 inch-barrel. Make sure you leave two inches of the tips of the hair uncurled to avoid looking overstyled. Alternate directions throughout the process and finish the styling with some light finish hairspray and sea salt spray.
How to Get Effortless Beachy Waves Overnight
Ever wanted to wake up with the perfect hair without having to worry about styling them again or damaging your hair with heating tools? To get the perfect beachy waves, section your hair in half and then twist each section of hair around the belt, securing the ends of the section with a hair tie. Then twist the entire section into a bun and repeat the same on the other half as well. Leave the bun overnight, and when you wake up in the morning, unwind the twists and finish the waves off with some hair spray.
Another technique requires you to wash your hair and blow-dry it until it is damp. Then flip your hair upside down, gather the hair at the crown and braid your hair (the normal three-strand braid). It might look a little droopy when you flip it back, but that is just a part of the process. Leave the braid overnight and gently unravel it the following day. Loosen the strands with your fingers and use setting hairspray to keep your waves alive all day!
How To Get Natural Beachy Waves
If a low-maintenance hair routine is your thing, then you would surely be a fan of air dry. This method requires you to tie your hair into buns (two at the nape of your neck) and then air-dry these buns and detangle them to the perfect beachy waves. All you have to do is twist your damp hair into two knots and fasten them at the nape of your neck with pins. Please wait until your hair dry and you're done!
If you wish to enhance your bends, then apply some styling products that can help enhance the beauty of your air-dried hair before tying it up into buns.
How To Use A Flat Iron For Beachy Waves
If you do not have a curling wand or a curling iron, do not worry! The perfect beach wave requires a regular hair straightener to get excellent results. Start your styling with hair spray or mists that help avoid heat damage and roughly straighten your hair. You do not have to make it pointy straight, or sleek – just to the point where you feel your hair is easy enough to handle when you start curling.
Work with a two-inch section every time and section it with clips. Grab the section of hair from a little below the root, placing your straightener away from the face (letting it dace down to the floor instead of putting it horizontally), gently glide down the strand. When unclamping the flat iron, you will surely have a wonderful bouncy curl, which you would have to break apart until you loosen it enough to get wavey. For an extra shine, mist dry your hair with some finishing spray that can enhance shine after getting your beachy waves done. A straightener work just as well as a curler!
How To Get Beach Waves on Short Hair
Getting beachy waves on short hair can be trickier than on lengthy strands, but once you get the hang of it, the entire process will only take 10 minutes. Take a 1-inch curling iron and start curling from the front in vertical sections while the heat is kept low. Alternate your directions as you move to the innermost layers of your hair since this can make your waves look subtle. Once done, it is best to set your style using a medium- to strong-hold hairspray so that your waves remain frizz-free while lasting longer.
Check out this technique when you want to style your short hair without any heat; if your hair is dry before you begin the process, you might want to consider dampening your hair a bit using a spray bottle of water and then brushing it thoroughly. If you have color-treated hair, then you could go for a deep-treatment mask on your hair to keep your hair hydrated during the entire process. Separate your hair into two equal parts and begin flat-twisting your hair from the roots till the end of the strand and wrap it up into a bun on your scalp. Secure the twist using a hair tie or a scrunchie. Leave the hair overnight and unravel your twists in the morning. Detangle your hair using your fingers and separate the curls for fun-looking, loose beachy waves!
How To Get Loose Beachy waves
When you want loose beachy waves that do not require a lot of time and effort, use this hack – all you need is a simple curling iron, and you are good to go! Begin by dividing your hair on each section; work on the bottom of your hair before the top sections. Using a curling iron, begin curling from the strands at the back and work your way towards the front. After styling, break your curls apart until you loosen them enough to get gorgeous beachy waves. Finally, set it with some hair spray or gel to make your gorgeous waves stay for a longer time.
How To Get Beachy Waves Using a Diffuser
When you have a natural hair texture that is not stick-straight hair, using a diffuser can be an incredible way to get natural waves. A diffuser is also a great option when you want beach waves for long hair. Once you have freshly washed your hair, you can apply a lightweight mousse or leave-in conditioner and allow it to air dry for around 15 minutes. Once your hair is damp, attach the diffuser to your dryer and start from the bottom of your hair; slowly twist it and scrunch it up towards the scalp with a diffuser. Repeat the process throughout all the sections of your hair until it is around 90 percent dry. Once dry, use the diffuser through the roots of your hair for extra volume. If you want enhanced beachy waves, you can use a curling iron for the strands that do not look wavy enough and then loosen the curls up with your comb or fingers to get it right. Finally, you can set the hair up with some texturizing spray!
Getting the proper beachy waves at first might seem hard. But, with the right techniques and equipment, you are sure to look fabulous with your effortless beachy waves!
Also Read:
Ways To Curl Your Hair at Home
Daily Hair Care Tips You Must Know
Trending Hairstyles You Need to Rock This Year