Easy Men's Halloween Costume Ideas That You Can Make at the Very Last Minute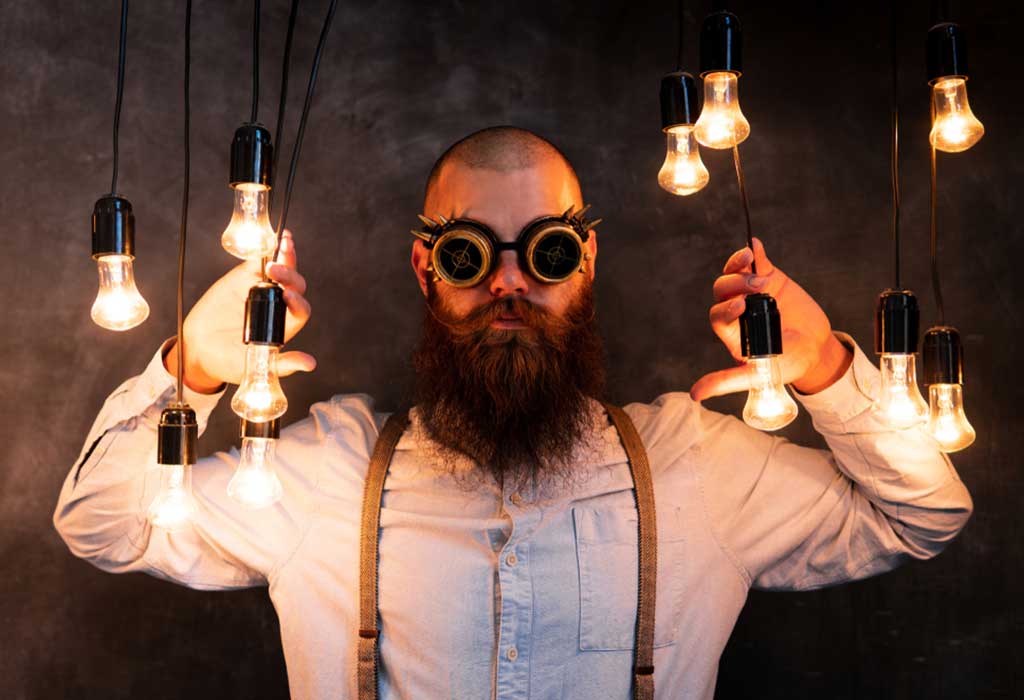 In this Article
Getting a few genuinely excellent costumes isn't difficult if you know what you're doing. With a bit of effort, you can pull off a variety of male Halloween costumes ideas. You can find some pretty unique Halloween costume ideas if you're willing to put in some effort.
Best Halloween Costumes Ideas for Men
Here are the 25 Best Halloween Costumes Ideas for Men. So now all you have to do is choose your Halloween costume and get ready for a great Halloween!
1. A Farmer
The wearer of this farmer's Halloween costume for men transforms into a regional English film noir character. Dressing up as a farmer will be unique enough to draw attention while comfortable enough, allowing you to enjoy the night to your heart's content.
2. 50 Shades of Grey
One of the most common options is Christian Grey from the renowned franchise. But you can add your own twist by dressing up as all 50 shades of the color grey. Just paste these swatches on a white tee and flaunt the 50 shades of your personality this Halloween.
3. Bob Ross
This quirky and imaginative collection of Bob Ross Halloween Costumes for men has been making waves in the Halloween fashion bazaar for many years now.
4. Error 404
So, precisely what is an Error 404? If you're not acquainted with the method, you can pull together this outfit in a matter of minutes before going out the door by ironing on inscriptions or putting black decals on a white t-shirt.
5. Hawaiian Punch
Hawaiian Punch is a fun and unique Halloween costume for men. Long hair, facial hair (if you have it), and oversized sunglasses are required for Hawaiian Punch (to complete the look). Just make sure your hair and accessories are appropriate for the occasion.
6. American Gothic
The American Gothic men's Halloween costume is distinct from the traditional "red-headed red devil" costume. In this case, the ensemble is all black leather, very Gothic. Wear a shirt with crossed bones, an old skull, and a black belt with ringette studs.
7. Dr. Pepper
The famous Dr. Pepper Halloween Costume for men is a long-standing tradition. This outfit is seductive, humorous, colorful, and, most importantly, comfortable. Men have enjoyed wearing funny costume suits and basking in the spotlight for ages!
8. Bruce Springsteen
Adapt Carson Daly's punk costume from the yesteryears by layering an overcoat over a jacket to look similar to Bruce Springsteen's famous ensemble. Put on as many headbands as you can to prove you're "Significantly Harder Than the Others." Whatever the occasion, this Halloween costume is sure to be a hit.
9. Elton John
Glamour, color, and hipsterism are Elton John's passions. Consider wearing a sequined suit as Elton John wore during his performance at Dodgers Stadium in Los Angeles. Make a plan to wear a similar costume this Halloween if you want to stand out!
10. Brawny Man
The Brawny Man is a hot Halloween costume idea. This is an excellent costume for a man who wants to be the life of the party. This look is easily achieved with black pants and a white T-shirt or polo.
11. Jon Snow From 'Game of Thrones'
A nobleman, Jon Snow is the Lord of Winterfell and the King's Hand. His character has inspired many Halloween costumes for men. Jon Snow was made more appealing by Kit Harington's portrayal in HBO's 'Game of Thrones. Create your own Jon Snow costume and stand out this Halloween.
12. Spiderman
This Halloween, Spiderman costume's adult impersonator is bound to be one of the most popular choices. The film series has built a name for itself over the years, and it is now a staple in many people's Halloween costumes for trick or treating. By making a few alterations to the traditional clothing, you could be the hero you've always wanted to be this year.
13. Toy Soldier
Many people love the Toy Soldiers of the 1940s and 1950s, and you can now enjoy being them in their costumes! These fun outfits are ideal for a wild Halloween gathering! Choose the best one for you, and you'll be dressed like your favorite American soldier in no time…
14. Mr. Clean
The Mr. Clean Halloween costume for guys is ideal for any time of year and is perfect for the workplace or a party. This is one of the best ideas for a guy's Halloween costume that are entertaining, one-of-a-kind, and well suited for the holiday season, which is just around the corner.
15. A College Professor
Is it appropriate to dress up as a professor for Halloween this year? For many individuals, the answer is definitely yes. As the name implies, these Halloween costumes for college guys may provide an air of authority and respect to any man or woman who chooses to wear them.
16. Arthur Herbert Fonzarelli
Dressing like the Fonz requires a bomber jacket, a tee-shirt, slacks, and a lot of sass. Also, while having a fantastic hairstyle doesn't hurt, people are less likely to miss it if you greet everyone with a dreamlike gesture!
17. Peter Pumpkin Eater
This year, the "Peter Peter Pumpkin Eater costume" is also bound to be one of the most popular choices, based on the nursery rhyme of the same name. This is a terrific costume because there are so many ways to make it truly unique for your Halloween night, especially if you customize it into a gigantic pumpkin!!
18. A Private Eye
The Private Eye costume is the most popular Halloween costume for men this year. The popularity of movies, TV shows, and video games depicting the life of a private eye has led to an increase in inquiries. So gather your thoughts, dress up, and prepare your spy gear for an alien encounter.
19. Chef
If you enjoy cooking, consider dressing up as a chef for Halloween. The charcoal grill chef costume is simple to make and will impress at Halloween BBQ parties. For a more formal Halloween look, don an apron and black shoes. An authentic chef's wig and heavy coat are recommended.
20. Dracula
Nothing beats donning scary Halloween costumes for men and feeling the cold air against your skin as you attend a party or event. Embody the count's theatrics and commanding aura with this costume.
21. A High School PE Teacher
Many "teach-in" organizations will dress up in the most ridiculous, out-of-this-world costumes to attend the next Halloween party. So, why not dress up as a lovely PE Teacher this Halloween! Complete the look with a baseball cap, collared t-shirt, and whistle. They'll attract the ladies attention, and you might even win a prize!
22. Men in Black
'Men in Black' is a highly successful Hollywood blockbuster film. If you want to dress up as one of your favorite characters in 'Men in Black' costumes this year, it is strongly recommended that you get your black suit and shades before the shops sell out!
23. Movie Theater Floor
Men's movie theater floor costumes? There are many appealing ones available now. Their contents include drink cans, popcorn tubs, and candy wrappers (badges, of course). The key to choosing the right one for you is knowing what kind of guy you are, as this will help you decide which costume to wear to Halloween.
24. Grapes of Wrath
Look closely at this book-inspired outfit that will appeal to bibliophiles! A weirdly funny adaptation of The Grapes of Wrath will take you back to middle school literature class: Wear a violet tee with violet balloons or bubbles and a lush wreath on your head.
25. Smart Cookie
The Smart Cookie men's Halloween costume is adorable, and the man looks great in it. So, what are you waiting for? Get your cookie-stuck costume now because this costume will make you the star of any Halloween party. You have nothing to lose but those delicious cookies!
Halloween parties are becoming increasingly popular, so plan your outfit and make this year's party extra special. If you're still looking for a Halloween costume and are on a budget, pick one of the above ideas, make your costume, or buy one from a discount store. This guide is a quick fix for a Halloween costume!
Also Read:
Hocus Pocus Costumes Ideas For Halloween
DIY Halloween Angel Costumes Ideas
Homemade Halloween Costume Ideas for Children