DIY Storage Bench For Your Home Which Is Both Functional And Beautiful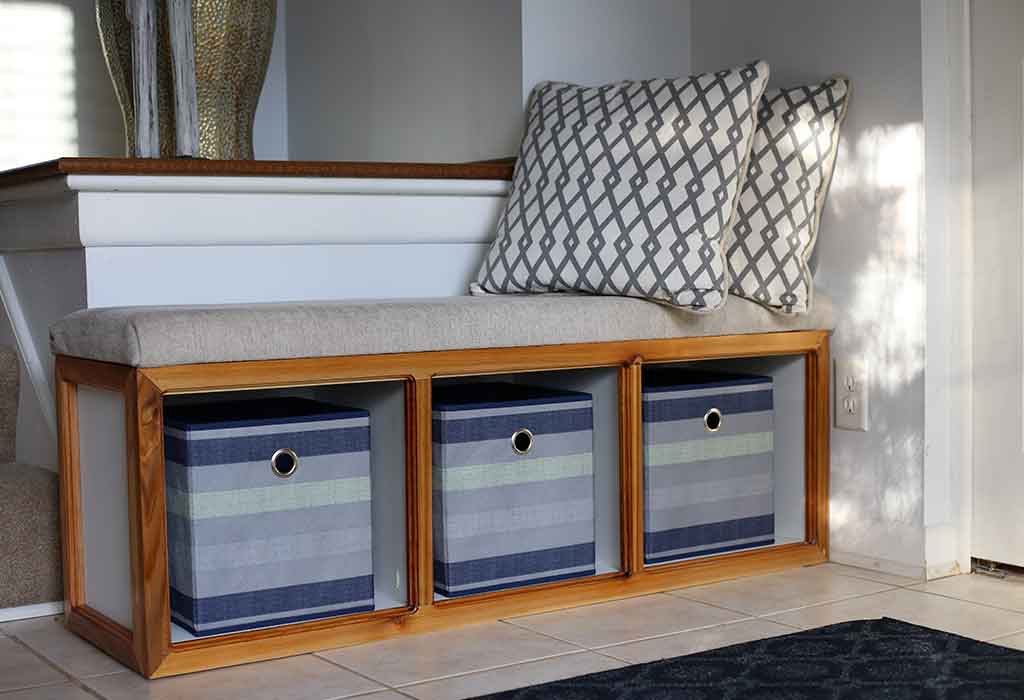 A storage bench is a multi-purpose furniture item that can bring style and comfort to your home. It features a closed and sleek modern design in which the seat lifts to reveal a storage cavity. Such benches could also have doors and shelves attached to them. DIY storage bench with hinged lid items can double up as toy boxes in kids' bedrooms, store shoes for stowing electronic components, provide guest seating in the media room, and replace coffee tables in the living room.
Making Storage Bench to Fill Up with All The Loose Items In Your Home
A storage bench or storage ottoman can not only complement any room but add a touch of organization to any chaotic corner of your house, like a kid's playroom, garage, deck, or mudroom. This handy double-duty bench looks good in patios, hallways, pianos, and the ends of beds. Such a DIY storage bench can properly hide hose pipes, sporting equipment, plant pots, and gardening tools and is perfect for enjoying leisure time watching an impromptu soccer match in the backyard. Easy to clean, its natural wood combined with specialized hardware lends it a beautiful, sturdy finish. The soft storage bench seat DIY with cushions is great for unwinding after a long, hectic day at work. For an outdoor design, your bench should be able to withstand the harsh elements of the outdoor setting, while two separate cushions can be used to be dried and aired out. The small size of the bench also makes it easily portable. Given below are the instructions for your first carpentry project to create a stylish storage bench that can be used every day for all your storage and leisure needs:
Tools Required
Tape measure
Pencil
Wood glue
Circular saw
Jigsaw
Oscillating sander
Miter saw
Fine grit sandpaper (#220)
Speed Square
Eye protection
Hearing protection
Paint Brush
Tack Cloth
Wood clamps – 4 Nos.
Cordless screwdriver
Materials Required
Square wicker baskets (12-inch long, 12-inch wide, 12-inch high – 2 Nos.)
Pine board (1-inch by 12-inch by 8 feet – 1 No.)
Pine board (1-inch by 2-inch by 8 feet – 1 No.)
White primer
White or semi-gloss paint
Finish nails – 1 box
Cushion – 1 No. ( 24 inches long by 12 inches wide)
Solid hardwood feet – 4 Nos.
Instructions
Wear hearing and eye protection. Use the circular saw to cut off two 26 inch pieces from the 1-inch by 12-inch by 8 feet pine board. Follow this by cutting three more pieces of 12 inches each.
Now, two of the 12-inch by 12-inch pieces that have been cut before will have square cut-outs at their center. You may leave the side pieces solid. Draw a smaller square with the Speed Square, leaving 2 inches of wood around the perimeter. Use a jigsaw to cut out the center.
The basic shape of the bench can be made with two 26-inch long pieces and one 12-inch long piece. Center the solid 12-inch piece in the middle of the two 26-inch pieces, which is on-center at 13 inches. Add wood glue and nail properly in the right place.
Position the two 12-inch cut-out pieces at each end, stepping each one back by 1-inch for a shiny appearance. Nail into place. Brace everything together with the wood clamps. Add glue and leave for two hours.
After turning the bench upside-down, screw the four hardwood bench feet in their proper places. You may need to make pilot holes before fixing the feet with the screws.
Remove the wood clamps and put the bench in an upright position. Place the cushion on top. Use the cushion for marking off the measurements for the one-by-two board railing. This will be 25 inches for the back railing with two side pieces each about 12 inches. Since cushions can vary in size, these rails can be cut to make room for the cushion.
As you cut the three cushion rails to size, set the long piece aside. Taper the ends of the two side rails with the miter saw. This is done for aesthetic purposes and to soften the sharp, angular ends.
Nail the three cushion rails into place on top. Slightly step back the cushion rails to give the bench a neater look.
Place the #220 grit sandpaper onto the oscillating sander. Sand down the wood thoroughly in the direction of the grain. Sand down the visible areas, sharp edges, and corners of the cushion rails.
Gently rub down the storage bench with the tack cloth. Ensure not to press down hard on the tack cloth as the beeswax will get embedded into the wood.
A pine board bench will need primer, as it is highly porous. Paint the bench with two coats of primer, letting it dry for two hours between each coat. Next, paint the bench with at least two coats of interior acrylic-latex semi-gloss or gloss paint.
An easy DIY storage bench is a very economical substitute to one bought at a furniture store. Surround it with creature comforts and homely touches like framed portraits and favorite books to create a comforting porch retreat.
Also Read:
Creative Storage Solutions for Small Apartments
Best Storage & Organisation Tools for Home
Under the Staircase Storage Design Ideas for Small Spaces