DIY Ladder Shelf to Incorporate Vintage Look in Your Home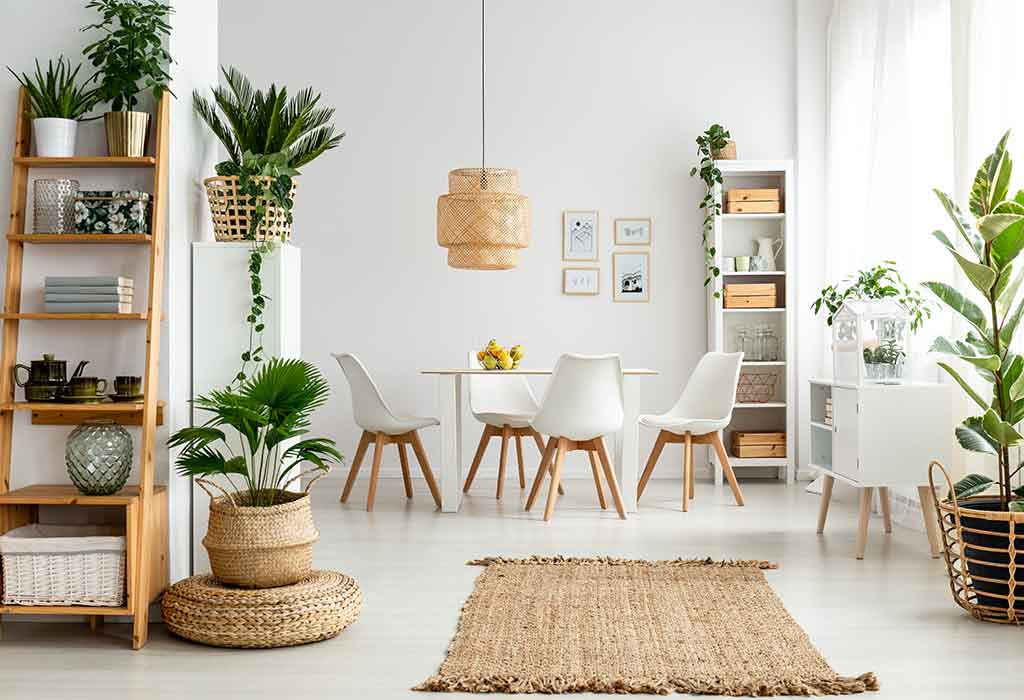 In this Article
A handsome ladder shelf unit can be a real workhorse that offers a versatile and smart storage solution. It can easily be built for a third of the price you'd pay to buy one at the store. Whether you choose to make a ladder shelf lean against the wall of your entryway or place it in your kitchen, office setting, library, or family room to showcase treasures, its basic construction remains the same. Just select the type of wood and paint or stain it to dress it up or down to complement your existing home décor.
Supplies
While venturing out to buy boards, measure with a tape for standard dimensions of 1x3s and 1x4s as they may sometimes vary in thickness and width. Check the full-length 1x4s to be sure that they are upright without warps and twists. Examine the ends, surfaces, or rough areas that won't sand out with wear and tear. Remember to wear safety glasses, earplugs, and a dust mask before starting your woodworking project. Build your stylish shelf unit in just one afternoon. Here is the shopping list for all the supplies you need and can buy from home centers, hardware stores, or lumberyards.
Vintage ladder
Pencil
Sandpaper
Miter saw
Tape measure
(5) 1X12X30-inch pine boards
Paintbrush
Circular saw
Drill
1-1/2-inch screws
Paint primer and paint
3-inch construction screws
Countersink drill bit
(2) 1X3-inch strip of salvaged wood
Drop cloth
Steps for Assembling the Ladder
A rustic ladder bought from a resale shop selling antique and vintage items may not always be hidden away in a dark nook of your home. Freestanding ladder bookcase models with triangular-shaped structures will have vertical supports that allow them to be anchored to the wall for safety and stability. If you want to DIY a bookcase ladder, any wood species will work, but you may choose oak veneer plywood or red oak and finish it with two coats of red oak stain. A DIY storage ladder offers a stylish way to display your favorite collectibles, organize extra towels in the bathroom, knick-knacks in the kitchen, blankets in the bedroom, shoes in the patios, or even plants in the dining area. Here are some of the easiest and quick instructions to DIY a wood ladder shelf that will become a stunning staple of your home your guests and neighbors will envy.
1. Cut Ladder Into Half
Use a circular saw to cut a standard-sized ladder to form two sections of equal length. The ladder rungs need to be perfectly aligned with two halves standing together—sand down its raw edges and rough patches.
2. Preparation For Making The Shelves
Layout a drop cloth to create a workstation. Cut pine boards or plywood of 1×12-inch for the shelves. Sand, prime, clean, and paint all their sides. Place both the ladder sections down on the cloth. Grab a pencil to mark points parallel to each other that are about four inches to the left and right from the center on each rung. Make holes with a countersink drill on the marks. Place one ladder section on its side, position a shelf beside the center of the top rung, and attach it through the holes with construction screws of three inches. These screws will make sure that the wood doesn't split when driven close to the edge of the shelf.
3. Attach Shelves To Ladder
Next, make the ladder stand up straight. Now carefully attach the other ladder section to the shelf. Place a salvaged wood measuring 1×3 across the back of the ladder. This diagonally attached strip should connect the bottom of one ladder to the top end of the other. Drive a 1½-inch screw through the bottom. Use a level to ensure the shelves are even and flat. Attach the opposite end of the brace. Install the remaining shelves and secure them well. Put a second brace across the back of the ladder. Mark and use a miter saw to do away with the section where the brace crosses the first diagonal board. After you've attached the brace and cut it to size, the overhanging brace ends.
4. Paint
Wipe away the dirt and dust. Use paint primer and paint. Once dry, you're ready to use your ladder shelf.
Ladder shelves ideas will shock you with their simplicity and wow you with their sophistication. Thus, recycle this unique piece of furniture so that it can be incorporated into your home. Make it functional as per your needs.
Also Read:
DIY Wall Decor Ideas for Your House
Effective Tips for Renovating Your Bedroom
Decoration Ideas for Center Table in Living Room
?>