DIY Fire Pit to Build Your Own Ring of Fire
In this Article
While you're putting together your DIY Fire Pit homemade idea, you'll be able to provide plenty of Christmas entertainment for the entire family. When it comes to passing the time during this year's holiday season, a significant number of people are looking for new and creative ways to give the time until everyone returns from their vacations and holidays, which is understandable. Through these fire pit do it yourself ideas, you may be able to provide them with an excellent opportunity to interact with you, other family members, and friends, as well as with one another.
How to Make Your Own Fire Pit?
A fire pit's ultimate appearance and feel are the most enjoyable parts of its design. Creating your fire pit does not have to cost a lot of money if you know how to do it correctly and efficiently. Although this treatment will take a significant amount of time, the ultimate result will be well worth the time invested.
So, without much delay, check out some of the best backyard fire pit ideas discussed below.
1. Fire Pit Made From Reinforcement Blocks
Summer and autumn are the most beautiful seasons of the year to soak in the splendor of the natural world and its creatures. Even something as simple as a group of people gathering around a campfire has the unique power to draw people closer. If you have ever gone outdoors on a cold night and needed to sit by a crackling fire to get warm, you understand the value of having a fire pit in your yard. On a chilly evening, most individuals have their fire pit just outside their back door, where they can enjoy a magnificent wood-burning fire.
Tools
Materials
Ten concrete retaining wall blocks for the retaining wall.
Instructions
Manually stack the bricks such that there are no air spaces between them.
Stack the ten blocks in a 4-block-high stack straight up to the top to prevent them from falling over.
2. Contemporary Cement Fire Pit
Nowadays, a modern cement fire pit is one of the most popular items to have in your backyard. These fire pits are often regarded as the quickest and most convenient way of preparing a wood-burning fire in the great outdoors. It is unnecessary to have any previous expertise to construct one; it is a fundamental and straightforward process. Furthermore, they can endure a wide range of temperatures and prevent wood ash or charcoal from spreading around the room. These fire pits, in a nutshell, will make your outdoor living space the talk of the neighborhood.
Tools
Concrete shovel
Polishing and cutting particle masks
Helmets
Cleaning protective gear
Drop cloths
Materials
Cement mixture
Additional dish (ours was 18″ in diameter) for external mold
One big wok (we used a 15-inch-diameter basin) for the inside molding
Non-stick spray with a brush
Large serving pail
Ornamental rocks that are not flammable
Instructions
Put on your protective gear because this is when most of the particles and allergens will be blown around.
Polish your moldings using non-stick cooking spray to aid in the removal of the dried cement.
Please ensure sufficient space on the bowl's interior for your gelatin containers to fit beneath the rim.
If you want a perfectly flat finish, shake the bowls with a motor to remove any air pockets.
You do not need to sand a charcoal barbeque grate's surface to make it look like wood.
If you cannot locate one, you can reduce a larger one to fit using a bandsaw or sander, or you can construct one from metal mesh or metal plates. Because 'Mexican beach stones' are regularly utilized by flame, take care that they do not explode in a hail of flaming shrapnel.
3. Metallic and Porcelain Fire Pit in a Contemporary Way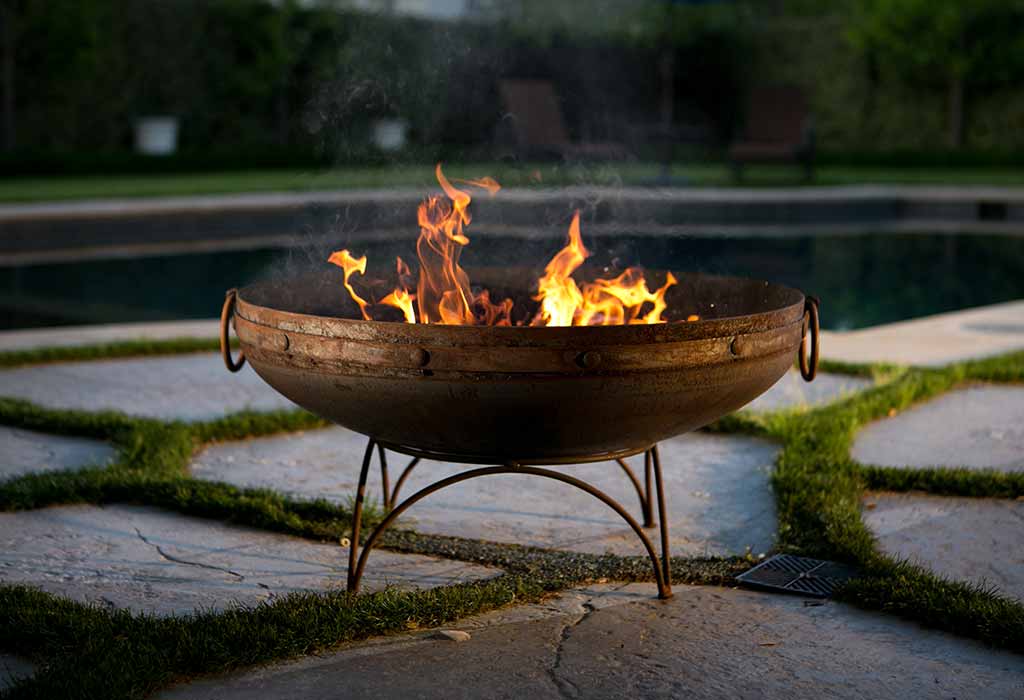 Modern fire pits made of metallic and porcelain materials to bring additional color and ambiance to your outdoor area are a must-have. It is a fantastic idea to have a large fire pit, particularly if you are hosting a party or simply spending time with your spouse or friends on a romantic evening. If you choose a more contemporary or modern design for your fire pit, the color of the fire pit and the entire appearance will make it more appealing to most people.
Tools
Materials
Comparatively tiny pebbles made of saltwater silicon
Seeded glass shards – 4 nos.
Thin Metal Gelatin Gasoline (preferred) or isopropanol (two thirds)
Planters that are squared with 'lip' formation
Instructions
Construct a display case and gather particular pebbles or rocks.
Be careful not to spread the silicon all over the glass since it's difficult to remove.
Pour some Isopropyl Alcohol into a leak-proof metal box, such as an outdated, clear acrylic container, if you're using it.
Fill the center of your fire pit using pebbles and an uncapped quart gel fuel. Pebbles should be used to overlay the meshes snugly.
And light the fire.
4. Miniature Fire Pit
Small fire pits are often the first thing that comes to mind when anyone thinks of southwestern decorating. Sure, these stone fire pit ideas bring an old-world charm to any home decor style or setting.
Tools
Materials
Quick-set Compound
Polymer dish to serve as a mold
One sack of river rock
Canister 3.5″ in circumference
Gel gasoline canisters
Cooking spray
Cement stirring sticks
Plastic bucket for concrete mixing
Instructions
Firstly, add a little water to the dried cement mortar to get soft peaks.
Transfer the mixture cement into the plastic container after coating it with cooking spray.
Replacing it will need more work.
Sprinkle the 3.5" container and insert it into the cement mortar.
Remove the can.
After 12-15 minutes, gently turn the plastic container, releasing the flaming bowl base.
Arrange river rocks around the concrete rim and let them sit overnight.
Finally, ignite the gelatin fuel canisters in the middle, and you have your portable campfire!
5. Town Center Fire Pit
Consider visiting the town center fire pit if you are fortunate enough to live in a location where summer is in full force. If you are not, you should seriously consider it. You may create an inviting atmosphere in your backyard by installing a fire pit. It can also be used to prepare great meals for your family and friends, as well as offer some fantastic entertainment.
Tools
Shovel
Firepit with bricks
Materials
Instructions
First and foremost, dig a big hole.
Then, set down sand, paver, and some more sand.
The following day, commence by constructing the sidewalls, which were made of concrete slabs.
And your fire pit is ready!
6. Fire Pit Using a Shortcuts
We've all heard about the advantages of having a fire pit, particularly if you have a lot of spare time. We will present the making of a fire pit using the shortcuts below.
Tools
Metal fire pit bowl with lip
Grate
Cover
Materials
Small-size fire pit kit
Stones/pebbles (44 – 46 nos.)
Instructions
Begin by constructing a level, indestructible foundation for your campfire.
Create a sphere or circular pit.
Before actually beginning the following column, choose a leveling to ensure that each column is leveled.
Construct four rows (or fewer if you want), spacing every pebble for stability — no cement is required!!
Place the fire pitcher atop, with the lips overhanging the stones.
Stand back and appreciate your DIY prowess before inviting the fam over for S'mores! That is precisely what we want to accomplish this evening!
If you've always wanted to sit around your campfire and talk with your friends and family till the wee hours of the morning, these DIY fire pit ideas are something you should seriously consider.
Also Read:
Best Outdoor Dining Room Ideas
Stunning Fireplace Makeover Ideas
Unique Decor Ideas for Your Front Porch