DIY All-purpose Cleaners You Can Easily Make at Home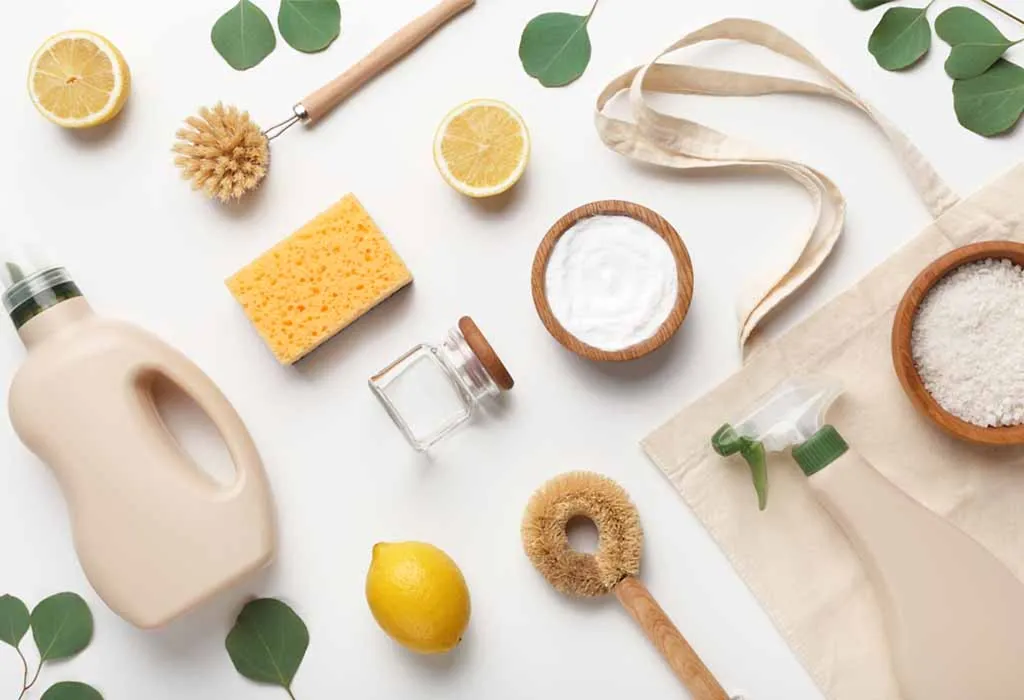 In this Article
As we are all now serious about sanitizing and disinfecting everything at home to eliminate toxins and germs, stores usually fail to meet the rising demand. Moreover, staying at home has revived our interest in natural homemade cleaners as more cost-efficient solutions that eliminate foul smells and dirt in the house safely.
Effective Homemade Cleaning Solutions
Most store-bought cleaners contain potentially hazardous chemicals that pose health risks for pets and family members at home. They have strong odors that leave a stench, pollute the air, and trigger skin allergies and respiratory problems. Although these commercially made products need to comply with strict guidelines and regulations, their manufacturers are not always obliged to disclose all the ingredients due to trademark issues. Most manufacturers dilute store-bought products with water, while commercial eco-friendly products may not be completely safe.
Natural cleaning solutions use simple ingredients and gentler chemicals that are available in the pantry. Minimizing chemical usage, creating a safe home environment, and reducing household budget are perks of making cleaners yourself. You can easily recycle old bottles or decant your DIY cleaners in aesthetically pleasing containers to upgrade your cleaning storage space. A wide range of homemade cleaners can be made using household staples instead of toxic cleaning products containing poisons and allergens. Here are some of the best all-purpose and environment-friendly cleaners that you can make at home.
1. Homemade Carpet Cleaner
A DIY homemade carpet cleaner can virtually banish all mess, including spills and stains, to freshen things up for your room.
What You Will Need
Dawn dish soap – 1 Teaspoon
White vinegar – 1 Tablespoon
Warm water – 1 Cup
What You Need To Do
Mix the dish soap and vinegar and pour the solution into a spray bottle. Add a cup of warm water before closing the bottle. Spray the mixture generously on the affected area of the carpet. Rub and blot with a soft towel until the water gets fully absorbed and the stain completely disappears.
2. Homemade Window Cleaner
Instead of chemical cleaners, a homemade window cleaner doesn't require hours of hard work to clean them and buff those fingerprints away.
What You Will Need
Empty spray bottle
White vinegar
Lemon essential oil – 5 Drops
Small funnel
Water – 2 Cups
Grapefruit essential oil – 5 Drops
Cornstarch – 1 Tablespoon
What You Need To Do
Pour a solution made from white vinegar, cornstarch, and water in a spray bottle using the funnel. Add the lemon and grapefruit essential oils. Close the bottle with the cap and shake well before use.
3. Shoe Deodorizing Spray
This deodorizing spray eliminates shoe stink that invades just about every household, especially in the monsoons.
What You Will Need
Essential oil (Thyme or Tea tree oil) – 2 Teaspoons
Water – 2 Cups
What You Need To Do
Mix the ingredients thoroughly and pour in a spray bottle. Spray liberally on your shoes and allow them to dry completely before wearing them again.
4. Homemade Dish Wash Detergent
Making this DIY dishwasher cleaner is cheaper than buying buckets and boxes of powdered dishwasher detergent to remove the grime produced by the crusty plates and sauce-splattered spoons.
What You Will Need
Salt – 1 Cup
Baking soda – 2 Cups
Borax – 2 Cups
Lemi-shine – 1 Cup
What You Need To Do
Mix all the ingredients before transferring into an air-tight container. It will surely last long as each load will require only two tablespoons of detergent.
5. Homemade Floor Cleaner
It's essential to choose the right ingredients for cleaning and protecting your hardwood floors. After sweeping the floor, you can use this homemade floor cleaner to remove dirt, dust, and other debris. Any excess water on wooden floors needs to be wiped off as moisture can cause damage in the long run.
What You Will Need
Pure Castile soap – 1 Teaspoon
Warm water – 4 Cups
Orange essential oil (optional) – 10 Drops
What You Need To Do
Add the Castile soap to the bucket or bowl containing warm water. Add 5-10 drops of essential oil to the soap and water mixture. Stir well and pour the mixture through a funnel into a spray bottle or spray mop. Spray it in small sections on the floor, then move a microfiber mop across the area in back and forth motions to wipe away the liquid.
6. Homemade Bathroom Cleaner
Homemade bathroom cleaners can be effective in cleaning floors, tub, as well as the sink. However, it's best to use an EPA-approved cleaner, like bleach, to disinfect thoroughly.
What You Will Need
White vinegar – 12 Ounces
Dawn dish soap – 12 Ounces
What You Need To Do
Heat vinegar and pour it into a spray bottle. Add the Dawn dish soap into it and screw on the lid. Shake gently to combine the ingredients, then spray and wipe. Allow it to sit on the surface for several hours before scrubbing and rinsing to remove stubborn soap scum.
7. Homemade Glass Cleaner
An easy homemade glass cleaner can leave your glass surfaces and mirrors streak-free and sparkling clean every time you wipe them with it.
What You Will Need
Rubbing alcohol or "surgical spirits" or (add 1/2 vinegar on top of the 1/3 cup or use vodka)
Distilled white vinegar – 1 Cup
Distilled water (for storing a few weeks) or filtered water (for storing a few days)
Essential oil – Few Drops (optional)
What You Need To Do
Add alcohol and vinegar in a spray bottle measuring 16oz. Add water using a funnel until the bottle is full. Add a few drops of your favorite cleaning essential oil. Combine the ingredients in a spray bottle and mix well. Spray the solution on the glass liberally and scrub lightly with a microfiber cloth. Use a dry cloth to wipe again.
8. Homemade All-purpose Cleaner
This natural cleaning recipe can work as an all-purpose cleaner for keeping bathrooms, kitchens, and other areas of your house germ-free.
What You Will Need
Hydrogen Peroxide – ¾ Cup
Unscented liquid Castile soap – 1 Teaspoon
Water – 2 Cups
Tea tree oil – 10 Drops
Distilled white vinegar – ½ Cup
Lavender oil – 20 Drops
What You Need To Do
Mix all ingredients in a spray bottle measuring 24oz. Shake it before using the solution for general cleaning purposes. You can spray first and then sprinkle on baking soda and scrub with a sponge to remove mildew and soap buildup.
9. Homemade Air Freshener
This quick homemade remedy will help to deodorize and freshen your home environment. You may mix and match your ingredients to create a long-lasting aroma that permeates your entire home.
What You Will Need
Orange, sliced – 1
Lemon, sliced – 1
Cinnamon sticks – 2
Whole cloves – 4
Bay leaf – 1 (fresh if possible)
What You Need To Do
Add all these ingredients to a medium saucepan. Fill three-fourth with water and boil. Set the burner to low and let it simmer all day to infuse the house with a naturally fresh aroma. Check the water level periodically and add water as needed.
10. Homemade Drain Cleaner
Cleaning the drain is as crucial as cleaning other parts of the house. This homemade drain cleaner will help clear all blockages and particles stuck along the drain pipeline, preventing issues such as foul stink and cockroaches, among others.
What You Will Need
Baking soda – ¼-½ Cup
White vinegar – ¼ Cup
What You Need To Do
Sprinkle the baking soda down the clogged drain, followed by the vinegar. As the mixture bubbles, let it sit for about an hour. Next, pour boiling water down the drain for a quick rinse. Depending on the intensity of the clog, repeat the process multiple times.
The choice between homemade and store-bought cleaners solely depends on individual preferences and the specific area that requires cleaning. Natural doesn't always mean harmless. It is imperative to exercise caution when you're using more potent ingredients to remove dirt and contaminants. So, test it on a small and inconspicuous area before using a new homemade cleaner on any surface or fabric. Try these effective ways to upgrade to better cleaning techniques for you, your pets, kids, and your wallet.
Also Read:
Tips to Keep Home Clean
Quick & Easy House Cleaning Tips
DIY Cleaning Hacks to Give Your House A New Look