8 Delicious Hanukkah Recipes to Make This Year
No celebration is complete without a feast. Hanukkah is just around the corner; now is a good time to finalise the menu and send those pending invites to your friends and family for a delicious Hanukkah meal. But, if you think you'll be too busy to think up recipes by yourself, these Hanukkah meal ideas can come handy. Let's get started!
1. Classic Potato Latkes
Remind your loved ones the miracle of oil with this classic Hanukkah Latkes recipe. It is a good Hanukkah appetiser recipe, too.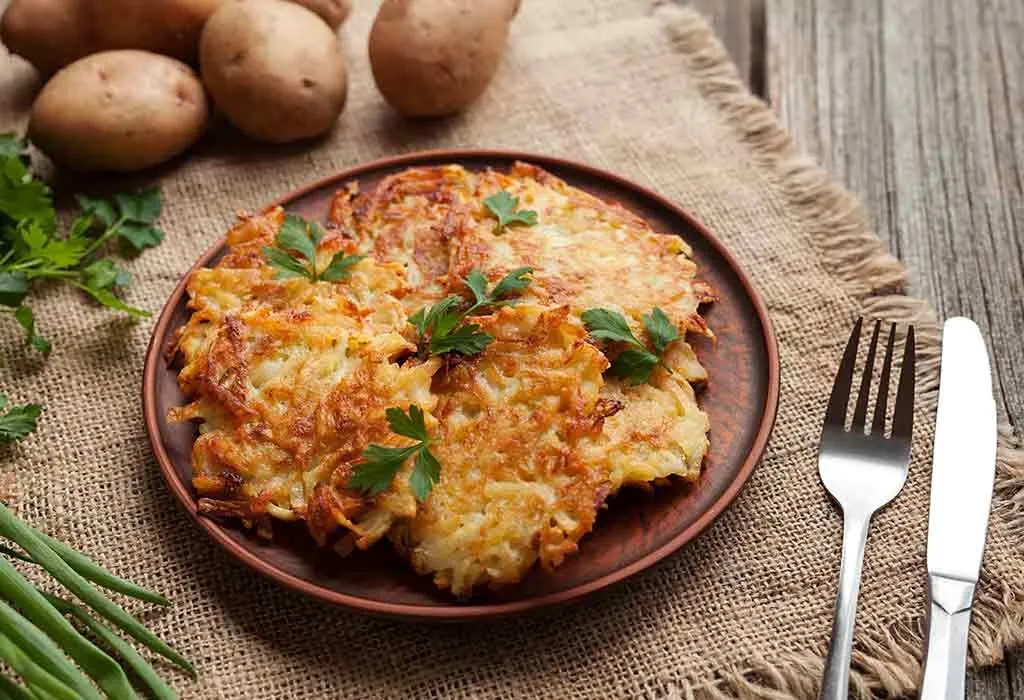 Servings – 4 to 5
Prep Time – 1 to 1.5 hours
Ingredients
Potatoes – 1 kg (grated; immerse the grated potatoes in water to prevent them from browning)
Onion – 1 (large, grated)
Breadcrumbs – 3 to 4 tbsp
Eggs – 2
Potato starch – 1 tbsp
Ground Pepper – 0.5 tsp
Salt to taste
Oil for frying
Instructions
Drain the grated potatoes and onion using a cheesecloth. Ensure you get rid of most of the water content. Transfer them to a bowl and mix with a fork.
Add the eggs, starch, spices, and breadcrumbs to the grated onion and potatoes. Mix well.
Make small, flat discs with your hands, and keep them in a plate. Ensure the discs are tight and compact, so they don't break apart while frying. If needed, add some more breadcrumbs/eggs to ensure the disks are compact.
Heat enough oil for shallow frying the latkes in a frying pan on medium flame.
When the oil is hot enough for the latkes to sizzle (not jump or smoke; then, the oil is too hot), gently place the latkes, and fry them on both sides till they are golden brown.
Remove the crisp brown latkes on a paper towel to soak excess oil and serve them immediately.
2. Brisket
What's Hanukkah without its staple meat? If you have brisket lovers in your family, you must try this Hanukkah Brisket recipe.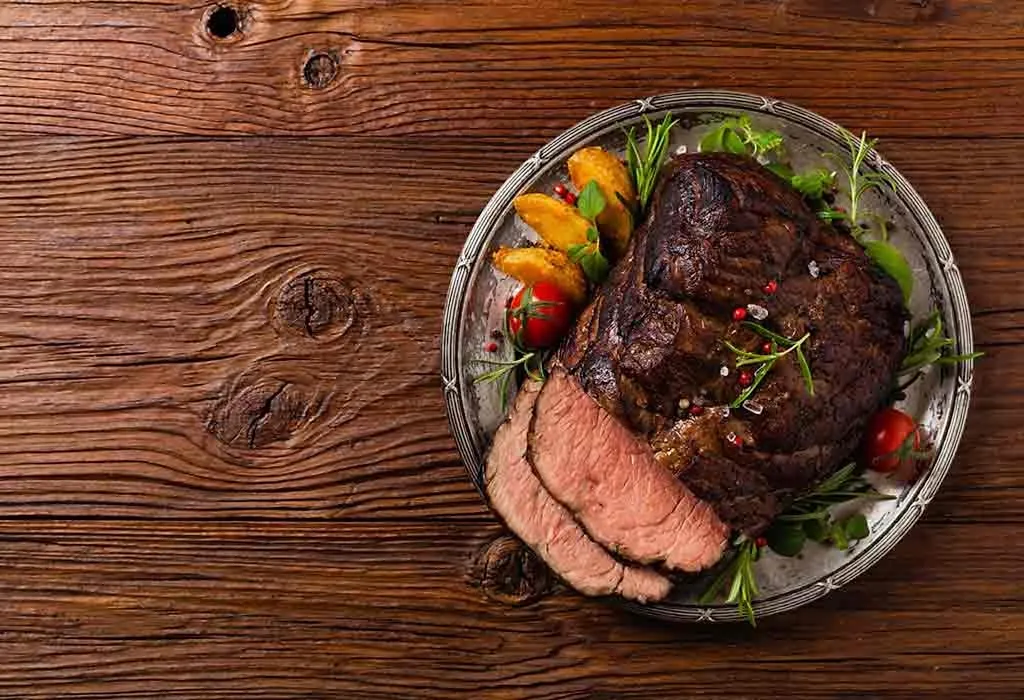 Servings – 5 to 7
Prep Time – 4 hours
Ingredients
Lean beef brisket roast – 1.25 kilogram
Onion – 1 (large, chopped)
Tomato paste – 0.5 cup
Potatoes – 2 (medium potatoes cut into large cubes)
Carrots – 3 (medium, peeled and cut into large cubes)
Fennel bulb – 100 grams (cut into wedges)
Parsley – 1 tbsp (finely chopped)
Garlic – 2 to 3 cloves (minced)
Thyme – 3 to 4 large, fresh sprigs or 1 tsp dried thyme
Vegetable oil – 1 tbsp
Water – 4 cups
Black pepper as per taste
Kosher salt as per taste
Instructions
Preheat the oven at 325 degrees.
In a heavy-bottomed pan, heat some oil on medium heat.
Season the brisket with salt and pepper.
Transfer it to the heavy-bottomed pan with the fat side down. Cook for 3 to 4 minutes, or until you get a nice golden colour.
Cook both the sides this way.
Then, remove the brisket and keep it in a plate.
In the same pan, sauté the onions till they are soft and fragrant.
Add the tomato paste and give it a good mix.
Then, add the water, stir it, and let it simmer for a few minutes.
Once it simmers, return the brisket to the pan. This time, keep the fat side up.
Cover the pan, turn off the stovetop, and place the pan in the preheated oven.
Cook for about 2.5 hours or until the meat is tender.
After the meat is tender, remove the pan and add the veggies in the cooking liquid around the brisket. Return it to the oven to cook the veggies (until they are tender, too).
Once done, slice the brisket against the grain, and serve along with the delicious veggies.
3. Jelly Doughnuts (Sufganiyot)
Those with a sweet tooth, especially kids, are sure to enjoy these delicious Hanukkah treats.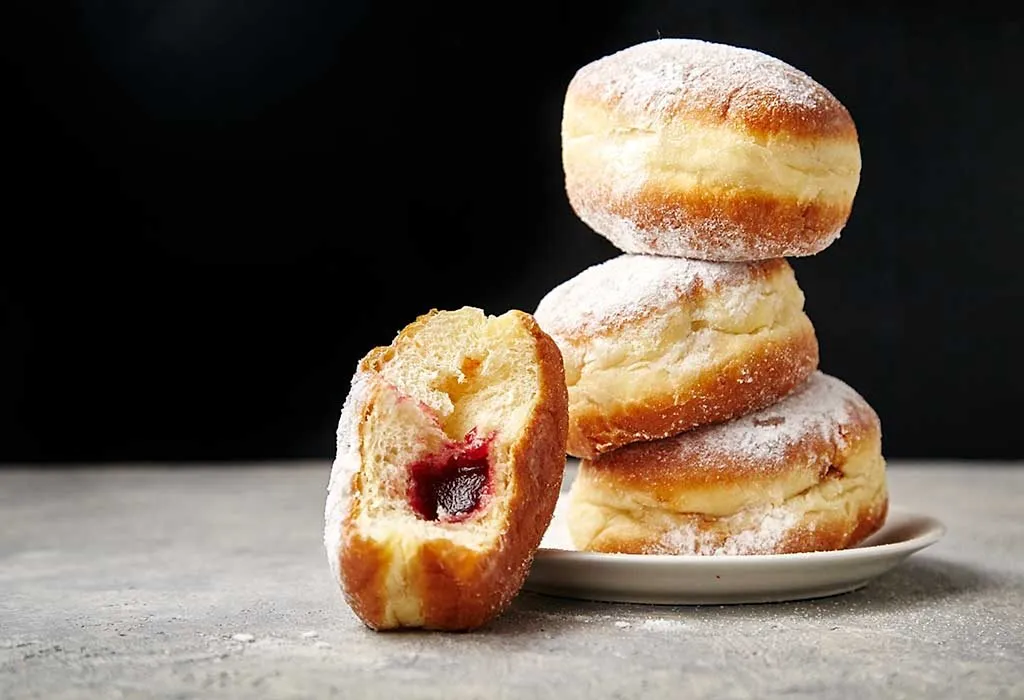 Servings – 20
Prep Time – 2.5 to 3 hours
Ingredients
All-purpose flour – 2.5 cups
Jam of your choice – 1 cup
Active dry yeast – 2 tbsp
Eggs – 2 (large)
Sugar – 0.5 cup
Unsalted butter – 2 tbsp
Vegetable oil – 3 cups
Salt – 2 tsp
Nutmeg – 0.5 tsp (freshly grated)
Warm water – 0.5 cup
Instructions
Take the yeast in a bowl. Add some sugar and warm water, and set it aside.
Take the all-purpose flour in a large bowl.
With your fingers or a spatula, make a well in the centre of the flour.
Crack in the eggs, and add in the foamy yeast, butter, grated nutmeg, salt, and 1/4th cup sugar.
Mix and stir everything till you get a sticky dough.
Then, dust some flour on a flat work surface, and knead the sticky dough until it is soft and smooth. Add more flour if needed, and keep kneading till the dough bounces back when you poke a finger in it.
Oil a bowl, and keep the dough in it. Cover it with cling wrap, and keep it in a warm place to rise, for 1-1.5 hours.
When the dough has risen, remove it onto the work surface, and roll it to about 1/4th of an inch. Using a round cutter, a bowl or a glass with a 2.5-inch diameter, cut rounds from the rolled dough.
Remove the cut doughnuts in a plate, cover them with cling wrap, and let them rest for about 15-20 minutes.
Heat oil for deep-frying the doughnuts on medium heat.
Gently immerse the doughnuts in the hot oil using a slotted spoon and fry them till they turn golden.
Remove them onto a plate lined with some paper towels, to soak excess oil.
Now, take the jam of your choice in a pastry bag.
Make a hole in each doughnut with a skewer.
Pipe the jam into the doughnuts. Ensure you fill enough in each doughnut.
Your Hanukkah Doughnuts are ready!
4. Lemon Herb Roast Chicken
A humble roast chicken is a great idea if you cannot arrange for the Hanukkah Brisket!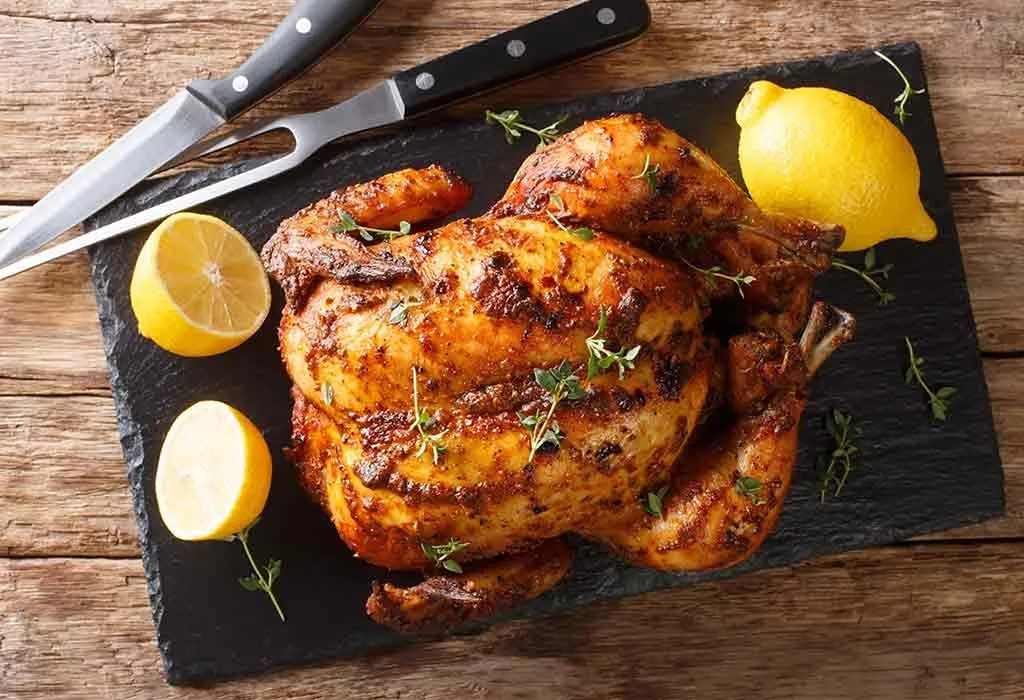 Servings – 6 to 8
Prep Time – 1.5 to 2 hours
Ingredients
Chicken – 1 (whole)
Mustard powder – 0.5 tsp
Italian seasoning – 2 tsp
Lemons – 2
Garlic powder – 1 tsp
Black pepper – 0.5 tsp
Olive oil – 2 tbsp
Salt to taste
Instructions
Rinse the chicken properly, and remove the giblets. Rinse it once more if needed after that, and keep it in a baking tray/dish.
In a bowl, mix the spices together.
Take a tbsp of the spice mix and sprinkle the inside of the chicken as properly as you can.
In the bowl with the remaining spice mixture, squeeze two lemons, add the olive oil, and give it a good mix.
Rub it on the chicken to flavour it thoroughly.
Roast the chicken in an oven (preheated at 350 degrees F) for 1.5 hours.
Baste it with the oils/juices if needed in between. A tip to know if it is cooked is when its juices run clear.
Serve with some mashed potatoes or roast veggies!
5. Challah
Hanukkah meals cannot be complete without the Challah. Here's how you can make some.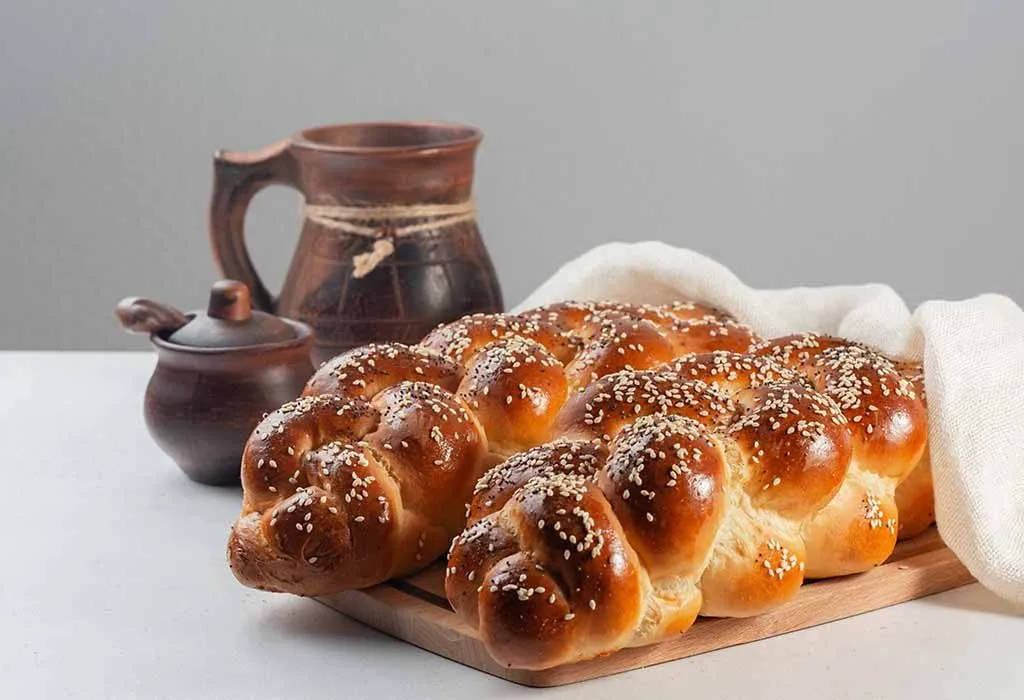 Servings – 25 to 30
Prep Time – 2.5 hours
Ingredients
All-purpose flour – 8 cups
Active dry yeast – 1 tbsp
Poppy seeds – 1 tbsp (optional)
Salt – 1 tbsp
Eggs – 3
Warm water – 2.5 cups
Vegetable oil – 4 tbsp
Honey – 0.5 cup
Instructions
Mix the yeast in some warm water and let it sit for a while.
In a large bowl, beat the eggs, and add the oil, honey, and salt. Mix well.
Then, add the all-purpose flour, one cup at a time. Beat the mixture till you get a thick dough.
Transfer it to a flat work surface and knead the dough. Add some flour and work it until it is smooth, non-sticky, and elastic.
Keep the Challah dough in the large bowl and cover it with a damp cloth. Let it rest for 1.5 hours or so. When the dough has risen to double its size, it is ready.
After the dough has risen enough, put it back on the work surface and punch it down.
Cut it in two parts and knead each part until it is no longer sticky, and is smooth.
Then, divide each half into thirds, and roll each part into 1.5-inch thick, long rolls.
Place the rolls lengthwise, parallel to each other, and braid them. Pinch the top to get a neat braid. Pinch the ends together, too.
Take a baking tray and grease it with some oil.
Place the braided bread on it, cover it with a damp cloth, and let it rest for another hour.
After the bread has risen again, brush a beaten egg generously all over it, and sprinkle some poppy seeds.
Bake in a preheated oven (at 375 degrees F) for 40 minutes. To know if your Challah is done, tap the bottom of the loaf with your finger. If you get a hollow sound across the bread, and the loaf is light in weight, your Challah is ready.
6. Roasted Brussel Sprouts
When it's a meal, how can we forget the veggies? Here's a recipe you can make in no time on Hanukkah.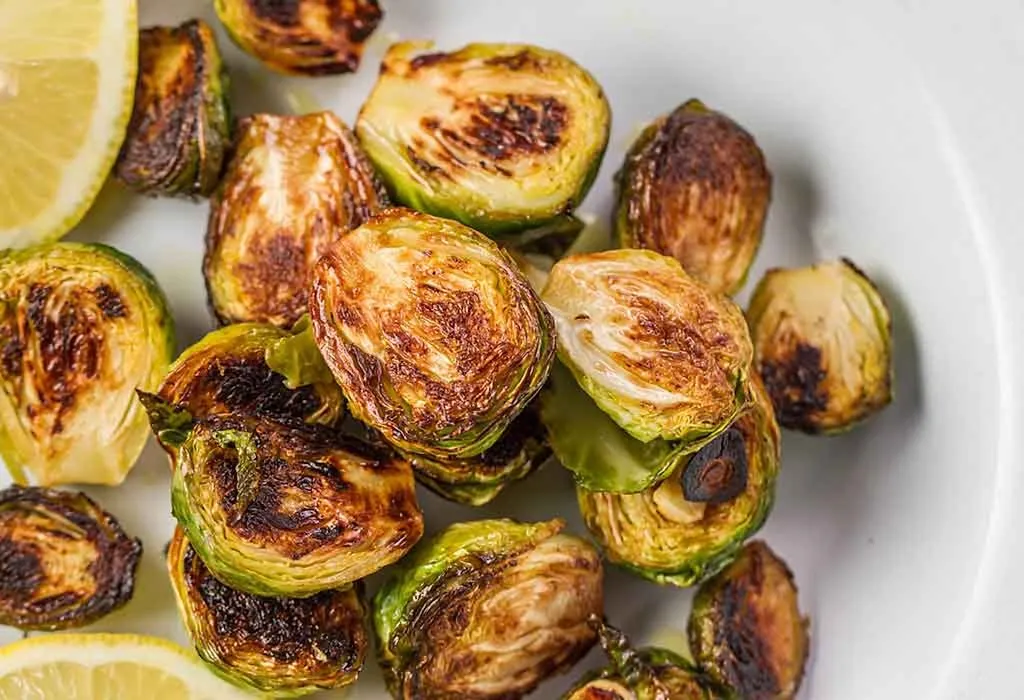 Servings – 5 to 6
Prep Time – 1 hour
Ingredients
Brussel sprouts – 0.5 kg
Olive oil – 3 to 4 tbsp
Kosher salt as per taste
Pepper as per taste
Instructions
Rinse the Brussel sprouts, trim the ends, and remove any yellow leaves.
Cut the Brussel sprouts in halves.
Preheat the oven to 400 degrees F.
In a plate, take the cleaned Brussel sprouts and sprinkle some olive oil, salt, and pepper.
Rub the spices nicely over the Brussel sprouts.
You can use a zip-lock bag also to mix the spices instead of doing it in a plate.
Then, line a baking tray with a baking sheet, and spread the Brussel sprouts evenly over it.
Sprinkle some more kosher salt and pepper if needed.
Roast them in the preheated oven for 35 to 45 minutes. Shake the pan after every 7 to 8 minutes, and adjust the oven temperature, so they are roasted evenly.
When they get a nice, even dark brown colour, they are ready to be served!
7. Apple Fritters
This quick recipe can come in handy for a last-minute Hanukkah dessert.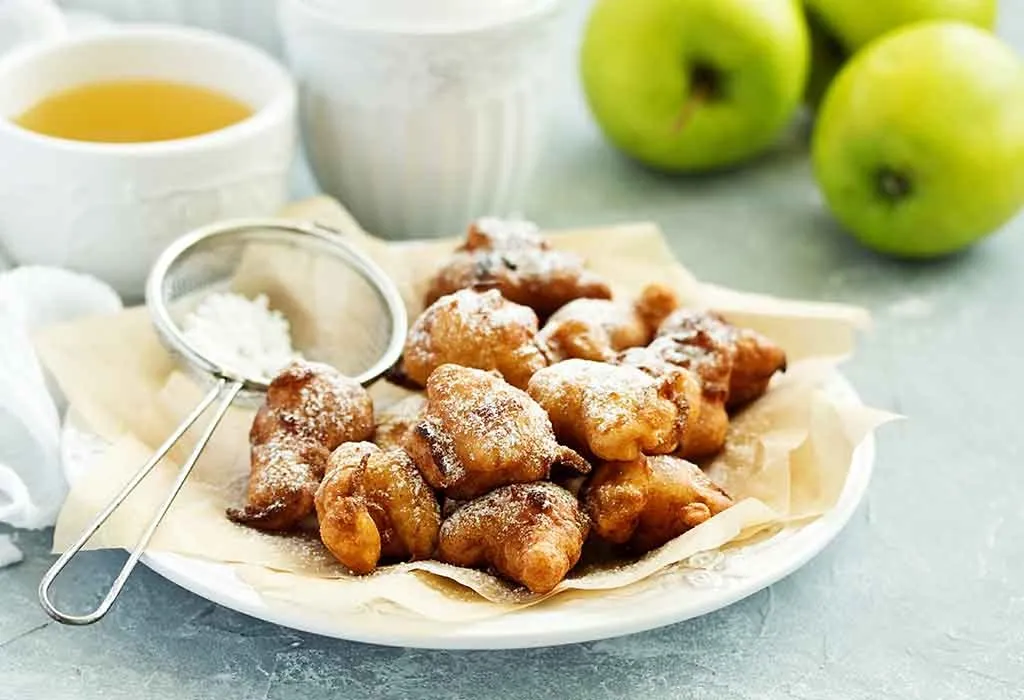 Servings – 24
Prep Time – 40 minutes
Ingredients
All-purpose flour – 1.5 cups
Apples – 3 cups (peeled, cored, and chopped)
Baking powder – 2 tsp
White sugar – 1 tbsp
Salt – 0.5 tsp
Milk – 11 tbsp (2/3rd cup)
Eggs – 2 (beaten)
Vegetable oil – 1 tbsp
Cinnamon sugar – 1 cup
Vegetable oil – 4 cups (for deep-frying)
Instructions
In a deep frying pan, heat the oil on medium flame (375 degrees F).
Take a large bowl and mix the all-purpose flour, baking powder, salt, and sugar.
Then, add the milk, beaten eggs, and oil, and mix well.
Add the chopped apples and mix well again.
Now, in the hot oil, gently drop small dollops of the batter.
Fry the fritters in batches until they turn golden on all sides.
Use a slotted spoon to remove the fritters and place them on paper towels to soak up excess oil.
When the fritters are ready, sprinkle generous amounts of cinnamon sugar, and toss them well while they are still warm.
8. Matzo Ball Soup
Although the Matzo Ball soup is traditionally eaten during Passover, it can be a great addition to your Hanukkah meal, too.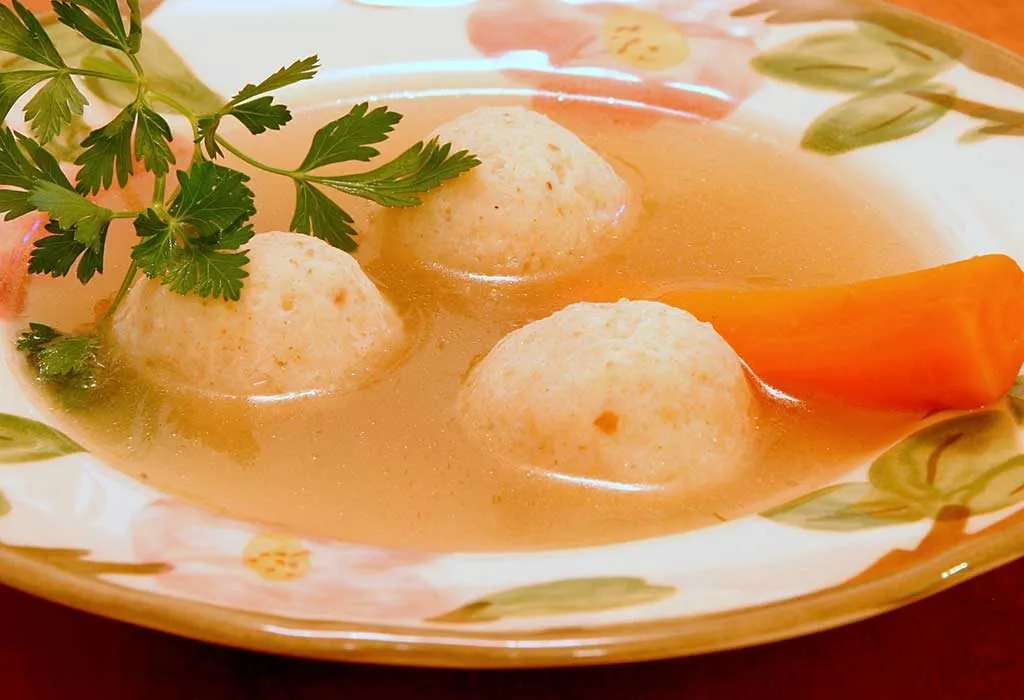 Servings – 10
Prep Time – 1 hour
Ingredients
Chicken broth – 2.5 to 3 litres
Matzo meal – 150 ml
Matzo crackers – 2 packs (approximately 300 grams)
Onions – 2 (minced)
Eggs – 6
Butter – 0.5 cup
Salt to taste
Pepper to taste
Parsley – 3 tbsp (minced)
Water
Instructions
Take enough water in a large pot, add some salt, and let it boil.
Until then, take the matzo crackers in a bowl and add some normal water to it. Cover it and keep it aside for a few minutes. Then, drain the water.
Take a skillet and melt the butter in it on medium heat.
Add the drained matzo crackers to the butter and stir them well. Keep cooking until the mixture is dry and brown.
Remove the skillet from the heat and let it cool a bit.
Then, add the eggs, onions, salt, pepper, and parsley.
Mix just enough matzo meal to hold the mixture together.
Make golf ball-sized balls.
Test if you've made the matzo balls appropriately by gently dropping one in the boiling water. If the ball rises in the boiling water without breaking, it's well done. If it doesn't rise, or it breaks, add one more egg to the mixture, and try again.
When you get the consistency right, cook all the matzo balls in the boiling water, and keep them aside.
Then, take another saucepan, and boil the chicken broth on medium heat.
Gently drop the balls in the broth. When the balls rise in the broth, the soup is ready to be served.
With these delicious traditional Hanukkah meal recipes, you are sure to make your Hanukkah celebration special. Light, laughter, and scrumptious, home-cooked food can lift the moods of one and all. Hanukkah Sameach!