Delicious Gluten-free Dessert Ideas Along With Recipes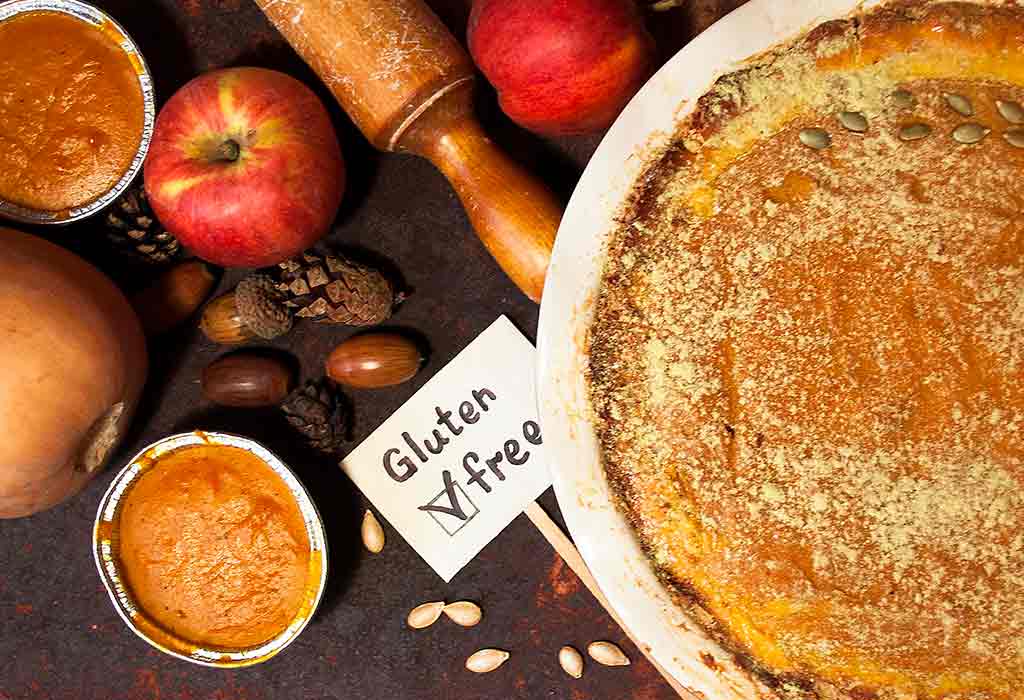 In this Article
A growing number of people with Celiac disease, allergies, or weight issues opt for gluten-free alternatives. Making healthy treats at any time is simple with online recipes! Make these 12 gluten-free desserts at home and indulge guilt-free!
Gluten-Free Desserts That Your Family Will Love
If you or a loved one prefers gluten-free desserts, you've probably had issues in the kitchen. Whether it's rich cheesecakes, simple cakes, or muffins, there's no need to give up your beloved food, especially with so many options for gluten-free pecan pie or cheesecakes. With a few tweaks, you can still enjoy your favorite sweet dishes while eating well and avoiding common illnesses!
1. Gluten-Free Pumpkin Cake
Ingredients
Gluten-Free Artisan Flour Blend – one cup
1/3 cup sugar powder
1 tsp cinnamon powder, 1/2 tsp iodized salt
1/4 tsp ginger powder
a quarter tsp grounded nutmeg
1/8 tsp cloves, crushed
16 egg whites
1 tsp Tartar cream
1 tsp vanilla extract
1/3 cup natural sugar granules
1 cup pureed pumpkins
Total Time: 1 Hr 10 Mins
Servings: 10-12
How to Make
Preheat oven to 350°F.
Sieve the sugar powder four times with the flour mixture, salt, powdered cinnamon, ginger powder, nutmeg, and cloves.
Whisk the egg whites, tartar cream, and vanilla essence in an electric mixer with a whisking blade until frothy.
After around five minutes, delicate spikes will begin to form.
After that, increase the speed of the mixer to high and continue to beat until the other peaks are firm and glossy.
Toss the ingredients into a large, wide mixing bowl.
Add the flour and pumpkins in four batches, mixing gently with a spatula after each addition.
Use this mixture in a 10″ tubular pan that has not been greased and lined with baking paper on the bottom.
Put in the oven for 50 minutes on the middle rack with the top smoothed out with a spatula. When the cake is made baking, it should be lightly browned and spring back when gently touched.
Allow the cake pan to cool for at least 1 hour before turning it out onto a cooling rack.
Remove the cake from the pan. Then, turn the pan upside down and gently remove the cake.
2. Low-carb Chocolate Chip Peanut Butter Protein Cookies
Ingredients
Vital Proteins, 1/3rd cup Peptides
1/2 cup Erythritol
One cup peanut butter
1/4th tsp Sea Salt
Two big eggs
1 tbsp vanilla extract
A third of a cup sugar-free chocolate chips (dark ones preferably)
Total Time: 30-35 mins
Servings: 15-18
How to Make
Preheat the oven to 350°F. Line a baking sheet with parchment paper.
In a large mixing bowl, whisk all collagens, sugar, and sea salt until thoroughly mixed.
After adding the eggs, mix it along the edge of the bowl to incorporate the yolks and whites before mixing it in with the other ingredients.
Mix in the peanut butter and vanilla extract until creamy.
Fold in the dark chocolate chips until thoroughly mixed.
Flatten the cookie dough balls with your palms or the base of a damp cup until they are about 1/4 inch (1/2 cm) thick or to your preferred thickness.
Bake for 16-20 minutes, or until the cookie is pretty hard and no longer gooey on top.
Allow it for cooling completely to firm up even more.
3. Brownies with Fudgy Black Beans
Ingredients
Before using, strain and thoroughly wash one 15-ounce can of black beans.
Three large eggs (approximately)
Three tablespoons canola oil (extracted from the seed)
one-quarter cup sugar (granules)
1/2 cup bittersweet cocoa powder (optional)
One tablespoon pure vanilla extract (optional)
1 tsp mint essence (if desired)
1 tsp baking powder (about)
a dash of salt
a half cup of small, slightly sweet chocolate chips (distributed evenly)
Total Time: 40-45 mins
Servings: 9-10
How to Make
Preheat the oven to 350°F. Set aside an 8″x8″ cake pan or casserole that has been lightly oiled or coated with non-stick cooking spray.
Fill a food processor bowl halfway with black beans and process for 3 minutes, or until smooth and creamy.
In a blender, combine the eggs, oil, sugar, cocoa powder, vanilla extract, peppermint extract (if using), baking powder, and salt until well combined.
Add half the chips and pulse a few times until evenly distributed throughout the batter.
Then, using a slotted spoon, smooth the top of the batter and finish with the remaining powdered sugar!
30-35 minutes, or until the sides of the dish begin to peel away from the corners and a wooden skewer inserted into the center glides out clean.
Allow it to cool completely in the pan before cutting the brownies gluten-free into 2-inch pieces.
4. Pudding With Vegan Chocolate and Avocado
Ingredients
1/2 cup non-dairy milk
(1/4 cup) pure maple syrup
One teaspoon pure vanilla extract
Two medium-sized avocados, ripened (skinned and pitted)
1/3 cup bittersweet cocoa powder
a sprinkling of kosher salt
If preferred, garnish with farm-fresh berries, mint, or chocolate nibs.
Total Time: 15-20 mins
Servings: 4 (half-size cups)
How to Make
In a food processor or blender, combine the dessert ingredients according to the recipe.
Process for 45 seconds, scraping down the sides of the blender as needed until creamy.
Fill a basin halfway with the contents (or serving bowls). The dessert is entirely ready to serve at this time, although we prefer it chilled.
After preparing, refrigerate for 30 minutes to 2 days.
When ready to serve, divide the dough into dessert bowls. Optional toppings include berries, whipped cream, mint, or chocolate. Keep refrigerated until ready to serve.
5. Dark Chocolate Bark with Walnuts, Goji Berries, and a White Chocolate Drizzle
Ingredients
12 ounces dark chocolate (use the one with 72 percent cocoa)
2 ounces white chocolate
1 1/4 cup unsalted uncooked walnut pieces (cut in half)
1/4 cup and two tablespoons Goji Berries
1/8 teaspoon salt
Total Time: 1½ hour
Servings: 19-20
How to Make
Preheat the oven to 450°F.
Layer half-size walnuts in a baking tray lined with aluminum foil. Bake these walnuts in the oven for 5 minutes. When the walnuts have cooled, cut them into tiny pieces.
Place a Pyrex dish on top of a medium pot filled with boiling water. Add dark chocolate and stir until it melts and becomes creamy.
Mix the melted dark chocolate in with chopped walnuts and 1/4 cup goji berries.
Remove the aluminum foil from the casserole and cover it with baking paper.
Using a spatula or spoon, evenly distribute a thin layer of chocolate on the parchment.
Place a small glass bowl on top of a pot of boiling water. Incorporate the white chocolate until it is melted and creamy. Remove the pan from the heat.
Using a spoon, drizzle white chocolate over dark chocolate, making angular shapes with the spatula.
Add two tablespoons of goji berries on top, with salt sprinkled on top.
Place the bark on a baking dish and refrigerate until solid (about an hour).
Refrigerate the bark overnight, if necessary.
With your fingertips, separate the chocolate bits from the bark.
Refrigerate in an airtight jar or bag for up to 2 weeks and eat within that time!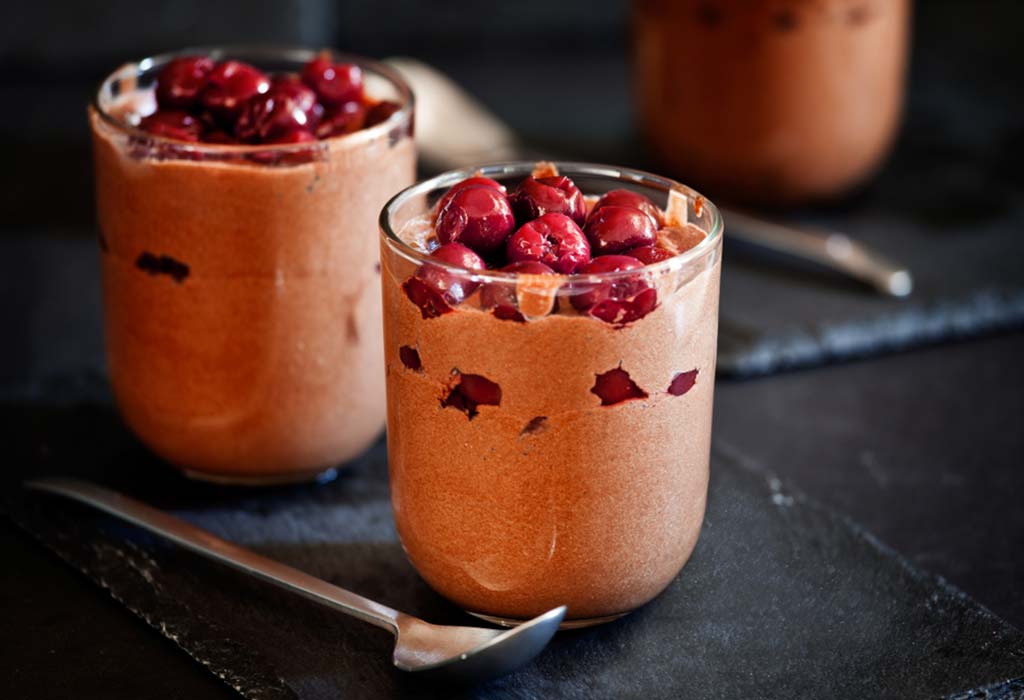 6. Chocolate Cherry Almond Cream
Ingredients
a dozen bananas
two cups cherries, picked and cooled
1/3 cup chocolate (sweetened or unsweetened)
14 ounces almond butter
12 cup bitter almond milk (or any milk/milk replacement)
14 cup cacao granules are an additional alternative. Miniature chocolate chips
14 cup walnuts, sliced
14 cup cherries, sliced
More cherries, cacao nibs, and almond shards are optional decorations to add on top of the beautiful cream.
Total Time: 6 hrs 5 mins
Servings: 5-6
How to Make
Bananas should be peeled and frozen in slices overnight.
In a high-powered blender, combine frozen banana slices, thawed cherries, chocolate powder, almond butter, and almond milk.
Mix for 2–3 minutes, or until the mixture is creamy and evenly incorporated.
Fill a bowl halfway with the delicious creamy mixture.
Mix in the cacao nibs, almond slivers, and chopped cherries.
Wrap the delicious cream in tinfoil or plastic wrap and place it in a baking dish.
Fill a large enough food container halfway with excellent cream and close the lid.
Freeze for at least 6 hours, ideally overnight.
Allow beautiful cream to soften for 10-15 minutes on the counter before adding for simple scooping.
You can store the leftover chocolate gluten-free cake in an airtight jar for up to 2-3 weeks.
7. Fruit and Nut Bread with No Added Sugar
Ingredients
Two fairly ripe bananas
two huge eggs
Canola oil, 2 cups oat flour, 1/4 cup oats flour
1 tsp baking powder
1 tsp salt
13 cup sliced almonds
3/4 cup chopped walnuts
3/4 cup bittersweet dried apricots, sliced into 1/4-inch pieces
3/4 cup raisin or frozen or dried berries
Total Time: 45-50 mins
Servings: 10-12
How to Make
Preheat the oven to 350°F.
Coat a 1-quart meatloaf pan with non-stick cooking spray.
In a large baking dish, puree the bananas until they are no longer lumpy.
Mix the egg and canola oil entirely with a whisk. In a mixing basin, whisk together the oatmeal flour, baking powder, and salt. To combine, whisk everything together.
Blend in the almond mince, walnut slices, apricot, and raisins.
Distribute the mixture evenly in the baking dish.
Cook for 25 minutes, or until a skewer inserted into the center comes out clean.
Allow cooling in the pan for 5 minutes before transferring to a cooling rack for another ten minutes before slicing.
8. Snowballs of Low-Sugar Vanilla-Coconut Cheesecake
Ingredients
Aluminum foil, frying spray
Two 8-ounce containers of reduced-fat cream cheese
1/3 cup Baking powder 1 tsp Mix in the sweeteners
One 5.3-ounce cup non-fat, sugar-free vanilla Greek yogurt
a quarter cup tinned coconut cream
1 tbsp. vanilla extract
2 tbsp tapioca flour
three eggs
2 cups chopped raw coconut, gently browned if needed
Total Time: 2 hrs 15 mins
Servings: 7-8
How to Make
At medium speed, combine the reduced-fat cream cheese and sweeteners in a mixing bowl.
Mix the yogurt, coconut cream, vanilla, and tapioca flour at low speed until completely incorporated and smooth.
After each egg addition, beat on low until barely combined—do not whip or include a lot of air.
Wrap aluminum foil around the casserole dish.
Place 2 cups warm water in slow cooker crock, adjusting foil straps if necessary.
Place the dish in the slow cooker, centering it where the foil straps meet.
Cook for 2 1/2 hours on high or until the cheesecake mixture has set.
To remove the cheesecake, carefully remove the casserole dish from the slow cooker and set it on a rack using the foil straps.
Uncover the cheesecake and place it in the refrigerator for 4 to 24 hours.
Using an ice cream scoop, make eight spherical snowballs of dessert mixture.
Cover the dough into round balls with clean hands before rolling them in the coconut to coat the outside edges.
Serve immediately or keep in the refrigerator.
9. Chocolate Oatmeal Fudge Bites, No-Bake, Gluten-Free
Ingredients
one cup unsweetened peanut butter
half a cup nectar
one pound whipped butter or coconut oil
two cups oats (gluten-free) oats
One and a quarter cup dark chocolate chips
One tablespoon vanilla extract
Total Time: 2 hr 10 mins
Servings: 25
How to Make
Using non-stick cooking spray, coat a 9×9 pan.
Combine the peanut butter, honey, and butter in a regular-sized casserole dish over medium heat until fully melted.
Stir the mixture with a scraper regularly.
Remove the cocoa from the heat and mix in the oats, chocolate chips, and vanilla extract.
Stir until the chocolate is completely dissolved.
Spoon the sauce into the prepared pan and distribute evenly.
Once the final product has cooled, place it in the refrigerator or freezer.
10. Posset of Lemons
Ingredients
Two tbsp. superfine sugar
1 cup heavy cream
three tablespoons fresh lemon juice
two teaspoons grated lemon zest
two teaspoons grated lemon juice
Blueberries, for garnish
Total Time: 10-15 mins
Servings: 4-5
How to Make
Warm the textured sugars and 2 cups whipping cream in a small pot over medium heat until the sugars have melted, then bring to a boil and simmer for 1 minute longer.
Remove the pan from the heat and whisk in the fresh lime juice, grated lemon zest, and lemon juice until thoroughly blended.
Refrigerate until firm, about 2 hours, in four 8-ounce cake pans or canisters.
Whip half a cup of heavy cream into medium-firm puffs.
Spoon the sauce on top and decorate with berries and additional lemon zest, if preferred.
With these easy gluten-free desserts recipes, you can reintroduce dessert to your family and friends.
Also Read:
Delicious Cinnamon Dessert Recipes
Instant Dessert Recipes for Friend and Family
Best Gluten-free Flours That are Healthy for You