Delicious Dinner Ideas For Your New Year Eve's Party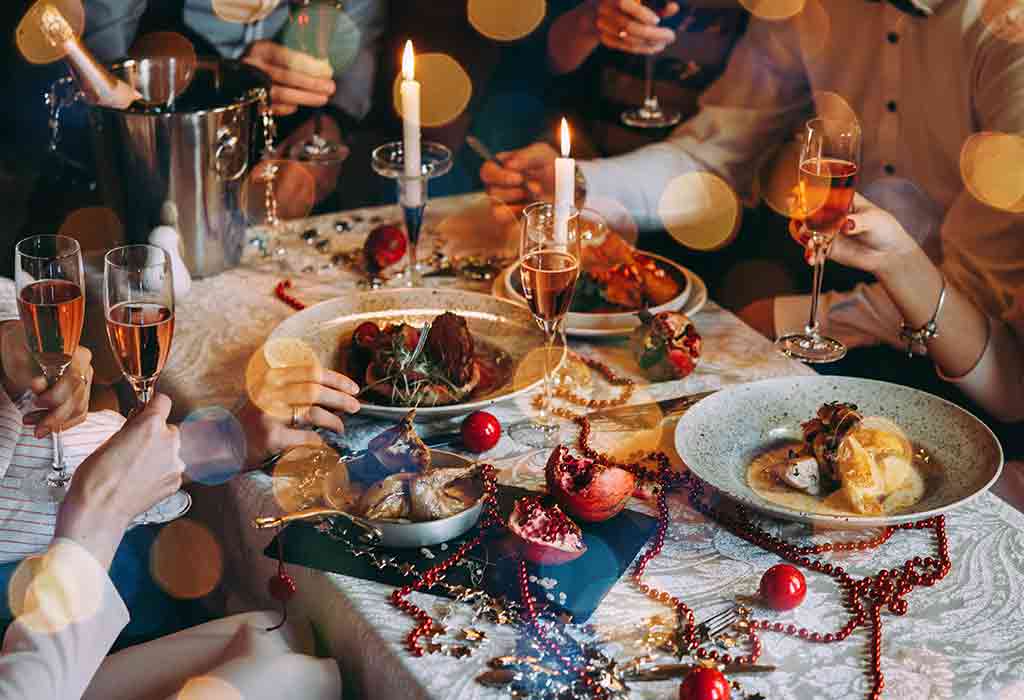 In this Article
As the year ends, we find ourselves anticipating loads of laughter, merriment, and lip-smacking food. It is the best time to gather around a bonfire, watch the fireworks, dance, drink, and chat with your loved ones. But a New Year's Eve is not complete without a sumptuous dinner. Whether you are looking for a traditional New Year's Eve layout or a dinner with a modern twist, you should be able to find something unique and out of the ordinary in the below list, made especially for you!
Best New Year Eve Dinner Recipes Ideas
Regardless of whether you plan to gather at a friend's place for a typical new years dinner or spend a romantic evening with your partner, a delicious feast is a must! A traditional New Year's Eve dinner would mainly consist of appetizers, snacks, savory mains, a few mouth-licking side dishes, and of course, cocktails. If you are hosting, go through this list for new and classic ideas for menus for a New Year's Eve dinner. We have also dropped in a popular Chinese New Year Eve dinner recipe for a variety…
1. Juicy Stuffed mushroom
Ingredients
Mushrooms – 1lb
Butter – 2 tbsp
Garlic (minced) – 2 cloves
Breadcrumbs – 1/4th cup
Salt – to taste
Pepper – to taste
Parmesan cheese (grated) – a cup
Cream cheese – ½ cup
Parsley (chopped) – 2 tbsp
Thyme – 1 tbsp
Total Time – 50 minutes
Servings – 4
Method
Preheat the oven to 400°F.
Take out mushroom stems and chop the mushroom caps roughly.
Take a baking tray and spread a baking sheet on it, then grease it with cooking spray.
Place the mushroom caps on the baking sheet.
Melt 2 tbsp butter in a skillet on medium flame.
Add the chopped mushroom stems and cook till all the moisture is gone.
Add minced garlic and cook till aroma comes out.
Add breadcrumbs and toast them slightly.
Sprinkle some salt and pepper and remove the skillet from heat.
Add parmesan cheese, cream cheese, thyme, and parsley and season with salt and pepper to the above mixture of the mushroom stem.
Fill this mixture in the mushroom caps and sprinkle some parmesan.
Bake for 20 minutes till mushrooms become golden and soft.
2. Lamb shoulder – Spicy and Slow-Roasted
Ingredients
Lamb shoulder (bone-in) – 7lbs
Kosher salt – to taste
Freshly ground pepper – to taste
Black peppercorns – 2 tbsp
Coriander seeds – 2 tbsp
Paprika – 2 tbsp
Ground cinnamon – 2 tsp
Ground cardamom – 1 tsp
Ground cloves – 1 tsp
Freshly grated nutmeg – 1 tsp
Large red onion (sliced thinly) – 1
Fresh lemon juice – 2 tbsp
Sumac – 2 tsp
Mint leaves – ½ cup
Parsley leaves (with tender stems) – ½ cup
Total Time – 4 hours
Servings – 8
Method
Season lamb generously with salt and pepper and put them on a wire rack.
Toss peppercorns and coriander seeds in a small wok on medium flame till they are fragrant (around 3 minutes). Let them cool.
Finely grind the seeds in a grinder or mortar pestle and transfer them to a small bowl. Add paprika, nutmeg, cinnamon, cloves, cardamom, and rub this mixture over the lamb.
Chill the lamb uncovered for at least 4 days.
Once you take it out, let the lamb sit on the counter for 1 hour before you start cooking it.
Preheat the oven to 525°F with a rack in its center.
Transfer lamb into a roasting pan and add 3 cups of water to it.
Cover the pan with a foil and turn the lamb halfway through until the meat comes off (3-3.5 hours).
Remove lamb from the oven, discard foil, pour off liquid in a pan, and transfer lamb to a cutting board.
Turn up the heat of the oven to broil or whatever is the maximum temperature in your oven.
Return lamb to the pan and cook uncovered for 5 minutes till well done.
In a small bowl, toss onions, sumac, and lemon juice.
Serve lamb topped with onion mixture and toss in parsley, mint, and a pinch of salt.
3. Rice Paper Rolls With Prawns
Ingredients
Hoisin sauce – 2-3 tbsp
Soy sauce – 1 tbsp
Minced chili – ½ tsp
Crushed peanuts – ½ tsp
Rice Paper – 24
Carrot (julienned) – 1 large
Cucumber (julienned) – 1 large
Spring onions (julienned) – 2
Rice vermicelli or rice noodles (cooked) – 1oz
Lettuce leaves (shredded) – 4 large
Medium prawns (cooked, peeled, and sliced in half length-wise) – 1 cup
Fresh herbs – chives, mint, coriander
Total Time – 20 minutes
Servings – 24
Method
Pour water into a shallow dish.
Dip one rice paper roll in water for 5 to 10 secs then place it on a clean flat surface.
Now fill the rolls from 1/3rd bottom with small amounts of carrots, spring onion, cucumber, lettuce, two prawns, and herbs. Remember not to overfill the wrapper.
To roll, tuck each side, then pull the bottom side of the wrapper and roll it over the filling. Use your hands to fold the filling as you go.
Do the same steps with all the paper wrappers.
Serve the rolls along with hoisin sauce.
4. Greek Dip
Ingredients
Feta cheese – 1.5 cups
Greek yogurt – 1 cup
Softened cream cheese – 1 cup
Extra virgin olive oil – ¼ cup
Lemon juice and zest – 1 lemon
Chopped cucumber – ½ cup
Cherry tomatoes (halved) – ½ cup
Dill (chopped) – 2 tbsp
Salt – to taste
Red pepper flakes – to taste
Total Time – 10 minutes
Servings – 8
Method
Use a hand mixer to mix feta cheese, yogurt, cream cheese, olive oil, lemon juice, and lemon zest.
Once the mixture is fluffy, add salt, red pepper flakes, and dill.
Transfer the mix into a serving bowl and top it with cut cucumber, cherry tomatoes, and drizzle with little olive oil.
5. Appetizer With Bacon and Date
Ingredients
Packaged pitted dates – 1oz
Almonds – 4oz
Sliced bacon – 1lb
Total Time – 35 minutes
Servings – 6
Method
Preheat the broiler
Slit each date and put one almond inside it.
Wrap bacon around the date and hold it together with toothpicks.
Broil bacon for 10 minutes or till they are crisp and brown.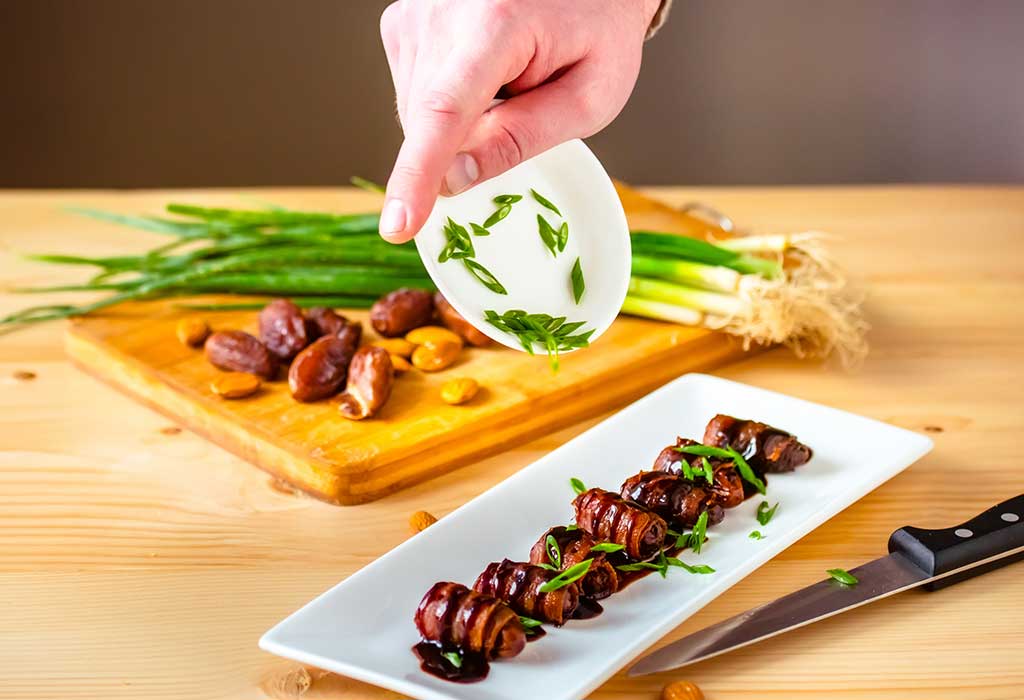 6. Jell-O Shots
Ingredients
Champagne – 1.5 Cup
Lemonade – ½ Cup
Granulated sugar – ¼ Cup
Gelatin – 4 sheets
Blue Curacao – 3 tbsp
Cooking spray
Coarse sanding sugar
Total Time – 2 hours 10 minutes
Servings – 16
Method
Mix the lemonade, champagne, and sugar in a saucepan. Top it with gelatin.
Once gelatin softens and blooms (about two minutes), then heat this mixture on low heat.
Stir till gelatin dissolves completely (about 2-3 minutes).
Remove from heat and stir in blue curacao.
Take an 8" X 8" baking pan and grease it with cooking spray.
Pour the mixture into the pan and chill it for 2 hours till it is firm.
Invert the firm Jell-O on a cutting board and slice it into 16 parts.
Dip the bottom part of each Jell-O in sanding sugar and serve.
7. Avocado Fried In The 0ven
Ingredients
Breadcrumb – 2 cups
Chilli powder – 1.5 tsp
Canola oil – 3 tbsp
Buttermilk – 1 cup
Egg – 1
Multipurpose flour – 1 cup
Avocados – 3 (ripe but firm)
Total Time – 1 hour
Servings – 6
Method
Preheat oven to 400°F.
Grease a large baking tray with canola oil.
In a shallow bowl, mix breadcrumbs, chili powder, canola oil, salt, and pepper.
Take egg and buttermilk in a separate bowl and whisk them.
In a 3rd bowl, keep flour.
Cut each avocado into six wedges and season them with salt and pepper.
Toss each avocado first into flour, then buttermilk, and finally in the breadcrumb mixture.
Place avocadoes on the greased baking sheet.
Bake them for 30 minutes or till they are golden brown.
8. Artichoke Bruschetta
Ingredients
Marinated artichoke hearts (drained and chopped) – One jar (6.5 ounces)
Romano cheese (grated) – 1.2 cup
Red onion (finely chopped) – 1 cup
Mayonnaise – 5 tbsp
French baguette – cut into slices of 1.3 inches thickness
Total Time – 20 minutes
Servings – 8
Method
Preheat broiler.
Mix the artichokes, mayonnaise, Romano cheese, and red onion in a bowl.
Spread the mixture on french baguette slices.
Take a large baking sheet and arrange slices in a single layer.
Broil in the oven till toppings appear slightly browned (2 minutes)
9. Cocktail Meatballs in Cranberry Sauce
Ingredients
Ground beef – 2lb
Breadcrumbs – 1 cup
Fresh parsley – ¼ cup chopped
Eggs – 2
Onion – 2 tbsp grated
Soy sauce – 2 tbsp
Garlic powder – ¼ tsp
Jellied canned cranberry sauce – 16oz (1 can)
Ketchup – 1.5 cups
Packed brown sugar – 2.5 tbsp
Lemon juice – 1 tbsp
Total Time – 1 hour 20 minutes
Servings – 20
Method
Preheat the oven to 375°F.
Thoroughly combine beef, parsley, breadcrumbs, onion, eggs, garlic powder, and soy sauce in a bowl.
Take about 2 tbsp of this mixture to roll into small meatballs.
Take a large and deep baking dish and arrange meatballs in it.
Bake the meatballs in the oven till they are brown (around 25 minutes).
Mix the cranberry sauce, brown sugar, ketchup, and lemon juice in a saucepan; heat over medium flame. Keep stirring till the cranberry sauce is completely melted and sugar has dissolved.
Pour the sauce over meatballs and bake till you see a glaze forming over meatballs (25-30 minutes).
10. Prosecco Grapes
Ingredients
Green grapes – 2lbs
Presco – 1 bottle (750 ml)
Vodka – 4oz
Sugar – ½ cup
Total Time – 1 hour 10 minutes
Servings – 10
Method
Keep grapes in a bowl and pour prosecco and vodka over them. Refrigerate this mixture for an hour in the fridge.
Drain grapes with a colander and pat them dry.
Transfer grapes to a baking sheet and sprinkle sugar on them.
Coat the grapes with sugar thoroughly by shaking the pan back and forth.
Serve in a bowl.
The new year is enjoyed best with family and friends coming over and making merry with some wholesome home-cooked food. With the ideas shared in this article, you can surely liven up your homely New Year's Eve dinner party with some lip-smacking and easy-to-cook delicacies.
Also Read:
Quick and Delicious Recipes for Your New Year Party
Foods to Eat This New Year for Prosperity & Good Health
Tips on Celebrating New Year Eve With Your Family
?>