Delicious Campfire Desserts to Sweeten Your Campsite Experience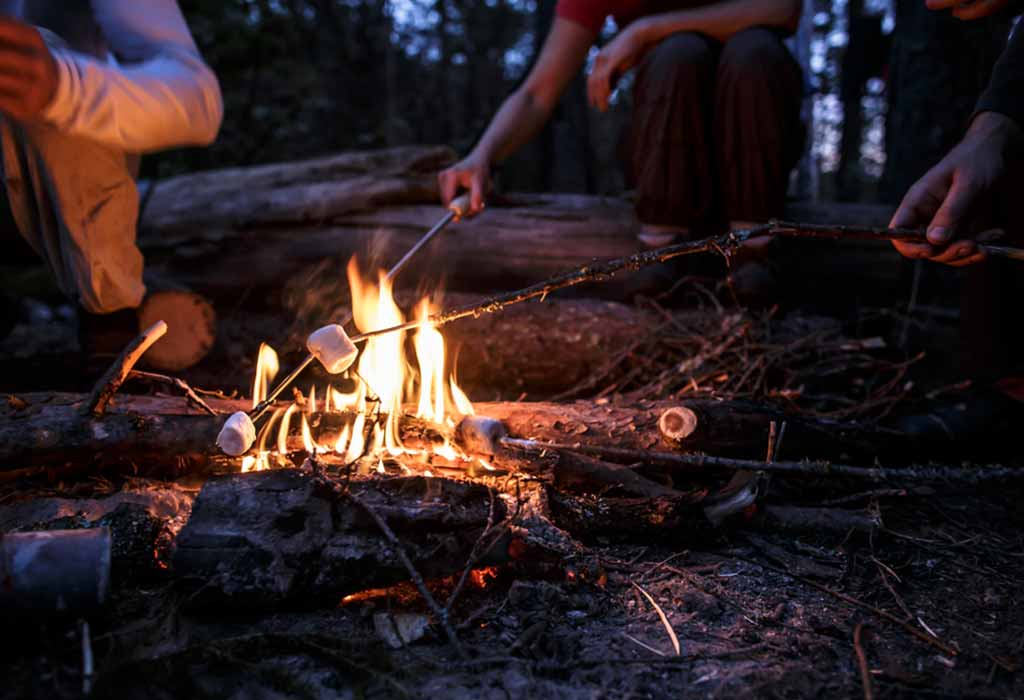 In this Article
Whether you're a die-hard adventure seeker, looking for a cost-effective break, or want to relive childhood memories, camping is a great opportunity to get away from routine and be one with nature. Cooking food in the wilderness is a basic thing to practice before a camping trip. Moreover, after a long day of exploring the great outdoors, one definitely deserves a flavorful dessert that ensures a nourishing and safe food experience.
Campfire Desserts You Must Try
Camping involves hiking, trekking, and walking, and it definitely works up an appetite! Cooking food offers a rustic pleasure that enhances your campsite experience. Recipes for campfire food are often designed with significant planning. Certain ingredients can be premixed at home and later cooked on the trail, and several freeze-dried foods can be used creatively to make the most delicious campfire dessert recipes. Contrary to popular belief, dessert can help to maintain a balanced diet. They meet your daily nutritional requirements and work as a mood-booster and improve your overall weight and maintain a healthy lifestyle. The golden rule is that you can eat everything in moderation. There are low-carb campfire desserts that can satisfy your sweet cravings in a guilt-free way. A part of the high-fat, moderate protein, and a low-carb ketogenic diet, they aid in weight loss, balance hormones, and decrease the risk for chronic conditions.
A small handful of easy ingredients swapped with natural sweeteners make classic treats that keep your energy level stable during your camping trip. This outdoor activity involves overnight stays away from home; it involves open-fire cooking that tastes much better than kitchen-based cooking. Learning how to make delicious gluten-free campfire desserts aid in developing new skills apart from planning, packing, reading a map, setting up tents, tying knots, and starting fires. Besides, sharing a meal can prove to an ultimate bonding experience for your friends and family. Here are some of the most mouth-watering desserts to make over a campfire that might surprise everyone!
1. Grilled Plums With Ricotta and Honey
Grilling fruit effectively brings out its natural sweetness and creates a stunning summer dessert with minimum effort.
Ingredients
Granulated sugar- 1 tbsp.
Plums-6
Ricotta-1 c.
Orange zest-1 tsp.
Honey-2 tbsp.
Shelled pistachios-1/4 c.
Servings: 6
Total Cooking Time:10 Minutes
Steps:
Heat your grill to medium. Cut plums side down, sprinkle the sugar over the cut side, and grill. As the cut-side gets slightly charred and caramelized for about one to two minutes, turn it and cook for further 2 minutes.
Combine the ricotta and orange zest in a medium bowl.
Transfer the plums to plates. Place the ricotta mixture over the top and drizzle with honey. Finally, sprinkle with pistachios for crunchiness.
2. Pound Cake Berry Dessert
With just a few simple ingredients, this gorgeous dessert is ready to be served.
Ingredients
Fresh berries-12–16 oz.
Tablespoons sugar-2
Butter-1/4 cup
Pound cake-3/4 lb
Rolo candy bars-2
Servings: 6
Total Cooking Time: 20 Minutes
Steps:
Mix the sugar and berries in a bowl and wait for 10-15 minutes until the juices are released.
Place a cast-iron skillet over hot coals or use a grill. Add butter and let it melt. Cut the cake into cubes. Add its slices to the skillet and cook. Turn them often until all sides are toasted.
After removing the skillet from the heat, sprinkle berries over the cake cubes. Put the Rolos on the top. Cover the skillet with foil and allow to sit for 5-10 minutes until the berries are warm and the chocolate melts.
3. Walnut Chocolate Burritos
If you're a Mexican food fan, this dessert is fun, different, and can be made in just a few minutes.
Ingredients:
Flour Tortillas-2
Semi-sweet Chocolate chips- 1/2 cup plus 1 tablespoon
Chopped Walnuts -2 Tbsp.
Mini Marshmallows-1/2 Cup
Servings: 2
Total Cooking Time: 15 Minutes
Steps:
Butter a tortilla and fill it with chopped walnuts, chocolate chips, and mini marshmallows. Wrap the tortilla just as you would fold a burrito.
Place the burrito on a cast-iron skillet over the campfire.
Flip regularly until ingredients melt and serve.
4. Blackberry Campfire Cobbler
While you're trying to relax in the woods, you need this bubbling fruit dessert to cheer up everyone.
Ingredients
Sliced peaches-3c. (Thawed and drained peaches)
Raspberries-2 c.
Blackberries-1 c.
Granulated sugar-3/4 c.
Cornstarch-3 tbsp.
Lemon- 1/2 ( Juice and zest)
Vanilla extract-1 tsp.
kosher salt-Pinch
Servings: 6
Total Cooking Time: 1 Hour 15 Minutes
Steps:
Place a grate over a campfire. Toss together the filling ingredients in a large bowl and transfer them to a cast-iron skillet.
Whisk sugar, flour, salt, and baking powder in a medium bowl. Add butter and mix well until butter pieces are pea-sized. Add vanilla and buttermilk. Stir to combine.
Spoon mixture on top of the fruit and sprinkle sugar on the top—cover skillet with a lid or foil.
Place over campfire or grill heated up to medium and cook the biscuit mixture till the fruit starts bubbling in about 20 minutes.
5. Campfire Cones
This dessert can be made even by kids! They would love to fill their own waffle cones with candies and toppings of their choice.
Ingredients
Ice Cream Cones- 4
Aluminum foil
Toppings – sliced bananas, peanut butter, mini marshmallows, chocolate chips, sliced strawberries
Servings: 2
Total Cooking Time: 12 Minutes
Steps:
You can line each cone with peanut butter. Fill with your favorite toppings. (chocolate and marshmallows)
Wrap each cone tightly with foil.
Heat the foil-wrapped cones over a campfire for about 3-5 minutes or until the chocolate and marshmallows start to melt.
6. Campfire Strawberries
These strawberries are dunked in melty marshmallow fluff and torched over a campfire for a quick and healthy breakfast dessert.
Ingredients
Strawberries-24
Marshmallow fluff- 1 jar
Servings: 24
Total Cooking Time: 10 Minutes
Steps:
Use a skewer to pierce the strawberries.
Dip strawberries into a jar of marshmallow fluff.
Toast the strawberry over the campfire till the fluff turns golden brown. Consume while warm.
7. Campfire Eclairs
This decadent dessert uses refrigerated biscuit dough that can be packed for camping. Easy to fill into your favorite goodies, it might even replace the classic s'more.
Ingredients:
Refrigerated Crescent rolls-1 packet
Chocolate frosting
Pre-made pudding
Servings: 4
Total Cooking Time: 20 Minutes
Steps:
Unroll the crescent rolls. Wrap the flat dough around a roasting stick and heat it over the campfire.
After it turns brown, remove carefully from the skewer by rotating the stick and allow to cool.
Fill the pastry with pudding and frost the top of the pastry with chocolate frosting.
8. Sweet Campfire Calzones
Fluffy, crisp pizza crust with a sweet delicious filling makes an ideal campsite dessert.
Ingredients:
Store-Bought Pizza dough- 1 Ball
Dessert fillings- Peanut butter cups, Chocolate bars, and Powdered sugar
Servings: 4
Total Cooking Time: 30 Minutes
Steps:
Cut the pizza dough in half. Coat it with butter and stack your favorite sweet toppings over one end of the dough.
Fold the dough. Place the calzone on the grill over the griddle pan or skillet to over campfire until golden brown for at least 20 minutes.
9. Fruit Tarts
Easy to fill with fruit or any pie filling, this refreshing dessert will your any kid's favorite.
Ingredients:
Refrigerated can of small biscuits-1Package
Pie filling-2 cans (any fruit of your choice)
Whipped cream- 1 Can
Servings: 10
Total Cooking Time: 5 Minutes
Steps:
Wrap the biscuit dough around the outside of the steel cup on the fire stick.
Rotate the biscuits over an open flame. Turn frequently for about 1 to 2 minutes until golden brown on each side.
Once they cool down, fill the tarts with fruity pie filling and top with whipped cream.
10. Brownie Oranges
Pack some spoons before setting off for the campfire as you need them to dig into this dessert treat.
Ingredients:
Oranges-6
Brownie mix/batter
Servings: 6
Total Cooking Time: 35 Minutes
Steps:
Slice off the tops of the oranges and scoop out the insides with a spoon.
Fill the oranges with the brownie batter to about two-thirds of the way up.
Place the top of the orange peel back on to recap.
Wrap in tin foil—Cook over medium coals for about 20 minutes.
Wait for a few minutes before opening the foil.
11. Pineapple Upside-down Doughnut
With almost no prep time required, this cool and casual donut can be made in the middle-of-no-where.
Ingredients:
Plain cake donuts-4
Canned pineapple Rings -4
Softened Butter-1/12 cup
Brown sugar-1/2 cup
Servings: 4
Total Cooking Time: 20 Minutes
Steps:
Slice a donut into two halves. Spread one teaspoon of butter onto the cut sides of each doughnut half. Sprinkle a spoonful of brown sugar evenly over the butter. Place a pineapple ring between the halves of each doughnut.
Prepare four squares of aluminum foil with cooking spray.
Put each sandwich onto the prepared side of a foil sheet and seal tight by wrapping them around.
Place pouches on medium coals and cook for about 20 minutes. Flip the sides halfway through.
12. Campfire Hot Cocoa
Nothing can be more satisfying on a cold evening in the woods than sitting by the campfire and sipping a mug of hot cocoa.
Ingredients:
Cocoa Powder -1 Cup
Sugar-2 Cups
Powdered Milk-2 Cups
Small marshmallows
Servings: 2
Total Cooking Time: 10 Minutes
Steps:
Heat water in a campfire percolator. Add in the powdered milk.
Warm up until the powder is dissolved.
Add in your cocoa and sugar and stir.
Serve with marshmallows on top.
Outdoor cooking can be dangerous due to its high flammability and proximity to occupants. Cooking activities and food storage also attract potentially dangerous animals. Hardwoods are usually the best choice for cooking as they burn hot and for a longer time. Overcooking can destroy the nutritional value of food. Consider what tools you have available to cook with. Once you're up for the challenge, you'll find out that cooking Campfire sweets over a crackling open campfire will produce the most delightful bakery-worthy desserts.
Also Read:
Best Sugarless Dessert for Health Conscious
Make A Desserts Using Cinnamon
Amazing Winter Nights Warm Desserts
?>