Cute Dog Quotes For All Pup Lovers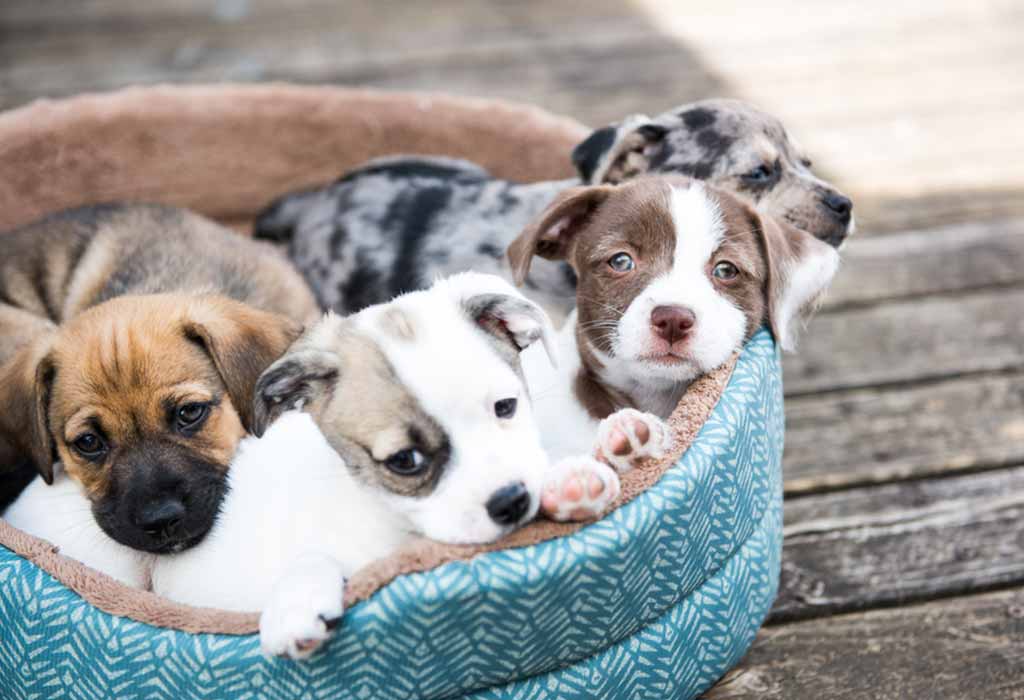 In this Article
At times the world at large can be a rather selfish place for us. However, dogs make the greatest friends whom we can trust never to betray us no matter the circumstance. As dogs are our greatest companions, it's only fitting to celebrate these delightful canines for the love they shower upon us unconditionally. Dog phrases and sayings can be quoted at any point in time to honor their special presence in our lives.
Cute Dog Quotes for Your Furry Friend
Ownership of dogs leads to better familial ties, low blood pressure, improved cardiovascular health, and a reduced risk of schizophrenia. You can show your affection for these furry friends by choosing the best Dog love quotes that might go with a custom photo book dedicated to your dog, a social media post for National Dog Day, or a personalized pet gift selected for your dog's birthday. If you've lost your dog, sentimental loss of dog quotes posted on social media can raise awareness and lead to a search campaign. As dogs can act silly and entertain us with their goofy antics, funny dog quotes help tickle those funny bones when you want to sit back and relax after a busy day. Musings on life with a dog, sassy anecdotes, and adorable puppy quotes serve as inspiration for pet owners to label them on a dog bandana or a paw print poster that you can put up in their homes. Here are a few quotes in recognition of your furry friend-
"No one appreciates the very special genius of your conversation as a dog does." – Christopher Morley.
"Once you have had a wonderful dog, a life without one is a life diminished."- Dean Koontz.
"A dog can snap you out of any mood that you're in faster than you can think of." -Jill Abramson.
"People love dogs. You can never go wrong adding a dog to the story."- Jim Butcher.
"Every dog must have his day." – Jonathan Swift.
"A dog is the only thing on earth that loves you more than he loves himself."-Josh Billings.
"No matter how little money and how few possessions you own, having a dog makes you rich."- Louis Sabin.
"A lot of shelter dogs are mutts like me." – Barack Obama
"The world would be a nicer place if everyone had the ability to love as unconditionally as a dog."- M.K Klinton
"What do dogs do on their day off? Can't lie around – that's their job." – George Carlin
"Did you know that there are over 300 words for love in canine?" – Gabriel Zevin
"There is no faith which has never yet been broken, except that of a truly faithful dog" – Konrad Lorenz
"My dog is a half pit bull, half poodle. Not much of a watchdog, but a vicious gossip." – Craig Shoemaker
"Dogs are wise. They crawl away into a quiet corner and lick their wounds and do not rejoin the world until they are whole once more." – Agatha Cristie
"If you want a friend in Washington, get a dog." – Harry Truman
"Heaven goes by favor. If it went by merit, you would stay out, and your dog would go in." – Mark Twain
"A bone to the dog is not charity. Charity is the bone shared with the dog when you are just as hungry as the dog." – Jack London.
"The only creatures that are evolved enough to convey pure love are dogs and infants."
– Johnny Depp
"You think those dogs will not be in heaven! I tell you, they will be there long before any of us." – Robert Louis Stevenson
"If I have any beliefs about immortality, it is that certain dogs I have known will go to heaven, and very, very few persons." – James Thurber.
"When an 85-pound mammal licks your tears away, then tries to sit on your lap, it's hard to feel sad." – Kristan Higgins.
"I've seen a look in dogs' eyes, a quickly vanishing look of amazed contempt, and I am convinced that basically, dogs think humans are nuts." – John Steinbeck.
"Petting, scratching, and cuddling a dog could be as soothing to the mind and heart as deep meditation and almost as good for the soul as prayer." – Dean Koontz.
"Happiness is a warm puppy." – Charles Shultz.
"All his life, he tried to be a good person. Many times, however, he failed. For, after all, he was only human. He wasn't a dog." – Charles M Schulz.
"If a dog will not come to you after having looked you in the face, you should go home and examine your conscience." – Woodrow Wilson.
"The better I get to know men, the more I find myself loving dogs." – Charles De Gaulle.
"The dog is a gentleman; I hope to go to his heaven, not man's." – Mark Twain.
"Dogs do speak, but only to those who know how to listen."– Orhan Pamuk
"Dogs' lives are too short. Their only fault, really." – Agnes Sligh Turnbull
"Everything I know I learned from dogs." – Nora Roberts
"Dogs never bite me. Just Humans" – Marilyn Monroe
"I am fond of pigs. Dogs look up to us. Cats look down on us. Pigs treat us as equals."
– Winston S. Churchill
"The average dog is a nicer person than the average person." – Andy Rooney
"All you need is love and a dog." – Unknown
"Thorns may hurt you, men desert you, sunlight turns to fog, but you're never friendless ever if you have a dog." – Douglas Mallock.
"Live. Laugh. Bark." – Unknown
"Some of our greatest historical and artistic treasures we place with curators in museums; others we take for walks." – Roger A. Caras.
"Life is a series of dogs." – George Carlin
"Love is a four-legged word." – Unknown
"Life is too short to just have one dog." – Unknown
"Keep calm and pet a dog." – Unknown
"Dogs are such agreeable friends. They ask no questions, they make no criticisms." – George Elliot.
"To err is human—to forgive, canine." – Unknown.
"Everyone thinks they have the best dog. And none of them are wrong." – W.R. Purche.
"There's a saying. If you want someone to love you forever, buy a dog, feed it and keep it around."– Dick Dale
"The more people I meet, the more I like my dog." – Unknown
"Being this cute must be so freaking ruff." – Unknown
"If you want a friend, buy a dog." – Kevin O'Leary
"And so, the snuggles and treats begin." – Unknown
"My dog thinks I'm a catch." – Unknown
"I'm a lot less cranky when it's just me and my dog." – Bob Peterson
"Histories are more full of examples of the fidelity of dogs than of friends." – Alexander Pope
"Dogs are not our whole life, but they make our lives whole."
– Roger Caras
"I care not for a man's religion whose dog and cat are not the better for it."
– Abraham Lincoln
"If you pick up a starving dog and make him prosperous, he will not bite you. This is the principal difference between a dog and man."
– Mark Twain
"Anybody who doesn't know what soap tastes like never washed a dog." – Franklin P. Jones
"Whoever said you can't buy happiness forgot little puppies." – Gene Hill
"Dogs have boundless enthusiasm but no sense of shame. I should have a dog as a life coach." – Moby
"A dog has one aim in life…to bestow his heart." – J.R. Ackerley
"There is no psychiatrist in the world like a puppy licking your face." – Ben Williams
"In order to really enjoy a dog, one doesn't merely try to train him to be semi-human. The point of it is to open oneself to the possibility of becoming partly a dog." – Edward Hoagland
"Dogs are loyal, patient, fearless, forgiving, and capable of pure love. Virtues that few people get through life without abandoning, at least once." – M.K. Clinton
"Dog is God spelled backward." – Duane Chapman
"Scratch a dog, and you'll find a permanent job." – Franklin P. Jones
"If you don't own a dog, at least one, there is not necessarily anything wrong with you, but there may be something wrong with your life." – Roger A. Caras
"There's a saying. If you want someone to love you forever, buy a dog, feed it and keep it around." – Dick Dale
"When the dog looks at you, the dog is not thinking what kind of a person you are. The dog is not judging you." – Eckhart Tolle
"Money can buy you a fine dog, but only love can make him wag his tail." – Kinky Friedman
"The dog is the perfect portrait subject. He doesn't pose. He isn't aware of the camera." – Patrick Demarchelier
"You can tell by the kindness of a dog how a human should be." – Captain Beefheart
"The dog lives for the day, the hour, even the moment." – Robert Falcon Scott
"The poor dog, in life the firmest friend. The first to welcome, foremost to defend." – Lord Byron
"When you adopt a dog, you have a lot of very good days and one very bad day." – W. Bruce Cameron
"If you have a dog, you will most likely outlive it; to get a dog is to open yourself to profound joy and, prospectively, to equally profound sadness." – Marjorie Garber
"My little dog – a heartbeat at my feet." – Edith Wharton
"The best way to get a puppy is to beg for a baby brother– and they'll settle for a puppy every time." – Winston Pendleton
"People have been asking me if I was going to have kids, and I had puppies instead." – Kate Jackson
"Puppies are nature's remedy for feeling unloved, plus numerous other ailments of life." – Richard Allen Palm
"Little pup, big world." – Unknown
"A dog desires affection more than its dinner. Well – almost." – Charlotte Gray
"A dog is a bond between strangers." – John Steinbeck
"We can judge the heart of a man by his treatment to animals." – Immanuel Kant
"Even the tiniest Poodle or Chihuahua is still a wolf at heart." – Dorothy Hinshaw
"All dogs go to heaven because dogs are naturally good and loyal and kind." – Melba Moore
"My idea of absolute happiness is to be in bed on a rainy day with my blankie, my cat, and my dog." – Anne Lamott
"A dog is the only thing that can mend a crack in your broken heart." – Judy Desmond
"No animal I know of can consistently be more of a friend and companion than a dog." – Stanley Leinwall
"The greatest fear dogs know is the fear that you will not come back"- Stanley Coren
"Outside of a dog, a book is a man's best friend. Inside of a dog, it's too dark to read"- Groucho Marx
"Actually, my dog, I think, is the only person who consistently loves me all the time." – H. G. Bissinger
"The greatest pleasure of a dog is that you may make a fool of yourself with him and not only will he not scold you, but he will make a fool of himself too."– Samuel Butler
"In the whole history of the world, there is but one thing that money can not buy … to wit—the wag of a dog's tail." – Josh Billings
"I think dogs are the most amazing creatures; they give unconditional love. For me, they are the role model for being alive." – Gilda Radner
"Why does watching a dog fill one with happiness?" – Jonathan Safran Foer
"Did you ever walk into a room and forget why you walked in? I think that is how dogs spend their lives." – Sue Murphy
"There are three faithful friends: an old wife, an old dog, and ready money." – Benjamin Franklin
"The bond with a true dog is as lasting as the ties of this earth will ever be." – Konrad Lorenz
"Dogs got personality. Personality goes a long way." – Quentin Tarantino
"You can usually tell that a man is good if he has a dog who loves him." – W. Bruce Cameron
"To his dog, every man is Napoleon; hence the constant popularity of dogs." – Aldous Huxley
"Such short little lives our pets have to spend with us, and they spend most of it waiting for us to come home each day." – John Grogan
"I just want to be in my sweats, walk my dog, watch TV, and eat pizza." – America Ferrera
"A dog will teach you, unconditional love. If you have that in your life, things won't be too hard."- Robert Wagner
"Dogs are our link to paradise."- Milan Kundera
"There is nothing truer in this world than the love of a good dog"- Mira Grant.
"Dogs have a way of finding the people who need them."- Thom Jones
"If I could be half the person my dog is, I'd be twice the human I am."- Charles Yu
"Be the person your dog thinks you are."- C.J. Frick
"My father… was a man who understood all dogs thoroughly and treated them like human beings." – Flann O'Brien
Owning a pet is a huge responsibility and commitment. So, you must weigh up all the costs, lifestyle, and other factors when deciding whether or not you should get a new pet. Every year, many pets are found abandoned in shelters by their owners or rescued from the streets. Before choosing your favorite breed, and dedicating dog quotes on Instagram to show off to your friends, remember that this decision would make them an integral part of your life.
Also Read:
How to Play With Your Dog
Homemade Dog Food Recipes That Your Pet Will Surely Love
How Adopting a Dog Will Enrich Your Life