Creative Landscaping Ideas to Perfectly Renovate Your Yard
In this Article
Modern landscaping of your home yard is a lot of fun. You have plenty of options, and you can renovate it as per your preferences. It might be surprising to know that a lot of people love revamping their yard, and with a little help with some landscape edging ideas, you can get very creative. There are many DIY ideas out there, which make the landscaping of front yards a lot more fun as it is the first thing anyone entering who enters your home notices. So you might as well try to make your yard look pretty!
Amazing Landscaping Ideas for Your Home Yard
Let us look at a few of the most creative landscaping ideas for a small backyard or a front yard that would help revamp the space at home.
1. Deck it up with flowers
Flowers can make anyone feel better. It adds a certain vibrancy and can be an excellent view of your front yard for anyone entering your home. All the colors would truly brighten up the entrance.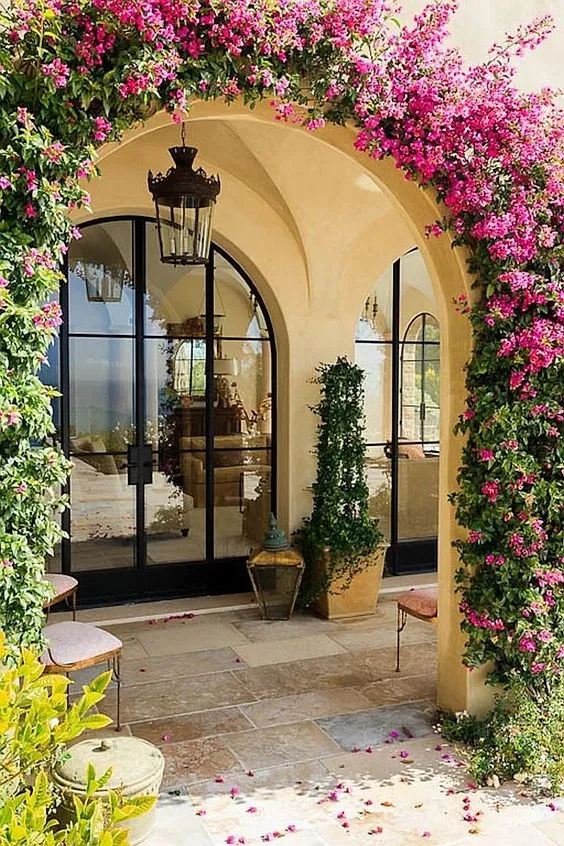 2. Distinct spaces
Having a lower edge always makes a yard look a lot more organized. These visual signifiers do an excellent job of keeping every zone distinctly separate. For example, your swimming pool, a lounging zone, a reading table in your backyard can all be separated.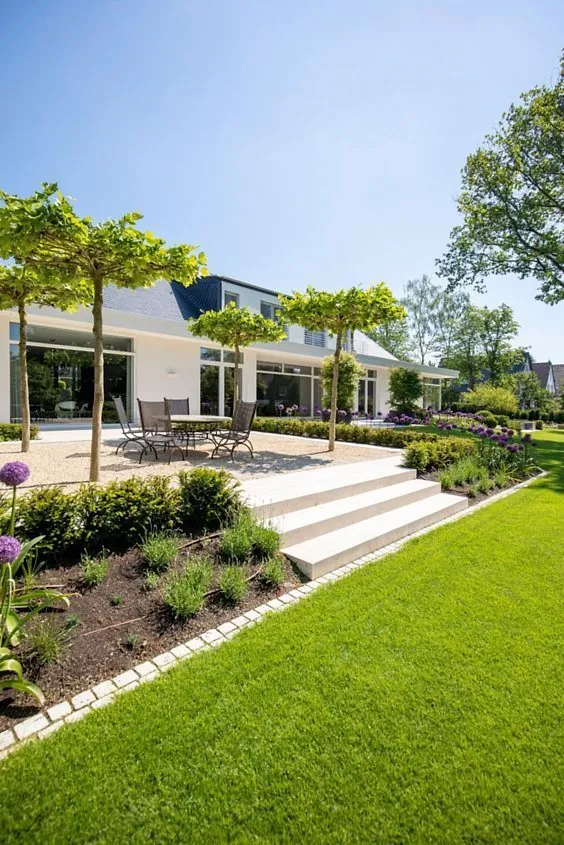 3. The Islamic courtyard touch
These are the small designing touches that give an elegant look to your yard. Here you get an opportunity of having a great center landscaping piece. The Islamic courtyard design involves installing a large water basin in the center. It gives a vintage look to the surrounding space as well. It is an iconic landscaping idea from the Middle East.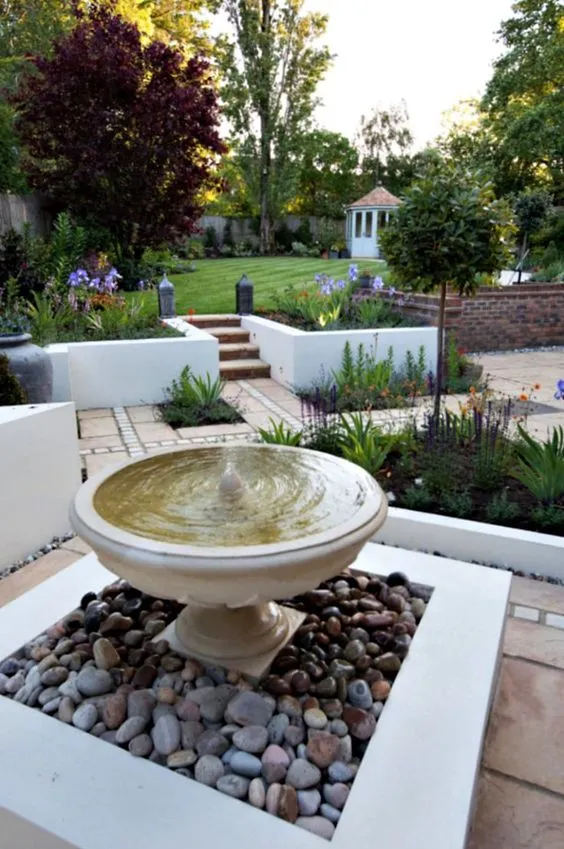 4. Coniferous plants
These evergreen coniferous trees and shrubs are an excellent addition to your landscaping ideas. They are low maintenance and come in various sizes and colors like green, blue, and yellow.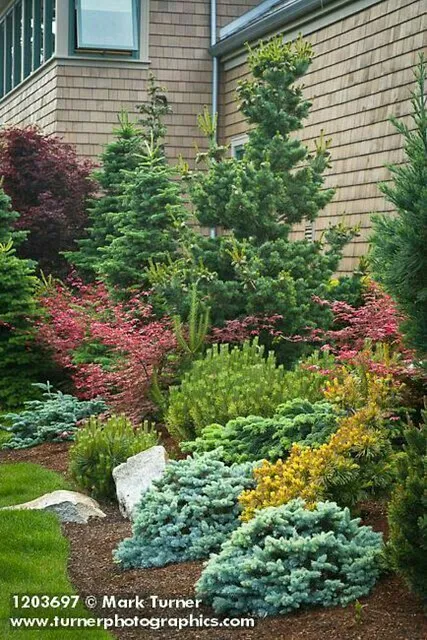 5. Flowerpot hooks
They look very cute, and you can even create a DIY hook board for hanging these small plant pots. They might appear as if suspended in the air. But they are supported by clay pot hooks that can be easily fit into the walls and help in hanging the pots.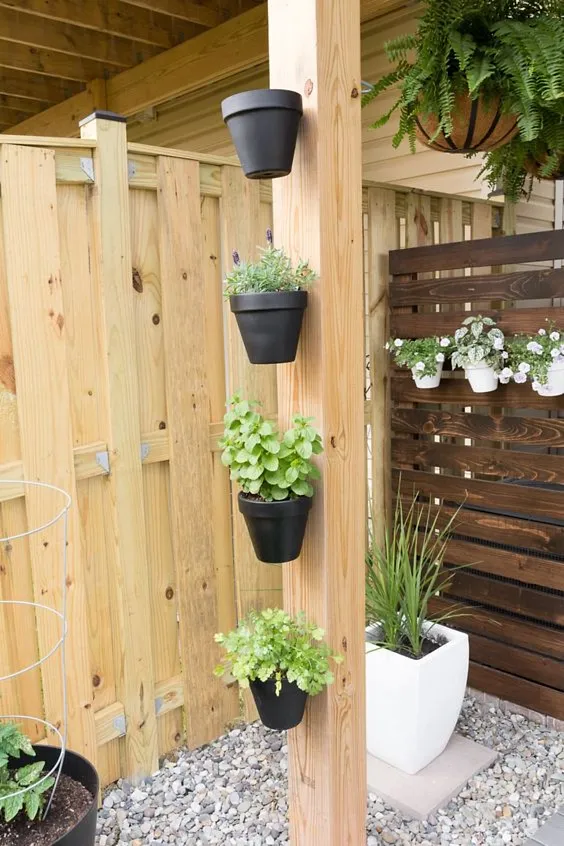 6. Backyard stage
A floating bench is an interesting way to help connect the interior of the house to the exterior. This stage-like patio can be used as a backyard stage, where you can climb from one surface to the other. The higher stage can be used for other purposes, such as hosting a dance or a theatrical performance during house parties and celebrations.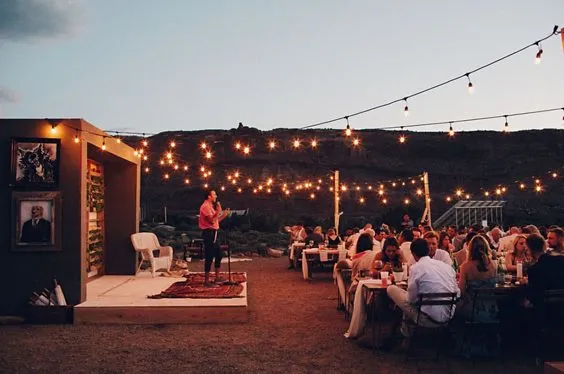 7. Pots of ground plants
You can line up your entrance with cute pots of ground plants. Have a mix of bushes and shrubs and colorful flowers that make for a delightful sight at the entrance. This rather ordinary landscape idea will help add a lot of color to the entrance of your yard.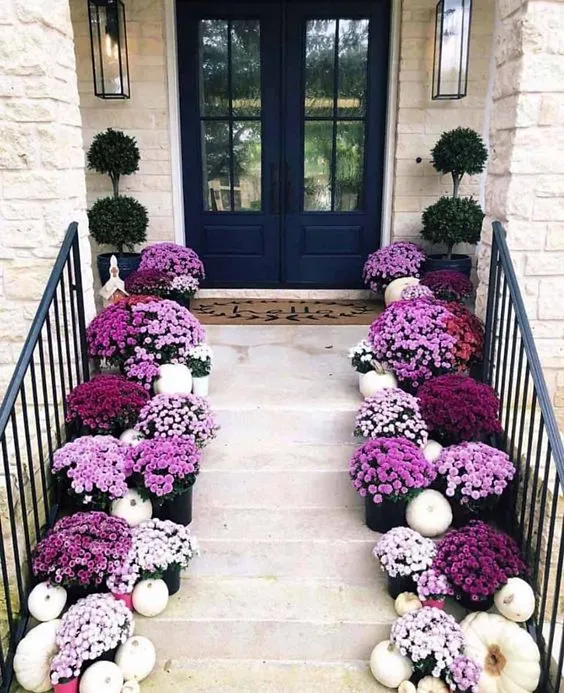 8. Ground clover landscaping
These prove to be excellent hacks when you need to fill up spaces that have a crack or are covered in dirt, or where the soil is eroded. This landscaping idea helps cover up such spots and blurs the differentiating lines between the walking spaces.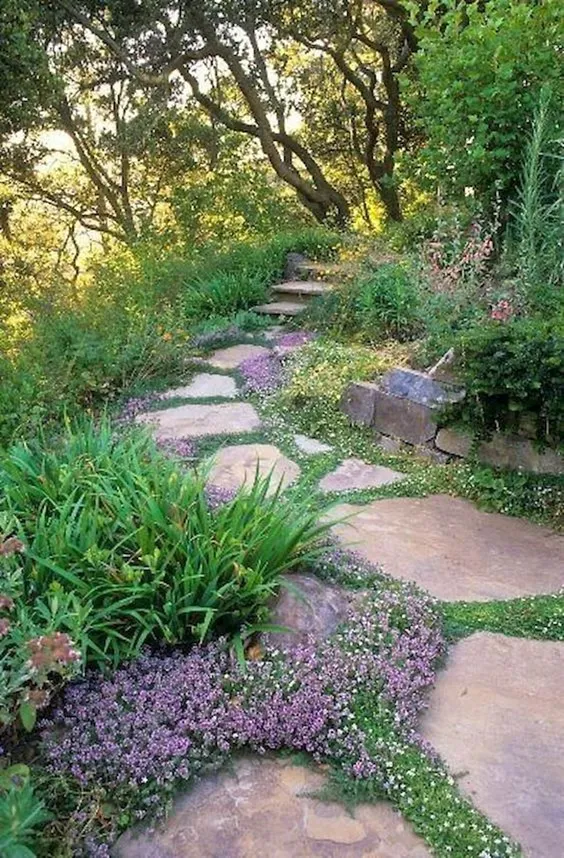 9. Outdoor dining space
You can create a cozy dining space in your backyard. It gives a countryside feeling while making it multi-functional as well. Setting up a dreamy dining space outside with a dividing fence can make a lot of difference if done creatively.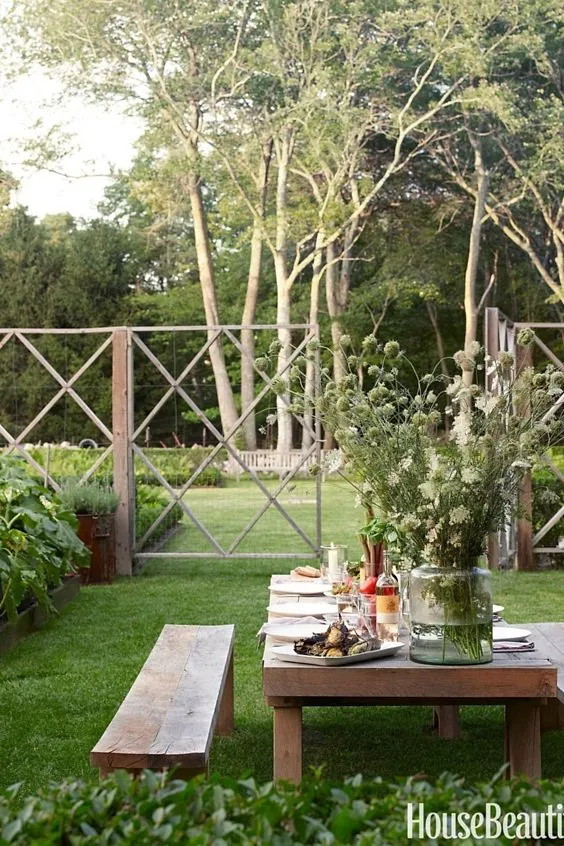 10. Make it look cozy
You can redesign your yard in a very intimate way. Surround the space with colorful plants and add cozy lounging areas with lots of pillows to make it look comfortable. You can also add wooden fencing to give it an attractive look.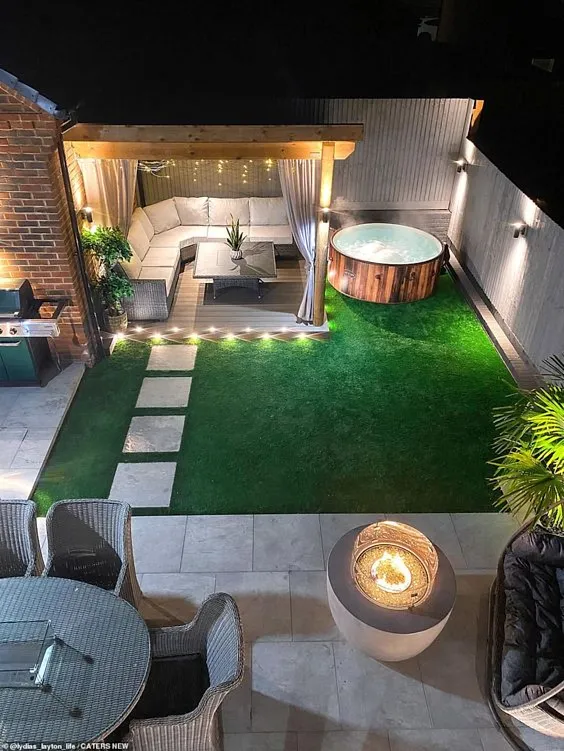 11. Enhance your walkway
Rather than building ordinary staircases to your home's entrance, opt for a stone walkway. The front porch can look elegant and appealing when the walkway is flanked with pots of colorful bushes and flowers.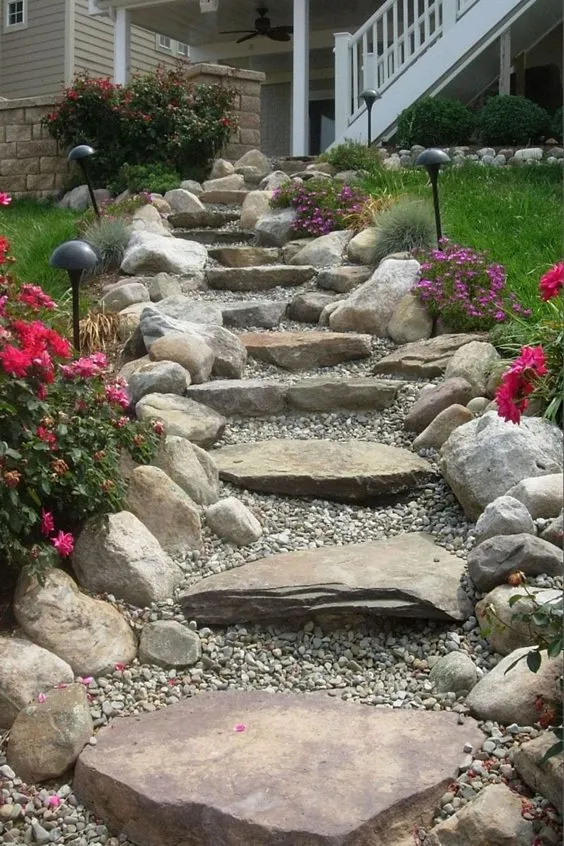 12. The bigger, the better!
Do not compromise on the sizes of the trees that create a shade over a cozy sitting area in your yard. Go for dramatic trees overhead which adds a beautiful and aesthetic touch to the overall décor of the yard.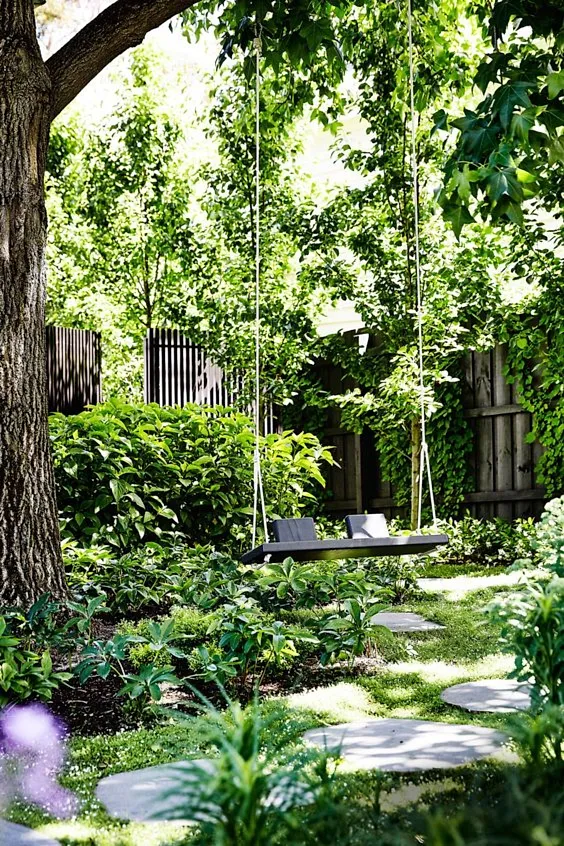 13. Winding pathways
Go for any shape – be it rounded hedges, winding hedges, or even squared boxwood hedges. They help in giving the illusion of a winding pathway and look extremely aesthetic.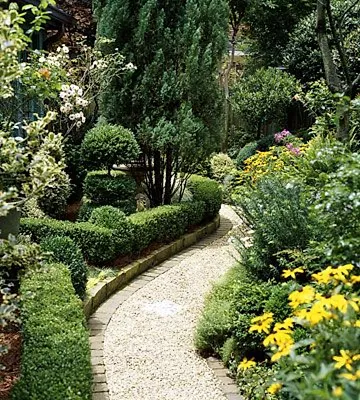 14. Rose garden
If you have to select any one kind of flower for your garden, go for roses. There is nothing as enticing as a rose garden. In the long run, it helps in the maintenance part as well. Stick to some gorgeous roses, which adds a romantic touch to the aesthetic look of the yard.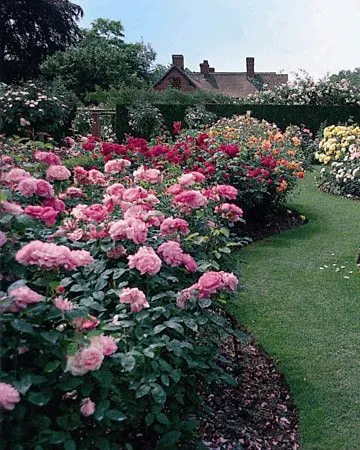 15. Creeping vines
These are the perfect elements that you can use to deck up your yards to host intimate dinners with your close friends. These vines are fast-growing and look quite decorative as well. It is a nice way of adding a unique touch instead of renovating the entire yard from scratch.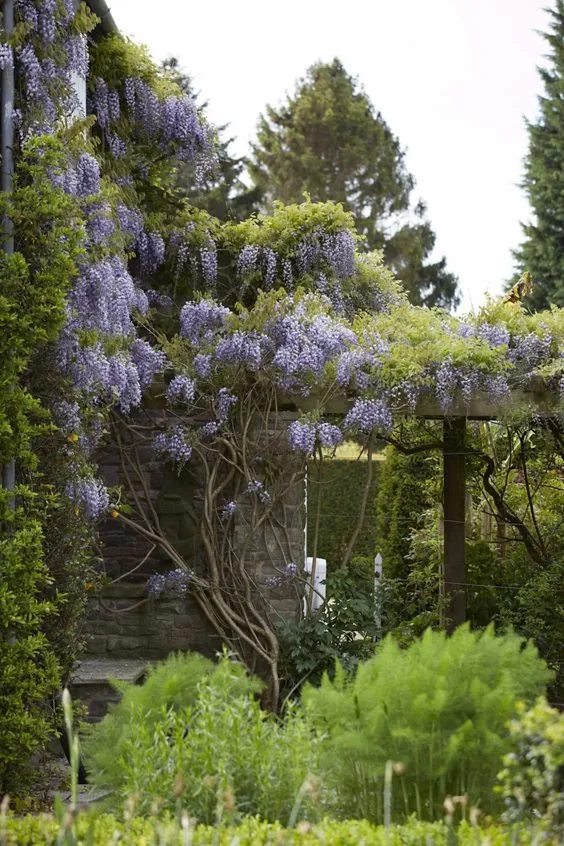 16. Archway entrance
When the trees on both sides beautifully converge in to make an archway entrance – it looks magnificent. An archway entrance can add a very vintage and classy touch to your home's entrance or vegetable garden, or even the doorway.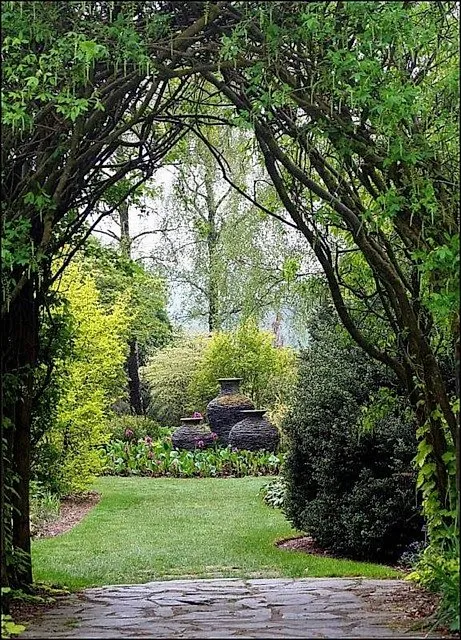 17. Low-maintenance plants
You might love gardening or having a beautiful yard filled with flowers and plants. But most of the time, you do not have the time to take care of them. Therefore it is always advisable to go for low-maintenance plants that grow beautifully with the least care.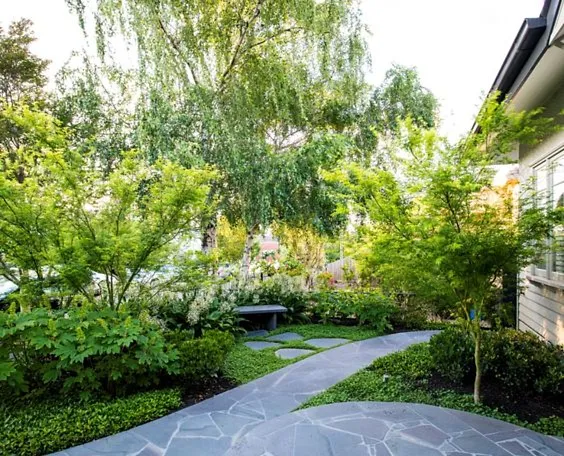 18. Backyard vegetable garden
You can make efficient use out of your backyard. If you are not much into flowers and plants, you can create your organic vegetable garden. It is a lot convenient and can turn into a useful hobby too.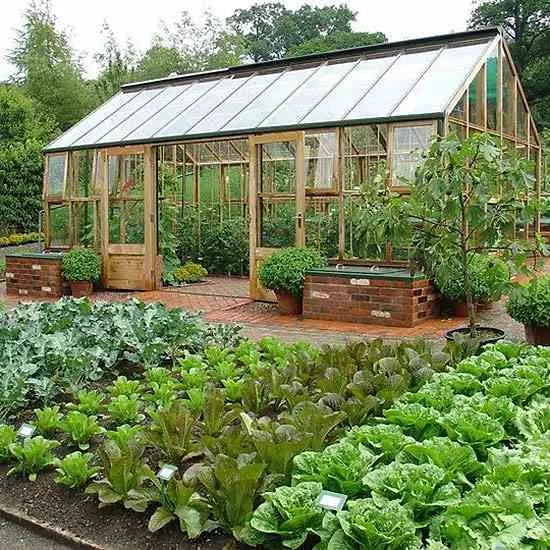 19. Rock garden
Landscaping with large rocks can be a little unconventional way of adding an interesting touch to your yard. You can have a DIY fountain made from a source of water. The surrounding area can be filled with soil that helps in growing diverse plants.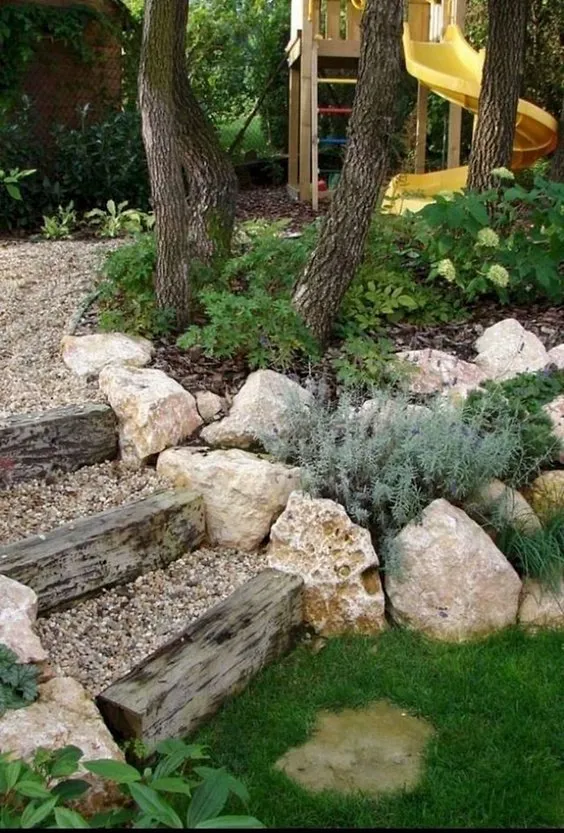 20. Fence it with flowers
The best thing you can have in your yard is flowers. There are so many ways of growing colorful flowers. For example, you can add them between the fences to make them look more aesthetic. It results in a gorgeous walkway up to your doorstep.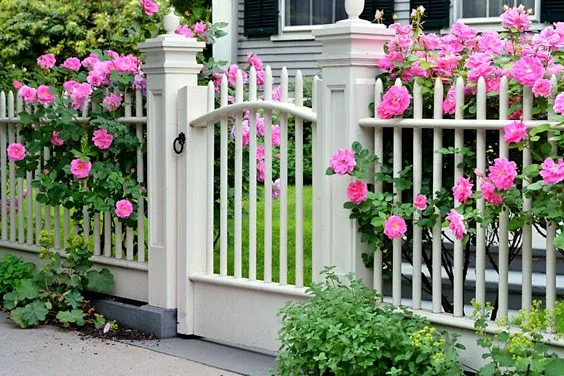 21. Lavender borders
Lavender is a favorite when it comes to the selection of flowers. The gorgeous purple shade of the flowers can make the landscape look extremely elegant. A stretch of lavender flowers on either side of the pathway can look very inviting.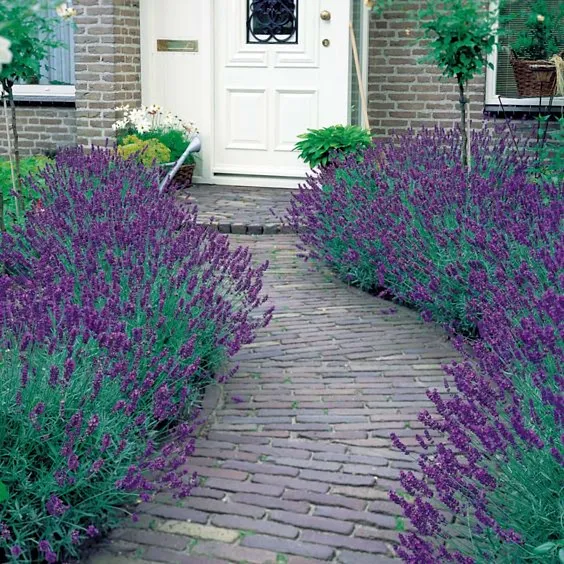 22. Pergola magic
Basking amidst a dense garden blooming with flowers and plants is a pergola. It gives an exquisite touch to the entire landscape. Especially when you place it in a garden that is in full bloom, it is a complete show-stealer.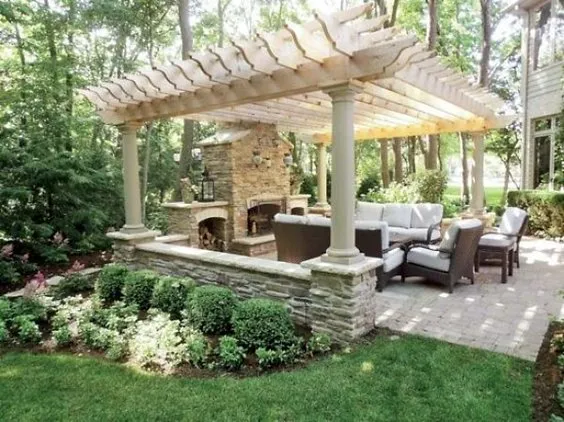 23. A fire pit
It is one of the coziest touches you can give to your yard. A fire pit in the middle surrounded by some chairs gives a very homely feel. It can turn out to be the most relaxing spot in your yard.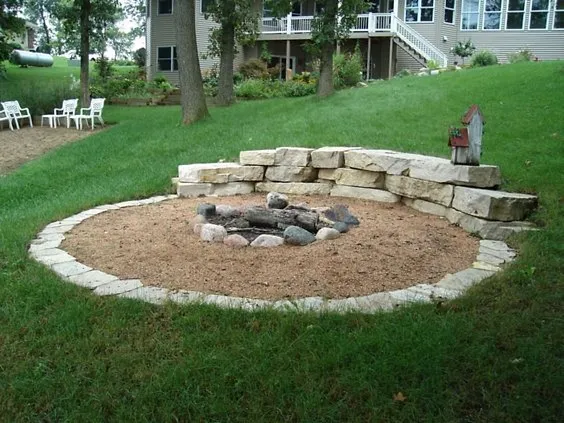 24. Focus on the heights
The intelligent way of making landscaping look good is to focus on the little things. Having a spread of various shapes and sizes can also make your garden look different. Some small shrubs, tufts of flowers, or tall palms trees are all about the sizes.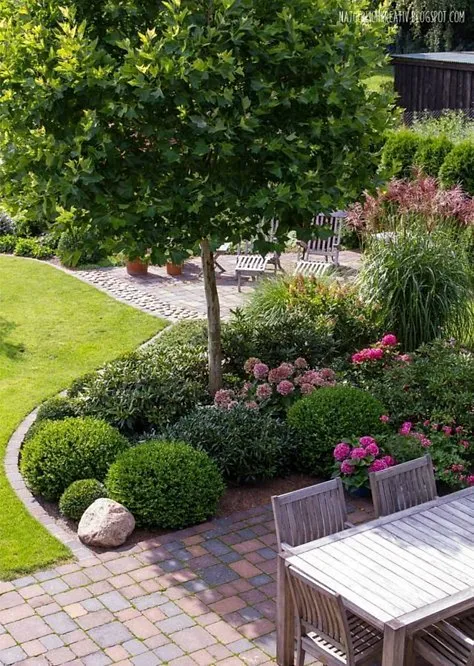 25. Go for a standing planter
These are usually termed as the Grecian-style planter. Other than your surrounding potted plants and the hanging creepers, and the dramatic trees, you can go a little vintage way by adding a standing planter.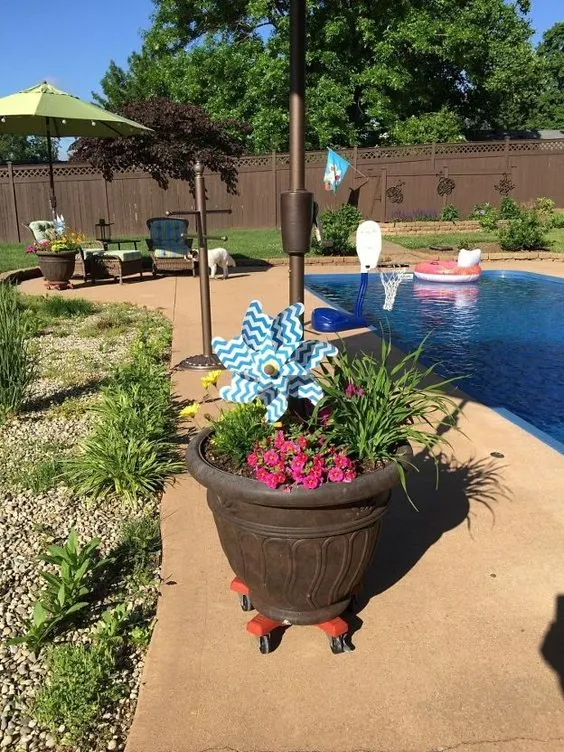 26. Outdoor shower zone
Especially when you have a multifunctional yard with a swimming pool, adding a backyard shower might be a good idea. You can make it fancy by adding a stoned pathway and a pegboard where you can hang the towels.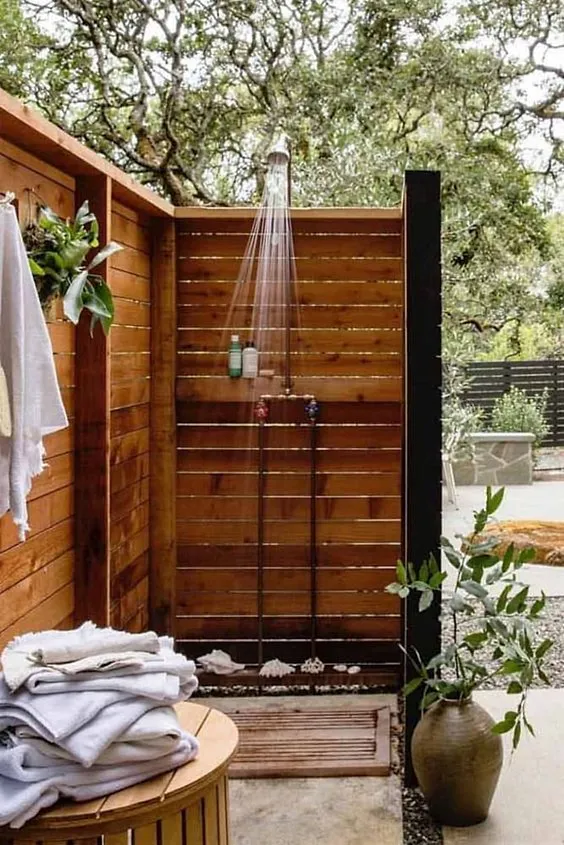 27. Long-blooming flowers
For those of you for whom flowers are a must in your garden, pick the ones that have a long blooming time. For example, coral honeysuckles are said to have a long blooming time and look very colorful. Their fragrance is amazing, which is a bonus too.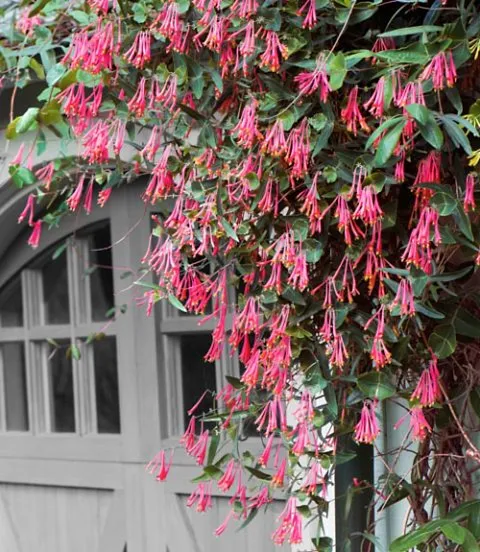 28. Adding structure with offset pavers
Focus on the flooring of the pathway around your garden. It is said that stone steps or offset pavers help in adding a lot more defined structure. It gives a fascinating dimension to the winding paths of your garden.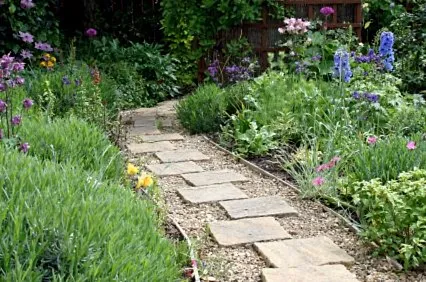 29. Hanging lanterns
Let there be light, always! Hanging some beautiful and simple lanterns from the tree branches in your backyard can brighten up your evenings even more. Your outdoor area can turn out to be an enchanting space where you can feel one with nature amidst bright light.
30. A gravel garden
Want to try out some unconventional landscaping techniques? We urge you to choose a gravel garden instead of a grassy one. Your deck with wood paneling can be whitewashed, and a tonal setup can be made with gravel flooring.
Therefore, there are plenty of landscaping options out there that can completely revamp your outdoor space. Be it your front or backyard – there are several ways of making complete use of it while giving it an extremely beautiful, elegant, and inviting look. Out of the many creative ideas listed here, one is sure to suit your aesthetic tastes.
Also Read:
Easy Backyard Fire Pit Ideas
Renovation Ideas for Backyard Shed
Innovative Stock Tank Pool Ideas for Backyard