Creative DIY Porch Swing Plans to Relax in Your Porch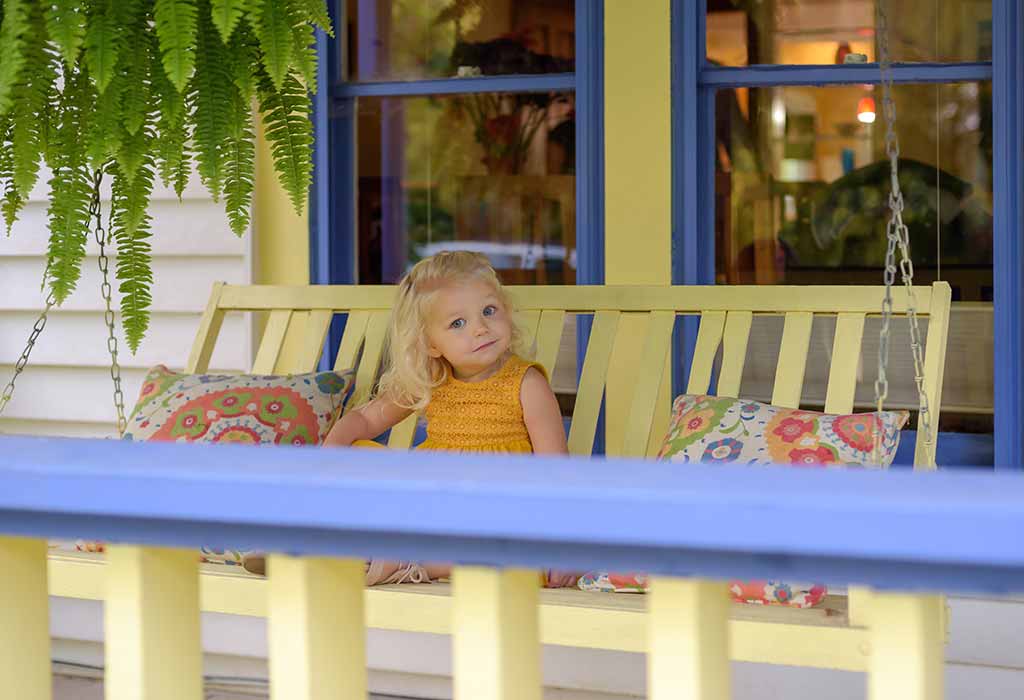 In this Article
Whether you want to cozy up in front of your house on a cold winter night or just spend a romantic evening in the open with your partner, building a porch swing would add immense value to your property and your life. From a kid to a teenager or an adult, we all love swings as they can calm your nerves with their gentle and lilting swaying movement, especially if it is a patio swing. So if you have been on the fence about getting on with your DIY patio swing, it is time to get on the bandwagon with our beautiful and simple ideas for building a porch swing.
Awesome DIY Porch Swing Ideas
We all must take a mini-break from the hustle-bustle of life and look for ways to rejuvenate and get that stress line off our foreheads. A spot right outside your house is the perfect place to do that and must be styled and nurtured. A DIY patio swing will give your home that welcoming and cozy vibe that can fill you with positive energy. Here are a few front porch swing ideas on making the area outside your home your favorite spot to be.
1. A swing for the bohemian in you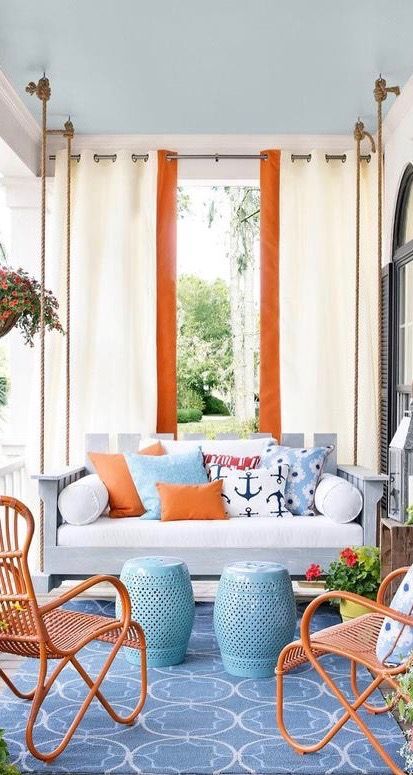 Orange and blue colors compliment each other beautifully and uniquely. Create your bohemian space with these colors that look natural and enveloping.
2. Simple and elegant wooden porch swing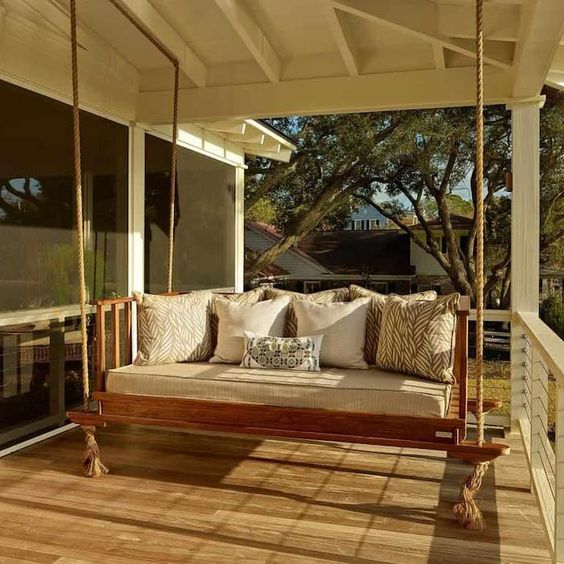 A wooden sleek-looking swing with a high back can give you extra comfort. To assemble this swing, you need 2.5 inches and 1.5 inches of self-tapping screws along with three eye bolts on either side for hanging the swing. Once you are done building this swing, you could add a picnic table to complete the look of versatile outdoor seating space.
3. Casual hammock design for a patio swing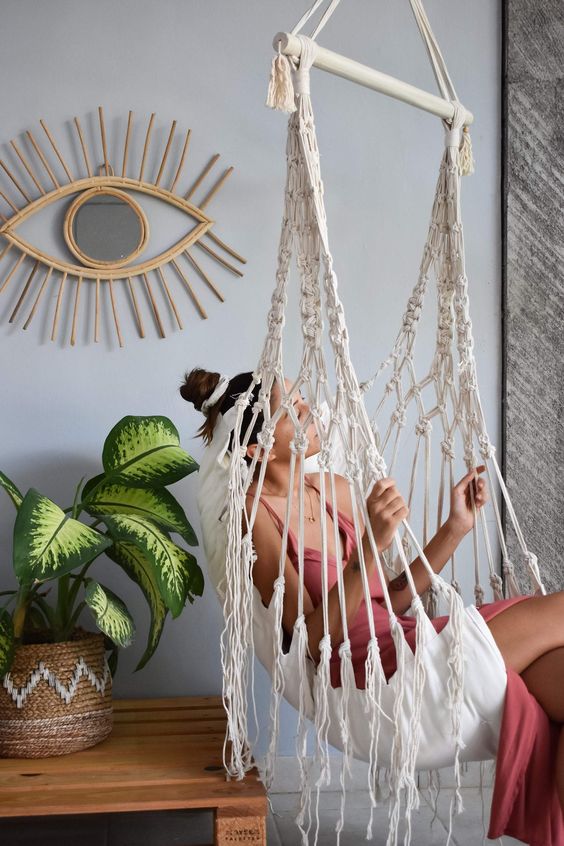 This casual and breezy-looking porch swing might look light and suitable only for kids, but you are in for a surprise. By using the right material like oak wood, stainless steel snap link, stainless steel quick link, and braided polypropylene) this hammock-like patio swing can withstand a weight of up to 220 lbs. Add a few porch swing cushions to give the swing a cozy feel.
4. Airy outdoor pallet swing design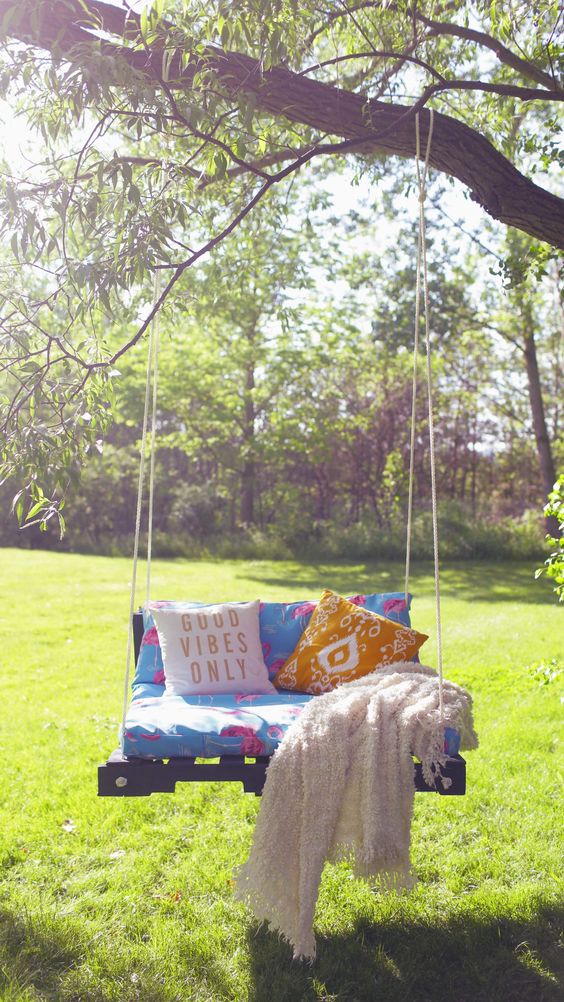 This one is for those with a yard in their homes. It can also be utilized in a picnic spot by hanging this sweet outdoor pallet swing. All you need are ropes, two pallets, paint, and a few basic tools to put together this swing. The swing looks great and provides you a vibrant space to have a chit-chat with your friend on a pleasant evening.
5. Chic and masculine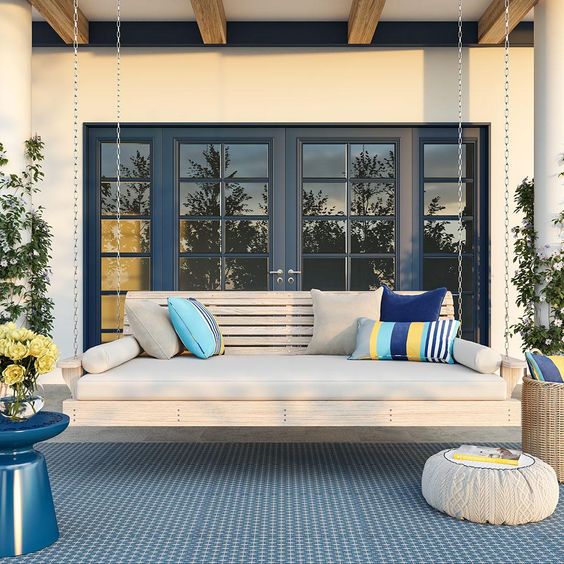 If you want something with undertones of masculinity, this patio idea will pique your interest. The darker tones create an aura of mystique, and the posh edges give this space a depth. You can add a perky mustard pop amongst the natural tones to give it some color and a feeling of sunshine peeping in.
6. A bench-cum-porch swing idea for a modern look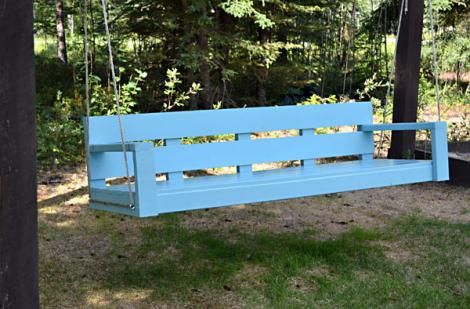 This modern-looking porch swing idea looks pretty and is simple to build. You could use it as a porch swing or a bench as its design has both applications. The beautiful turquoise color gives the swing an elegant feel, and with an extra-wide seat, this swing could also double up as a napping or relaxing space as the swing is deep enough to allow you to sleep comfortably.
7. A swing for beginner woodworkers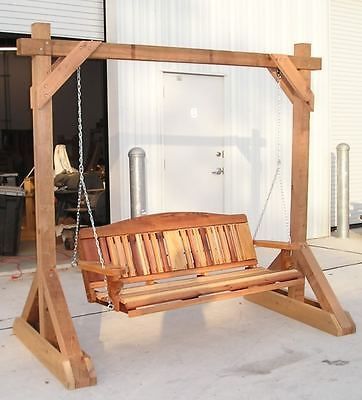 This swing set plant can be done for under 100 USD. The swing looks modern and beautiful and can be built in a matter of 3 to 6 hours. So if this is your first DIY patio swing, you must try your hand at this. It is easy to build and saves money too.
8. An outdoor swing with a frame plan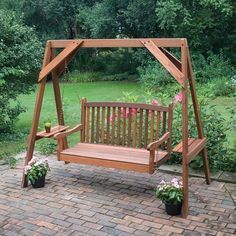 This porch swing is hanging from an A-frame, and it is not too difficult to build this self-sufficient swing with frames. It would take you approximately 6 to 9 hours to put together this patio swing. Materials needed to build this swing include 0.5 inches galvanized carriage bolts and a chain that measures 0.25 inches, which can securely hang this swing from the beam.
9. A buoyant Mediterranean garden pallet swing


If you have been going through many swing ideas, but they all look the same and are boring to you, then this unique porch swing idea would certainly capture your imagination. This swing without a back looks vibrant and classy. You could provide pillows and cushions to rest on for a more comfortable feel. Moreover, you do not need to look for metal rings for hanging the swing since the swing can be tied directly to the branches of a tree with tight knots. The complementary décor of pots and rugs around the swing will add to its Mediterranean feel.
10. A swing for love birds made from salvaged materials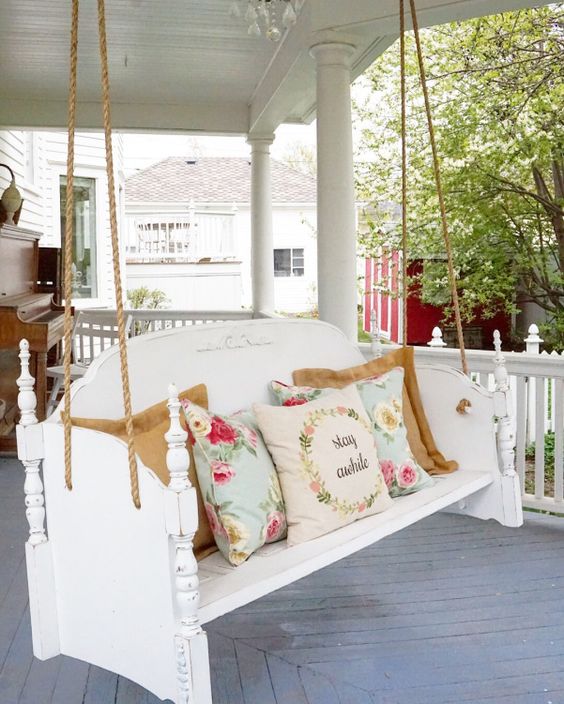 If you believe in recycling stuff for a greener environment, then this swing idea is just right for you. It will not only satiate your environment-friendly needs but also make your neighbors envious of its aristocratic appeal. This breathtaking loveseat is a piece of art made from salvaged material like a headboard, a footboard, and a door made of solid wood. You have the choice of making this swing of any dimension by modifying the plan. You would need to drill holes for threading the ropes.
A porch swing can add color to a house and provide a space for rejuvenation in all seasons and all hours of the day. All you need to do now is pick an idea from the list above, which suits your house and your living style, and build a patio swing to accentuate your home and life.
Also Read:
Amazing Screen Porch Design Ideas For Your Home
Creative Decoration Ideas for Balcony
Budget-Friendly Home Décor Ideas