Craft Room Ideas – Make The Best and Most Useful Crafting Room Around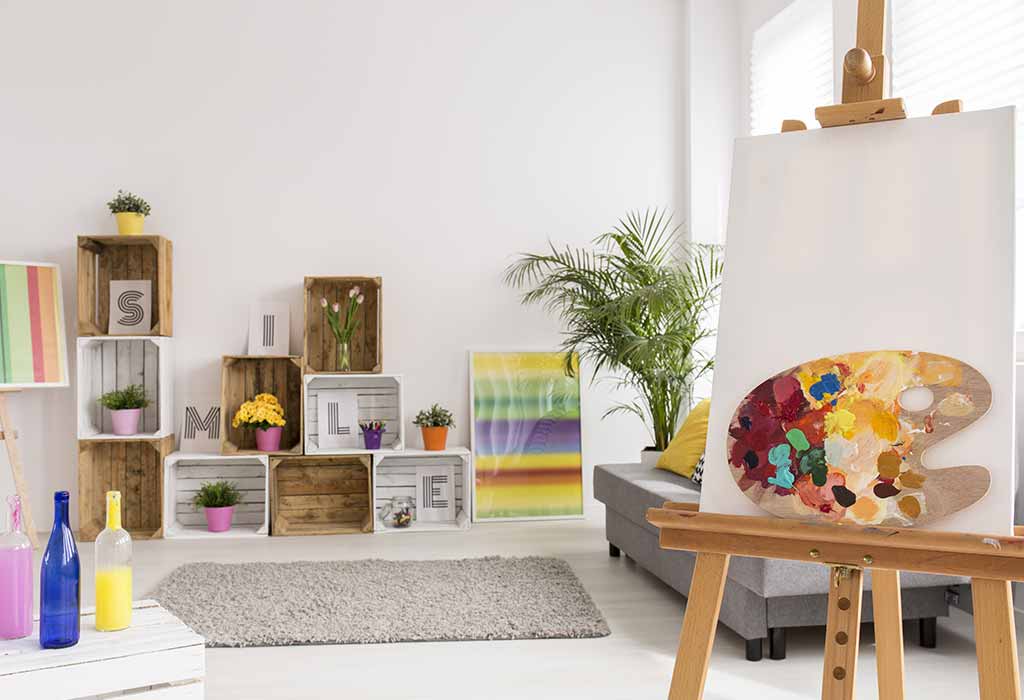 In this Article
A spare room like a guest room, walk-in closet, or home office can be utilized in many different ways that would nurture your creative side. Whether you call it a hobby room, sewing room, or art room, this space within your home would provide an opportunity to follow your or your child's special interests in life.
Amazing Ideas For A Dedicated Craft Space
A craft room offers the perfect environment for starting or rediscovering a specific creative pursuit that provides a healthy outlet for exploring your creativity. This dedicated space allows you to resume working on a project at your convenience and mood. Time spent on organizing crafts doesn't necessarily have to be all about a solitary creative experience. This room can be used to facilitate a happy family time involving kids to work on summer holiday activities and collaborative projects. A smartly designed craft closet organizer enhances any craft room with its efficient use of storage space. So, if you need inspiration for investing in a space that would allow your creativity to flourish, have a look at some of the best craft room design ideas that make it inviting and highly functional.
1. Built-in Storage
Built-in craft room storage can save you space in case you have a small room. Floating shelves can put your decor on display, while unsightly essentials can be tucked away into the cabinets below.
2. Wall Paper
A statement wallpaper acts as a backdrop for your favorite craft or vibrant artwork that might also create the right ambiance for your room.
3. A Ladder Shelf
For DIY small craft room ideas, a ladder shelving unit works best. Jars and containers can be put up on display so that they become a part of your room decor.
4. Cabinets For Storage
A wooden craft room cabinet can go a long way if you're looking to invest in storage. Solid panel cabinetry doors can keep stored items hidden.
5. Shelves For Storage
For craft room shelving ideas, build deep open space with dividers to store reference books, magazines, jars, baskets with fabrics and materials, or to display a sewing machine collection.
6. Organizing Ribbons
Ribbons wrapped around pieces of cardboard take up less space than spools. So, make sure they are organized by colors or use stickers to mark their color on each drawer front.
7. Make Temporary Storage Space
Store scraps and unused items in covered bins and boxes keep clutter to a minimum. You may even label them to stay organized.
8. Large Desk
A large wide desk with plenty of cubby space on each side instead of a tiny one helps spread out your work and get creative. Use the walls for storage if it doesn't have drawers.
9. Store Paper At The Back Of The Door
Install some hanging racks on the back of your door to cleverly store gift wrap paper or gift bags out of the way without cluttering up the closet.
10. Inspirational Signs
Stay motivated at work by putting up some inspirational signs, quotations, or sayings on the wall. Then, when things seem hard, all you have to do is lookup.
11. Transform Your Seat Into A Throne
An ergonomically correct chair will save your back from the fatigue of a long crafting session. You can also drape a soft fur over your high-backed chair to make working more comfortable and cozy.
12. Bring the Outdoors In
Integrate gorgeous greens and motifs into your craft room décor to add a touch of nature. House plants add life to your space, while natural products like rattan and wicker provide textural variations.
13. Put Paper In Magazine Holders
Stacks of letter-size colored paper can be neatly organized in white magazine holders.
14. Spot For Glitter Storage
Get tiered make-up holders from a beauty supply store to keep glitters in order inside the drawers.
15. Neutral Color Scheme
A neutral palette may create a soothing atmosphere for your creativity to grow instead of a bold, complicated color scheme that can make your workspace feel visually chaotic.
16. A Durable Sink
Doing art and crafts can get messy. This means you will need a durable stainless steel sink with plenty of depth to clean things up easily.
17. A Pin Board
By hanging a pinboard on the wall, you can organize your supplies neatly and gain access to them easily.
18. Kid-Friendly Craft Room
For setting a kid-friendly craft room, use chalk paint so that they can enjoy writing and doing their favorite artworks on the walls. Get an easel with built-in storage for pens, a portable carrier accompanying the table, and some hooks or a wall unit to display the finished products.
19. Lighting
A detail-oriented art or craft requires effective task lighting or overhead lighting to minimize eye strain. So either bring in a second table lamp or save surface space with a sconce.
20. A Sliding Table
A built-in sliding table with removable dowels is a huge space-saver for small craft rooms.
Psychologists believe that making time for creative activities relieves stress, channels your energy productively, and provides overall health benefits. A one-of-a-kind craft room can be your personal space to escape from the hectic pace of life and let your creativity flourish.
Also Read:
Aesthetic Room Decor Ideas
Budget-Friendly Home Décor Ideas
Sunroom Decor Ideas for a Bright and Beautiful Space