9 Craft Projects to Turn Old Stuff into Brand New Stuff!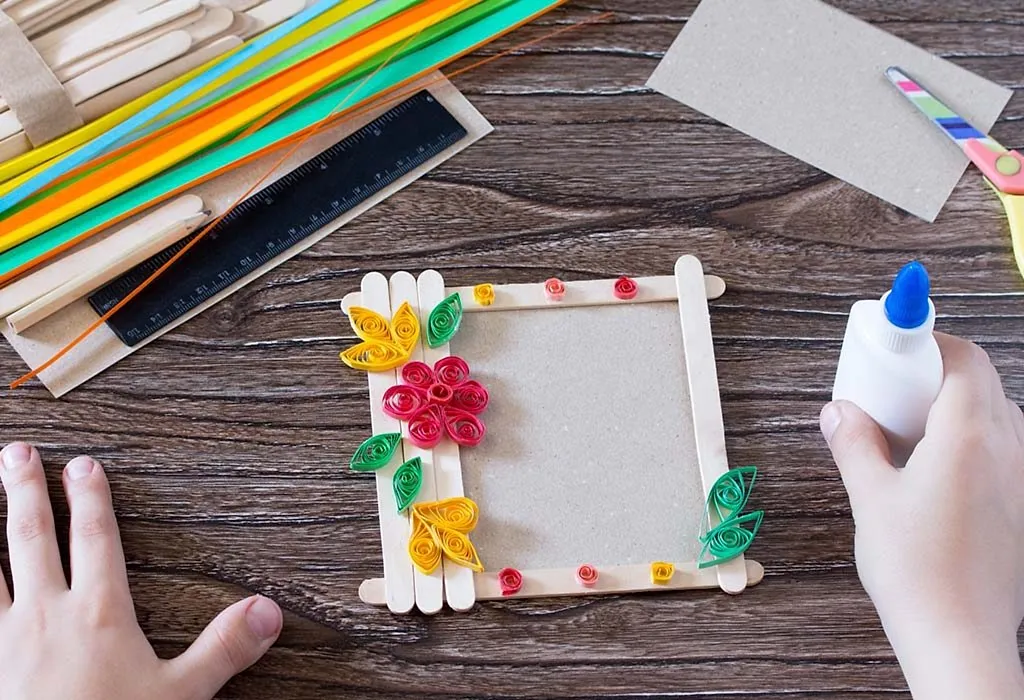 Most of us believe in getting the maximum out of household items, even if their life is practically over. Be it those stacks of paper cups we store in case guests come by or those old CDs we keep lying around for their nostalgia factor, we've all got things that are kept at home for a day that most likely will never come! So, we bring you some craft projects you can make with your child out of items like these.
Craft Projects to Make Your Own Home Decor

Most of us like to adorn our home with beautiful and innovative pieces of art. So, why not make them yourself instead of buying? Here are some things that are both beautiful and useful.
1. Flower Vase from Water Bottle
Water bottles cease to be of use when they start leaking. You can turn them into colourful flower vases instead.
What You Need:
Old water bottle
Coloured wrapping paper
Glue/tape
Scissors
How to Make:
Take the old bottle and wash it under running water.
Allow it to dry. Discard the cap.
Once it dries completely, take the coloured paper and cover the bottle with it. You can use tape or glue for this.
Place plastic or real flowers in your new flower vase!
2. CD Wall Hanging
If you have CDs that don't work anymore or you'd rather not use them, they can make for a wall hanging in your living room.
What You Need:
3 old CDs
2 ice cream sticks (for support)
Glue/tape
Scissors
Flower stickers
Coloured paper
Craft items like small beads, leaves, etc.
A piece of thread (to hang it on the wall)
How to Make:
Take a CD and cover one side with coloured paper.
Stick one flower sticker at the centre of the CD, on the uncovered side. The sticker should cover the hole.
Use glue to stick the small leaves, beads, buttons, etc. to the uncovered side. Follow these steps for the remaining two.
Now, arrange the disks in a vertical line such that the covered side faces you.
Stick the ice cream stick in a way that one half of it supports the bottom of the first CD while the other half supports the top of the second CD.
Do the same for the second and third CD.
To the topmost CD, paste a piece of thread so that you can hang it up.
Your new CD wall hanging is ready to decorate the living room!
3. Ice Cream Stick Pencil Stand
Don't throw away the sticks after your child gobbles up the ice cream! You can use them to make an ice cream stick pen stand for your child's school stationery.
What You Need:
10 used ice cream sticks
Old plastic cup
Scissors
Glue
Crayons
Beads, bows, etc.
How to Make:
Wash the ice- ream sticks and cup thoroughly so that the stickiness goes away.
Let your child colour the ice cream sticks using different crayons.
Glue the sticks to the outer part of the cup.
Let your child decorate it using beads, bows, etc.
Now he can easily find his pencils in his handmade pencil stand!
4. Paper Cup Lights
Now, you can use the leftover paper cups from your child's birthday party to make glowing fairy lights! (This craft project needs to be done by the parent)
parent can help for craft
What You Need:
A few white paper cups
Water colours
Small LED lights
Paper cutter knife
How to Make:
Let your child paint the cups in colours of his choice.
Keep the cups aside to dry.
Then, put two slits in the shape of an X at the bottom of every cup.
Insert one LED bulb through each slit so that the cups are in a horizontal line.
Switch off the main lights and watch the fairy lights glow!
Craft Projects to Make Your Child's Playtime Fun
Not only decorative objects, but you can also make toys for your child to snuggle up to in bed.
1. Sock Snake
You can make a soft toy with the socks your child has outgrown. Socks that have got holes in them can also be used. (This craft project needs to be done by the parent)
parent can help for craft
What You Need:
Old socks (they need not be a pair)
Buttons/googly eyes
Sewing thread (any colour)
Wool (for stuffing)
How to Make:
Wash the socks and let them dry.
Arrange them in front of you and cut each sock into 3-inch and 4-inch strips.
Sew the pieces to one another along the top and bottom sides. Remember that all of them should be turned inside out.
Stitch googly eyes or buttons and a tongue to the sock for the head.
Fill the snake with wool and stitch up the tail.
Your child's handmade soft toy is ready.
2. Plastic Bag Holder from Juice Bottle
We know you might have a lot of plastic bags lying around at home. So, here's an excellent way to have them at hand always. You can use a cold drink bottle to make a plastic bag holder.
What You Need:
Old juice/cold drink bottle with cap
Plastic cutter knife (to make a slit)
Scissors
A piece of thread (to hang it up)
How to Make:
Wash the bottle and keep it to dry.
Cut a slit near the base of the bottle. This should be just big enough for a bag to be pulled out.
Remove the cap and stuff all your plastic bags inside such that they reach the bottom.
You can place the cap on the bot parent can help for crafttle and also make a hole in it to tie the thread.
The next time you set out for shopping, simply pull out a bag!
3. Matchbox School Stationery Kit
Has your child misplaced his stationery at school and come home without them? Having a second school stationery kit at home will prevent him from making excuses to do his homework!
What You Need:
2 large matchboxes
Coloured markers/sketch pens
Coloured paper
Scissors
Craft items like plastic leaves and flowers
How to Make:
Take the matchboxes and wrap them with coloured paper.
Using the sketch pens, write "My Stationery Kit" on the front of the box.
You can also use craft items to decorate the box.
Now, get your child a second set of pencils, erasers, and sharpeners, and keep it in this matchbox stationary kit.
4. Cardboard Cartoons
The cardboard roll from used toilet paper or aluminium foil can be used to make a scary cartoon!
What You Need:
2 cardboard tubes
Coloured paper
Googly eyes
Coloured markers/sketch pens
Scissors
Glue
How to Make:
Take the cardboard tubes and wrap them with coloured paper.
Stick googly eyes and draw a scary mouth using the coloured markers or sketch pens.
Your child's cartoon toy is ready!
5. Shoebox Maze
A maze will develop direction sense in your child and enhance his desire to move the marble to the finish point. You can make this craft project using just an old shoebox.
What You Need:
Old shoebox (without the lid)
Coloured paper
A few drinking straws
A marble
Scissors
Glue/tape
Transparent wrapping paper (to cover the box)
How to Make:
Cut out the top and side lids from the shoebox.
Stick the coloured paper to the bottom part of the box, that is, on the inside.
Use a pen to draw the maze lines.
Cut straws as per the length of the maze lines and paste them. (If readymade straws are unavailable, you can make your own using rolled-up newspaper or coloured paper.)
Take another coloured paper and cut out two small squares of equal dimensions.
Stick these squares on opposite sides of the shoebox to make the 'Start' and 'End' goals.
Put a marble inside the maze.
Your cardboard maze is ready!
There, you've made really amazing and new stuff for your home and your child from old items that were easily available. These craft projects will hone his creativity skills and make 'learning by doing' a success. Display these craft projects on your house 'wall' of fame!
Also Read:
Best Creative Activities for Kids
Creative Out-Of-Waste Material Crafts for Kids
Importance of Art in Child Development & How Parents Can Help