Cool Fall Captions for Instagram to Post Your Photos and Videos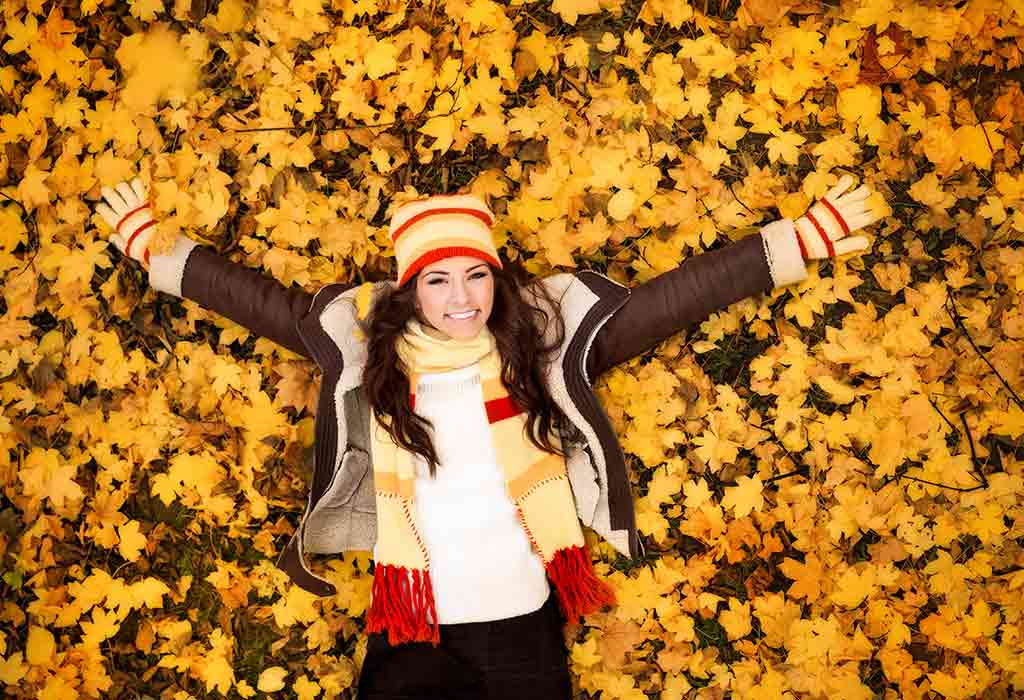 The crisp air, changing leaves, apple orchards, cute warm clothing, and pumpkin spice make this fall a beautiful season to celebrate. Summers can get too suffocatingly hot, and spring can sometimes trigger allergies in many people due to the pollens in the air, while winters can be harsh and frigid, depending on where you live. Between the yummy candy and the marvellous smells of autumn, getting ready for Halloween is also part of the excitement of this glorious season.
It's no wonder there is so much content on Instagram during fall. So, in good conscience, we cannot leave you without a bit of help when it comes to some rather fun but simple fall captions for all the memories you are going to share this season. Whether you prefer to post hilarious pictures and captions, or someone who likes the poetic and magical side of things, there is something here for you.
Funny Fall Captions for Instagram
Some of the most popular posts on Instagram that illicit a laugh out of the person viewing them. Funny pumpkin patch captions to other fall puns; we have it all. If you've got a good sense of humor, then these funny fall captions are perfect for your Instagram posts.
"The only thing that is going to get lit this weekend is my pumpkin spice candle."
"I'd like to see s'more of you."
"My gourd! I love fall!"
"Orange, you glad it's fall?"
"Channel the flannel."
"If you are not a fan of fall, please leaf me alone."
"Hay there!"
"Orange is the new black."
"Don't chai saying you love fall more than me. I won't be-leaf you."
"I never met a pumpkin I didn't like."
Autumn Captions for Instagram Related to Songs
Autumn is the time of year that inspires creativity. Paintings, fall-flavored food and beverages, and movies and songs are only a few areas where the beauty of fall is captured perfectly. If you are a music lover who would like to use Autumn inspired lyrics as your Instagram caption, we have some options for you:
"Autumn leaves falling down like pieces into place. And I can picture it after all these days." – Taylor Swift
"The autumn days swung soft around me, like cotton on my skin, but as the embers of the summer lost their breath and disappeared, my heart went cold, and only hollow rhythms resounded from within." – Fiona Apple
"Autumn in New York, why does it seem so inviting? Autumn in New York, it spells the thrill of first nighting." – Ella Fitzgerald & Louis Armstrong
"But I miss you most of all, my darling, when autumn leaves start to fall." – Frank Sinatra
"I'll just end up walkin' in the cold November rain." – Guns N' Roses
"But now it's time for me to go, the autumn moon lights my way." – Led Zeppelin
"I come by light of an autumn moon." – Broken Bells
"Tell her to weave it in a sycamore wood lane, parsley, sage, rosemary, and thyme. And gather it all with a basket of flowers, and then she'll be a true love of mine." – Simon and Garfunkel
"So I watched the leaves fall, all of the way to the ground, and I knew that that was what love was, to die so that it could be found." – Ben Rector
"The falling leaves drift by my window, the autumn leaves of red and gold." – Eric Clapton
Cute Fall Captions for Instagram
Fall presents many opportunities for posting online. From trying out your first fall-flavored beverage or snack right to pictures of you finally donning your favorite oversized sweater, you won't find yourself falling short of posts. We have some varied and cute caption options as well as fall quotes for Instagram for you to consider when you decide to post next:
"Autumn is the cutest season of them all."
"Everyone must take time to sit and watch the leaves turn." – Elizabeth Lawrence.
"Falling for you."
"Happy fall, y'all."
"Fall has always been my favorite season. The time when everything bursts with its last beauty, as if nature had been saving up all year for the grand finale." – Lauren DeStefano
"It's sweater weather."
"I like you a pumpkin latte."
"Every leaf speaks bliss to me, fluttering from the autumn tree." – Emily Brontë.
"It's the season for hot tea and warm fuzzy socks!"
"It's the most colorful season of all."
"Autumn passes, and one remembers one's reverence." – Yoko Ono
"The time has come to spice things up!"
"Wild is the music of the autumnal winds amongst the faded woods." – William Wordsworth.
"Pumpkin spice and everything nice, that's what fall is made of, made of."
"Pumpkin kisses and harvest wishes!"
"I am most radiant and full of energy when the leaves are falling, and there is a ghost of change in the air." – Anna Madsen, The Iris Diaries.
"The colorful autumn view is gourd-geous."
"Autumn burned brightly, a running flame through the mountains, a torch flung to the trees." – Faith Baldwin.
"Weekend plans: Light up all the fall candles."
"There is a harmony in autumn and a luster in its sky …" – Percy Bysshe Shelley.
"Determined to step on all the crunchy leaves."
"If a year was tucked inside of a clock, then autumn would be the magic hour." – Victoria Erickson.
"It is the start of the pumpkin patch photo sessions."
"You're the apple of my pie."
"Hay baby, hay baby, hay!"
"Currently running on pumpkin-flavored coffee."
"There is a time in the last few days of summer when the ripeness of autumn fills the air, and time is quiet and mellow." – Rudolfo Anaya.
"I'm turning over a new leaf."
"Gourd big or gourd home."
"Hay there!"
"Be-leaf it or not, this photo was taken on the first try."
"And the sun took a step back, the leaves lulled themselves to sleep, and Autumn was awakened." – Raquel Franco.
"If you are not a fan of sappy puns, you should leaf right now."
"I'm spicing things up."
"Autumn is a second spring when every leaf is a flower." – Albert Camus
"Keep calm and stay cozy."
"I love you more than pumpkin pie- that's how serious I am."
"Bring on the apple cider donuts."
"There is a subtle magic in the falling of old leaves." – Avijeet Das
"Great food, cinnamon candles, and handmade blankets."
"Leaves are falling; autumn is calling."
"And all the lives we ever lived and all the lives to be are full of trees and changing leaves…" – Virginia Woolf.
"After a summer fling, it is time to fall in love."
"There is a particular kind of afternoon sun that exists only in autumn." – Ayana Mathis.
"You are unbe-leaf-able."
"Happiness is a hot drink on a cold autumn's day."
"I did not trip, yet here I am in the fall."
"I can smell autumn dancing in the breeze. The sweet chill of pumpkin and crisp sunburnt leaves." – Ann Drake
"October is my favorite color."
"Autumn mornings: sunshine and crisp air, birds and calmness, year's end and day's beginnings." – Terri Guillemets
"Fall isn't just a season. It's a lifestyle."
"Autumn … the year's last, loveliest smile." – William Cullen Bryant
"Pumpkin patch to heal the heart."
"Hot chocolate: a hug in a mug."
"October, baptize me with leaves! Swaddle me in corduroy and nurse me with split pea soup. October, tuck tiny candy bars in my pockets and carve my smile into a thousand pumpkins."- Rainbow Rowell, Attachments.
"Spice, spice, baby."
"Fall so hard, mother pumpkins wanna spice me."
"It has reached a point where my blood type is pumpkin spice."
"Witch way to the candy?"
"It's all just a bunch of hocus pocus."
"I couldn't decide whether or not to make spiced apple cider, so I mulled it over."
"Lit! Just like my fall-scented candles."
"It looked like the world was covered in a cobbler crust of brown sugar and cinnamon." – Sarah Addison Allen.
"Fall: My second favorite "F" word."
"Notice that autumn is more the season of the soul than of nature." – Friedrich Nietzsche
"The leaves are falling, and my coffee is calling."
"Autumn leaves don't fall, they fly. They take their time and wander on this their only chance to soar." – Delia Owens.
"Hate to be corny, but…."
"If you were a pumpkin, I'd pick you."
"Be like a tree, and let the dead leaves drop." – Rumi
"Pumpkin spice junkie."
"A time of hot chocolatey mornings, and toasty marshmallow evenings, and, best of all, leaping into leaves!" – Winnie the Pooh.
"And we all lived apple-y every after."
"Where you leaf, I will FALLow."
"A fallen leaf is nothing more than a summer's wave goodbye." – Unknown
"Fall-in in love with the world around me."
"That's HAY-larious"
"Anyone who thinks fallen leaves are dead has never watched them dancing on a windy day." – Shira Tamir.
"Fall is proof that change is beautiful."
"Hangin' with the leaves."
Fall is truly a wonderful time of the year, so remember to share your fall fun with your followers and bring them some exciting content. Every experience can be an amazing opportunity for a photoshoot. The fall treats activities, acts of service, and crafts are guaranteed to get you active, creating, and exploring. This makes teaching and learning incredibly easy as there is so much to discuss and do at this time of the year.
Suppose you cannot come up with any apple picking captions or something interesting to say under the beautiful landscape picture you managed to get of the colorful autumn leaves. In that case, it is guaranteed that you will find something suitable here. So, go on and celebrate the season of colors and comfort. The memories will be worth it.
Also Read:
Best Beach Instagram Captions to Refresh Your Vacation
Best Thanksgiving Instagram Captions
Cute Instagram Captions for Couples