Confused About What Essentials to Stock During the Coronavirus Situation? This List Is All You Need!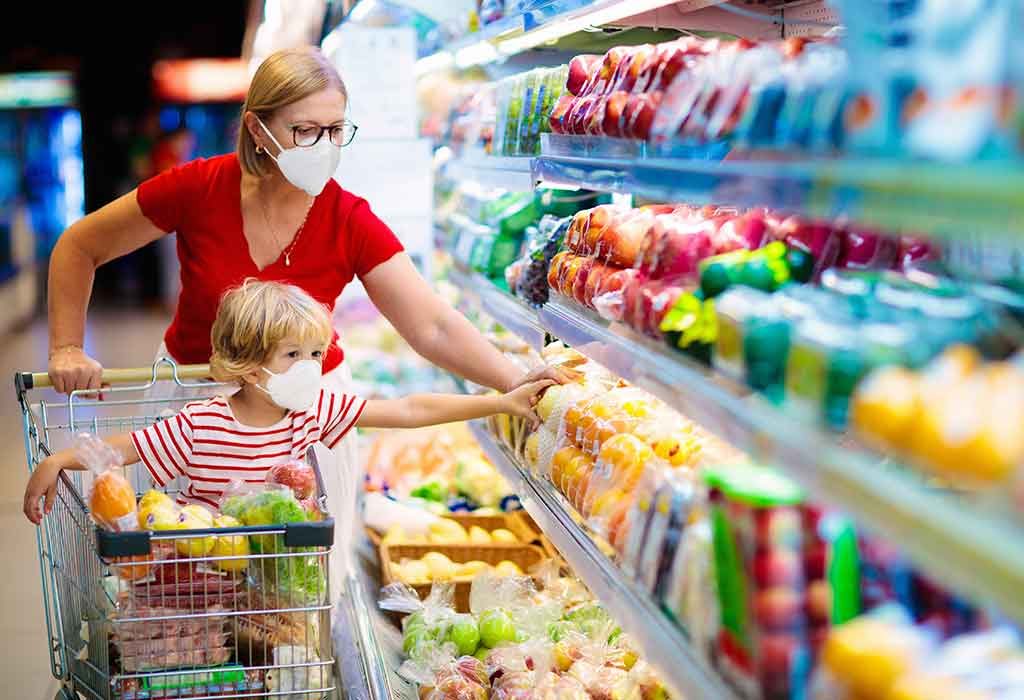 The current coronavirus situation has made us think, re-think, and sometimes overthink about what we need to do, especially during the lockdown. One of the major fears making rounds in the world today is the unavailability of essentials. While most countries have announced a complete lockdown, essential commodities and essential services are still functioning to their best capacities. However, the panic-stricken human in us is running haywire to hoard items we probably don't even need. Several cities have reported that items are flying off the shelf, creating a shortage of several essentials like hand sanitizer, paracetamols, multi-vitamins, and toilet paper. But do we need to panic? Not really. Do we need to be prepared? Absolutely!
Before you step out to buy essentials for you and your family, read through the article till the end. Here, we have enlisted items necessary to help your family get through the lockdown comfortably till life resumes back to normalcy.
List of Perishable Items to Stock Up on During the Lockdown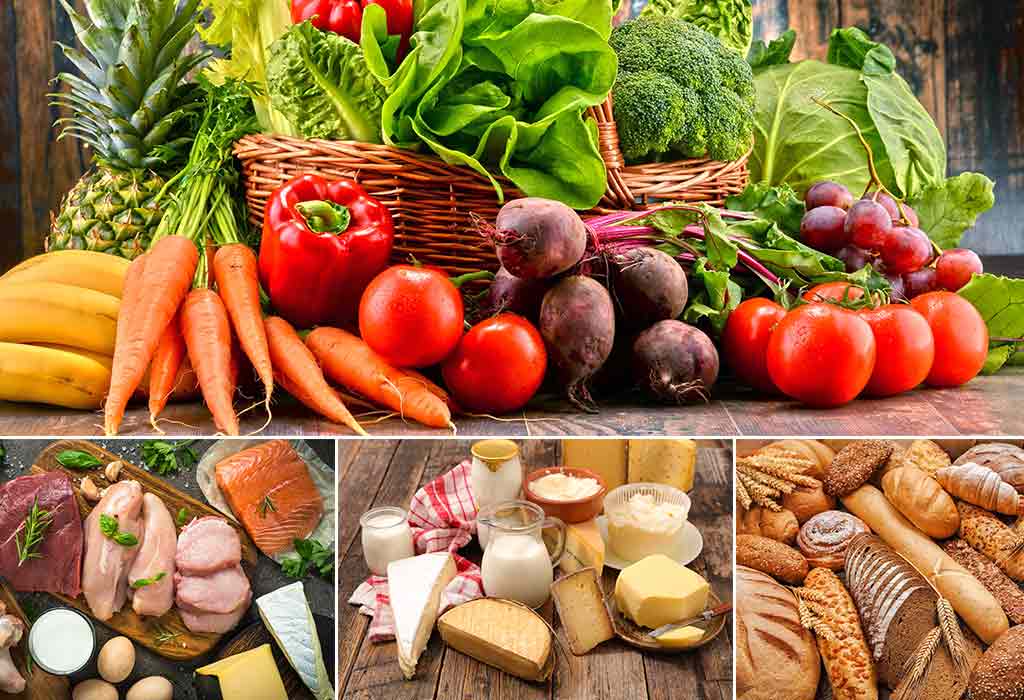 Here's a quick list of common perishable items that you are sure to need during this critical time.
Please note – Some of these items are long-lasting while some are not. Therefore, it is a good practise to figure out how much you can store and consume before it gets rotten.
Fruits
Apples
Bananas
Oranges
Lemons
Limes
Pomegranates
Clementines
Peaches
Plums
Melons
Canned Fruits
Vegetables
Choosing vegetables can get a little tricky. Here's a quick tip for you to make a choice when buying vegetables – Cook and consume the vegetables with the most water content as soon as you get them because the ones with lesser water content can last longer.
Go for these veggies during the lockdown.
Leafy Vegetables – Spinach, Fenugreek, Dill, etc.
Broccoli
Cauliflower
Cabbage
Tomatoes
Potatoes
Onions
Garlic
Squash
Pumpkin
Sweet Potatoes
Carrots
Green peas
Cucumbers
Gourds – Bitter Gourds, Sponge Gourds, Snake Gourd, Bottle Gourd, Ash Gourd, Pointed Gourd.
Canned Vegetables
Dairy
These dairy essentials will help you take care of breakfast and snacks during the day.
Milk/ Dairy Whitener
Cream
Yoghurt
Butter
Cottage Cheese/ Paneer
If you are a vegan, lactose intolerant, or have an aversion to dairy, stock up on substitutes for dairy.
Substitutes for Dairy
Soy Milk
Almond Milk
Coconut Milk
Flax Milk
Hemp Milk
Rice Milk
Protein
Protein is an essential part of the diet. It is more so necessary during the time of the coronavirus pandemic when we need to stay fit.
Get these to meet your daily protein requirement.
The reason why we recommend frozen meat is because fresh raw meat may not be available extensively during the lockdown. Plus, you can store it in your freezer and cook it as and when required, but before the expiry date. Raw meat, when stored at zero degree Celsius can last for 2 to 12 months depending on what meat it is and which part of the meat it is.
Speaking of frozen meat, you may want to consider some more frozen foods during the lockdown.
Frozen Food
Readily available frozen foods are a great purchase to make during the coronavirus lockdown to ensure your diet has all the nutrition you need to stay healthy.
Frozen Fruits – Berries, Peaches, and Cherries.
Frozen Vegetables – Peas, Corn, Spinach, Broccoli, Cauliflower, Carrots, Green Beans, etc.
If you don't anticipate a need for frozen foods, you can refrigerate some fresh vegetables and fruits like your greens, tomatoes, gourds, peaches, etc. in the vegetable and fruit compartments of your refrigerator instead of crowding your freezer.
Alternatively, you can also choose to freeze some perishable items like the ones given below to make them last longer.
Foods You Can Freeze At Home
Freezing foods at home may require more time and care, but it can prove to be a great way to preserve food. Here's what you can preserve at home.
Cooked Rice
Cooked Pasta
Fruits (berries, peeled bananas,
Cooked/ Blanched Vegetables (broccoli, cauliflower, peas, spinach puree, etc.)
Stock
Raw/ Cooked Meat (in separate containers to avoid contamination)
More tips on freezing foods at home are provided below. Be sure to read and follow them carefully before freezing any fresh produce. Freezing foods can make foods last longer without losing much of their nutritional value. Appropriate freezing methods can help prevent contamination or diseases due to contamination too.
Now, let's take a look at some more items you can choose from to stock-up your kitchen/pantry during the lockdown.
Preserves
Preserves are great to lather on a toast or as an important element of most mains.
Jam
Jelly
Marmalade
Fruit Butter
Ketchup
Dry and Wet Chutneys
Pickles
Baked Foods
And, how can we forget baked foods? They can come in handy when you have kids or when you are a snacker yourself.
Ensure you stock enough of –
Biscuits
Cookies
A few bread loafs
Now, let's take a look at some non-perishable items that will see you through this isolation period.
List of Non-Perishable Items to Stock During the Coronavirus Lockdown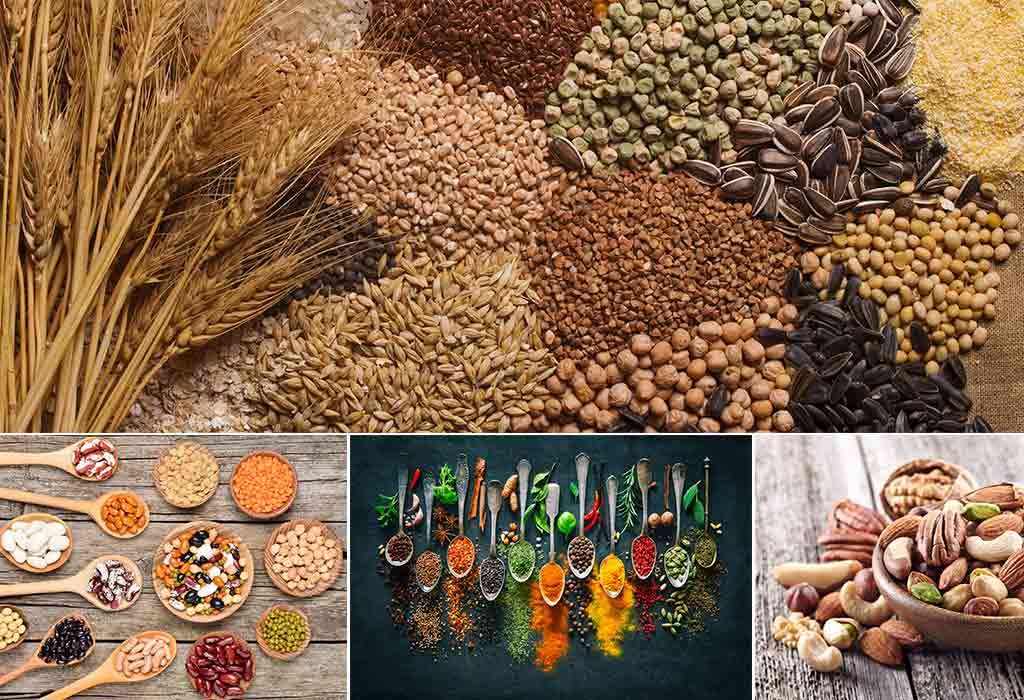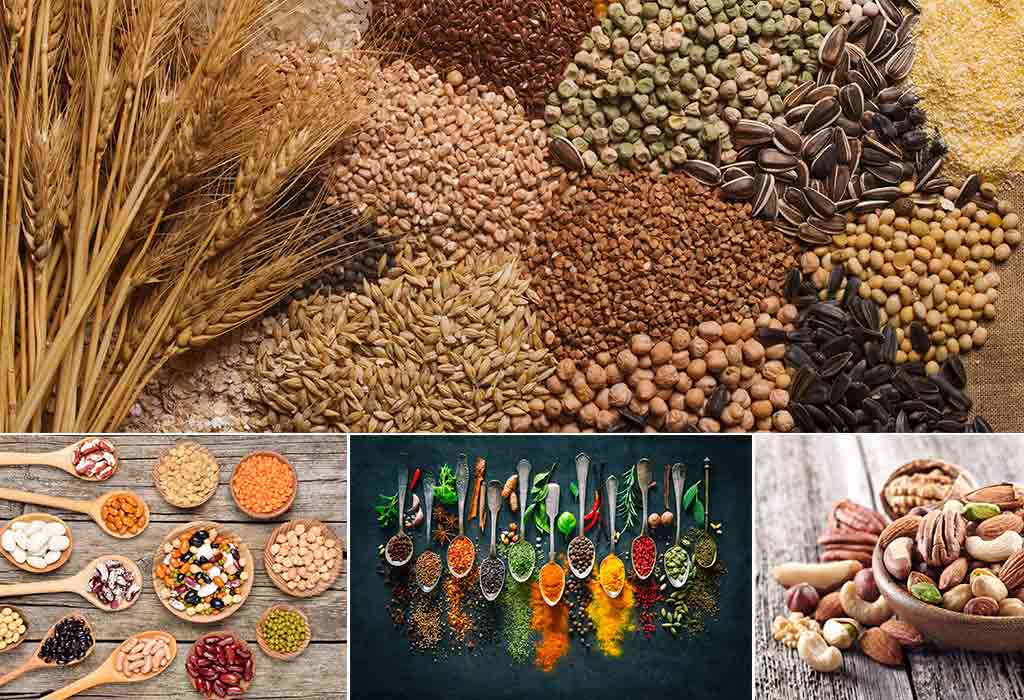 Here, we have enlisted, in different categories, some non-perishable food items that can last for months. These foods are also important to ensure you have enough protein, carbs, vitamins and minerals in your diet, especially if you are a vegetarian. Let's begin with whole grains.
Whole Grains
White/ Brown Rice
Wheat/ Gehu
Oatmeal
Finger Millet/ Ragi
Maize
Sorghum/ Jowar
Although most families opt to buy readymade flours, it is better to stock up on some whole grains for the future. However, if you have access to dry flours, consider this list to decide your essentials.
Dry Flour
Wheat Flour
Sorghum/ Jowar Flour
Refined Flour/ Maida
Gram Flour/ Besan
Ragi Flour
Another important ingredient you must consider while purchasing groceries is legumes. They are packed with protein, dietary fibre, carbs, vitamins and minerals.
Legumes
These legumes can be used in several preparations to make breakfast items, main and side dishes too.
Ensure you buy at least 2 or 3 to add variation to your food.
Lentils/ Dal – Green Moong, Tur/ Arhar Dal, Masoor Dal, Urad Dal, and Chickpeas.
Beans – Soy Beans, Kidney Beans, Black Beans, Dried Split Pea, etc.
Since we're at it, here's a list of nuts and seeds that you can stock up on too.
Nuts, Seeds and Dry Fruits
Nuts, seeds and dry fruits are rich in minerals and vitamins. They can provide instant energy and also help cope stress during the lockdown.
Peanuts
Almonds
Flax Seeds
Sesame Seeds
Chia Seeds
Pumpkin Seeds
Cashew nuts
Walnuts
Dates/ Dried Dates
Pistachios
Raisins
Prunes
Dries Figs
Lotus Seeds/ Makhana
Pine Nuts
Let's move on to the breakfast items now. After all, it is the most important meal of the day.
Breakfast Foods
These breakfast items can help you add variety to your breakfast menu and also ensure you begin your day with food packed with nutrition.
Cereal
Flattened Rice/ Poha
Semolina/ Rawa
Don't forget the condiments, spices and beverages. Be sure you have enough of these too for the lockdown.
Condiments
Powdered Spices
Turmeric
Chilli Powder
Garam Masala
Coriander Powder
Mustard Seeds
Cumin Seeds
Salt
Dry Ginger Powder
Whole Spices
Clove
Cardamom
Cinnamon
Pepper
Beverages
Tea
Coffee
Health and Nutrition Drinks
There are some more essential items you'll need to consider to get through this difficult time safely.
Other Essentials to Stock-Up on During the Coronavirus Lockdown


Other than the items mentioned above, you must also have enough items required for you to take care of unforeseen issues, especially medical and child-care. Read on to know more.
Children's Food
Needless to say, if you have babies in the house, you should be ready to meet your child's dietary requirement. Most of the ingredients mentioned above can be used to prepare your child's meal. However, you might find this list pretty helpful if your baby has been weaned on to solid foods.
Readymade Fruit Purees
Readymade Vegetable Purees
Cerelac
Crackers
Medicines
Stock up on all your regular prescribed medication that will last you at least a month. Other medicines you may consider buying in some amounts are –
Paracetamol
Antacids
Over the counter pain killers (to be used with caution)
Your baby's medicines
Antihistamines
Alcohol-Based Sanitiser
Antiseptic Wipes
Antiseptic cream/ liquid
Diapers
Diaper rash cream
Remember that most pharmaceutical stores will be open and serving during the lockdown. Therefore, buy sensibly so that you do not deprive someone else in need.
Toiletries and Cleaning Essentials
Lastly, don't forget to buy enough toiletries and cleaning essentials to keep yourself and your home clean. Here's what you must look for –
Soap/ Body Wash
Baby Soap, Powder, etc.
Hand Wash
Shampoo
Toothpaste
Mouthwash
Toothbrushes
Dental Floss
Detergent
Floor Cleaning Liquid
Cleaning Agents for Hard Surfaces
Liquid or Bar Dish Wash
Toilet Rolls
Facial Tissue
Now that you have an idea of the essentials you need to stock up on, here are some tips for you to ensure you have enough for the lockdown and take necessary actions to prevent wastage of any kind.
Tips to Ensure You Have Enough to Survive the Lockdown
Scan your pantry and list out the essentials you already have in your house.
Jot down the expiry date of the items, wherever given. This will help you use the items that are nearing their expiry and avoid wastage.
Make different lists of perishable and non-perishable items to avoid missing anything.
Try to purchase whole vegetables or fruits instead of cut ones if buying them fresh.
If you happen to buy more perishables, use the ones that cannot be frozen, and freeze those that can be frozen.
Freeze veggies/fruits when they are fresh.
To freeze vegetables/ fruits at home, you can either cook them completely or blanch them. Be sure you let them cool down at room temperature before you stack them in the freezer. Cooking/ blanching vegetables and fruits before you freeze them helps kill bacteria if any and preserve the colour, flavour and the texture of the food. Doing so also helps maintain the nutritional value of the foods by slowing down the loss of vitamins.
All the foods you want to freeze or store in the freezer should be packed in different zip lock bags or properly sealed containers.
Take special care while freezing meat.
If you happen to thaw frozen meat, ensure you cook it and only then freeze it. Do not re-freeze thawed meat.
Do not pack the freezer with foods. Let there be enough room for the cool air to circulate.
For more information on frozen foods, you may also refer to the guide on fda.gov.
This list might seem extensive; however, you don't have to purchase each item mentioned in this article. It is for your reference only, and you are the best person to decide what foods you need to buy to suit you and your family's requirements. When you have the final list ready, ensure you glance through it once again to remove any unnecessary items. Also, be responsible and avoid hoarding because the time is critical for everyone.
Also Read:
State-Wise Government Approved COVID-19 Laboratories in India
How to Protect the Senior Citizens at Home Against the Coronavirus
Keeping Your Home Coronavirus-Free