Clever Small Kitchen With Island Ideas for Faster and Effective Meal Preparation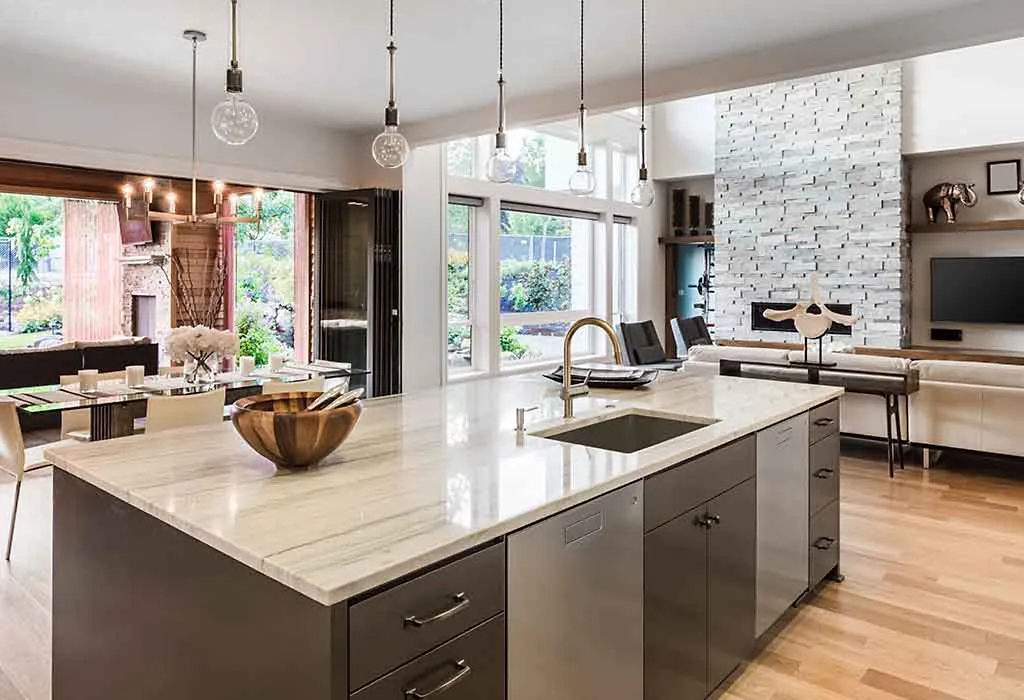 In this Article
Kitchen table islands are an excellent way of adding functionality to your small kitchen space. A small kitchen with storage is a very practical advantage. It also helps in prepping your meals quickly and a lot more efficiently. There is a reason why these kitchen handles are known as ultra-functional – from having your breakfast laid there to arrange all that you would need to cook – it also serves other purposes such as dropping your mail or just having a conversation over your morning coffee.
Unique Ideas for Small Kitchen With Island
A small kitchen island space can take your kitchen interiors up a notch in terms of styling. It makes way for a lot more surface space in an organized manner. Following are a few of the most creative and innovative ideas of how effectively you can use this space and make the most out of it:
1. Give It a Rustic Touch
It is always a good idea to mix up your aesthetics. Have a mélange of rustic and modern seamlessly blended. For example, you can have a beautiful wooden chop block set up that gives an aesthetic touch to the surrounding modern feel of the kitchen. The wooden block complements the sleek finishing of the surrounding kitchen interior and its appliances.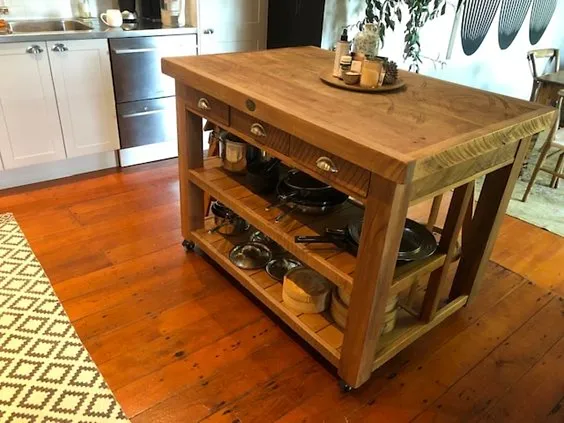 2. Pick Stainless Steel
For starters, a stainless steel kitchen island is a lot more economical. You can also arrange for a small kitchen island with stools. In this case, stainless steel tools that too backless would add to the aesthetic of the countertop. This type of kitchen island space is functional as well as they come in handy.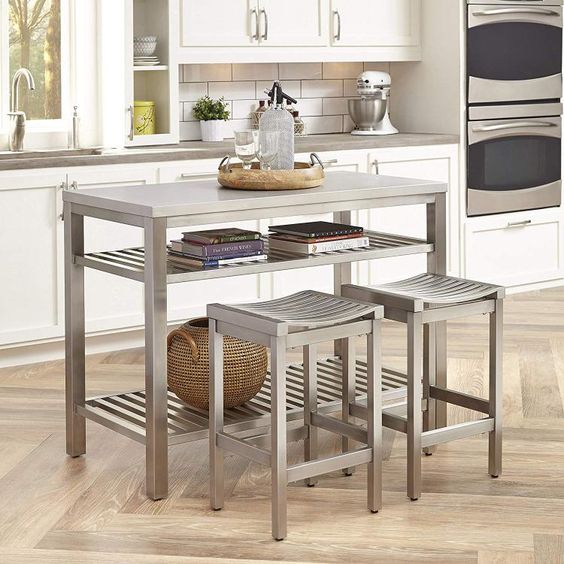 3. More Storage Space
Especially when you have a kitchen island narrow enough to make you want to think of the kitchen's décor creatively, always go for a small kitchen island with storage. More space to store all your kitchen essentials can never be a bad idea. Go for the one that would have additional arrangements of cabinets, shelves, or drawers where you can place some of those utensils.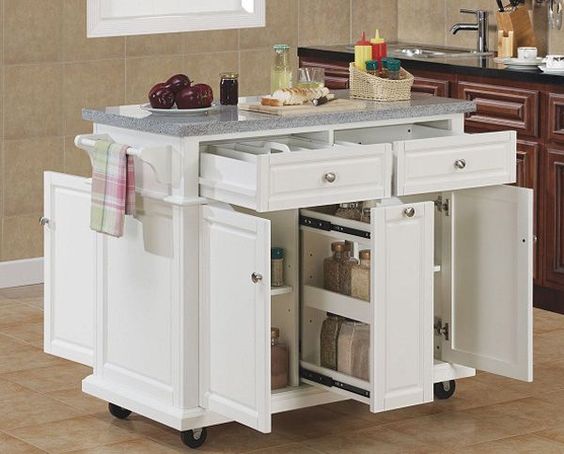 4. Wheels for Your Kitchen Island
The purpose of this kind of kitchen island doubles its uses. Having wheels on this kitchen island cart makes it very easy to have them used as a serving station. This is because the wheels make it very easy to push around this piece of furniture wherever you would want to. So other than the general purposes of a kitchen island, there are also several other ways of making effective use of it.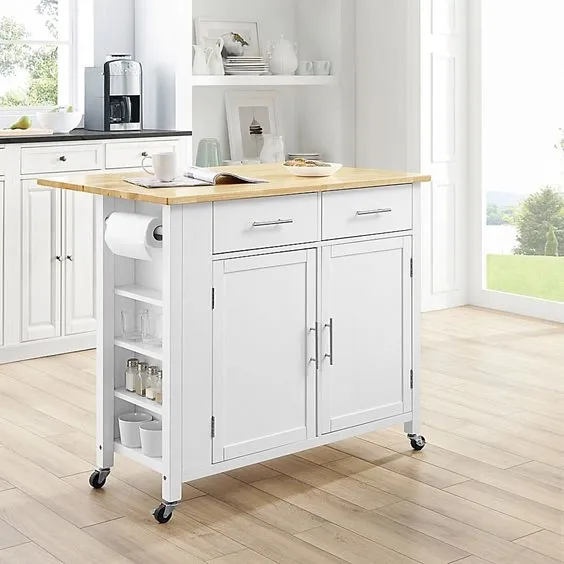 5. Blending Spaces
When you have an exceptionally small place, it takes more of a creative mind to organize all the pieces of furniture without making it look too clustered. Thus, having a kitchen space island that comes with multifunctional features is always a bonus. In a tiny home, this can not only be used to compartmentalize between an open kitchen and a living room but also as your kitchen breakfast bar island.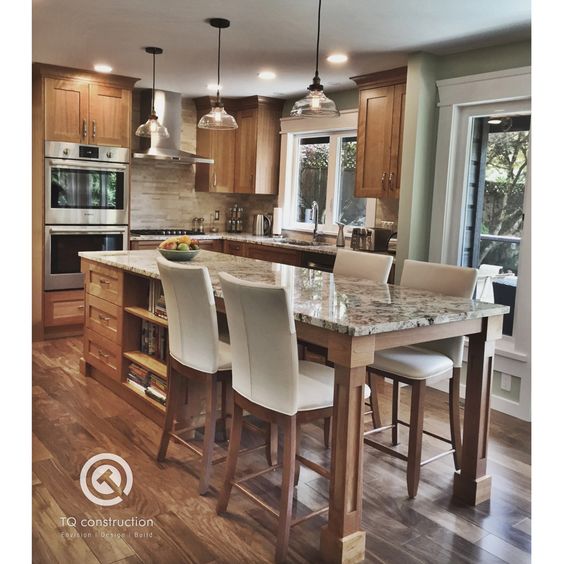 6. Mind the Space
There are a lot of aspects to be considered when you are thinking of adding a fancy kitchen table island in a small kitchen. It is all about making adjustments. Therefore shapes of these kitchen islands can also play a pivotal role. Go for one that has rounded edges and easily curves its way as per the size of the kitchen. It makes the kitchen look spacious while serving the purpose of an island space.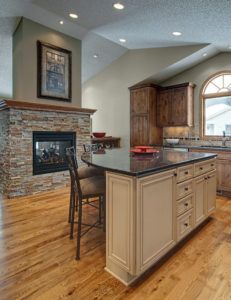 7. Two-Tiered Space
The most obvious benefit of having a contemporary two-tiered kitchen island space is that it amplifies the surface area. There is more place to put out your food and at the same time have your kitchen essentials near you whilst you continue working. The additional elbow space contributes to a more flexible area of working.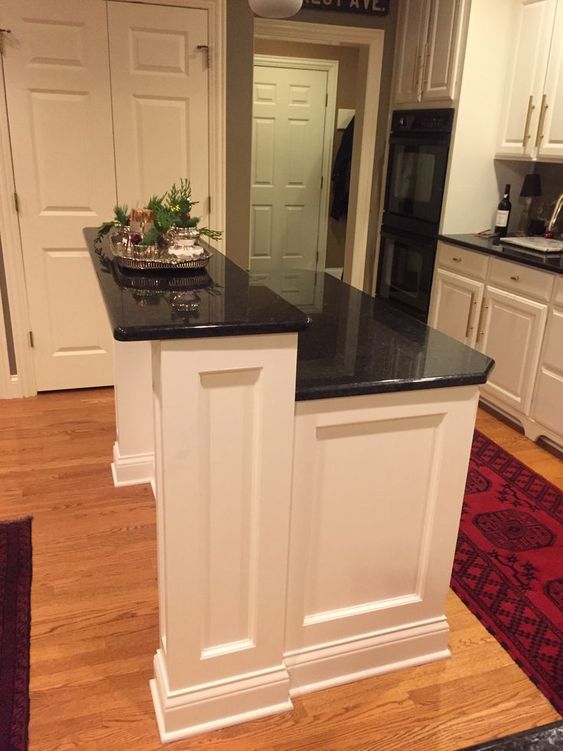 8. Tile-on-Tile aesthetic
This requires you to be imaginative and add a little modern touch to your kitchen interiors. A tile-on-tile look truly complements the remaining modern accents of your kitchen. If you are one of those who seem to like a combination of both retro and modern, you should go for this style.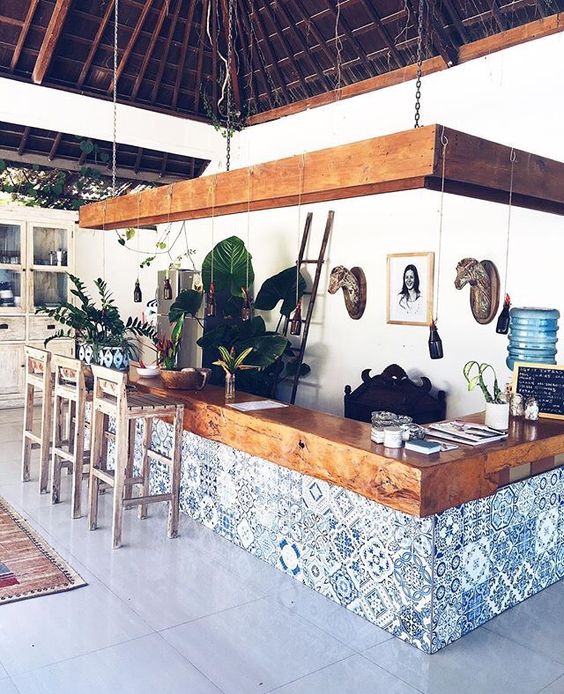 9. Four-legged Surface
It is a simple yet elegant choice. You can also add a peninsular top over the kitchen island to make it look a little more modern. Go for a four-legged island space with a simple white surface on top. The additional top over it can be of your choice – perhaps a wooden block to elevate a part of it a little higher.
10. Pick a Theme
Go for a theme; it always makes space look a lot livelier. You can opt for a beach feel as you place a rustic wooden dining table that can be a good alternative to your kitchen space island. It serves as a space for eating, as well as an ideal setup to carry on with your other kitchen-related activities.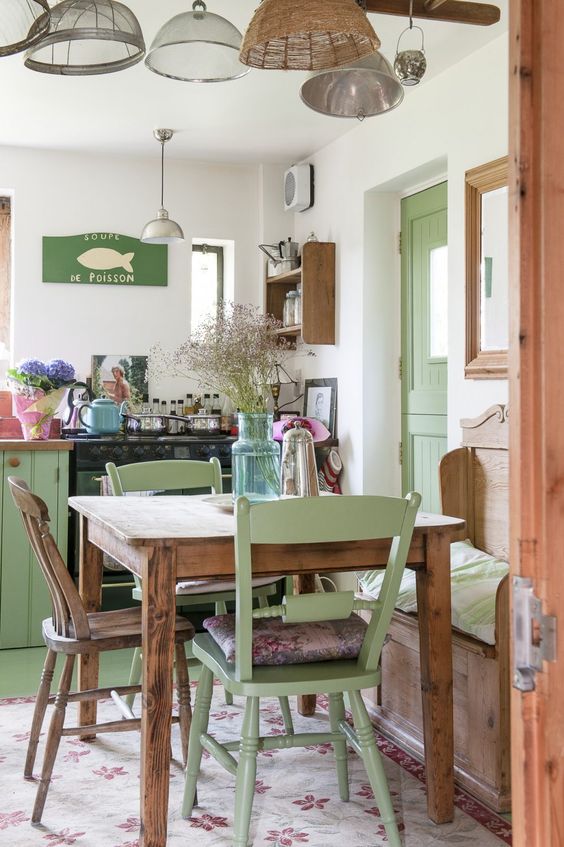 11. DIY Storage
Who said you could not add your personal touch to your kitchen island space? You can always have one side of it pierced with hooks where you can hang in some of your pots and pans. It is an excellent way to create additional space in and around the kitchen island and make it more convenient to reach out to them while you're prepping and cooking your meals.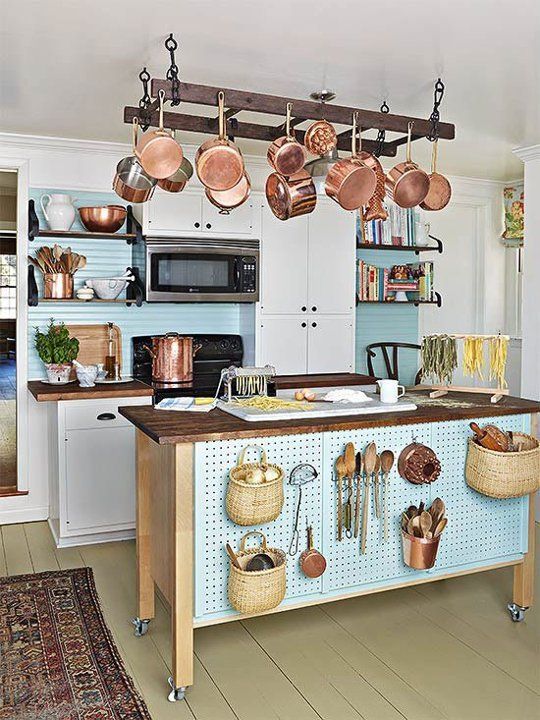 12. Salvaging Parts
This is the age of repurposing and creatively reusing things before tossing them out. An old dresser can easily serve the purpose of being used as a small kitchen island. This dresser which might not serve its original purpose, can be used as an alternative home feature like a space island. You can add your personal touch by refreshing the paint or polishing the surface.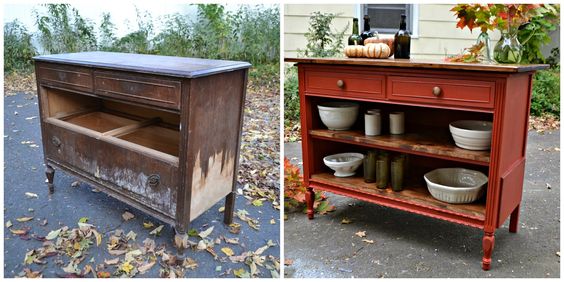 13. A Leaf Table
When there is only space for one, you have to make quick and effective decisions. A leaf table not only serves as a place for dining but it can be uplifted when you need to cut or chop in your kitchen and put it down when not in use. In this way, you can easily and stylishly combine your dining space and your kitchen island.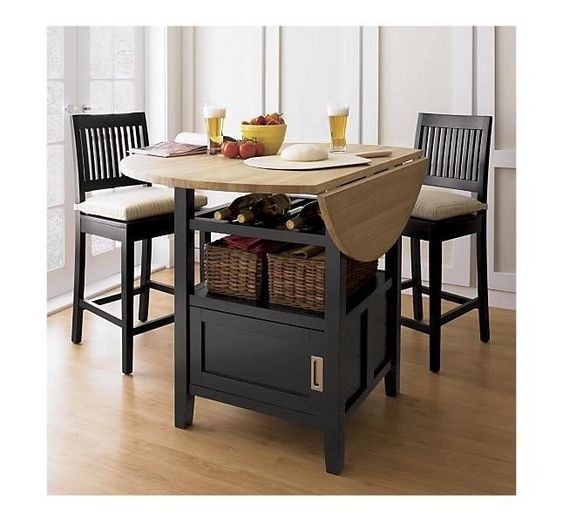 14. Flying Buttress Kitchen Island
There are various shapes of Kitchen Island that you can select. Rather than going for an ordinary-looking kitchen island space, you can go for what is known as a Flying buttress kitchen island space. Besides offering a classic-looking surface of a kitchen island space, it allows you to add an extended L-shaped plank on another surface, making it look like an island.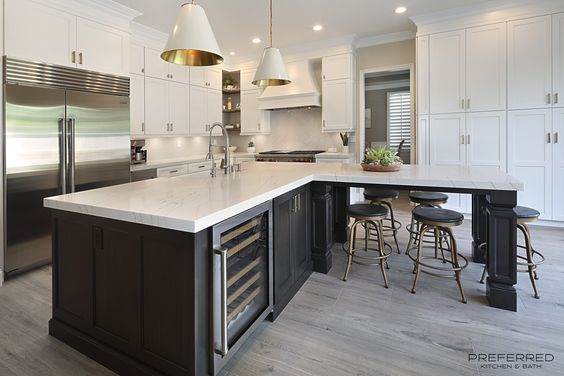 15. All-White phenomenon
If you are not a big fan of color, you can go for a classic white kitchen island space that blends in well with your all-white house interiors. It is classic and elegant. The unpretentious color itself makes your area look beautiful and gives an open and welcoming vibe to it.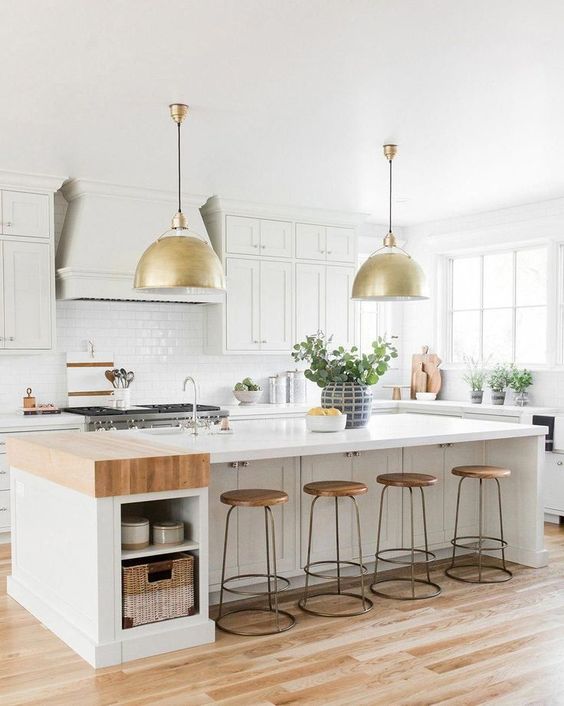 16. Splash of Color
There are various options for all those who love colors. If you want your kitchen island space and surrounding arena to reflect your chirpy and lively personality and aesthetics, you can go for vivid and happy colors that instantly brighten up space. Add a splash of color and let it make all the difference.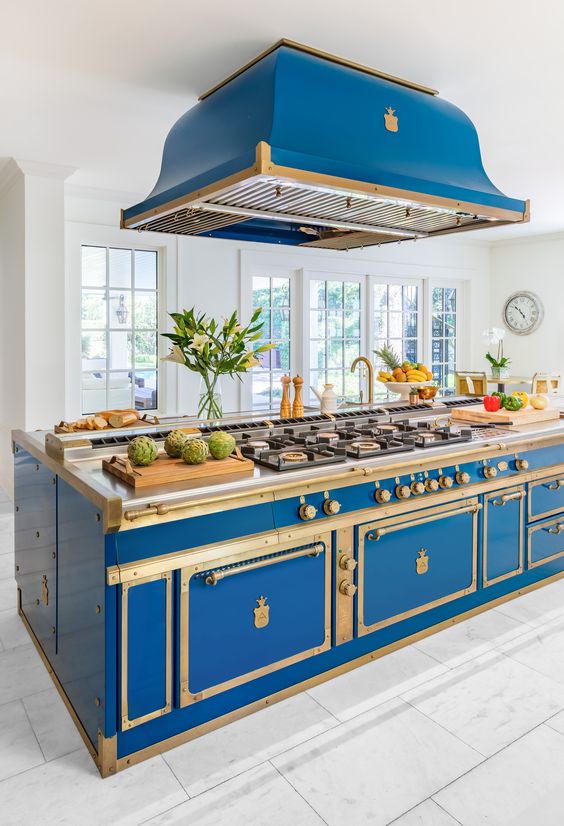 17. Keep It Slender
Having a long-running and slender kitchen island space contributes to saving more space around the kitchen. Additionally, it can serve as a buffer table. The slim shape makes it much convenient for multiple cooks working on their delicacies simultaneously. Additionally, having it multifunctional also makes it more appropriate – such as having an oven place on one side of the island space and storage on the other side.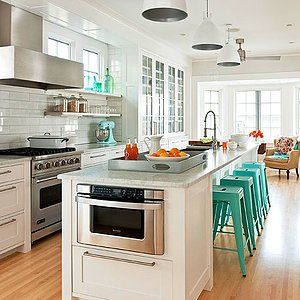 18. Add in Vintage Charm
No matter how small or big your kitchen table space is, you can always decorate it using your creative skills to uplift its aesthetic look. Go for vintage-looking furniture with a smooth and elegant marble top. Maybe even hang a vintage but small chandelier right above it to make it look more wholesome.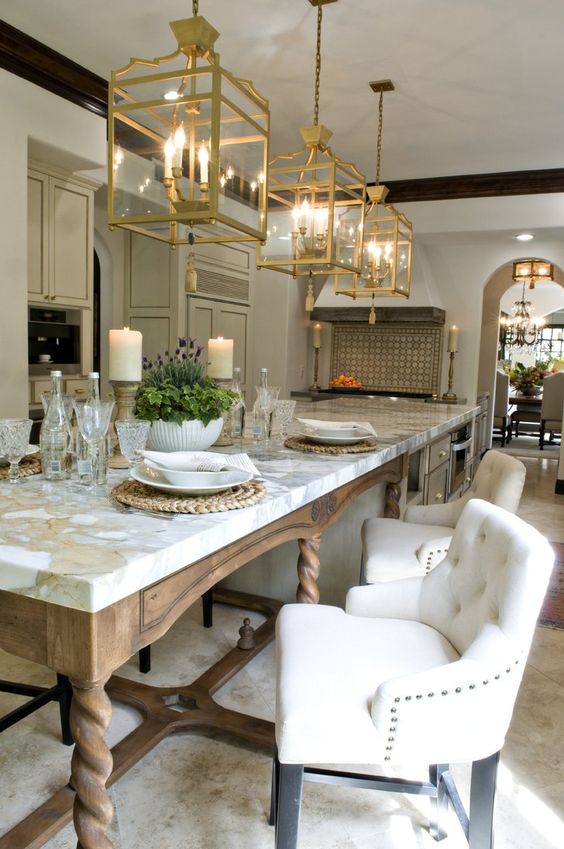 19. Bookcase Kitchen Island
Another DIY hack you can try, and it is sure to leave you impressed. A bookcase Kitchen Island is a brilliant DIY hack, and it honestly makes a lot of sense. It can act as an excellent storage space with several shelves, whereas the top surface can be suitable for prepping and cooking your meals.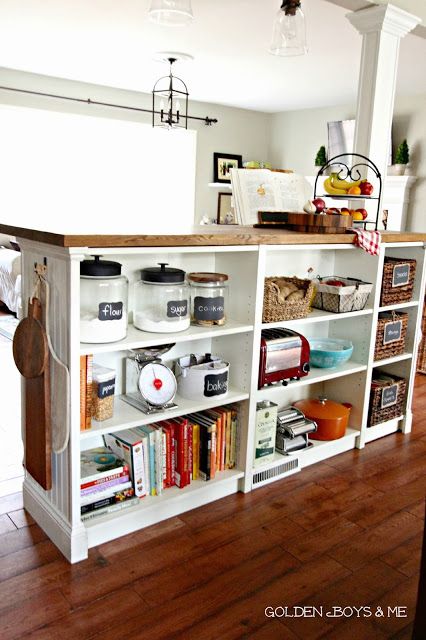 20. Waterfall Marble Hack
Marbles have a certain flowing pattern which might make a small area look a lot bigger. Opt for a marble-surfaced Kitchen Island, which does the right hack, especially if you try to give the small kitchen space a spacious look.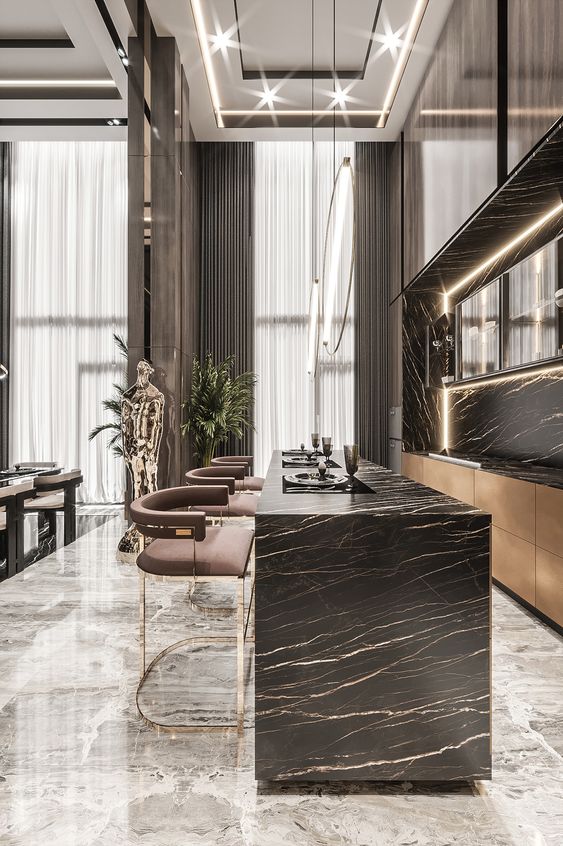 21. Comfortable Attached Seating
This style of kitchen island space can come in very handy during get-togethers when you have people hanging around in the kitchen. Have a comfortable booth where they can lounge.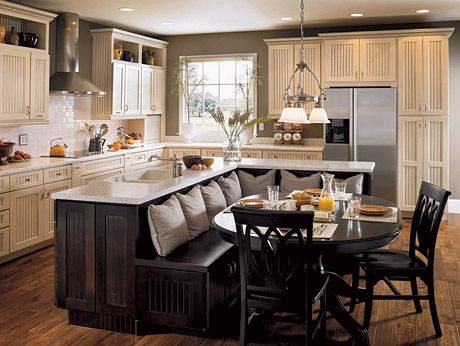 22. Patterned Surface
Take your designing aspirations a notch higher. You can opt for a Terrazzo marble countertop for your kitchen island. The colorful marble design with its shapes and textures is a great touch.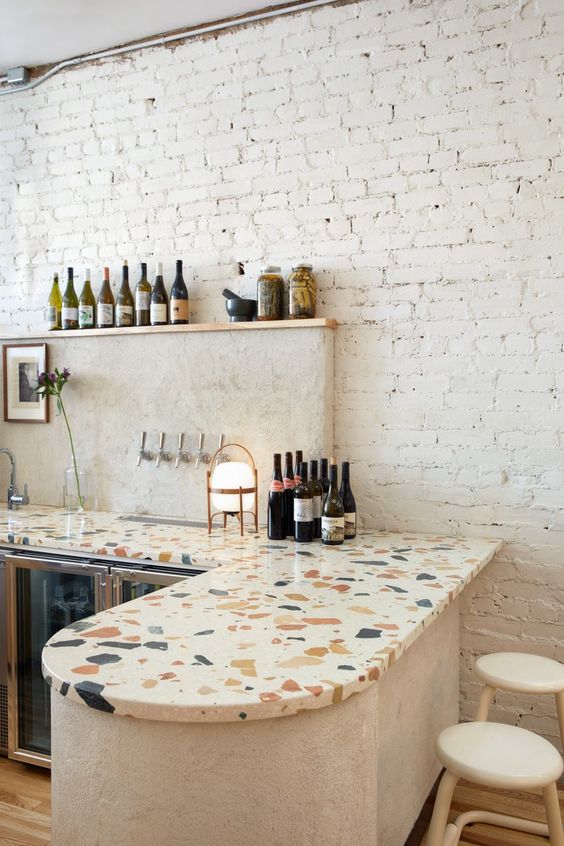 23. Dark Elements
Black is the sleekest and most stylish color. Not only is it a perfect combination for any other color you opt for, but it is also very chic. It also makes it easier to clear dirt and dust off the surface.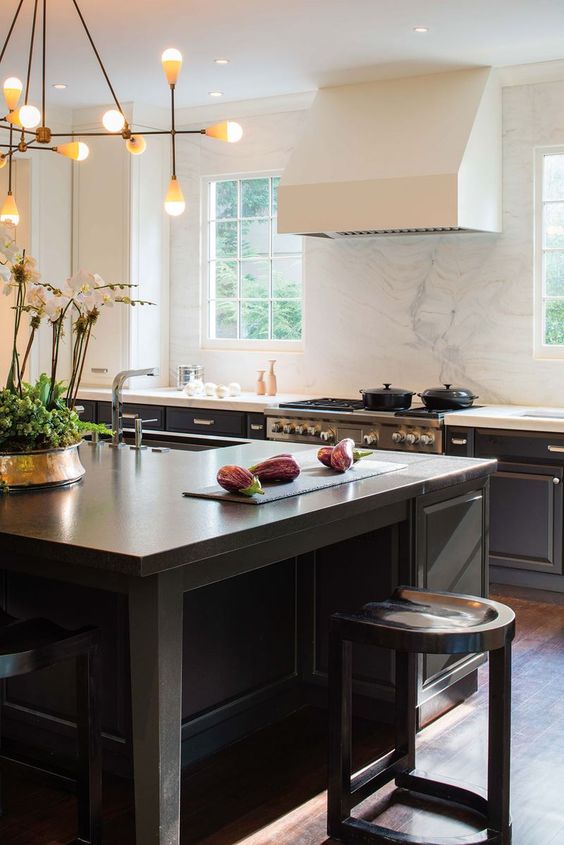 24. Swanky Faucet
Why not indulge in other aspects of your kitchen? You can try to have a swanky and colorful faucet in the sink that adds a burst of color to the remaining subtle shade of the kitchen island countertop.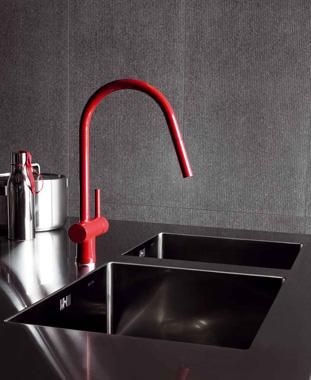 25. Accessorize your kitchen table
Small accessories such as hanging metal pendant lights right above the kitchen island or a small vase on the corner instantly give it an attitude and a personality.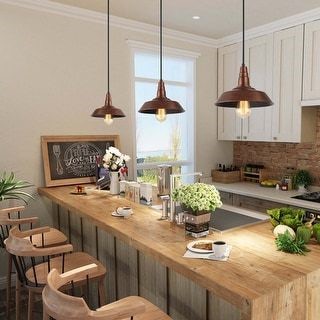 Thus, there are many ways of selecting the right kitchen island table. You can select from a variety of shapes, sizes, and themes. Add a personal touch to it to make it look more aesthetic and reflect the vibe of your home. This can be an excellent way of putting your creativity to task as you indulge in some interior decoration in making your kitchen space a lot more functional.
Also Read:
Top Kitchen Decorating Ideas
Easy Kitchen Tips and Tricks
How to Clean Your Kitchen Electronics