Cleaning A Bathtub – Easy Steps to Achieve a Sparkling Bathtub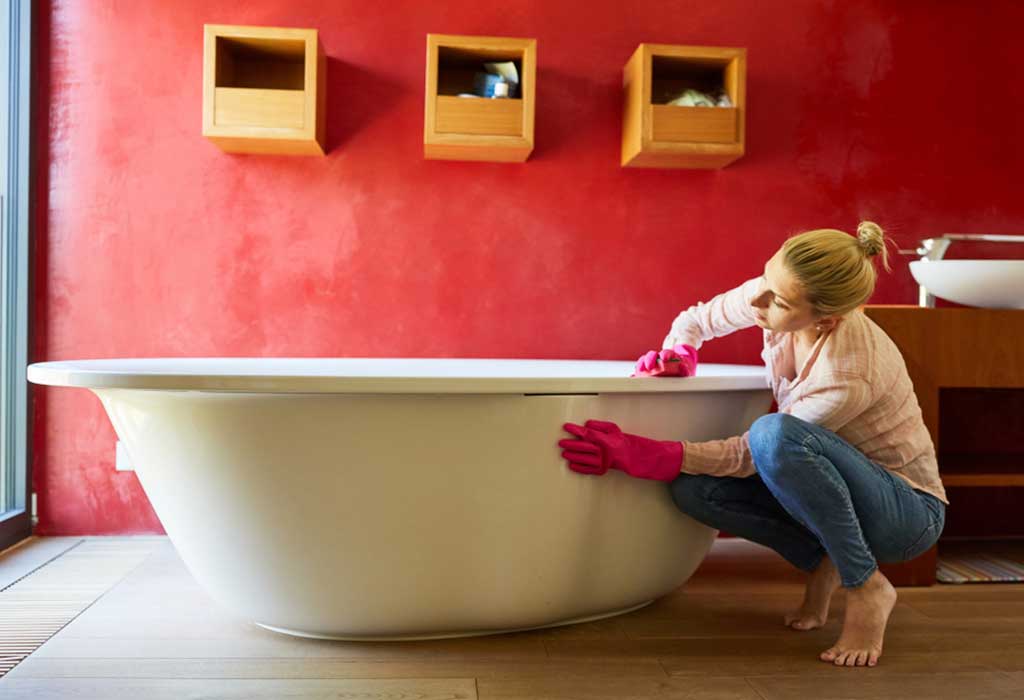 Everyone likes to soothe away the stresses after a long day by leisurely soaking themselves in a hot bath. However, a bathtub can get dirty soon with stains that cause eyesores. Ignoring the chore makes it harder to clean. With tile, grout, and tight corners, cleaning the tub needs quite a bit of elbow grease and a regular cleaning routine to make it stay cleaner for longer.
Why is there a Need for Cleaning Your Bathtub?
A dirty and filthy bathtub with stains is hardly a pleasing sight and can be a breeding area for germs. Gastrointestinal viruses and respiratory organisms are just a few of them that can be hazardous for immune-compromised patients and cause skin ulcers, urinary tract infections, pneumonia, and much more. Even though we'd all like to believe, in reality, germs do not magically wash down the drain with the water and leave the bathtub sparkly clean. Bacteria can easily build up on your shower curtain. More so, for hygienic reasons than a cause of embarrassment in front of guests, deep cleaning your bathtub is a job that needs to be done! It prevents germs from spreading to the rest of the house and lowers the risk of falling ill. Soap scum, bath oil, hair products, and body soil combine forces to assault the shining surface of the tub, while tub rims, fixtures, and faucets provide hiding places for moisture, mold, mildew, and rust. The color of the stain is typically caused by mineral deposits left behind from hard water. No matter what's causing the stains, it is important to get rid of them by cleaning your bathtub and bringing it back into the spotlight!
What All Supplies Are needed to Clean a Bathtub?
Different methods of cleaning and materials can have different effects on the bathtub. You can opt for store-bought cleansers specially formulated for cleaning bath surfaces. However, such products contain toxic chemicals. As an alternative, if you prefer natural, use do-it-yourself cleaning solutions that can be made using only a handful of common, inexpensive household staples. Here is a round-up of all the supplies that you need to whiten your bathtub.
Baking soda
Household cleaning Gloves
Sponge/Cleaning Brush
White Vinegar
Tub-and-tile cleaner (optional)
Dish soap
Bucket
Cloth or hand towel
Spray bottle and bleach (for mold and mildew only)
Paper Towels/Washable cloth
Stepwise Instructions
Even if you clean your bathroom regularly, your bathtub needs special attention. Here's a quick look at the most easy-to-follow cleaning instructions for your bathtub.
1. Fill Bucket With Hot Water
Fill hot water in a bucket and pour it all over the tub.
2. Heat White Vinegar
Pour ¼ cup of white vinegar into a microwave-safe bowl and warm it for 90 seconds.
3. Mix Hot Water With Dish Soap
Fill your bucket with half a gallon of hot water and mix two tablespoons of dish soap into it. Pour or squirt it over your tub.
4. Warm White Vinegar
Take a cup of warm white vinegar and pour that over the soap.
5. Add Baking Soda
Take around four tablespoons of baking soda and sprinkle it over the tub so as to layer it on top of the soap solution.
6. Scrub Hard
Wear gloves, face mask, and get ready to give your tub a thorough scrub. Dip a scrub sponge or a stiff nylon brush into the bucket. Scrub the tub surface with the rough side of the sponge. Try to cover every inch of your tub while focussing specifically on the dirty or soiled parts that would require a little extra elbow grease. Sprinkle baking soda directly onto the sponge or brush for cleaning dirty tubs or stains after dipping it in your bucket solution.
7. Wait for the Lather to Settle Down
After that, wait for about thirty minutes to an hour till the lathery solution breaks down any grime, stains, or mineral deposits.
8. Wipe & Rinse
Use paper towels or washable cloth to wipe down the grime and stains from the tub. Once the tub looks clean, use the bathtub hand sprayer or the bucket to rinse the tub down with hot water.
9. Polish The Tub faucet, Handles, and Drain
Finish up by polishing the tub faucet, handles, and drain with a clean, dry cloth.
Tips To Clean a Porcelain-Enameled Bathtub
Porcelain-enameled steel is commonly used as it is an inexpensive material for making bathtubs. Although heavier than acrylic and fiberglass bathtubs, they are extremely durable and very easy to clean.
Avoid using abrasive cleaners while cleaning a porcelain bathtub, as they might chip off its surface. Steel wool, scouring powder, and white vinegar can damage the finish of the bathtub.
Store-bought bathtub cleaners that are safe on porcelain enamel can be used to clean the bathtub weekly. Add a couple of tablespoons of dishwashing soap to a gallon of hot water and scrub on the surface of the bathtub using a rag or a sponge. Alternatively, you can use a 1:1 water-to-vinegar ratio to spray the tub with the mixture. Rinse well with water after 15 to 20 minutes. Dab a small amount of lemon oil and rub the sides for a new and shiny appearance. Overuse can damage the bathtub, so it is better to do this cleaning procedure only once a month.
Tips to Clean a Fiberglass Bathtub
Fiberglass is an affordable material to make bathtubs. However, they are less durable than others, and the surface tends to get cracked, scratched, or faded easily with constant use.
Mix 2:1 water-to-vinegar ratio and spray it on your fiberglass tub. Add a teaspoon of lemon juice for a fresh aroma and to boost the cleaning method. Allow it to sit on the surface for 15 to 20 minutes. Lightly scrub the surface of the tub using a damp cloth or a sponge. If the tub is badly stained, fill it with a solution of ½ to one gallon of vinegar, hot water, and one cup of baking soda. Allow it to sit for 30 minutes to an hour. Drain the tub and scrub the stains with a sponge. Repeat if needed.
Tips to Clean a Stone Resin Bathtub
Special engineered natural stone or solid surface materials are molded together with minerals, polymeric materials, and resins to form bathtubs.
Use a mild detergent or soapy water for routine cleaning. You can use ammonia-based cleaner and spray it on the bathtub surface. Leave it for few minutes. Clean in a circular motion and do not extend the stained area. Quickly rinse off the cleaner smoothly with warm water and wipe dry. Avoid using abrasive cloth often as it may damage the satin look of the tub over a period of time. If residue persists, repeat the process. Occasionally wipe the surface with a household bleach solution (50 parts water/1 part bleach). Rinse the bathtub thoroughly with water and wipe it clean.
Tips to Clean an Acrylic Bathtub
Acrylic can be easily molded into unique shapes to make large and freestanding soaker bathtubs. However, using harsh or wrong products to clean its surface can damage it and make it look dull. You can either buy commercial cleaners designed for acrylic tubs or use natural products like vinegar, baking soda, and lemon. A mixture of dish soap and baking soda (1:1 mixture) and a few drops of lemon juice can be used to clean acrylic tubs. Mix until it becomes foamy. Using a sponge to coat the tub with the solution and let it sit for 30 minutes. Clean it with a wet sponge from top to bottom, allowing the dirty water to run down into the tub. Rinse it with water.
How Often Must You Clean Your Bathtub?
A regular bathtub cleaning routine needs wiping the surface daily and deep cleaning every week to keep it looking sparkly clean.
What to Do If You Find Mold or Mildew in Your Bathtub?
Mold and mildew can be tough to remove from bathtubs. Ensure your bathroom has good air circulation and clean your bathtub with bleach to remove the mold or mildew. First, rinse out the tub of loose hair or dirt. Fill the tub up with two gallons of water. Make a solution of a 1:1 ratio of bleach and hot water and spray this solution onto the affected areas and allow it to soak in for about 15 minutes. Wash the tub from top to bottom with a scrub brush or sponge. While rinsing with cold water, be careful not to splash the bleach.
Getting Rid of Tough Stains in Bath Tub
Maximum cleaning power is necessary to address stubborn stains in the bathtub. Make a bathtub cleaner solution using one part hydrogen peroxide with two parts baking soda (or cream of tartar). Rub the paste on the stain and let it stand for 30 minutes to one hour. Wipe it clean and rinse with water. Repeat the process until the stain is gone.
Getting Rid of Hard Stains in Bathtub
The best way to clean hard stains in the bathtub is by diluting the cleaner agent, spray it or pour it all over the stained area and let it sit for about 15 mins. After that, start scrubbing it nicely. Keep repeating this method often to get rid of the hard stains from the bathtub easily.
What's The Right Way to Clean the Bathtub Drain?
Take boiling water and pour it slowly down the tub drain in order to dissolve the soap scum and dislodge the hair buildup. Sprinkle four tablespoons of baking soda and pour two cups of vinegar into it to loosen things up. Once the bubbling stops, pour boiling water to flush the drain.
Some Precautionary Tips to Follow while Cleaning a Bathtub
Cleaning a bathtub is a necessary household chore, but one needs to avoid some of these most common and silly mistakes to make sure that your bathtub keeps shining for a longer duration. Keep the following precautionary steps in mind while cleaning your bathtub:
Do's
When using chemicals like bleach, make sure the bathroom is well-ventilated. Run the bathroom exhaust fan on and open the windows to protect your lungs. It's a good idea to put your rubber gloves and safety glasses on before cleaning the bathtub. Wear old clothes while cleaning as hydrogen peroxide and bleach will discolor fabrics.
Wipe and rinse away cleaning products to make sure that they do not leave any residue in the tub.
Let the disinfectant sit on the surface of the bathtub for at least 5 minutes before washing it off.
Instead of cleaning just the dirty area of the bathtub, clean the sides, hidden areas, inside the structure, and all-around to make sure that your bathtub is free of any stains and bacteria.
Trim the shower curtain to match your bathtub. The shower-liner and the bathtub area can act as an easy breeding ground for mold and mildew.
Don'ts
Don't leave any soap or shampoo bottles on the bathtub floor, as the acids present in these products can cause more stains, marks, and cracks for the bacteria to grow.
Avoid using any abrasive scrub pads, steel wool, hard brushes, scouring powders, or paint thinners to rub or scrub the bathtub's surface. This can cause the bathtub to start showing marks and scratches.
Certain combinations of chemicals like chlorine bleach and ammonia can create toxic fumes or burn your skin. So, never mix cleaning products.
Don't pin all your hopes on one cleaning product. Use the one that is most suited for the bathtub material, area, and job to make it spotless clean again.
Keeping your bathtub clean on an ongoing basis can be an annoying task that requires sincere effort, diligence, and discipline for the best possible outcome. So try to rinse the tub surface with clean, warm water before wiping off the excess moisture with a squeegee, microfiber cloth, or sponge each time you bathe or as often as possible. By doing so, you can prevent soap scum, mildew, and grime from settling on the tub that will involve more effortless and unnecessary cleaning later.
Also Read:
Working Tips to Clean Bathroom Tiles
Easy Ways for Keeping a Clean House
Cleaning Hacks to Give New look to Your House