Classy French Manicure Ideas You Will Love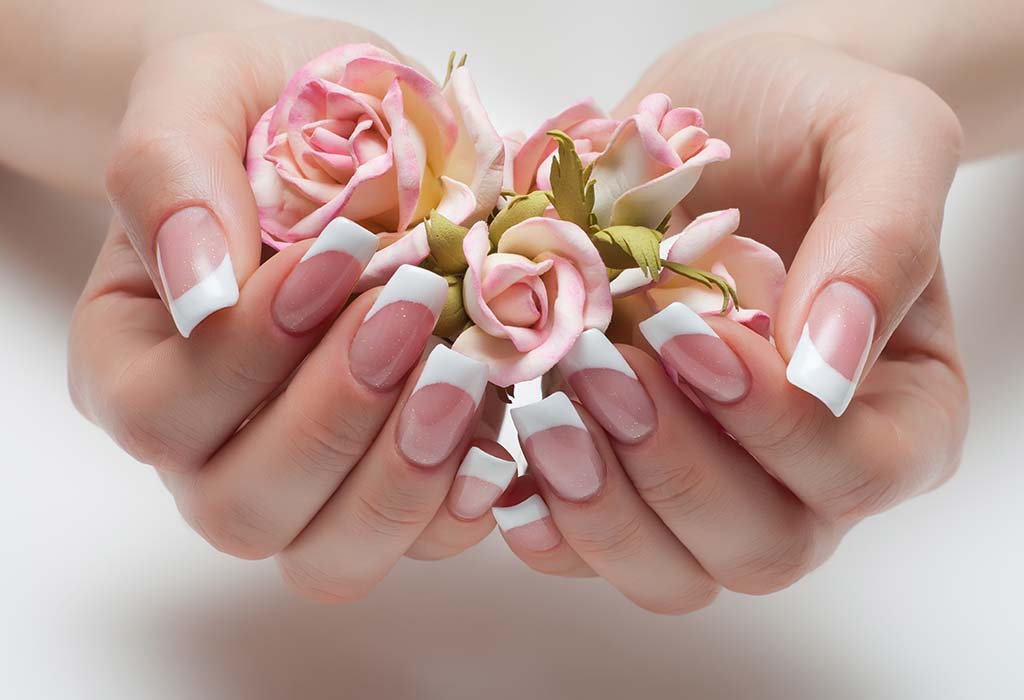 A French manicure with design is a classic nail art that has stood the test of time and fashion. This manicure has gained immense popularity among fashionistas who like to flaunt their French nail tips. Its simple, beautiful, and versatile design makes it most convenient to change as per the occasion and mood. Although the famous French nail design has earned its reputation for its stand-out white tip over your fingers, you can add different twists to it to take your nail French manicure designs to the next level.
Stepwise Instructions for Doing the Perfect French Manicure
The French nail tip trend dates back as far as the 18th century. Although French manicure was at the height of its popularity during the '90s and early 2000s, it slipped into a tacky territory with very little association to French sophistication. However, with a brief pause in the mid-2000s, the modern manifestations of the French manicure are much beyond the fad of thick, angular acrylics that belonged to the past decade.
A burst of artsy, colorful life is being breathed into a new generation of impeccably groomed nails. Rainbow details, graphic stenciling, sheer white tips, fishnet accents, minimalist outlines, glitter, and fun shapes offer a creative twist to the classic formula right now. The main objective of the French manicure is to paint the tip of the nail in a color that either contrasts or complements the base color.
Even though it may seem easy, coating on French manicure needs precision as well as a practiced and steady hand. Most importantly, it would be best if you gave the tip of the nails a perfect finish. You may combine different French manicure nail designs and styles to lend the nails a fresh makeover. Below are the stepwise instructions for mastering the art of French manicure.
1. Prepping the Nails
Like any manicure procedure, use an acetone-free nail polish remover to wipe off all of your nail polish. Cut and file your nails into whatever shape you prefer. Apply few drops of olive or almond oil and gently push back your cuticles. Use a smooth hand cream to pamper yourself with a salon-worthy experience.
2. Painting the Base Layer
Pick out two different colors. Start by applying a base coat to even out the nail surface. Next, apply two thin coats of nude polish (or any subtle shade that strikes your fancy). Wait for two minutes for it to dry before applying the next coat. Begin painting from the bottom of your nail from the middle, and then paint the sides. Make sure to do multiple thin coats.
3. Painting the tip
After letting the second coat dry, paint the tip of the nail with white (or any statement color). Either use guide strips (scotch tape) or go freehand on the area separating the tips. Paint the tips. Be sure that the second coat of polish is dry enough so that the guide strips won't cause any indents. Once the tip dries completely, seal it all in with a topcoat. Reapply a top coat every 2 to 3 days to extend the life of your French manicure.
Fantastic French Manicure Ideas to Try
French manicure designs are aplenty nowadays, with nail influencers coming up with ideas and inspirations to do them in a new way. Here are some fantastic ideas you can try yourself.
1. Funky French Manicure
French manicure ideas with color trade the traditional symmetrical round tips for a chic way to decorate your nails with unexpected pops of color. Paint your almond-shaped nails on the sides, or the tips, to pair them off with a summer wardrobe.
2. Classic French Manicure
A traditional French manicure design is defined by the white polish across the nail's tips, making them look delicate, timeless, and chic in their appeal. You can paint this short nail design with a "squoval" shape in a creamy pale pink base coat contrasted with soft white tips.
3. Bejeweled White French Nails
Starting with a coat of soft and glossy pale pink, these nails have delicate shiny white tips. These unique nails are cut square at the ends and accented with tiny beads of silver crystals. This is a subtle nail art design that can complement your workday to weekend wardrobe changes.
4. Layered Color-block
In case you're looking for cool French manicure ideas that will make you the showstopper at any fun event, try this layered color block design. Pick two complementary colors for each tip and paint each at an angle going opposite ways. Keep the prominent color on top.
5. Fishnet Design
A quirky fishnet French nail art replete with edgy stones and floral accents gives your nails a more edgy and versatile look. Dab some paint on a net and place it on the nail to get the crisscross pattern. Remove the net and wait for it to dry before applying the topcoat.
6. Touch of Bling
Jazz up the basic French nail art by adding some sparkle to your tips. You can experiment with silver or gold-lined designs with glitter to add visual interest. After putting the base coat, apply the glitter nail polish over the white part of your nails. Gently dab the nail polish brush on the side of the opening to drip off excess liquid and let more glitter stay on the brush to make the tips look more opaque. Apply it with either small vertical or horizontal swipes.
7. Pretty in Pink
This cute and gentle manicure art design starts with a coat of pink polish that makes your nails pop with color. You can do the tips with the typical white color. Make a cute oriental drawing on the ring fingernail to give it a unique look of softness and romance.
8. Christmas French Manicure
Get into the celebratory mood and glam up your nails with a Christmas-themed French manicure. The light green tips pick up on the minty vibes of the season, while the sparkly silver flecks feel like snowfall.
9. Garnet Red
Garnet red gives a gorgeous spin to the traditional French manicure. This deep red can be matched with some complimentary metallic gold on the tip for achieving a sophisticated look. Finish off by adding a shiny mirror effect on the gold polish.
10. Lacy French Nail
Your French nail manicure deserves a delicate lace-inspired design, whether you're a bridesmaid or a guest. You may stamp off an intricate lacy pattern in gold or white on a black or traditional nude base to create your artistic style.
11. Inverted French Nail Trend
The inverted French manicure is simple yet visually pleasing. Paint the cuticle instead of the nail tips in solid color and leave the ends bare or paint with a solid color. You may try as many color options as you can to up your nail game.
12. Rainbow French Manicure
Conquer the modern trend in French manicure design with these lovely shades that will turn your regular nails into an absolute head turner. Opt for a clear or pale pink base color so that the multiple colors easily stand out on the tip of each nail for a rainbow effect.
13. Golden Tip
The chain French manicure design uses oval golden studs to create a luxe accessory around the tips of your nails. You may use a golden foil cut to fit the stiletto shape of your nail ends.
14. American French Manicure
The combination of American and French-style produces this unique nail polishing design. The base is typical French with the tips in an American style. The ombre effect gives it a unique, soft look.
15. Nautical Blue Stripes
Blue and white acrylic colors give the tip of your French nails a nautical touch. Accent designs with anchors, ropes, and stripes in contrasting colors are quite the go-to pattern. Use guide strips for crisp, clean lines.
French manicure works on both long and short nails. It is essential to pay attention to your hands and keep your nails well-moisturized, preventing them from becoming dry and brittle. Whether subtle or bold, this throwback style has been reinvented with imaginative designs that bring a clean, crisp, and stylish finish to your ensemble.
Also Read:
How to Do Pedicure at Home
Herbs That You Must Use for Your Skin Care
Common Skin Care Mistakes Almost Everyone Makes