7 Celebs to Take Inspiration from If You Love Wearing Saris!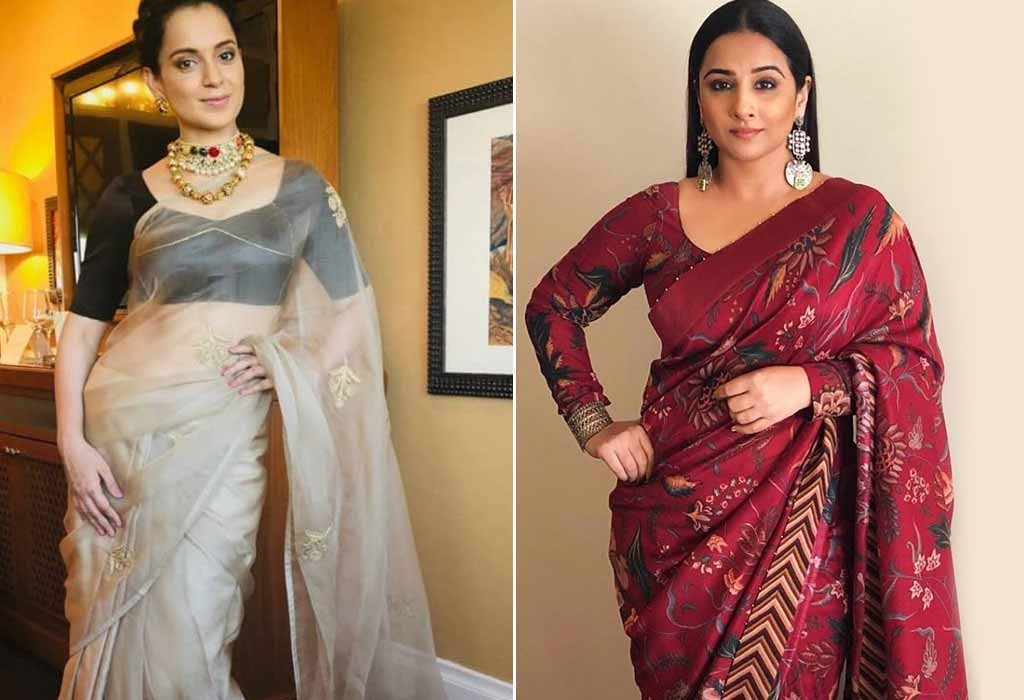 Look, it's a fact – no woman can ever look bad in a sari. The gorgeous materials, the textures, the colours and the handwork – it's just meant for women to look beautiful in. Wedding season is nearly upon us, and you're probably wondering how you can switch up your sari game and stand out of the crowd. Well, we (and these Bollywood celebrities) have you covered (in nine yards of confidence!)
7 Bollywood Actresses That Will Inspire You to up Your Sari Game
Bollywood actresses are trendsetters more often than not, and their sari looks inevitably become popular. No matter what the trend, saris will never, ever go out of style because of how they make a woman ooze confidence and grace. Here are a few celebrities whose sari styles will inspire you.
1. Vidya Balan
It is impossible to have a sari list and not have Vidya Balan in it. The gorgeous actress has never stepped out looking bad in a sari, and over the years, her style has only gotten more inspiring. Whether it's cotton, raw silk or any other material with bold prints and beautiful colour schemes, Vidya Balan knows what looks good on her body, and she doesn't hesitate to show it off. You can match her style by going for monochromatic saris with minimalistic blouse work, or style your existing sari with big bindis, silver jewellery, and an open, flowing pallu.
2. Sonam Kapoor
Let's get one thing straight – Sonam Kapoor wins fashion, every single time. She looks like a dream in almost anything she wears, but saris look especially exquisite on her – and not just regular saris, even saris that are quirky and different! Her sari styles are never the same – sometimes, the drape is unique, while other times the sari blouse makes a bold statement. All said and done, if you're looking to go edgy and out of the box this year, Sonam Kapoor is the muse you're looking for!
3. Kareena Kapoor Khan
Kareena Kapoor Khan is an effortless fashionista. While she isn't regularly seen wearing saris, she looks gorgeous in them whenever she does. Her style is more contemporary and eclectic as she wears thin and flowy materials for saris. Most importantly, while her saris are not necessarily unique, she carries them off with absolute chicness. If Kareena Kapoor Khan's wardrobe inspires you, drape a free-flowing sari with a pleated pallu and super stylish blouse, and show off that body. Don't forget some gorgeous eye makeup and oodles of confidence!
4. Deepika Padukone
There's a reason Deepika is often cast as a queen in films – she dresses like one! All kinds of saris look absolutely gorgeous on her, but what stands out is the intricate handwork and incredible details in the saris she drapes. Yes yes, not all of us can afford Sabyasachi – but elegance, grace and panache cannot be bought. Copy her traditional sari looks for a wedding function by getting a heavily detailed sari, and add big, chunky oxidized silver jewellery, a high bun, and some gajras in your hair. After all, you're a queen yourself, and you should look like one.
5. Aishwarya Rai Bachchan
If there's anyone in Bollywood who can confidently tell beauty ideals to get lost (apart from our favourite, Vidya Balan), it's Aishwarya Rai Bachchan. Her sense of style and natural grace has always been a treat to the eyes, and her pregnancy weight gain did not stop her from dressing the way she wanted. Aishwarya Rai Bachchan always looks like saris were invented exclusively for her – and her style has always been more traditional than contemporary. Steal her looks this wedding season with gorgeous coloured saris that you wouldn't normally think you could wear (psst: you can!), and style it with gorgeous cut blouses.
6. Shilpa Shetty
Shilpa Shetty has never looked bad in a sari – in fact, she has worn several odd patterned saris and managed to pull them off beautifully! Her saris are far from traditional, but that's what makes them so great – you can wear a sari that light and unique to a work function or even just on a casual day. You don't have to wear low-cut blouses like she does if you do not want to; just go for the patterns, and get creative with your look!
7. Kangana Ranaut
For someone with a contemporary face and a knack for western outfits, Kangana sure looks gorgeous in traditional saris. Her style is elegant but low-maintenance, and one can tell just by looking at the colours and materials she chooses to drape. Her sari style is definitely an A+ if you're looking to wear this for a family gathering, a puja, or a simple wedding reception.
These were 7 of our favourite celebrities who absolutely rock saris and keep proving to us that contemporary styles and patterns can still look great with an outfit as traditional as this. Remember, continue to be confident and try these eclectic sari styles out – you'll stand out this wedding season!
Also Read:
Types of Indian Sarees You Must Have in Your Wardrobe!
Beautiful Blouse Designs to Complement Your Saree
Beautiful Sarees We Want to Own From Shilpa Shetty's Wardrobe