Celeb Moms Who Welcomed Their Babies Via C-section Births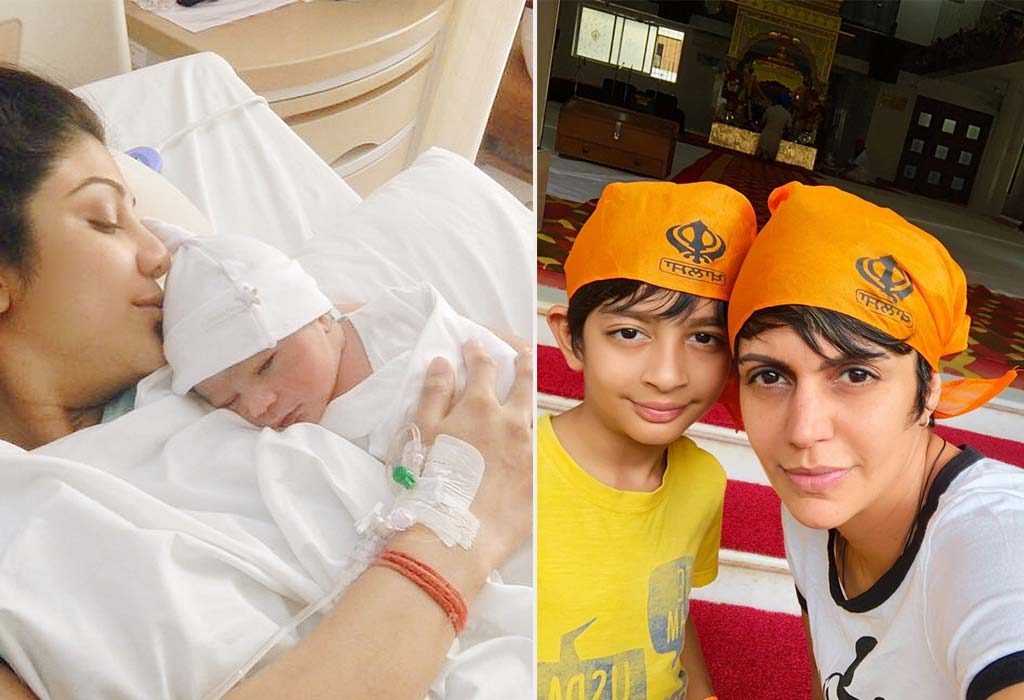 In this Article
Motherhood is an exciting time, especially when the mommy-to-be is in her last trimester just waiting to see her little munchkin! Every doctor has information on the baby's and mommy's health in order to suggest the kind of delivery that is best for both. Some mommies can give birth naturally, but some may have difficulty giving birth that way – that's one of the reasons they opt for C-sections.
A lot of mommies are shamed for having C-sections, even when they sometimes don't have a choice due to indescribable pain, or the dangerous position of the baby in the womb that might cause severe complications if birthed vaginally. It's important to remember that a woman does not become a mother only if she delivers vaginally – being a mom means taking care of your little one in the best possible way you can, and how you bring the child into the world doesn't matter! The reasons for wanting C-sections can be many; what doesn't change is the excitement the mommy has to see her baby, and that is precious and beautiful.
8 Celebrity Moms Who Delivered Via C-section
When a celebrity mom is pregnant, much hue and cry is made as they are constantly in the public eye, whether it is to showcase their maternity style or to analyse the size of their baby bumps. However, at the end of the day, celebrity moms-to-be are just like regular moms-to-be. They too have to deal with morning sickness, labour pains and the tough decisions every mom-to-be may have to take, and some mommies have to make the decision of opting for a C-section! Let's look at some well-known B-town mommies who delivered via C-section.
1. Lara Dutta Bhupathi
Lara Dutta Bhupathi opted for a C-section delivery when giving birth to her baby girl, Saira Bhupati. She opted for it because of the way the baby was positioned in the womb. Saira is now an adorable 6-year-old!
2. Kareena Kapoor Khan
The only person that is bound to get more attention than Kareena Kapoor is her son, Taimur! We've all been enamoured by the chote nawab's adorable face since 2016, but did you know that Kapoor opted for a planned C-section to deliver this bundle of cuteness?
3. Shilpa Shetty Kundra
Quite a favourite even today, Shilpa Shetty Kundra gave birth to her son, Viaan, via C-section in 2012. Her solid maternal instincts and her love for her son and her family are quite evident as she narrates anecdotes of them on television shows and interviews, and that is heart-warming, to say the least!
4. Kajol
Our all-time favourite Kajol had also opted for a C-section to give birth to her second child, Yug, in 2010. Kajol has two children with her husband of 20 years, Ajay Devgn. They make for a super cute and happy family!
5. Farah Khan Kunder
Our favourite choreographer, Farah Khan gave birth to triplets – Czar, Anya and Diva – via C-section in 2008! Not only that; Khan has also been quite open about having conceived through IVF. Hence proved – motherhood is motherhood, no matter what the route!
6. Malaika Arora Khan
Arhaan, Malaika and Arbaaz Khan's son, was delivered via C-section about 17 years ago! It's hard to believe sometimes that Malaika is a mom – daily Instagram posts of her doing Yoga and strength training to get a solid, strong body make us forget!
7. Mandira Bedi
Mandira Bedi, who married Raj Kaushal in 1999, gave birth to little Vir in 2011 via C-section. Known for her gorgeous figure, one can't tell she has a 6-year-old because of how quick she bounced back to her pre-pregnancy body!
8. Manyata Dutt
Manyata Dutt, wife of Sanjay Dutt and CEO of Sanjay Dutt Productions, gave birth to her twins, Shahraan and Iqra via C-section. The two cuties are now almost 9 years old!
Celebs may not seem to have a lot in common with us, but their stories of complications and difficulties make them much more relatable! There's one truth that is universal among us all, however – the bond between the child and mother is one that is pure and beautiful regardless of how they came into the world.
Also Read:
Risks and Benefits of Caesarean Birth
Normal Delivery vs Cesarean Delivery
Surprising Benefits of Normal Delivery for Mom and Baby