Birth Month Flowers, Their Meaning & More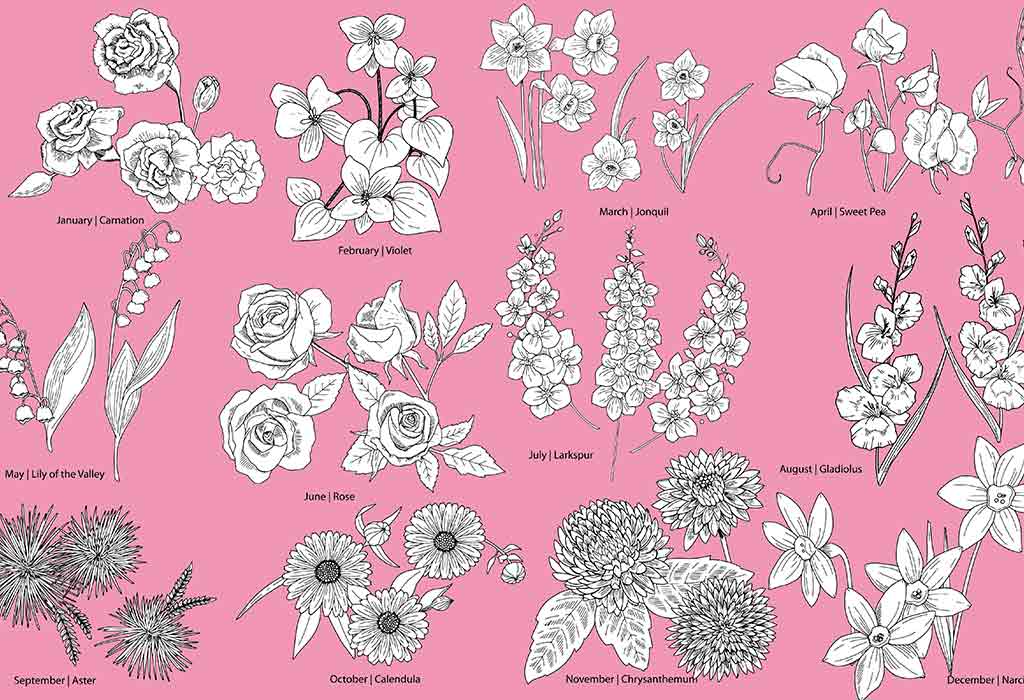 In this Article
Just like Zodiac signs, birth month flowers symbolize specific personality traits related to each month. Not only do the birth month flowers symbolize individual personality traits, but they also have particular meanings. So, when gifting flowers to a friend or a family member, don't just choose any bloom that catches your eye. But gift the flowers that represent their birth month. And why stop at just on birthdays? these birth flowers can be gifted for any occasion.
What's Your Birth Month Flower?
Now that you know you have a birth month flower, we are sure you're curious to know as to what flower that is? What does it mean and signify? Let's learn about the specifics of all birth flowers associated with each month, their meaning, and more in this list below.
1. January: Carnation & Snowdrop
Carnation symbolizes admiration and love, whereas Snowdrop is a symbol of hope and beauty.
Carnation is a simple bloom that grows in the cold and dark and is appreciated by everyone. Just like their birth month flower- carnation, January-born people are loved and appreciated by the people around them. This flower comes in many colors, and each color is associated with different emotions. Snowdrops symbolizing hope and beauty are the secondary flower for January-born people. Like the cold winter beauty, this flower attracts everyone with its serene beauty and gives hope for a brighter tomorrow.
2. February: Violet & Primrose
Violets represent loyalty and faithfulness, whereas Primrose signifies first love and devotion.
Violets are the primary birth flower for people born in February. Though people mostly associate roses with Valentine's Day, Violets are associated with the love holiday as well. This quintessential flower associated with V-Day has a historical reason for the association. As per historical records, St. Valentine wrote love notes using the ink of Violets in his pens. On the other hand, Primrose signifies youthfulness, specifically first love associated with youth, and devotion. The name primrose is a derivative of "primus", a Latin word meaning first. They are also the first flowers that bloom in spring.
3. March: Daffodil & Jonquil
The beautiful flowers of Daffodil signify new beginnings and rebirth. Jonquil also signifies rebirth and is interpreted as "unequal love".
The bright yellow flowers of Daffodils emerging from a bulb signify new life and bright colors after the long winter months. Daffodils symbolizing new beginnings and rebirth imply the arrival of spring once again after winter. Spring signifies everything new, so do daffodils. Daffodils also signify respect as the flowers patiently wait underground throughout the long winter months so that they can emerge in the spring. And when they bloom, they give everyone a reason to smile! Similarly, Jonquils, also associated with rebirth, makes the perfect birth month flower for March. They also are symbols of "unequal love".
4. April: Daisy & Sweet Pea
Daisies, the primary flower of April, signifies innocence and purity, whereas Sweet pea, the secondary flower associated with April, symbolizes blissful pleasure.
Bright and cheerful daisies signifying innocence, purity, and loyal love. This flower conveys the message that "I'll never tell" – the perfect flower to gift to a confidante. Whereas the secondary birth flowers of April, Sweet peas representing blissful pleasure, are ideal for saying "goodbye" to a long relationship or friend.
5. May: Lily of the Valley & Hawthorn
Lily of the Valley signifies motherhood, joy, and inner peace, and Hawthorn symbolizes hope and prosperity.
The lily of the valley has a cluster of dainty blossoms on a single stem. The white blossoms of the lily of the valley are always arranged with lush greenery to complement the wildflower-like composition. This flower represents motherhood, modesty, and sweetness. The hawthorn is the secondary May birth flower, and it represents hope and prosperity.
6. June: Rose & Honeysuckle
Both the birth flowers of June signify love, romance, and happiness. Though rose symbolizes love, Honeysuckle is a symbol of "everlasting bonds of love".
Rose, the primary birth flower of June, is the classic symbol of love and its history goes back to ancient Romans and Greeks. For Greeks, the rose was the symbol of beauty and passion, and they associated it with the goddess of love, Aphrodite. In contrast, Romans associated the rose with the goddess of love and romance, Venus. However, different colors of rose express different feelings. Similarly, Honeysuckle, the secondary birth flower of June, represents "everlasting bonds of love".
7. July: Larkspur & Water Lily
Larkspur signifies positivity and dignity, and Water lily, the secondary birth flower of July, signifies purity.
Larkspurs will make anyone happy with their flower spikes that reach skyward. This July birth flower symbolizes "strong bonds of love". If you were born in July, you're likely to be full of optimism and beauty, which is why everybody adores you. Water lily, the secondary birth flower of July, suggests purity and majesty.
8. August: Gladiolus & Poppy
Gladiolus, the primary birth flower of August means remembrance, and calm. Poppies, the secondary birth flower of August signifies imagination and calmness.
Gladiolus has many interpretations, they can represent remembrance, integrity, strength of character, calm, and infatuation. They are primarily used in May to honor the veterans. On the other hand, Poppies are a whimsical flower associated with a powerful imagination, that also signifies strength despite their delicate appearance. Different colors of poppy signify different things. A red poppy is for pleasure or a sense of luxury, yellow for wishes of success and wealth, and white to convey feelings of consolation.
9. September: Aster & Morning Glory
Both the September birth flowers- Aster and Morning Glory are associated with love. Aster signifies powerful love and positivity, whereas Morning Glory symbolizes affection and mortality.
Asters are resilient in all types of climates, so they are associated with patience and stability. They have an understated elegance rather than a shocking perfection. You can still rely on asters to brighten your day, no matter what you're going through. This September birth flower is known to spread strong feelings of love and positivity. The secondary birth flower of September is a symbol of affection. Morning glory represents what the loved one has for a near one.
10. October: Marigold & Cosmo
The meaning behind October birth flower Marigold is prosperity and optimism. The secondary birth flower Cosmo signifies peace and tranquillity.
The marigold is the ideal birth flower for October, with brilliant golden colors that complement the changing leaves. The warm yellow, orange, and red colors of these flowers symbolize warmth, optimism, and prosperity, and it's easy to see why. These warm flowers are also linked to imagination, so they're perfect for when you're stuck. Cosmos flowers symbolize feelings of peace and tranquillity. They come in a variety of vibrant shades, including green, pink, and purple. They even attract bees, making them a perfect flower to cultivate in your garden to attract pollinators!
11. November: Chrysanthemum
Chrysanthemums signify loyalty and honesty.
The bright and cheerful chrysanthemum or mums is November's birth flower. Mums are a kind of flower that comes in various sizes and colors, including the more popular pink, white, yellow, and red types. The two standard definitions for chrysanthemums are loyalty and integrity, but the meanings can differ based on the flower's color.
12. December: Narcissus & Holly
Narcissus signifies hope and prosperity, and Holly symbolizes protection and defense.
The narcissus and holly are the birth flowers for December. The narcissus is a flower that represents good wishes, hope, and prosperity. The trumpet-like core of Narcissus flowers is well-known. Since it is so common during the holidays, Holly is a good birth plant for December. It is an emblem of security and safety. Give a wreath instead of a classic bouquet to help the recipient celebrate their birthday all month!
Now that you have learned about the different birth month flowers and their meanings, it's going to be exciting and meaningful to give your near ones their respective birth month flowers on their special days.
Also Read:
Myths About Zodiac Signs
Characteristics of Zodiac Signs
What Does Baby's Day of Birth Predict About Personality