Best Virtual Happy Hour Ideas and Activities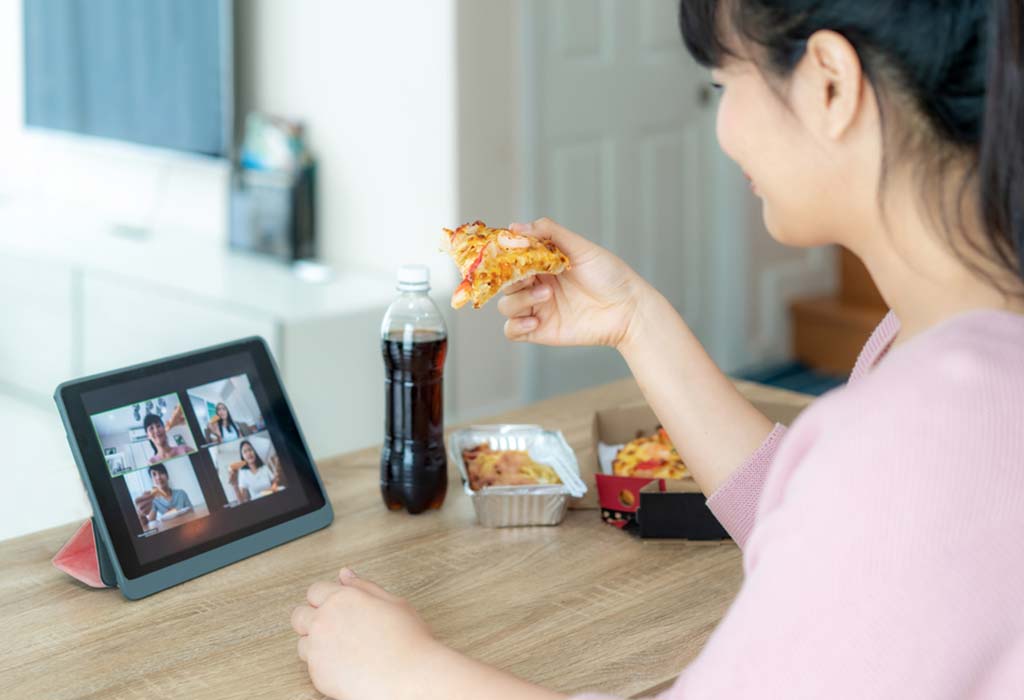 In this Article
A happy hour with team members provides a chance to interact and bond in a way that isn't always possible during office hours. Birthdays, drink-worthy occasions, and celebratory drinks can sometimes help destress, open up communication channels, generate new ideas, and foster stronger relationships among colleagues and peer groups. With social distancing and remote working practice in place, we can now consider online happy hour ideas that would generate the same amount of fun as before and facilitate stronger team bonding.
Amazing Virtual Happy Hour Games and Activities
Whether it's celebrating milestones, rewarding employee's achievements or a Friday-night old-fashioned party, the benefits of balancing work and play cannot be undermined. It's an opportunity for teammates to get to know each other better in a casual setting where work isn't given priority. A happy hour is an essential time out of the office that helps coworkers to collaborate freely in a positive work environment. This powerful gesture helps boost team morale, reenergize the team, and prepare employees for the next big project. Sometimes taking clients out shows how much they're valued and demonstrates our level of service and commitment to them. Company happy hours can create an additional incentive for people to remain loyal to the company by promoting a culture that keeps employee happiness in mind. This is a perfect way to keep them motivated to continue achieving more. However, as the pandemic has halted all social gatherings, companies have switched to working remotely. Moreover, by shifting the focus from just drinks to spending quality time together as a team, one can create a safe, happy hour experience that is classy and comfortable for everyone. Remote happy hour ideas can be creatively planned by adapting to the restrictions on gathering in bars and restaurants by hosting virtual happy hour activities in a virtual format that can be the key to successful employee engagement. Using video-communication technology like Zoom, Skype, and Google Hangouts can provide the opportunity for everyone to gather, see each other's faces and add interactive elements like screen sharing or video. Virtual happy hours themes can 80s party, Halloween dress-up, random New Year's Eve, or high tea to amp up the excitement of guests who can join through their computer, phone, or webcam. Here is a round-up of the exciting virtual happy hour topics that can be a real crowd-pleaser.
1. Netflix Movies
Considered one of the best virtual happy hour ideas during the lockdown, this new way to watch movies can be a great idea for hosting long-distance parties online. All you need is a Netflix subscription and a third-party extension installed in your browser.
2. Name That Song
Take turns to play out a song on your phone and challenge each other's song recognition ability in your virtual happy hour.
3. Virtual Dinner Party
A virtual dinner party can get immersive by creating a theme. Lay the food out on the table, drinks, and props of your choice to match the theme. Costumes and outfits can be worn to enliven the festive spirit.
4. Virtual Pictionary Contest
All you need a Toasty or Scribbi as platforms for playing this easy game with your colleagues. You may be amazed or flabbergasted with their drawing skills.
5. A Virtual House Tour
A virtual tour of your home during a video conferencing call or happy hour poses a rare opportunity for your colleagues to get to know each other outside of the office.
6. Recognize Everyday Objects
Choose Toasty as a collaborative whiteboard to make the right guesses for everyday objects around us. The one who makes the maximum number of guesses correctly wins.
7. Express Gratitude
It has been scientifically proven that gratitude nurtures better health, enhances empathy, reduces aggression, and opens the door to better relationships. So, select a Toasty session and invite your team to join with an 'Attitude of Gratitude' template.
8. Never Have I Ever
Everyone gets a chance to announce to the world one thing that they have never done. People can display a sticky note on the camera on a virtual platform to suggest they have done that activity. If they have done the activity, they can take off the sticky note while the last one is standing with a note on their finger wins.
9. Show and Tell
A virtual Show and Tell game can act as an ice-breaker that helps to find out about your colleagues' interests, passion, and hobbies outside work. They can share their favorite photo, painting, movie or song album, or pet ideas with others.
10. Mixology Session
Just as drinking together can be fun, learning to make different cocktails and mocktails from an expert mixologist can be an enlightening experience. You can share an ingredients list with your party guests the week before.
11. Trivia Game
Trivia game sessions can be both entertaining, educative and encourages interaction. Set up a quiz on amazing facts and play your game in multiple rounds to cover a wide range of subjects.
12. Book Club
If you have an active book club in your organization, playing this game with its members or non-members can be a refreshing change from other games. Apart from testing everyone's knowledge, you can mix it up some themed drinks for the party.
13. Scavenger Hunt
By staging an at-home scavenger hunt, your party guests will be hunting for items around their homes. Make a list of easy-to-find items or ask them to find things based on color, texture, size, or shape descriptions.
14. Board Game Night
Coworkers can join together on an adventure through a fantasy world that'll help them solve a murder mystery with a board game night. Colonist is a free online game, while more intense games like Lords of Waterdeep or Pandemic are good choices for experienced players.
15. Showcase Party Tricks
If any of your colleagues have any hidden talent, they can showcase them during a happy hour session. If the group lacks confidence, swap this for a mini-challenge where everyone attempts a weird skill together.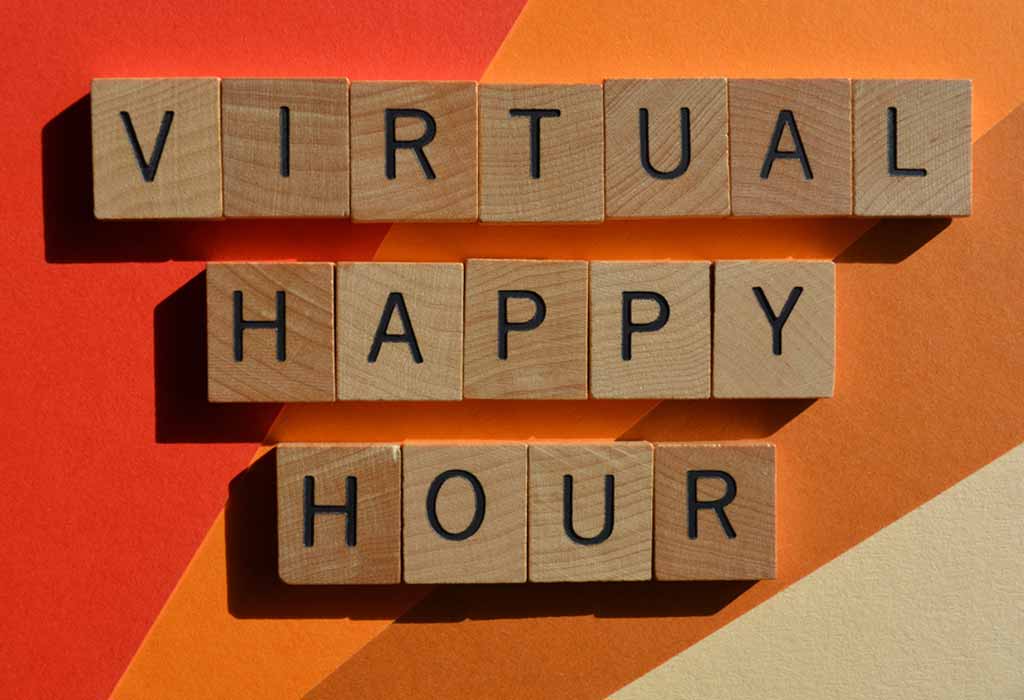 16. "I'll Drink to That"
Any specific phrase can be used to encourage taking up a sip of your favorite drink that can be lemon and turmeric tea instead of alcohol.
17. The Question Game
This simple and fun game prompts players to continue the game by asking each other questions. The next player has to respond with another question that, in turn, is directed at the next player.
18. The Statement Game
One participant makes a statement to the next player, who responds with another statement to continue the conversation. The aim is to continue the series of logic and statements going for the maximum duration. If a participant asks a question by mistake or cannot make a statement within five seconds, the game ends.
19. Sneak It In
Split up the teams into two to discuss strategy for the game. Players have to sneak a word repeatedly into a conversation while others are not aware. Participants score a point every time the word is mentioned successfully and loses all points if caught by the rival team.
20. Virtual Werewolf
This popular virtual game requires players of two teams to become werewolves and villagers. The players close their eyes and make drum sounds on their knees or table. The werewolves then choose who they want to kill, the Doctor picks one person to save, and the Seer then tries to find out if one person is a werewolf. The game continues until there is a clear winner. If both werewolves are killed, then the villagers win the game.
21. Noisy Charades
This game flips the concept of dumb charades only to use only words but no actions to convey an idea. This game can be made more challenging by banning adjacent words.
22. Most Likely to Game
The leader poses a prompt, and the other participants respond by voting on which teammate is most likely to perform that action. Web conference software makes this game easier, as you can prepare a poll template with all attendees' names and then cast, collect and display votes instantly.
23. Complement Train
This game offers a fun way to encourage employee appreciation and recognition. Each person takes a turn complimenting another attendee who chooses someone else to heap praises on them.
24. Murder Mystery Game
Murder in Ancient Egypt is a challenging event for teams to race against each other to complete puzzles and solve clues within 90 minutes. Perfect for playing in virtual conference rooms, this game promotes remote team engagement.
25. Ocean's 5 or So
This virtual happy hour activity works similar to the blockbuster heist movie Ocean's five. Teams can be divided into small breakout rooms with around five people so that they can develop a wildly ambitious heist of a high-profile target. On returning to the main room, these groups can present their devious plans and vote on which one is most likely to succeed.
26. Staring Contest
This quick game can be a good choice for a filler. Choose two people to face each other and watch who blinks first. The winner then competes against the next person.
27. Truth Is Stranger Than Fiction
This virtual game invites guests to tell strange and wacky stories that would keep your conversation lively and interesting.
28. Dance Tag
This online game gets your team moving instantly. The first player makes a dance move, then calls out another attendee who has to repeat the move, perform a new move, and then call another teammate. Anyone who botches up the sequence is out of the game.
29. Useless Talent Show
A useless talent show puts any of the silly skills of teammates on display by having each participant share a pointless talent. However, participants cannot repeat the same skill. Even if these distinct abilities have no practical applications, they can boost morale by the applause and laughter of their peers.
30. Name That Place
All you need is a tool like Google Maps street view to open a random location and have the opposite team or individuals guess where that image is from.
Make sure to choose activities based on the people's preferences. If the team is distributed across multiple time zones, you need to be extra thoughtful about your happy hour scheduling. While hosting happy hours, it is important to be aware of the consequences of any harassment and employee code of conduct that reminds employees that they are still subject to company policies at work-sponsored after-hour events. After all, the idea of virtual happy hour activities must be chosen to promote unadulterated fun that can benefit your business and provide job satisfaction for employees.
Also Read:
Top Business Books Worth Reading
Best Office Desk Plants to Consider for Peaceful Work Environment
Business Quotes to Keep You Motivated