Best Thanksgiving Instagram Captions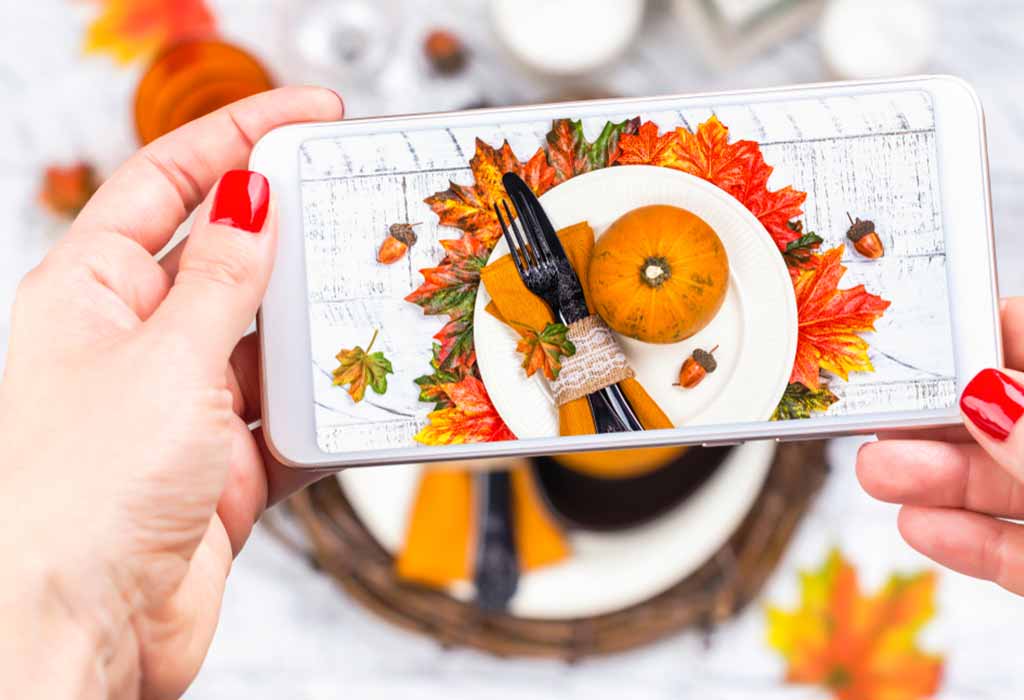 Social media is huge these days, and Instagram is one of the biggest and most used social media apps out there. Everyone enjoys posting pictures with a short but sweet caption that sums up the image or brings to light the emotions behind them.
Thanksgiving is a wonderful time of the year that brings families and friends together and reminds everyone that there is always something to be thankful for. As always, such an event in today's social media-driven world needs some happy pictures and posts.
While taking the pictures and posting the fun that was had can be an easy task, trying to find a caption that really stands out and pulls everything together can sometimes be tricky. Whether you want your caption to be something cute, funny, or specifically about your delightful couples' celebration of the holiday, we have the perfect Thanksgiving Instagram captions for you.
Funny Thanksgiving Captions
Laughing can really brighten up a person's day, which is why funny captions are always the best. If you feel unsure of a funny thanksgiving Instagram caption, you can go through the ones below and find one that suits your picture perfectly:
I may no longer be able to button my pants, but that food was really worth it.
It's thanksgiving, so you butter be gobbling until you be wobbling.
Keep calm and munch on.

What I'm thankful for elastic waistbands.
Football and family and turkey – oh my!
Raise your gobble-et for a roast! Oops, I mean, toast!
Oh, my gourd, I cannot eat another morsel!

You know I'm all about that baste, 'bout that baste, 'bout that baste.
Hey, I just met you, and this is gravy, but here's my turkey, so carve it, maybe; and all the other birds, they try to faze me, but here's my turkey, so carve it maybe.
Those rolls just rolled themselves straight from my plate and into my waistband.
Thanksgiving Captions About Turkey And Food
Embracing the festive spirit, we gather around a bountiful table, where the centerpiece is a golden turkey and every dish tells a story of gratitude.
Gobble 'til you wobble!
Stuffed with love and turkey.
Turkey and togetherness, the perfect Thanksgiving recipe.
Bringing home the bacon… and the turkey!
Feast mode: ON.
Thanksgiving: where the turkey steals the show.
Turkey time and family feasts.

Eating good, living better.
May your turkey be golden and your heart be full.
Grateful for a table piled high with blessings.
Turkey, pie, and a side of gratitude.
Feast your eyes on this Thanksgiving spread.
Giving thanks for good food and even better company.

The turkey is the guest of honor, but the company is what truly matters.
Thanksgiving: a day to indulge without guilt.
Cute Thanksgiving Captions for Couples
Being in love is wonderful, and when you get to spend the holidays together, it becomes quite a romantic affair. So, why not share pictures to help the moment last forever. If you cannot put your feelings into words in your captions section, have no fear. We have some cute couple's thanksgiving captions that you will love.
You're one of the reasons I feel blessed and thankful.
I love you a latte- Pumpkin Spice Latte.
I only have pies for you.
You are the pumpkin to my pie.

Stuffed turkey, pies, and you; my dreams have all come true.
I love you to the Thanksgiving table and back!
We are going to live apple-y ever after.
Together is our favorite place to be, eating turkey, thankfully.

My heart is fuller than my plate because I have you in my life.
Spending this beautiful day with my Pumpkin.
Happy Thanksgiving! May your heart be as full as my plate.
Thanksgiving Captions About Gratitude
Thanksgiving is the perfect time to reflect on life's blessings and express heartfelt gratitude. Here are some captions that capture the spirit of thankfulness.
Grateful hearts gather 'round the table.
In every season, there's something to be thankful for.
Thanksgiving: where grateful hearts find their voice.
Feasting on gratitude, every day of the year.

Blessed beyond measure, thankful beyond words.
Giving thanks for the little things that mean everything.
Gratitude is the heart's sweetest melody.
Grateful for moments that turn into memories.
This Thanksgiving, counting blessings, not calories.
Inhale gratitude, exhale love.
The more we express gratitude, the more we have to be thankful for.
Thankful today and every day for life's beautiful journey.
Gather, give thanks, and grow in gratitude.

May your heart be as full as your plate this Thanksgiving.
A thankful heart is a magnet for miracles.
Thanksgiving Captions About Family
There is no social circle that is as important as family. We may not always get along with everyone in our family, but there is no doubt that things can get pretty interesting when everyone gets together. If you would like to share the beautiful, and sometimes crazy, memories of your time spent with family on Thanksgiving, nothing puts the finishing touch quite like a heartfelt thanksgiving instagram caption. Here are some that you can choose from:
When you share it with family, the food always tastes so much better.
I come from a family of competitive eaters.
As long as the conversation keeps flowing amongst my family, the wine will keep flowing into my tummy.
Each and every year, my mother swears she won't overdo it with Thanksgiving dinner- yet, here we are!
May your plate be full, may your pants be stretchy, and may your family avoid talking about anything sketchy.
I'm really thankful that I have a family who takes eating as seriously as I.

May the food before us be blessed, as with the family around us, and let the love flow freely between us.
You may call our Thanksgiving dinner chaos, but we call it Family Night.
Family is where life begins, and love is never-ending.
One of the greatest blessings of life is the love of family.
Other Happy Thanksgiving Instagram Captions

Thanksgiving can be celebrated in many different ways and with many different kinds of people. If you want some more wonderful thanksgiving Instagram captions for family, friends and followers, here are a few to get you going:
There's no time like turkey time.
Happy hearts are filled with gratitude.
This food is worthy of a touchdown dance.
Giving thanks with a grateful heart is exactly where you want to start.
Pumpkin spice and everything nice. That's what Thanksgiving dinner is made of.
Here's to giving you stuff to talk about.
My job after thanksgiving dinner: Chief Couch Potato.
Some turkey, some wine, cheers to feeling fine!
Dress code for next Thanksgiving dinner: Sweatpants!
Stuffing: it is the glue that binds us together.
You butter believe I'm going in for a second helping!
Full stomachs and clear plates: it's a win!
Thanksgiving dinner is not a sprint; it's a marathon. So, wine, dine and keep a steady pace until you get to the end.
Joy doesn't result in gratitude, but gratitude does result in joy.

"Thanksgiving" is not just the name of a holiday. It is an action we all need to take part in.
We may not have it all together, but together, we have it all.
Most days, we don't stop to think about the many things in life that we are blessed with. We always covet something, we often believe things never go our way, and that we never get what we want. Thanksgiving reminds us to show gratitude for the more important things: for a loving family, a roof over our heads, food on our tables, and good clothes to wear. It is the basic things in life, often taken for granted, that are life's true blessings.
When we live life with an attitude of thanksgiving, everything that we have is enough, and sometimes, more.
I'm so grateful for all those dark nights that gave way to a beautiful sunrise, for friends who have stood the test of time, for an encouraging family, and for all the dreams that have slowly turned into reality. Yes, there is a lot to be thankful for.
Feeling thankful but never showing it is the same as gift wrapping a present but never giving it. We should learn to show gratitude every day and not just on one day.
I pray our lives are filled with thanks and supported by giving.

If you think my plate is full, you haven't seen my heart.
I may not be able to cook a Thanksgiving meal, but I am the undefeated champion at eating it.
I was pretty sure I was too full for another bite, but then I saw the pie.
Spice, spice, baby!
I'm thankful, I'm blessed, I'm turkey stuffing obsessed.
Fun fact: You cannot answer the numerous, unwanted questions your family asks if you always have food in your mouth. You're welcome.
Gratitude is the best attitude.
Is it too soon to be dreaming about thanksgiving leftovers? I'm only asking for a friend.
I should probably stop eating, but the thing is, my mother taught me never to quit.
Thanksgiving is a wonderful holiday. It centers around good food and amazing family.
You may not think much of your life, but be thankful anyway. Your life is the dream life of someone else.
Don't dwell so much on whether or not your cup is half full or half empty. Be grateful you have a cup.
Thanksgiving is the one holiday where it really doesn't matter where you are from, what your beliefs are, or what your traditions are. It is a day when everyone can celebrate with their family, giving thanks for everything.
Keep your eyes on the pies.
Let's let the gourd times roll.
It's Fifty Shades of Gravy at our Thanksgiving table.
Bake the world a butter place this Thanksgiving.
At Thanksgiving, one does not count carbs, only blessings. So, give thanks and eat up.
All you knead is love and some pumpkin pie crust.
I yam what I yam this Thanksgiving, and that is grateful.
Just remember that no matter what happens during this month, be thankful you are not a turkey.
Attention everyone! To avoid depression, please set your weighing scales back at least ten pounds on Thanksgiving Day.
Hit me, gravy, one more time.
I am grateful that I am great and full.
My family has the tur-key to my heart.
All the materialistic things we have in our lives do not matter. What truly matters is who we have in our lives.
Rather than reflecting on the misfortunes of the past, reflect upon all the blessings you have in your present.
Appreciation is a big part of wisdom. Sometimes you need to express your appreciation for someone while you still have the opportunity.
Being thankful is sometimes all about the words, but gratitude completes it. Gratitude is action.
When we look through the lens of gratitude, we can clearly see what we have rather than what we don't.
Don't expect anything. Instead, live life appreciating everything.
Good food and great company are the recipes for a memorable thanksgiving.
Living with an attitude of gratitude will open the door to grace.
Gratitude is a very healthy emotion. The more you keep expressing your gratitude, the more you will have to be grateful for.
Don't wait until everything is ok. Show your gratitude now, and soon you will find joy in any situation.
If there is any pie leftover, it means you haven't been trying hard enough.
Leftovers are for quitters.
It's all fun and games until your pants don't fit you anymore.
Forecast for Thanksgiving: Breezy with a 100 percent chance of overeating.
The best outfit for Thanksgiving includes a pair of stretchy pants.
I hope your turkey is moist, stuffing is fluffy, and that when you're done, you're nice and stuffy.
My family is the apple of my pie.

We wanted to offer the turkey some dinner, but he was already stuffed.
When your heart is filled with gratitude, your ordinary days will turn into thanksgiving, your common opportunities into big blessings, and your daily jobs into joyful events.
Thankful and blessed; too full to be stressed.
Thanksgiving pies before guys.
Overeating at thanksgiving is a timeless tradition!
With gratitude, we can find sense in the past, find peace for the present and create a vision for the future.
Eat, drink and be merry. But most of all, be thankful for what you have. It may seem insignificant right now, but it will become most important when you really need it.
It takes a lot of effort to create a good Instagram post, and the captions are some of the most important. If you are the type who prefers sharing updates with your friends through Instagram stories, you can have even more fun with your captions. With a heartfelt happy, thanksgiving Instagram story, you can share some of the truly memorable moments with everyone you care about.
Whether funny, sad, or ordinary, Instagram can help you keep a photographic record of the different moments in your life. Being one of the most meaningful holidays celebrated amongst people of different races, beliefs, and locations, Thanksgiving definitely needs to have a place with your most treasured memories.
Also Read:
History and Tradition of Thanksgiving
Thanksgiving Messages, Wishes & Quotes
Things to Say Thank your Mom on Thanksgiving