Best Laundry Room Design Ideas For Your Home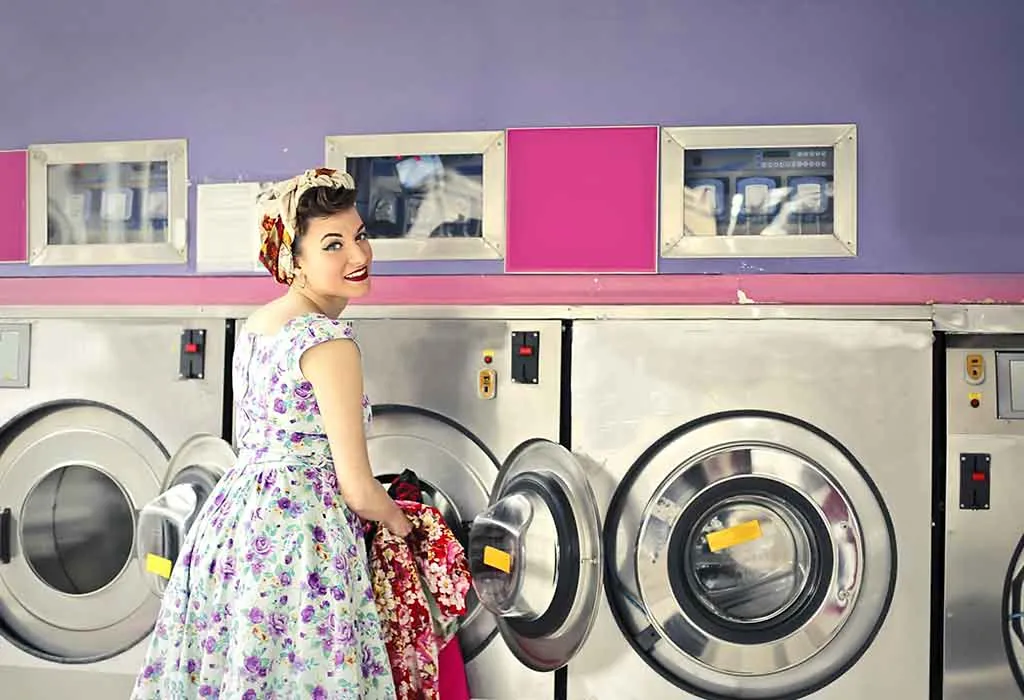 In this Article
It is imperative to have a clean and organized laundry room. Just as you take care of the remaining part of your house, your laundry room requires equal attention in the designing aspect! Designing a laundry room can be quite fun if only you know what kind of ideas would be suitable. Your laundry room makeover can truly stand out if you get innovative with the designs. Think of it from a fresh perspective rather than only sticking to its functional aspect. If you are looking for small laundry room ideas or a farmhouse laundry room that you want to jazz up, there are plenty of options to choose from.
Ideas For Laundry Room To Do Washing In A Stylish Space
Doing laundry falls under the category of daily chores. Therefore your room organization ideas can come to excellent use here to make things like washing and folding linen run a little more smoothly. Usual laundry room décor ideas would be a lot more functional than creative. There will mostly be tips for storing, shelf ideas for the laundry room, and organizing that would come in handy in this space. But you can take your décor ideas a notch higher and take a cue from the ideas listed below that would turn your laundry room into a rather beautiful one too!
1. Space For Laundry Supplies
Your laundry supplies need not be loitering all around the room. Design space within the room is only meant to keep the supplies in an organized fashion. Things like your detergent tub, drier sheets, or maybe even stain removers can be put into baskets or drawers in one section.
2. Add Some Color!
Nobody said that you only have to go for dark or subtle colors in your laundry room. Add a pop of color to your laundry appliances. Maybe a bright shade of your washer and dryer can truly complement your subtler shades of cabinets and drawers, thus giving it a classy and custom-made touch.
3. Convenient Wall Shelves
The easiest hack is to turn a small space into a functioning laundry area. Wall shelves are a great way of utilizing a small space effectively. They can convert a wall into a functional laundry unit and are easily installable too. Do it smartly as you place your laundry appliance right in front of a wall and then the floating shelves right above it. This one-sided laundry unit is going to be super helpful!
4. Wallpapers Can Be Fun
One of the most creative décor ideas for any room is having cute wallpapers that instantly make the area look lively. When designing your laundry room, you can opt for this rare step and buy wallpapers that go with your overall color scheme and mood of the laundry space for the makeover.
5. Double Appliances
One of the fancy appliances you can have in your laundry room is a double washing machine, one decked on top of the other for those with a big family. Keep it in a soothing color scheme so that the attention does not always go to the double appliances. It saves a lot of time as well when you have a lot of laundries to do.
6. Pick the Right Space
In the earlier days, people used to use their store rooms as the most convenient option for doing their laundry. However, things have changed, and people have become more creative with their laundry room spaces. Maybe somewhere near to your children's room would be a better option so that you can keep a watch on them. Factors like improved insulation and suspension aids in the quiet functioning of the appliances should be a priority so as not to disturb too much with the washing sound. Hence, you can place it anywhere that seems convenient to you.
7. Smart Move with Pocket Doors
Another intelligent décor idea for those with smaller laundry rooms! Pocket doors help in dividing the area and using the same space for multiple purposes. For example, one section can have your appliances where you wash your clothes, while the other side of the pocket door might be a flower arranging area, clearly separated but not too far from each other.
8. DIY Hangers!
Who does not enjoy a little DIY session? Instead of adding rope where you can hang your clothes, suspend a ceiling ladder which can be used to put your clothes in a hanger, and then hang them from the ladder rods. It looks organized and reduces the chances of wrinkles on the washed clothes as well.
9. Classy Touch with Accessories
Something unconventional is bound to catch someone's attention as they step into this space. Hanging colorful artwork in some of the empty walls in your laundry room gives a creative touch to it. A vintage rug on the floor or some painted picture on the wall can be a creative addition.
10. Baskets for Storage
Not only do they look cute, but they are quite functional too! They are extremely lightweight and a great investment. They can look quite simple yet elegant in your laundry room. You can use them to keep your folded clothes or smaller items like hand towels. They make for excellent storage spaces and are a fun alternative to a series of cabinets and drawers.
11. Have an Order
This is especially advisable for those with a small laundry space but who want to get creative with their décor ideas. Have an order of placing things. First, sort your clothes, then move to the washer, the dryer, and the space for folding the clothes. Have the shelves right near the washer and dryer to easily get your supplies. Be systematic in your approach.
12. Wall Hooks for your Tools
It saves time and space. Your cleaning tools can be hung from hooks on the walls, which are accessible to you. Having all your washing tools hung in an organized manner also keeps them out of your way.
13. Additional Hanger Rod
You must have heard that having as much space as possible always comes in handy in a laundry room. But if you want to do something different, then you should go for hanging rods in addition to ample countertop space. This rod can be used for either drying your tools or minimal clothing items.
14. Free-Standing Shelves
Another organized manner of stacking up your laundry essentials is a free-standing shelf. Everything can be put into a basket and then placed in an organized manner on this shelf from your detergent, hangers, and cleaning products. It does not take up a lot of space and at the same time helps in organizing the essentials.
15. Laundry Sink
There might be some delicate clothing items that need to be hand-washed or some stain that you need to run under the tap water and have removed. In such cases, a laundry sink comes in very handy. Rather than compromising on your countertop area, have a laundry sink incorporated into your plan that takes care of these tiny instances without ruining the décor.
16. Have a Theme
If you love all things meaningful, having a funky theme might be a good idea for your laundry room. Maybe go for a retro feel where you put signs meant for different purposes in the laundry room. Use various décor elements like placards or signs to denote its function. Designing can get quite fun with such creativity!
17. Flooring Makes all the Difference
It is simply the small touches of designing that make a big difference. You can opt for wooden flooring, stone flooring or get a little creative with prints and patterns for your flooring. It is the first thing one would notice as they walk into your laundry room, and it can truly turn out to be a refreshing touch.
18. A Pet Care Area
Sometimes, it can get a little sloppy for those with a pet in the house when they suddenly come into your laundry room, but there isn't enough space for them to play around! In these modern times, there is an option for you to have a tiny but convenient pet area where your dog or cat can play around or sit while you finish up your laundry. It is made in such a way that it can easily withstand all the splashing. Also, an added benefit is that this area can also be used to rinse any mud or dirt off your hands and feet.
19. Add Barn Doors
Not only do they appear seamless with the wall, but they help save a lot of space too. This is indeed one of the latest laundry room décor trends that are quite useful. If you do not want to showcase your laundry appliances when you are not using them, you can have these barn doors that slide in and out, making your laundry room extremely functional.
20. Labeling Helps
Another quick and easy tip is to have cute labels stuck on your wicker baskets or any other storage baskets. It makes it convenient to spot the basket and the appliances you are looking for without wasting much time searching for them.
Any décor makeover can be fun if only you get a little help with the ideas! These laundry room makeover ideas are functional as well as creative. These ideas can come in handy for those of you who want to deck up your laundry room as you spend a lot of time washing and cleaning your clothes here! You can also add your personal touch to make it look as inviting, warm and trendy as you can!
Also Read:
Sunroom Decor Ideas
Aesthetic Room Decor Ideas
Boho Living Room Decor Ideas