Best Gift Ideas for a New Dad
In this Article
New dads seldom receive gifts; however, picking gifts for a first-time dad is not as tricky as you might think. Continue reading for some fantastic gift ideas.
Top Gift Ideas for a First Time Dad
Here are some fantastic gifts for expecting dads you can pick from:
1. A cute Dad uniform
An official dad uniform is just what a new dad needs to feel in the game! It is beneficial when he is tired and sleep-deprived but needs to perform his duties as a dad. The shirt is there on him as a motivator!
2. A utility bag
A tactical-looking man bag with plenty of room to carry extra diapers, wipes, bottles, and all other supplies is wanted he needs to handle any situation that comes up. Its an all in one need for the new dad!
3. A baby carrier
Baby carriers are one of the best new father gifts you can come up with. They will inevitably make sure you reserve the gift spot for a sturdy carrier before they can get their hands on one. Make sure you pick a good-looking one the suits the dad; people think they're adorable.
4. Story Books
A new dad will eventually read to his toddler while getting them to sleep. It is also a good habit that inculcates strong language skills for children. Buy him a set of storybooks that go well with his deep voice. Stories with incredible adventures that both the baby and he definitely will enjoy!
5. Bottle sanitizing kit
Put together a sanitizing kit for feeding bottles. Include an electric kettle to boil water, a bottle brush to reach inside and clean every corner, and a drying stand to have the bottle good to go for the next feeding round. Dad's almost always take up the task of cleaning bottles while moms feed, so this gift is something he'll appreciate!
6. A Digital Camera
If you think he could upgrade over what he already has to take amazing photos, then a new camera is a perfect gift. Pictures and videos are priceless and something they will cherish for the rest of their lives. This makes an ever green gift!
7. Sleep mask
A good night's sleep is a luxury for all new parents! First-time dads are often unprepared for what's about to come. This sleep mask is a gift that is sure to be highly appreciated! Give one with a good, soft, breathable fabric that blocks out light well.
8. Multi-purpose pocket tool
If he doesn't already have one, this handy little device can be helpful for several things, from cutting packing material to fixing broken things. Pocket tools have infinite applications and are a must-have for all homes.
9. Massage Roller
A massage roller is a gift that's good for both the parents. After a long tiring day, a five-minute massage could be exactly what they need to unwind and fall asleep. Pick a simple one that you can use on all areas of the body.
10. Weighted Bathrobes
A relaxation item that is slowly gaining popularity is a weighted blankets. Since wearing them promotes relaxation because of the pressure, it helps new dads fall asleep sooner. A cozy robe with weighted shoulders and collars boosts calmness and relaxes him completely.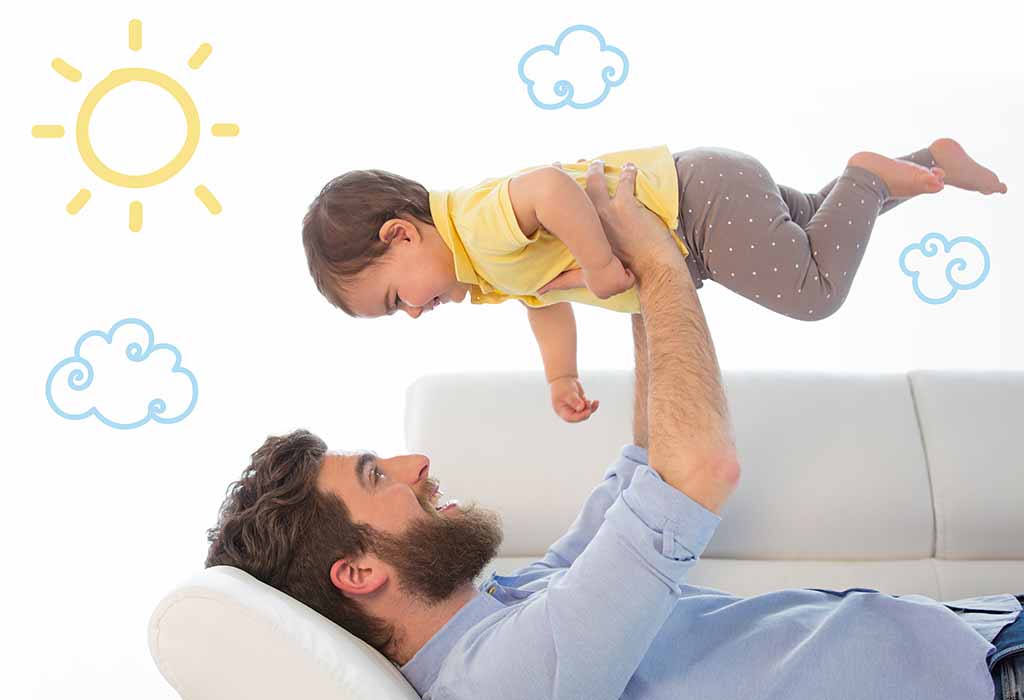 11. Portable speakers
Portable speakers are fantastic gifts for the whole family. Whether listening to his favorite music while doing his chores or playing a lullaby for the baby, portable speaks are sure to be highly appreciated.
12. Matching Shirts
If you're thinking about a funny yet quirky gift, then this is the best option! Order shorts with comic prints, such as a drained battery dad shirt with a matching full-battery baby shirt. Many sellers customize it for you, so keep an eye out for those.
13. Phone Sanitizer
With diseases on the rise, it's essential to keep them as clean as possible. Phones are the dirtiest devices we carry around and we seldom clean them. A sanitizing charger is a perfect gift for new dads to keep them and their little ones safe. The UV light ensures it kills all bacteria while the phone gets charged. All of this without having to use a liquid-based sanitizer!
14. Selfie Stick
A new dad is obviously going to click loads of cheesy photos. Gift him a selfie stick so he can get the perfect angle every time, everywhere. Pick a model that also doubles as a tripod and comes with Bluetooth control.
15. Lounge Pants
Soft, stretchy, and smooth lounge pants that make the dad comfy at home as he looks after his baby. The relaxation a good pair of lounge pants offer cannot be overstated. So make sure to buy him a few that will last many washes.
16. Home Security System
Since your best bro needs to monitor his castle all the time, a home security system with a few cameras covering all the crucial areas and angles is a wonderful gift to keep him at ease and the family feeling secure. Pick a model that integrates with a phone or with other home management devices he may already have.
17. Runaway alarm clock with wheels
This one ranks high on the funny dad gifts list! While it has little practical application for new dads, it might just be what he needs to get going in the mornings if he has trouble waking up. When the alarm goes off, the clock rolls away, forcing him to get up and turn it off.
18. Baby calm down kit
New dads always need some time to learn how to calm their babies down. A kit with the right items can help them do just that! Put together a kit with things such as a book or a DVD on the subject. You could also gift a Swaddle sack and a baby shusher along with it.
19. Apron
A set of aprons with different colors for each day of the week is a perfect gift to help him deal with the messy business of taking care of his new baby. He will need this for all tasks, whether preparing baby food, feeding it or cleaning up the mess!
20. Protective phone case
Spills, splashes, and pukes are everyday occurrences when you are a new dad. So a phone protector is a must to keep it clean at all times. Pick a phone protector case that is waterproof and shockproof. Anything and everything that makes his phone invincible!
This list covers the most valuable items you can gift any new dad. If you are in doubt about whether he needs it, ask!
Also Read:
Useful Tips for New Dads
Thoughtful Gifts for New Moms from New Dads
How to Be a Good Dad?