Best Cottage Style Home Ideas That Prioritize Comfort Over Grandeur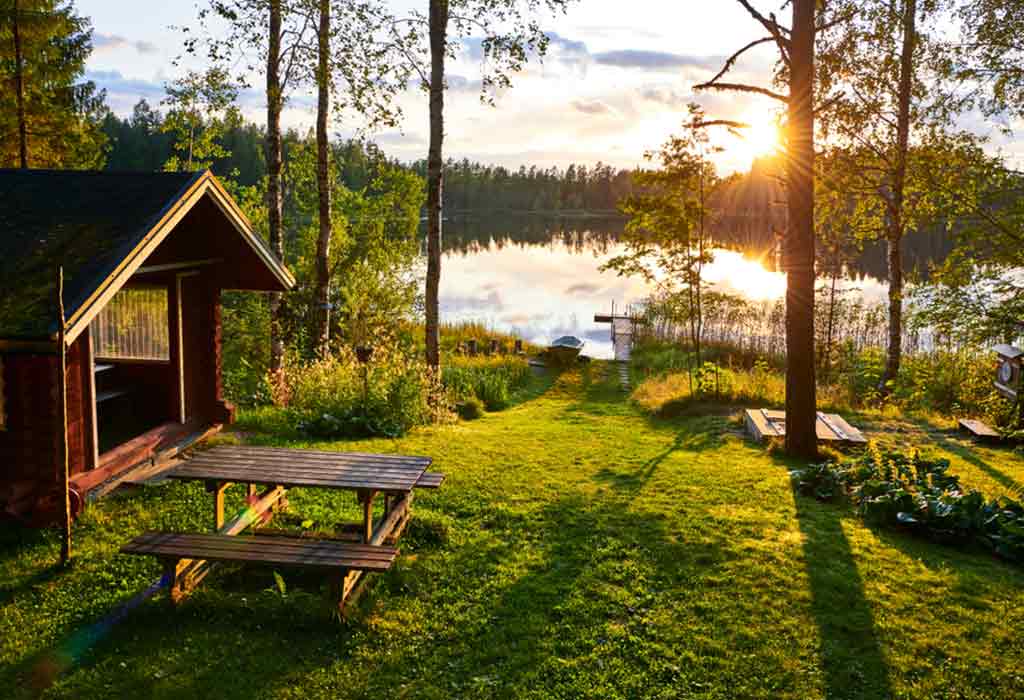 In this Article
Cottage homes are defined by a comfortable look with decorated furniture characterized by a weathered finish, graceful lines, and natural materials with soft textures. Its soft pastel colors look to be taken straight from a lush flower garden. Such a home with an informal floor plan often exudes the charm of the countryside or fairy-tale living.
Beautiful Ideas to Design A Cottage Style Home
Derived from the medieval word "cotter," meaning a farm laborer, cottage-looking houses refer to not only the house but the barn, outbuildings, and anything else enclosed by the fence on the plot. Somewhere along the way, the cottage came to mean small homes awash with timber floors, shingled, stucco walls, balconies, small porches, gable roofs, bay windows, rustic ceiling beams, and quirky angles that lend cottage interiors their unique character. Generally, a cottage house is a one story or one-and-a-half-story structure with extreme detailing. The variations of styling and asymmetrical design allow many cottage-style house plans to work with an existing home or within an existing neighborhood. Easy to build, this practical architectural style has a unique ability to grow and expand, which makes cottages very popular and a relatively cheaper alternative to a large-scale construction. While English cottage-style homes serve as dwellings, the cottages of America usually refer to a vacation home or guest home. Victorian cottage cottages offer beautiful expressions of vernacular architecture through the ages. A cottage in the English countryside will incorporate a simple line of windows of a Georgian home or the half-timber pattern of a Tudor home. Contemporary cottage homes try to preserve the old-world charm and use paint and fixtures that add a modern touch to your home and help maximize the space of a tiny house that will make it feel more like a quaint retreat. Whether you want to upgrade a traditional cottage or are looking for decor tricks of cottage-style modular homes, there are innumerable cottage design ideas with a quintessential cottage scheme that deserves to be celebrated. Let's have a look at what exactly encompases a cottage-style home…
1. Choose Warm Earthy Colours
Cottage-style homes evoke a warm, inviting, and homely feel. Choose warm shades based on natural earth pigments to enhance the mood of a space. Cream, white or grey stone walls, natural wood, soft plaster pinks, and rich terracottas inject instant coziness.
2. Vintage Kitchen Table and Chair
The charm of an old cottage kitchen is often the quirky and eclectic mix of old and new, which gives a cozy and welcoming space. A rustic farmhouse table with the ubiquitous jug of wild garden flowers and vintage chairs creates a spot for social gatherings.
3. Heritage Printed Decoration
Pay homage to the beautiful rural setting of your cottage by decorating it with wallpapers and flora and fauna printed fabrics that uphold the beauty of nature and capture the charm of the countryside. Polka dots and gingham prints look mellow and fun on woven white chairs.
4. Upcycled Furniture
Hunt for dated brown furniture at a specialist furniture shops or flea markets and use a bit of imagination to give them a weathered French look. Vintage wooden sideboards, tables, plate racks, and cupboards with classic built-in units in classic cream have an inimitable character that perfectly complements the rustic features of a country cottage.
5. Wooden Panelling
Tongue and groove paneling captures the country cottage look brilliantly, especially when painted in a classic green/blue or deep egg shade. You can revamp wood panels by adding striped patterns, a new color, or whitewashing them for a whole new look.
6. Chocolate Box Entrance
Front doors with a solid wood plank design adorned by the gentle climber's framed four-panel Victorian design, or 1930s style with upper lights, form a key component of a cottage façade.
7. Cozy Reading Spot
Bookshelves make homes look cozy and lived in. Having volumes of wood shelves that reach the ceiling in the living room will keep books organized and provide a snug spot to curl up with your favorite book by the warm fireplace. A Traditional mahogany-paneled study replete with an antique desk and a flat-screen TV concealed behind faux bookbindings can add a modern twist to your blissful retreat.
8. Modern Cottage Style Home
Crisp exterior color scheme and elegant details lend a cottage home a modern look. As you walk through the swinging gate and over the curved stone path leading up to this home's wide front porch, a bright front door welcomes you. Place colorful furniture on the patio that pops against a slate-blue exterior that's neatly defined by white trim.
9. Gardens
Dress up a cottage home with gardens that feature an informal design with dense planting, an exuberant display of ornamental and edible plants, and flowers that play up a cozy, rural look. Trellises break up the height of a two-story home and climb from the sidewalk to the roof trim to bring bursts of color to the shake-shingled facade.
10. Beachy Cottage
If a cottage home enthralls you with a beachy vibe; integrate starfish, coral, seashells mostly in soft, neutral hues associated with tranquil cottage living. By replacing your colored linens with white, turning your porch into a tropical oasis, a hammock in the front yard paired with windy grass, you can bring together cozy and casual elements that reflect an easy-going way of coastal life. Throw open glass French doors to infuse your space with the salty breeze if you're on the coast.
Cottage homes are inextricably linked with geology and the rural landscape. So, in case you want to bring the elegant countryside of Austen and Wordsworth to your home's décor, create a slice of paradise that you'll never want to leave.
Also Read:
Nature Inspired Home Interior Decor Ideas
Theme-based Decorating Ideas for Living Room
Amazing Spring Decoration Ideas for Your Home