Best Christmas Breakfast Ideas You Must Try This Year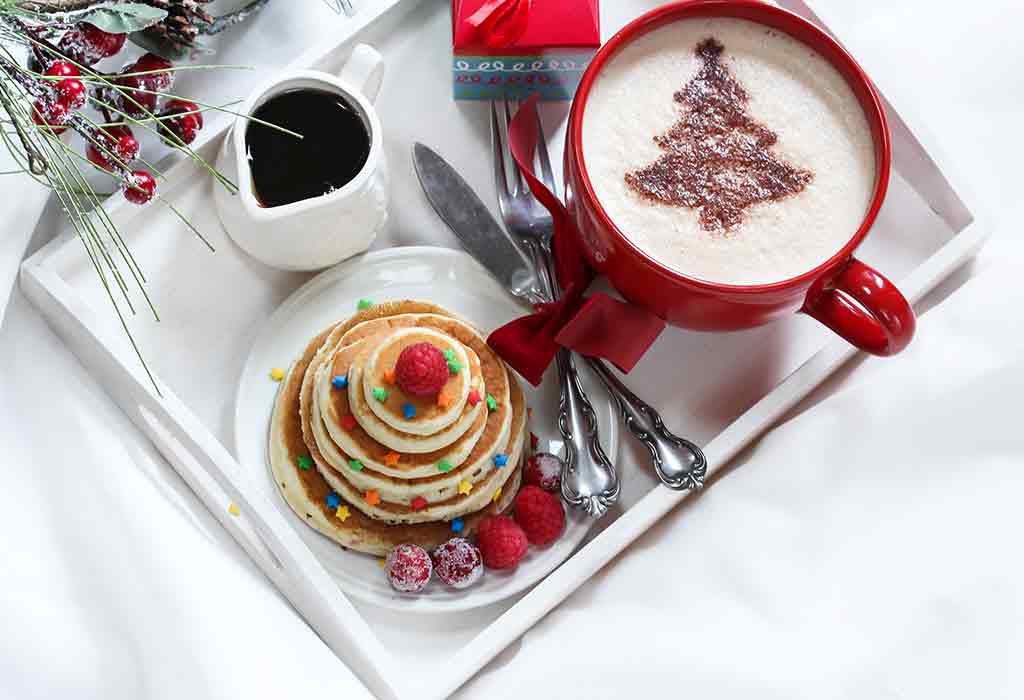 In this Article
There are many options that you can try to rustle up lovely spreads during breakfast at home during Christmas. The whole idea is to ensure that your family or guests are well fed and ready for all the festive delight that the Christmas season stands for. Hence, you need tasty yet easy recipes to ensure that you do not end up spending too much time in the kitchen and yet have satisfied folks appreciating your breakfast menus.
Delicious Christmas Breakfast Ideas
You need to be innovative and come up with delicious Christmas morning breakfast ideas to satiate the family. You can also win some brownie points while you are at it. Here are ten unique Christmas breakfast recipes to help you on your way to winning hearts. These are curated with the specific idea for an ideal preparation of Christmas breakfast.
1. Traditional Breakfast With Waffles
It is improbable that you would go wrong with traditional Christmas breakfast using waffles as your main ingredient. This is light as well as satisfying.
Servings: 4 people
Total Time: 25 minutes
Ingredients
Milk at room temperature (1 ½ c)
Sugar (2tbsp)
6 tbsp of unsalted and melted butter
1tsp of vanilla extract
½ tsp of salt (kosher)
2 c of all-purpose flour and 2 large eggs
32 ounces of packaged yeast; vanilla yogurt, as well as an assortment of cranberries, apples, or pears for garnishing
Instructions
Add all the dry and wet ingredients to a bowl.
Whisk the eggs properly and add in the vanilla as well as yeast. Let this rest for a night, or you can leave it at room temperature for an hour.
You can then pour the mixture into a waffle iron and cook it till it's done.
When done, garnish with an assortment of fruits and serve with a flourish.
2. Cinnamon Chocolate Marble Bread Breakfast
Marble chocolate cinnamon bread can be a great ally if you want to rustle up an alluring Christmas morning breakfast. It is also very high on the taste and the enticement quotient, so you can certainly try it out.
Serving: 8 people
Total Time: 90 minutes
Ingredients
1 ½ C of all-purpose flour
1c of chopped chocolate that is semi-sweet.
2 Tbsp of baking powder and ½ tsp of kosher salt.
½ c of canola oil, 3 large eggs, ½ c of whole milk
1 Tsp of vanilla extract, ½ tsp of cinnamon, and 2 tbsp of unsweetened cocoa powder
Instructions
Add 1 ½ cups of baking flour along with salt and baking powder in a bowl. In another bowl, put in the chips of chocolate and 2 tsp of flour.
Heat the oven to 350 degrees F. Wet ingredients like eggs, milk, canola oil, and vanilla mixed in another bowl.
Then add the wet ingredients to the dry ingredients (flour etc.) and whish vigorously.
Add the cinnamon, cocoa, and chocolate chips into the batter and whisk.
After this is over, bake in the oven for 60 to 65 minutes.
Once it is ready, cool for more than 10 mins and then deftly transfer the marble cake onto a tray, ready to be devoured by many hungry mouths at breakfast!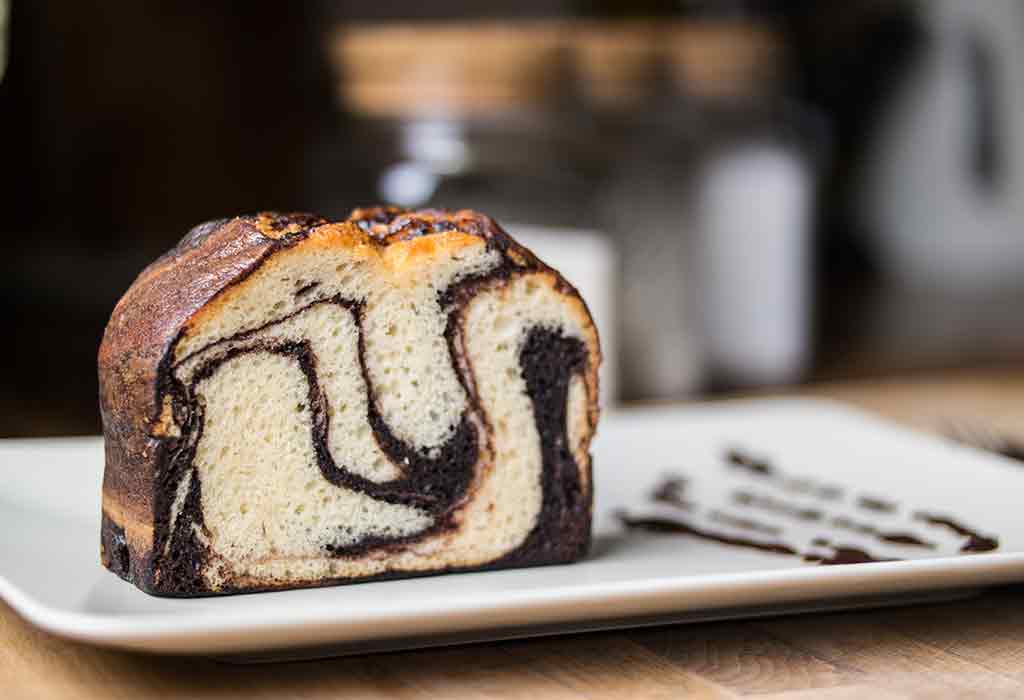 3. Cheese and Ham Traybake Croissant
This is a reasonably tasty and straightforward treat as far as Christmas morning breakfast ideas go. Cheese and ham make for a deadly combination, especially for those who love that extra amount of non-veg fare during breakfast.
Servings: 4 people
Total time: 60 minutes
Ingredients
8 split on half croissants along with ½ tbsp Dijon mustard
8 slices of thick-cut ham
4 eggs
350 ml of milk
250 grams of gruyere
Butter and 200 ml of single cream
Small bunch of chives
Instructions
Spread the Dijon mustard over the croissant, and 8 sandwiches are made along with the Gruyere cheese and the ham.
Season the egg, milk, and cream in a bowl and keep ready.
Place the croissants in a buttered baking dish.
Pour the wet ingredients (eggs, milk, etc.) on the croissants, help them soak in.
Heat oven to 180 degrees F and cook for 20-25 minutes until ready.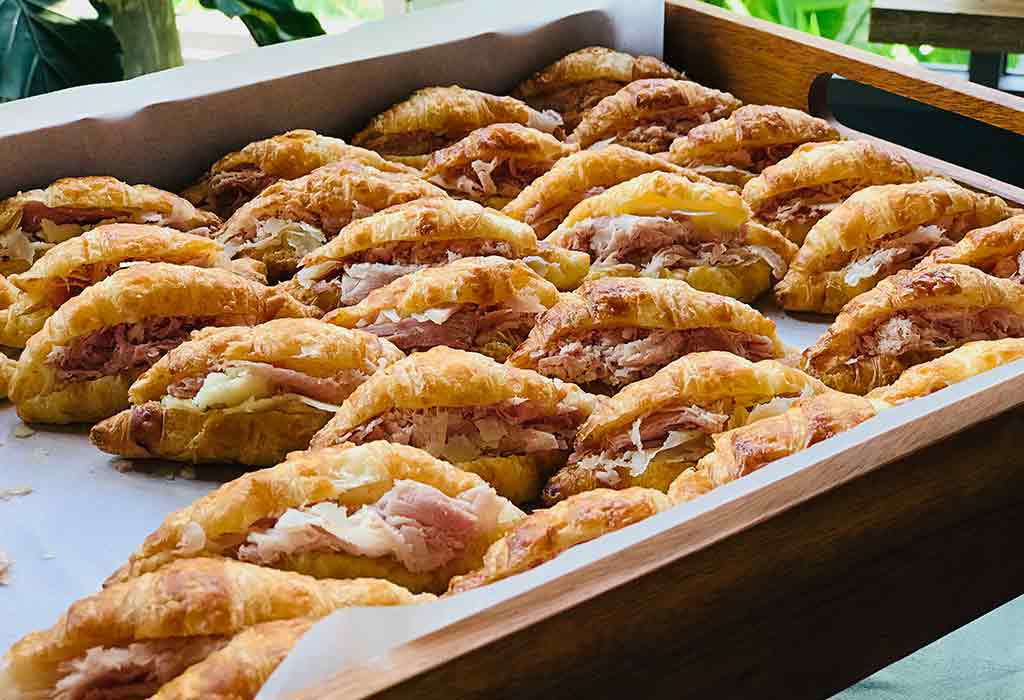 4. Bread Pudding
Bread pudding is an all-time favorite as far as Christmas breakfast spreads go. It is easy to make and delicious on the palate. Not much can go wrong with bread pudding.
Servings: 8 people
Total Time: 75 minutes
Ingredients
1 medium onion and 2 tbsp olive oil
Pepper and salt
8 large eggs and 1 c of whole milk
Swiss Chard stems
8 oz of French or Swiss bread
6 oz of goat cheese and grated Parmesan; green salad
6oz of ham
Instructions
Heat the oven to 350 degrees F. A quart baking dish needs to be oiled and kept ready.
Oil is to be heated in a skillet with heat at medium level. Add in the salt and pepper as well as Swiss chard stems and cook for about 4 minutes.
Whisk in the eggs, mils as well as ½ teaspoon of salt and pepper. Add the bread and toss it for about 5 mins or so occasionally.
Add in the chard and ham into the bread mixture along with Parmesan
Transfer the mixture into the baking dish and cook for about 40 to 45 minutes. Bread pudding is ready to be served and relished with gusto.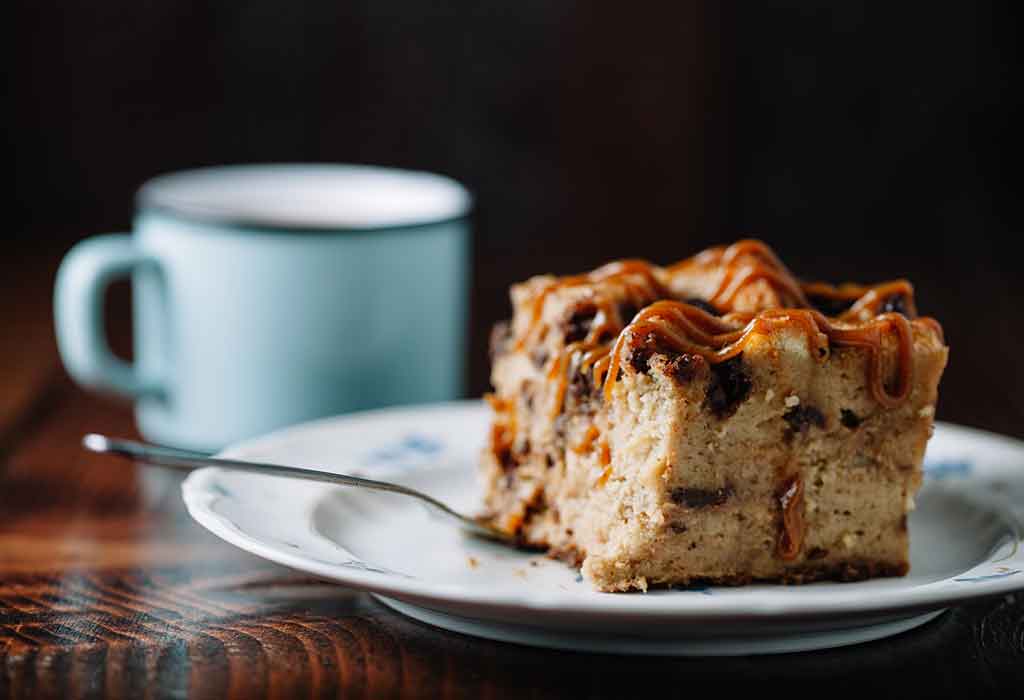 5. Vegan Breakfast Fritters
Many folks are going vegan nowadays, and it is in the fitness of things that we figure a vegan breakfast recipe for Christmas.
Servings: 4 people
Total Time: 30 minutes
Ingredients
Grated zucchini (2 cups)
A third of a cup of corn kernels
1 tsp salt
A fourth of a cup of vegan cream cheese and dairy-free pesto sauce
1 tsp of baking powder
¼ cup of flour
Oil (2 tbsp)
Tomato chutney and vegan mayonnaise for extra zing
1 ¼ cup peas and mint; salt and pepper
Instructions
Squeeze out excess water after sprinkling salt on zucchini.
Mix other ingredients with zucchini and then fry the batter in a pan in batches for 2-3 minutes.
Set aside fritters on kitchen paper.
Add minted peas add garlic to the oil, and saute till aroma emanates. Do not burn. Add in the seasoning and stock.
Turn off heat and add in butter; also add in mint along with fritters
Serve along with mayonnaise and tomato chutney for an extra taste.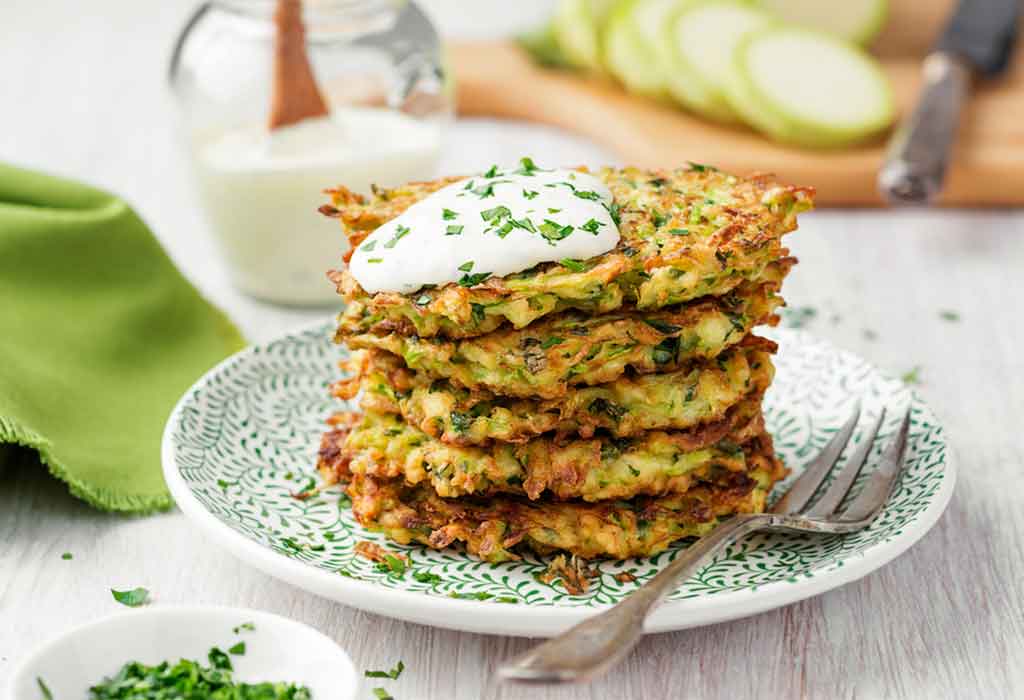 6. Ricotta Pancakes
These are extremely easy to make and, at the same time, will keep your family satisfied with Christmas breakfast.
Servings: 5 people
Total Time: 15 minutes
Ingredients
2 lightly beaten eggs and 2 cups self-raising flour
1 1/2 cups of a mil, third of a cup of castor sugar
2 tbs ricotta cheese
Instructions
Put the flour in a mixing bowl
Mix in all the other ingredients and mix well
Grease a frying pan and put 1/3 cup of batter at a time. Turn off when bubbles appear on the top, and you are done!
7. French Toast Bake With Eggnog
French toast bake with eggnog is one of the classic recipes for Christmas breakfast.
Servings: 6 people
Total Time: 3.5 hours
Ingredients
Butter; thick-sliced loaf bread (1)
4 large whisked eggs
4 c. eggnog and 1 tsp cinnamon
2 tsp vanilla extract
1 tsp ground nutmeg
Maple syrup and ¼ c pecans
Instructions
Take a baking dish and put in bread slices in overlapping layers
Whisk in the eggs, eggnog, vanilla, cinnamon, and nutmeg
Pour over bread to ensure bread is submerged with wet ingredients
Refrigerate bread mixture for 3 hours and bake in preheated oven at 350 degrees F
Serve up with pecans and drip with maple syrup.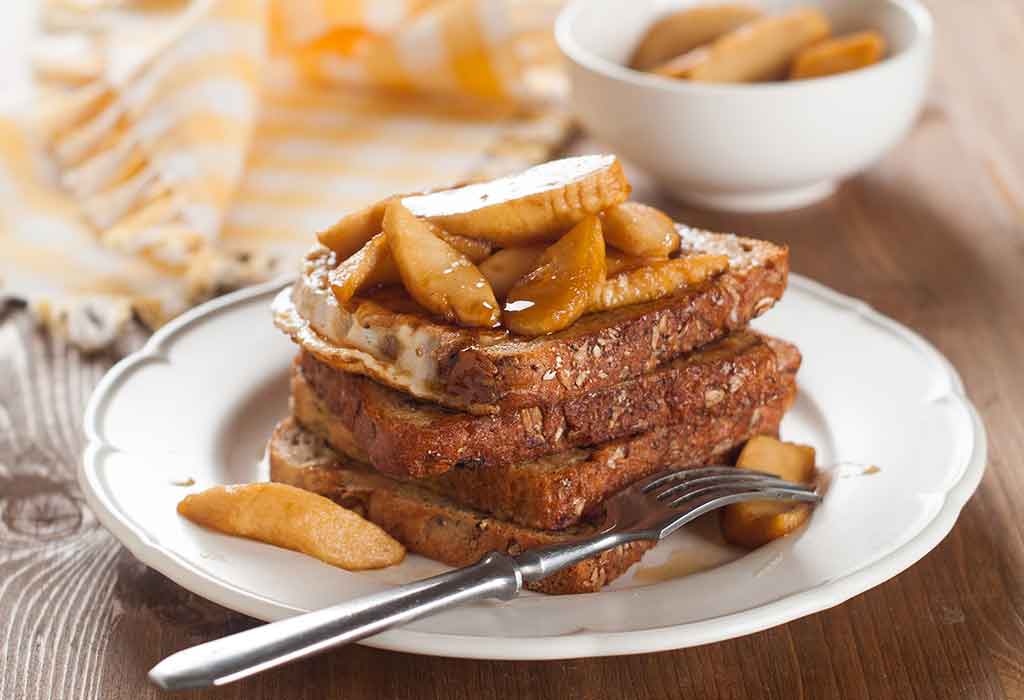 8. Potato Fritters Breakfast
What could be easier than rustling up some delicious but easy-to-make potato fritters for Christmas breakfast? Potato has many fans, hence be assured of the result.
Servings: 5 people
Total Time: 30 minutes
Ingredients
Two peeled and grated potatoes
1 egg
1 grated onion
2 tbsp of flour (plain)
Salt and pepper to taste
Chilli powder (optional)
Instructions
Put the onion and potatoes in a bowl
Add the egg and then sift the flour gently
Add the seasonings of salt and pepper as per taste; add chili only if spicy flavor desired.
Pour adequate oil into the frying pan and heat.
Add in the mixture in spoons full into the hot oil
Cook till potato fritters are golden brown, serve and enjoy.
9. Scrambled Eggs on Toast
Eggs, when appropriately cooked, can win anyone's heart. You can just rustle up well-made scrambled eggs and know that you have a winning combination on your hands along with toasted bread and some butter to go with it. The other advantage to making scrambled eggs is that it does not take much time to make.
Servings: 4 people
Total Time: 20 minutes at the max.
Ingredients
4 eggs
Cream (4 tbs)
Salt and butter to taste
1 tbs butter
Instructions
Take some butter and add it to a frying pan on medium heat
In a separate bowl, add in the eggs, cream as well as salt and pepper as per taste
Pour out the mixture of the eggs on the heated frying pan with the butter in it
Scramble the eggs well and cook till it is golden brown.
Remove scrambled eggs from the frying pan
Serve scrambled eggs on top of crisp toast.
10. Healthy Fruits Salad Christmas Breakfast Recipe
Fruits are a great breakfast option for the health-conscious. You can come up with lip-smacking fruit salad combos for a healthy Christmas breakfast for friends or family.
Servings: 8 people
Total Time: 40 minutes at the maximum.
Ingredients
Fresh mint (1/2 c.)
½ c. sugar
Strawberries (2 qt). If the strawberries are large, you can halve or a quarter as needed
1 c. red grapes cut in half
Green grapes also halved
½ honeydew melon. This needs to be peeled, properly seeded, and chopped
4 kiwis that are peeled and cut in half
Pomegranate seeds for color and taste (1/3 c.)
Instructions
Take the sugar and add 1/1 cup water to the boil. This is to be done in a small saucepan.
Once boiled, remove from heat and allow to rest. Add in the mint next. The syrup so formed needs to be allowed to rest and cool for around twenty or thirty minutes.
After cooling, take a mesh strainer and pour the syrup to ensure that mint leaves are removed, only retaining the flavor. Refrigerate.
Fruit salad to be made by adding all the fruits, namely, kiwis, melon, grapes (red and green), and pomegranate, and toss on a bowl
Add in the mint syrup and serve up the delectable concoction.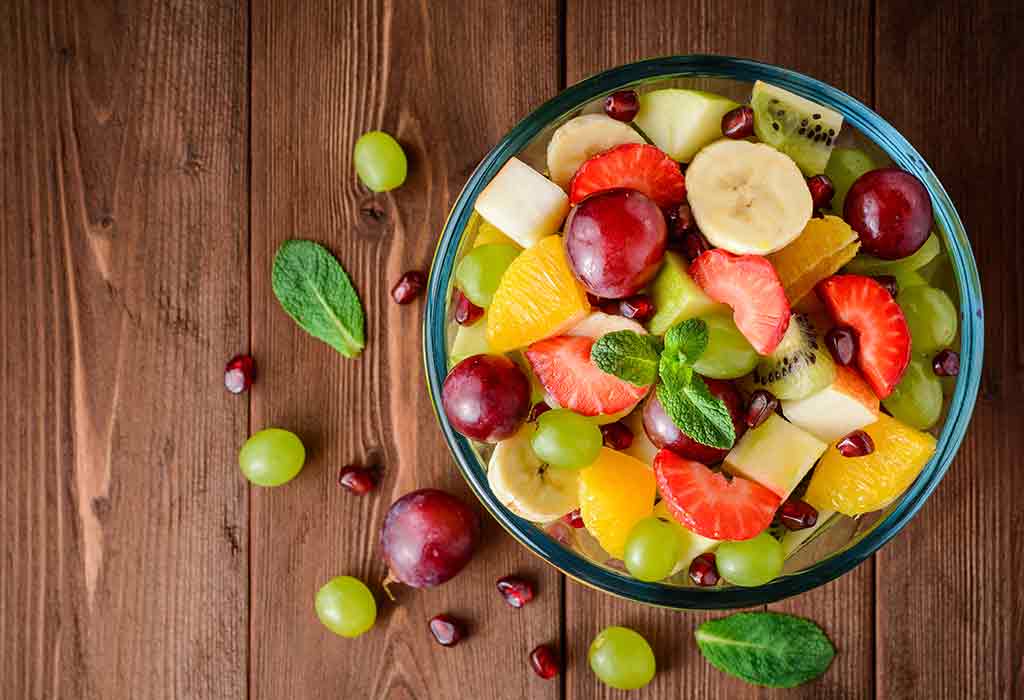 If you were to put your mind to it, the possibilities on delectable Christmas breakfast ideas are limitless. All you need to do is to keep in mind the particular tastes and preferences of the intended recipients of the breakfast, and you will come up with trumps with ideas to satisfy your family with a lovely Christmas breakfast. The recipes above will go a long way in ensuring that your quest for culinary excellence is served to its fullest and you have an army of admirers in town!
Also Read:
Best Christmas Dinner Ideas
Unique Christmas Toppers Ideas
Easy Christmas Side Dishes For Everyone