Best Behind-the-ear Tattoo Ideas That Will Inspire You to Get Inked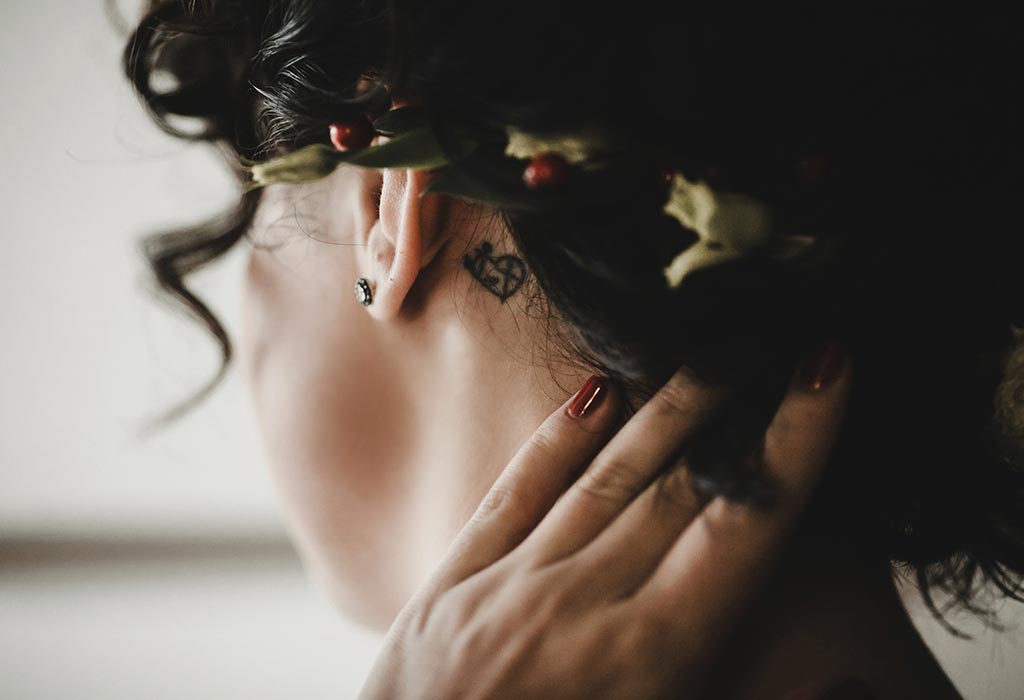 In this Article
A meaningful back of the ear tattoo is ideal for people who wish to experiment with various location choices for their tattooing. We've put up a list of the best behind-the-ear tattoo designs to help you get started. Keep the following ear tattoo ideas in mind before getting inked!
Best Behind-the-ear Tattoo Designs
Tattoos behind the ear are the best ones to hide up! It is like a tiny secret that those creative people carry about in their pockets. A behind-ear neck tattoo may be difficult to notice; it allows you to indulge in that little secret only you know. Read along to feel motivated to get yourself one.
1. Date Tattoo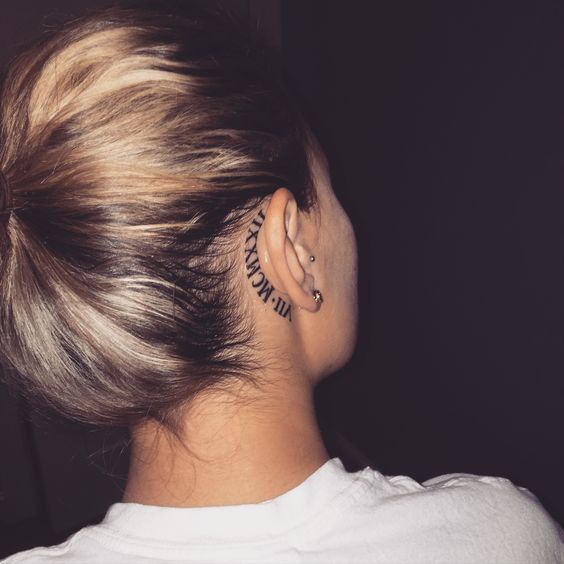 Many people prefer to have important dates inked on their bodies. You can have a life event inked behind your ears to remember it. You can choose any date that is meaningful in your life, from the first time your lady-love said 'YES' to you to the first time you met the one you love in person. If you want, have the date engraved below or behind your ear!
2. Leaf Tattoo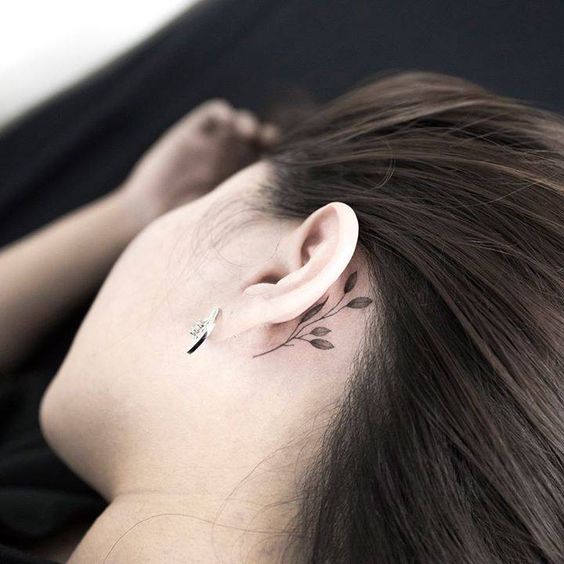 Leaf tattoo is another great design for behind-the-ear tattooing that you can find online. This daisy-related blooming perennial has large, spherical floral clusters and three-lobed foliage, making it an excellent delineator of any creative concept.
3. The Orion Belt Tattoo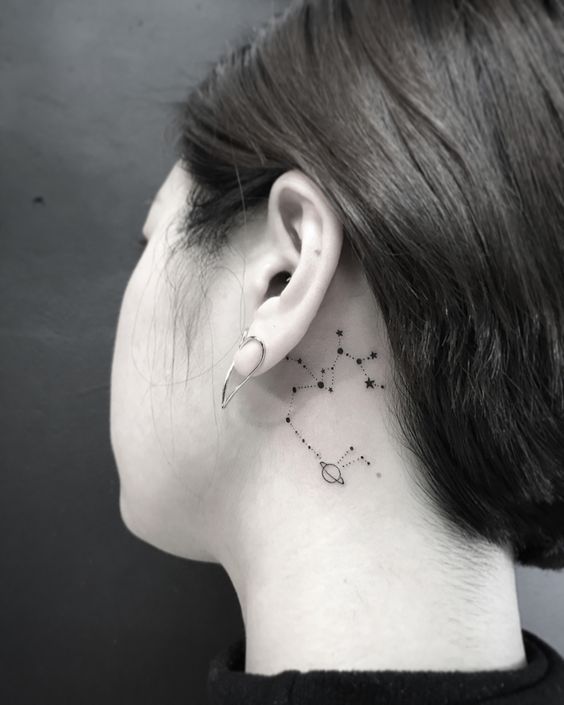 When you want more than one star, choosing Orion's belt may provide you with far more than one! Traditional Indigenous people saw the image as a slain king by an arrow. This 3-star pattern has a hypnotic effect when inked on the skin, especially in a monochromatic hue.
4. Mom-baby Girl Tattoo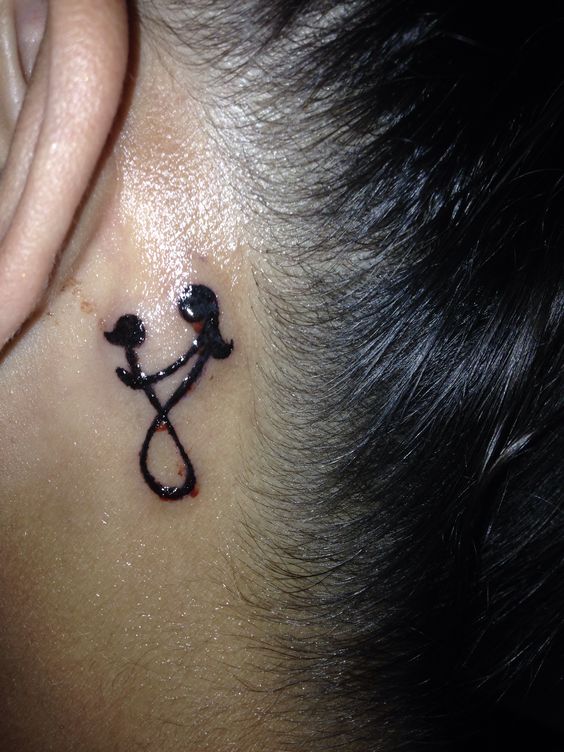 Ink a tiny mom-baby symbol below/behind your ears to complete your look. A charming character appears to represent your sweet angel. This image perfectly encapsulates parenting. This design appeals to mothers because it allows them to express their feelings for their children. If you want to show your child you care, this is the way to go. Using a dark silhouette in permanent black tattoo ink representing a mom-daughter duo keeps it simple while bold.
5. Compass Tattoo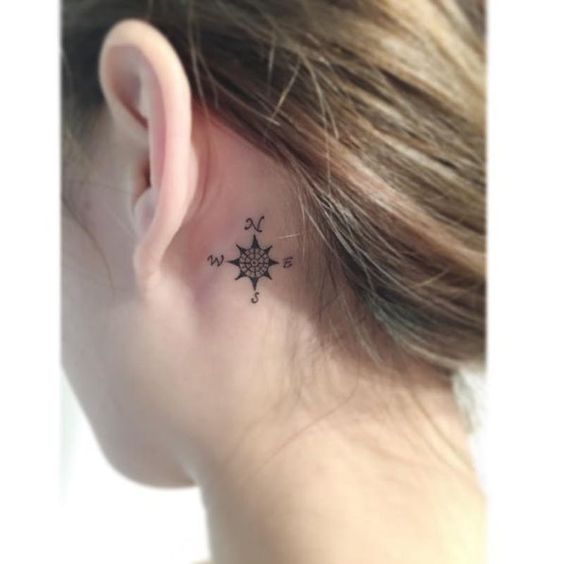 A compass with its needle deeply inked on your skin is a fantastic addition to any collection. Being a one-of-a-kind tattoo design, especially for small tattoo designs, is a great way to show the rest of the world that you are not afraid to think outside the box and explore new possibilities. You may receive one arrow for each of the four quadrants represented by the compass etched behind the ears.
6. Dream Catcher Tattoo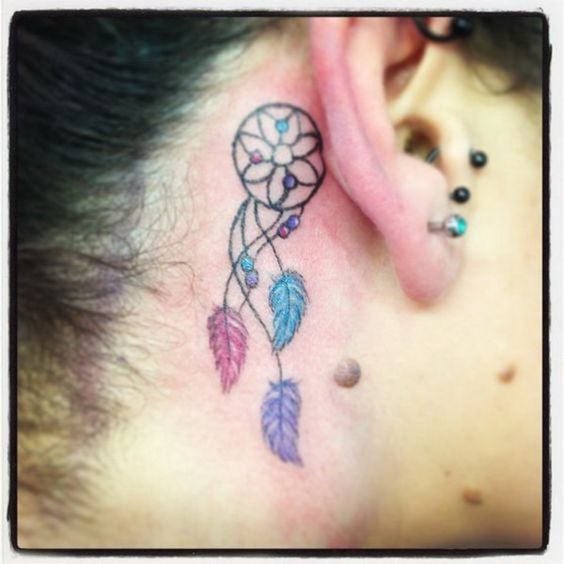 Many aboriginal tribes believe dream catchers capture bad dreams and prevent a recurrence. A bamboo hoop netting or webbing covered with pearls or plumes makes a perfect dream catcher tattoo design. These are believed to guard one against bad dreams, evil spirits, and ominous signals. Most tattoo lovers choose this design because they believe dream catchers will protect them from harm. This unique behind-the-ear tattoo can be worn for many reasons, including symbolic meaning or just for the look and feel.
7. Scissors Tattoo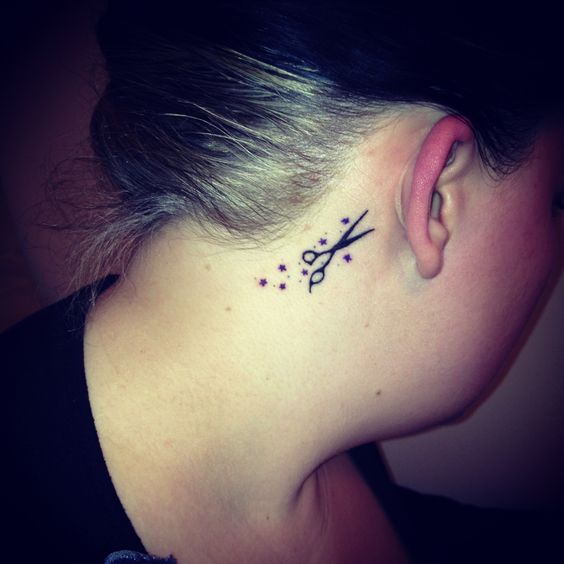 A tattoo design that is unique and significant is an excellent option for those seeking something different. Using scissors to cut down toxic people in your life is a positive transformation. All you need is a pair of black scissors to make a statement behind your ear.
8. Cross Tattoo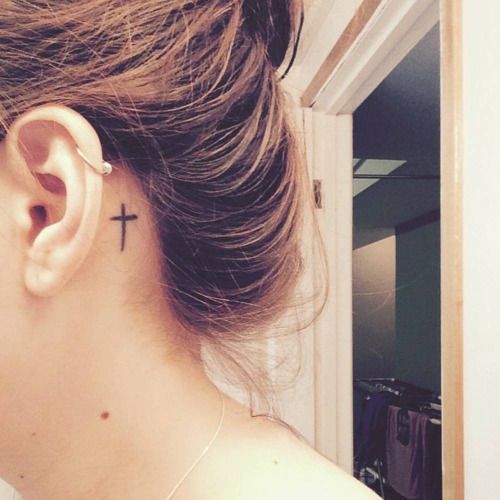 Behind-the-ear cross tattoos are an excellent way to show your religious devotion. Small cross tattoos are for all tattoo enthusiasts who believe that having a cross tattooed on their skin will provide significant additional protection from harmful elements. Others are devoted to Lord Jesus and enjoy displaying it. Although crucifix tattoos look stunning on any part of the body, they shine brightest behind the ears.
9. "&" Tattoo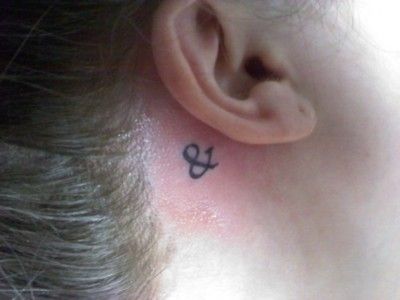 The unique character '&,' also known as the 'Ampersand,' can be used to create a one-of-a-kind mini tattoo idea behind the ear that you will undoubtedly enjoy. It is entirely up to you whether or not to make it strong. It appears to be extremely beautiful behind the ear. It represents, in general, the reality that life is full of great hopes and that we have a long journey ahead of us to bring certain perceptions to fruition.
10. Quotation Tattoo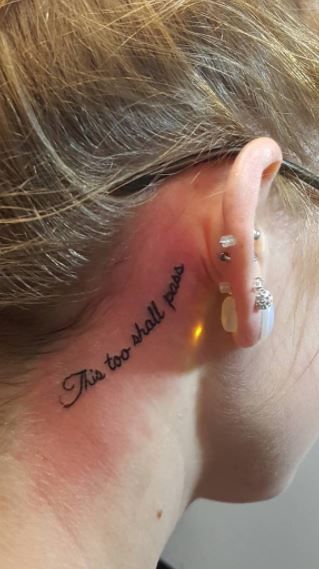 Anyone can have a phrase or quote etched behind their ears – whatever they want, as long as it accurately represents their personalities. You can choose whether you want the quote within quotation marks or not. The most beautiful feature of quotations is their versatility; they will be fantastic and unique!
These are some of the best ear tattoo designs! You can also use them as basic tattoo design ideas. The most important advantage of these small tattoos is that they are inexpensive! Keep your tattoos hidden behind your ear. And if you want to change your tattoos, you can have them smoothly transformed into a different picture or motif. It's ideal for those afraid of permanent ink but still want to enjoy their body art.
Also Read:
Best Watercolor Tattoos Design Ideas
Heartwarming Tattoo Ideas for Family
Attractive Children's Name Tattoo Ideas