Best Aesthetic Room Ideas That Are Trending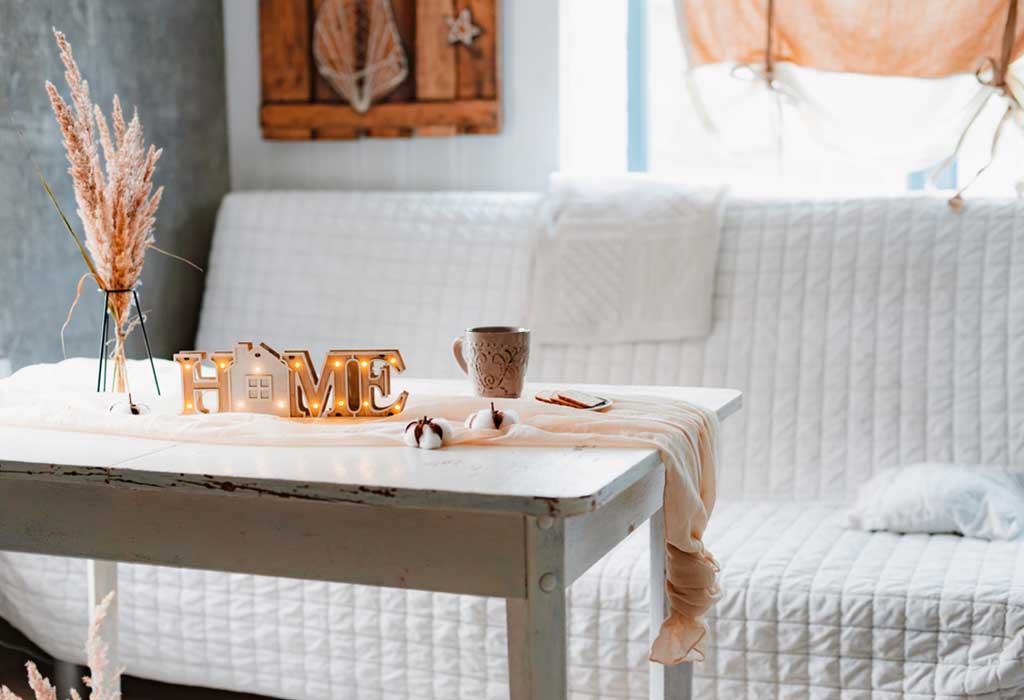 In this Article
Chique yet aesthetic room decorating ideas give your indoor living spaces a fresh makeover that reflects your passion and tastes in home décor.
20 Creative Aesthetic Room Ideas
If you're looking to refresh the outlook of your home with the most wow-worthy trends of the season, there are a bunch to choose from. This year, the most aesthetic room décor ideas come in all shapes, sizes, colors, hues, and themes adding creative styles to countless homes. Your room is where you spend most of your time, relax, sleep, and connect with your inner self. Thus, it is of utmost importance that you make your intimate space an oasis of comfort. Whether you want to light it up with energizing hues, eye-catching wall-décor, or attractive accessories, one can capture the pure essence of aesthetic living room ideas with innovative design solutions that would turn the rooms of your home into a trendsetting haven.
1. Vapourwave Room
This visual art style incorporates early Internet imagery, late 1990s web design, glitch art, anime, 3D-rendered objects, and cyberpunk tropes. Choose a vibrant tapestry with neon signs, decorative LED lights, and starburst pendant lights that can brighten up your room in a guilt-free indulgence.
2. Photos
Smaller rooms can also be converted into cute aesthetic rooms economically. Strike a visual balance between framed photos and the empty wall space so that your room looks more cozy than cluttered.
3. Pastel Shades
Pastel aesthetic room décor is gaining popularity with its fresh and sleek design concepts. The use of muted colors opens up the space creating a lively and contemporary vibe.
4. Mirrors
A crescent moon-shaped mirror makes any room look large. Highly functional, it works perfectly with urban or rustic art pieces.
5. Vintage Décor
Mixed textures combined with upcycled items from flea markets or second-hand stores look undeniably stylish and give your room an old-school charm!
6. Wall Plants
Decorate your intimate space with natural plants on neutral shaded walls to make it look super comfy.
7. Pinboard
Personalize your room wall with photos stuck on a pinboard. You can also drape strings of fairy lights or LED lights around them to look aesthetically pleasing.
8. Country Vibe
A rusty terracotta wall color matched with green plants, woven baskets, a soft rug, and vases of plumes can add textural variations to any living room and transform it into a charmingly rustic retreat.
9. Ladder Shelves
Sturdy and exceptionally stylish, a metal ladder shelf offers a streamlined look for modern spaces. In contrast, a rustic wooden ladder shelf offers storage and display solutions for potted plants and collectibles.
10. Girly Rooms
Fitted for teenage girls or college dorm rooms, pink sticky notes or posters on bold or soft pink color schemes can create an abyss for youngsters to hang out.
11. Artsy Style
Use modern art, a bespoke mural, or a curious and captivating headboard to uplift the aesthetics of your room creatively.
12. Wall Art
Hanging one big piece of artwork or making a collage or a gallery wall with smaller ones can spruce up any room décor in an aesthetic way.
13. Candles
Beautifully scented candles create an irresistibly rich fragrance that complements any décor while adding a warm glow to any room.
14. Quote Collage
Collages of quotes that inspire positive thinking or motivational lines that keep us energized throughout the day, the idea can make your walls pop with color and vigor.
15. Wall Tapestry
From screen printed large Indian Mandalas and boho patterns to gypsy tapestry, wall tapestries let you express your personal style.
16. BTS Inspired Room Décor
With walls featuring BTS posters to memorabilia like keychains, photo cards, slogans, and phrases hung up as wall art, make the maximum use of the space to express your love for the ultimate K-pop band.
17. Jars
From gorgeous flower vases to lid coasters, planters, vanity lights, air freshener, or pencil holders, glass mason jars are versatile vessels that have quickly evolved from just a simple canning necessity to an essential décor item for any room.
18. 70's Disco Bedroom Aesthetics
Rewind time and get back retro décor for your room with metallic streamers, disco ball, printable posters of '70s musicians and movies, and most of all, vinyl records!
19. Boho Chic Bedroom
Unconventional and artistic "boho" chic home decor involves an eclectic mix of natural elements, colors, patterns, and textures that encourage conversation, reading, listening to music, or playing games in the room.
20. White Decor
An all-white design helps achieve Zen and makes an ideal backdrop for greenery, bedside lamps, baskets, and vanity chairs.
The importance of home renovation may differ from one homeowner to the other. However, the more visually appealing it looks, the more it upgrades the value of your home and improves your quality of life.
Also Read:
Low Budget Home Decorating Ideas
Effective Tips for Renovating Your Bedroom
Living Room Center Table Decorations Ideas