Beautiful Ideas to Try while Creating a Country Bedroom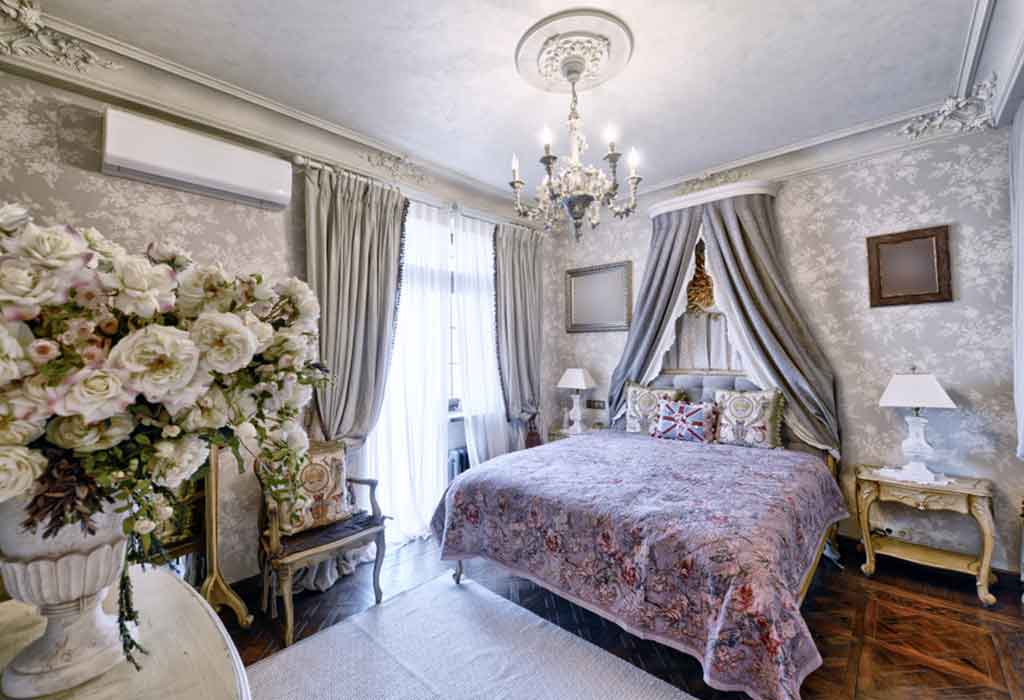 In this Article
Have you got a yearning and affinity for farm living, old-world charm, and casual comforts? If you have answered "yes" to any or most of the questions, then you are a country person. Less cluttered, organized, and streamlined country spaces are all about kindling the free spirit in you. Easy-going in style and serene in appeal, country-themed bedroom designs range from casual to chic. A country-style bedroom could feature appeal accumulated through ages, and it is simple to recreate the magic. Combine rustic references, primitive patterns, and original furnishings to carve a peaceful and free-style country bedroom.
Ways to Transform Your Bedroom Into a Country Bedroom
Are you looking at redecorating your bedroom to something that will look rustic and vintage? Well, there are loads of ideas for designing a rustic country bedroom. If you have a cottage-style house or a Victorian kind of villa, it makes sense to embrace history. Traditionally designed bedrooms have a charm of their own as they resonate with the timeless, classic appeal of an era gone by. Inexpensive yet contemporary country master bedroom ideas could leave an everlasting impression. Take a look at some ideas that could inspire your dream project:
1. Soft Pastel Palette
A modern country bedroom will always be dominated by a soft pastel palette (beige, white, yellow, or sky blue). A poster bed with complementing furnishing and bedding will add a mesmerizing effect.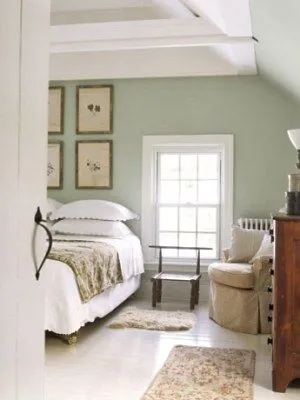 2. Make Use of a Fireplace and an Alcove
If you have a fireplace, then make sure to have some detailing on the panels. Most bedrooms with a fireplace will also have an alcove that can be transformed into a workspace or a dressing table with a mirror with traditional borders.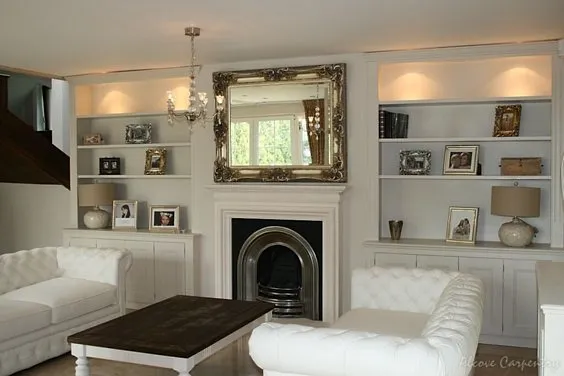 3. Choose Primitive Patinas
A chic country bedroom uses things in hand – inherited heirlooms, objects recycled – to serve functional use. Use antiques and think of arrangements that combine appeal and functionality. Flea markets and yard sales have relics that have been discarded but can serve as ornamental décor for your bedroom.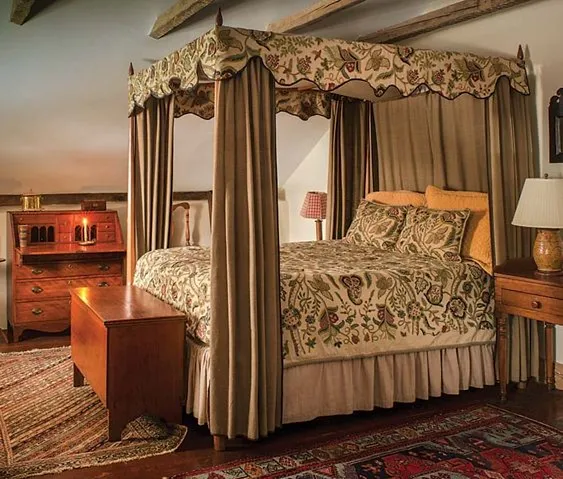 4. Make the View the Focal Point
Country bedrooms need to make optimum use of the landscape and views outside. Place the bed at an angle where natural light trickles in. An inviting seating area by the window could be the perfect space to unwind.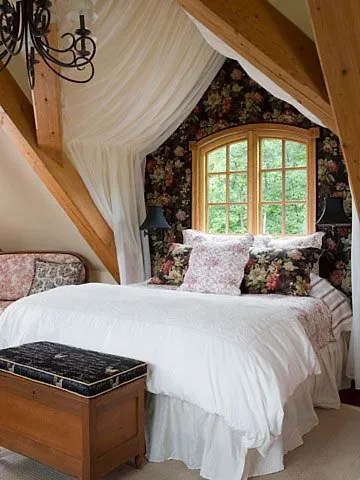 5. Fur Adornments
Sheepskin rugs, zebra skin rugs, lengthy fur coats – these furry pieces exude wealth, opulence, and elegance. So give some high-class elan to your country bedroom décor with animal skin additions.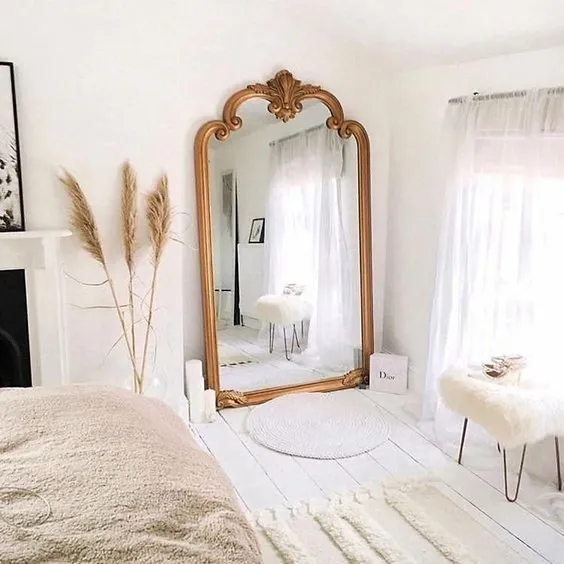 6. Shiplap Walls
Shiplap walls, a special type of interlocking board, are typical of farmhouse style. Mostly white or in pale shades, these wood-clad walls add a warm exuberance to the room. If you cannot get real wood, then invest in shiplap walled design wallpaper.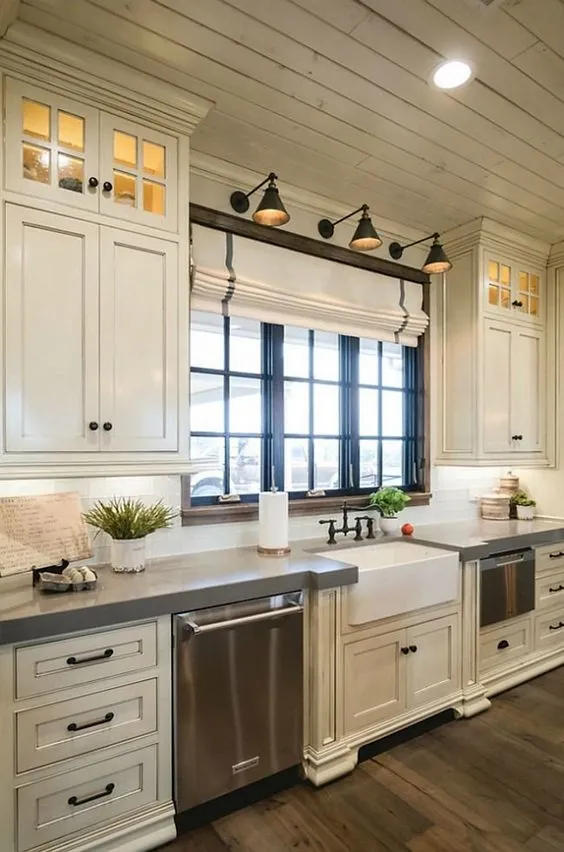 7. Embrace Your Dark Side
Old country homes had an element of darkness to their rooms with minimal windows, which were mostly shuttered to keep harsh elements at bay. Paint the ceiling and walls with gloomy hues that highlight the architectural finesse.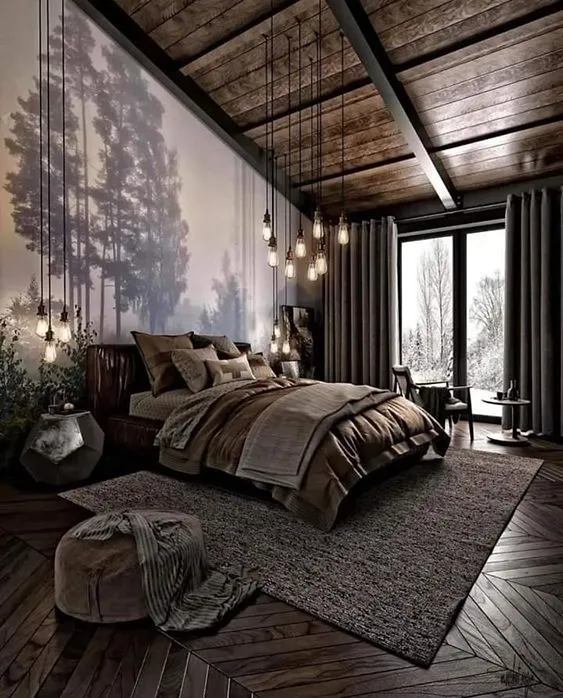 8. DIY Headboard
Opt for a headboard made of recycled or upcycled rustic wood. Repurposed to give it a chic look, you don't need a traditional headboard as this itself will suffice to lend the country look.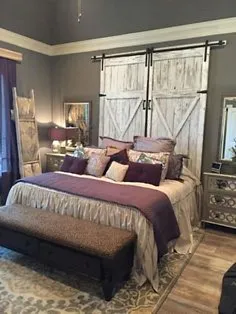 9. Linen Furnishings
Choose hand-woven linen bed furnishings to render a relaxed and cozy look to your bedroom.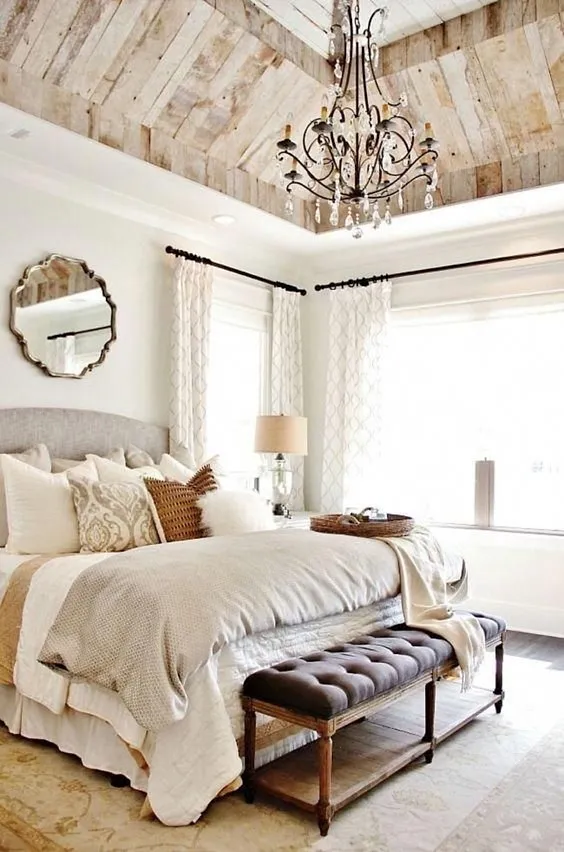 10. Classic Quilts
Quilts are a theme that goes with country-style living, a lot like bread and jam. Shop for vintage-style quilts online, in an antique shop, or pick a new one with an old style.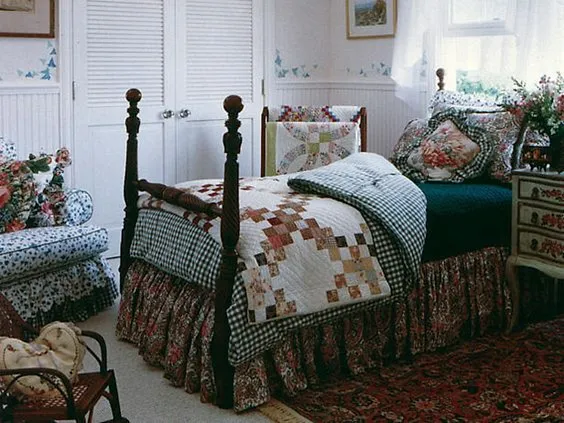 11. Canopy Detailing
Canopy detailing is exquisite to country-style furnishing. It adds a touch of drama and takes you back to the time when beds were protected pieces of furniture and needed to have curtains around them for additional privacy.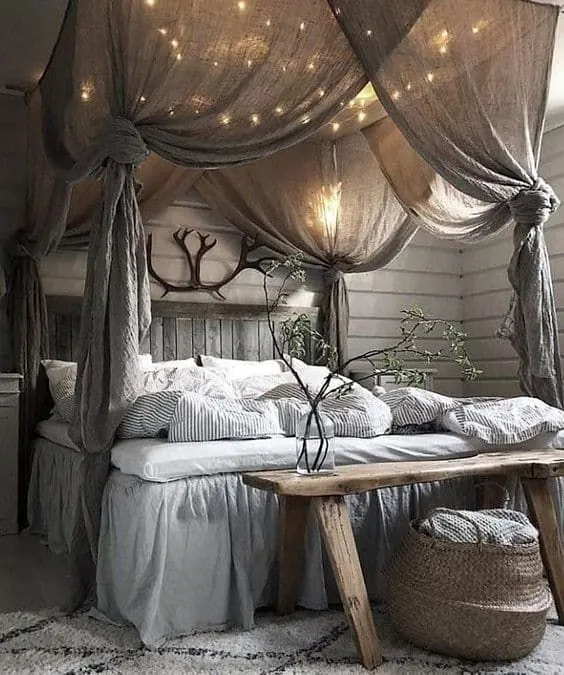 12. Florals
Fresh flowers, floral drapes, upholstery, or floral wallpaper – country bedroom must have a floral accent to it. Bring the natural beauty of the outdoors into your bedroom with some flowers.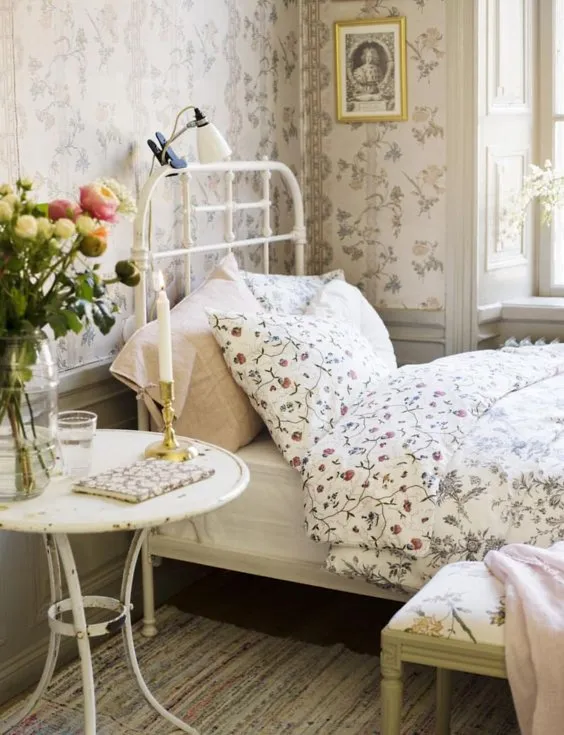 13. Colour Scheme
Choose pale and pastel shades. The buttery yellow is a classic country-style hue. Versatile, warm, and bright, the light color schemes always give a country hug at the end of the day.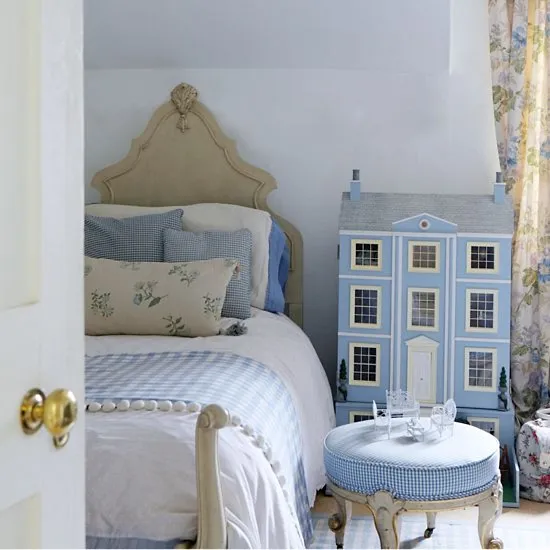 14. Mix Patterns
Paint walls white and brings in graphic patterns with rugs and upholstered headboard. Keep the bedding all-white to lend a tailored and sophisticated look.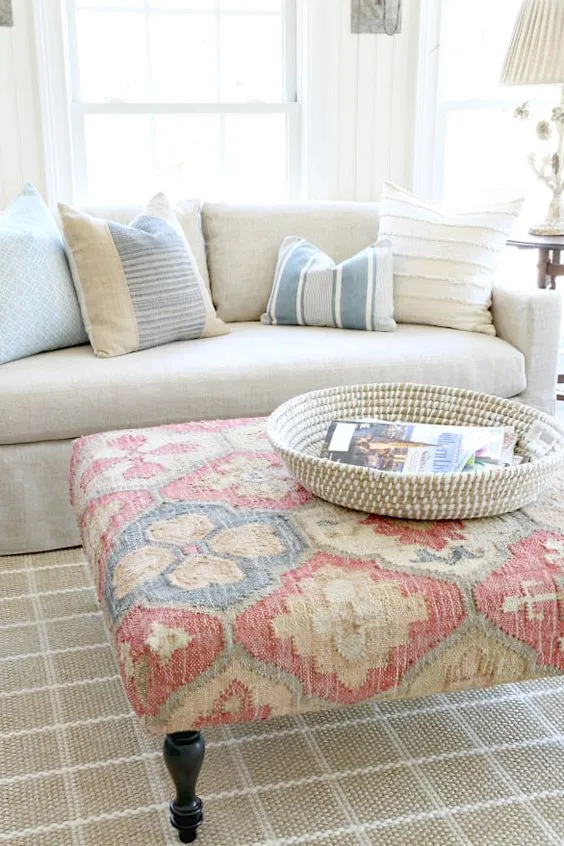 15. Poster Beds and Rocking Chairs
A four-poster bed and a wooden rocking chair are typical features of a country-style house. It will aesthetically transport you to your grandma's and evoke some wonderful memories.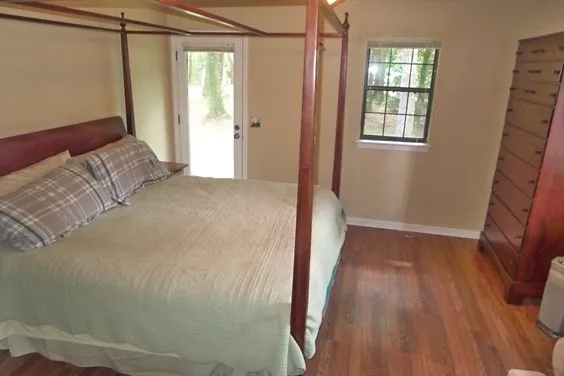 16. Change the Curtain Holder
Pelmet features were staples for curtains in country rooms or farmhouse bedrooms. Decorative drapes come to life with this décor and provide insulation to windows, saving money and energy.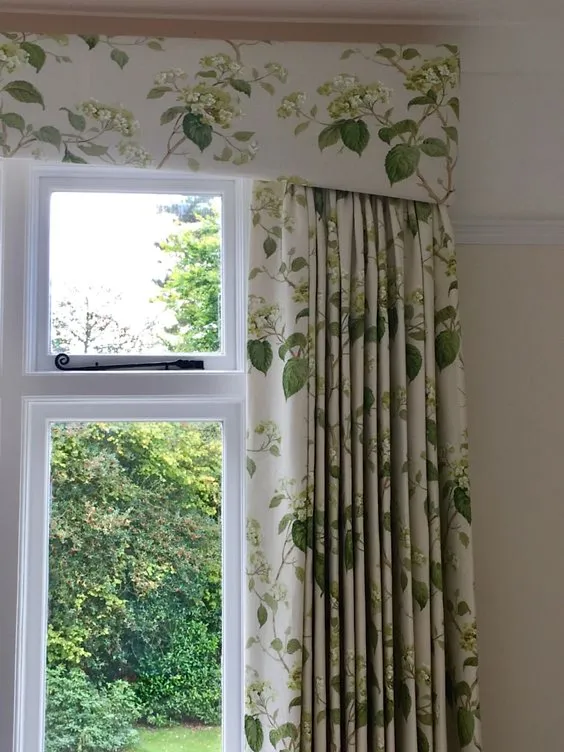 17. Go Green
Green has always been described as a hue that induces sleep. Choose from a color palette of lime green, forest green, or teal to create a harmonious effect.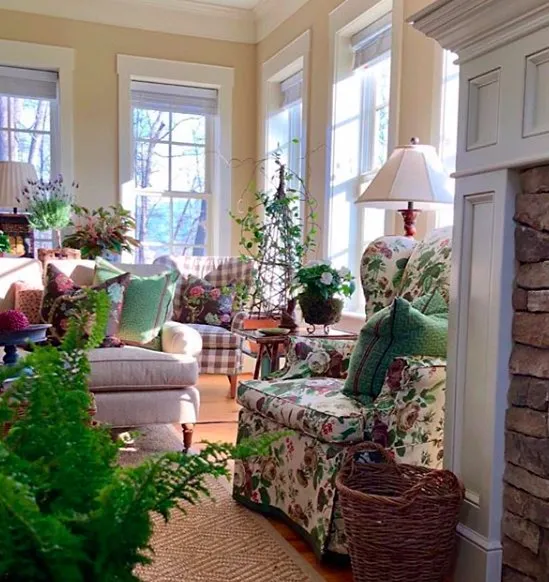 18. Coastal Landscape
A country home need not be in the midst of woods. It could even be a sea-facing cottage. Dream away into the ebb of waves by opting for white bed linen with some soothing blue wallpaper.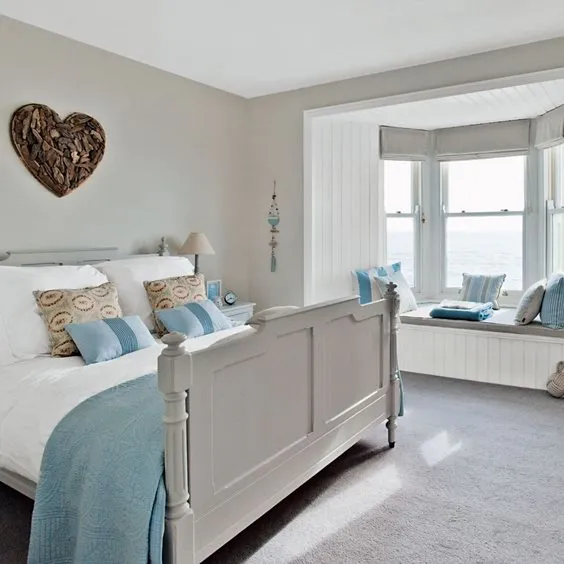 19. Incorporate Exposed Wooden Beams and High Ceilings
Exposed large wooden beams and tall ceilings could recreate the magic of country bedrooms. Complement them with stylish linen bedding and wooden furniture for storage.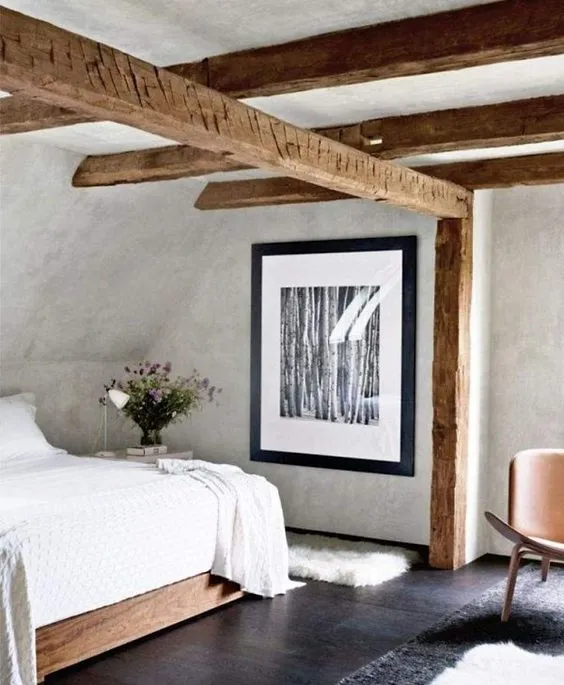 20. Cabin-style Country Bedroom
Include paneled walls to bring some warmth to the bedroom. Choose floral themes and large cushions on the bed. Opt for tray-styled side tables to store antique pieces and bring the magic of camping in a cabin.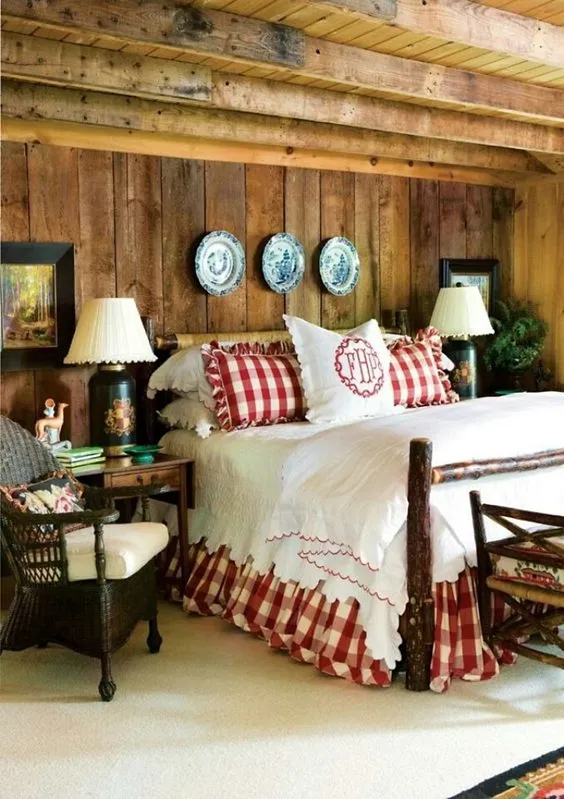 21. Synergise the Indoors and Outdoors
Harmonize the natural beauty of the landscape by opting for natural finishes within the room. Choose from wool, silk, linen for bedding, furnishing, and decorative showpieces to work in harmony.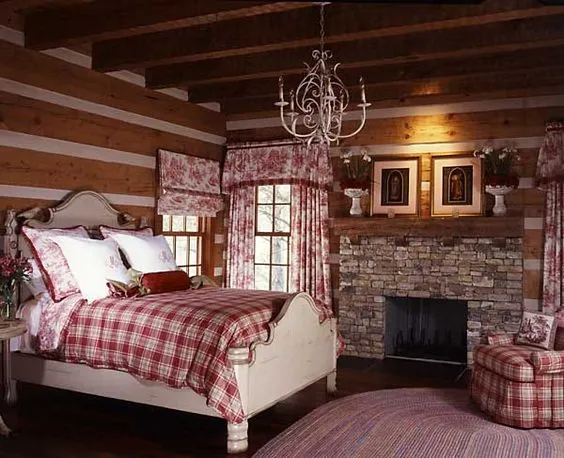 22. Use Modern Accents to Complement
Just because you are styling your bedroom as a country bedroom, you need not shy away from modern accents. Add a wooden bench at the end of your bed to add a varied touch to the bedroom.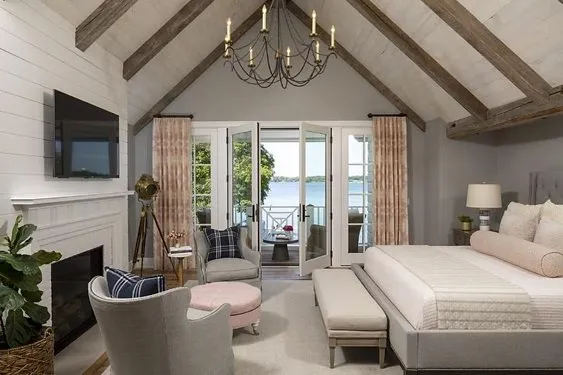 23. Nature Motifs
The close connection with nature is what makes country homes wonderfully special. Try and include nature in every possible way – fresh flowers by your bedside, a dedicated wall by the bedside with floral wallpaper, or just floral bedding.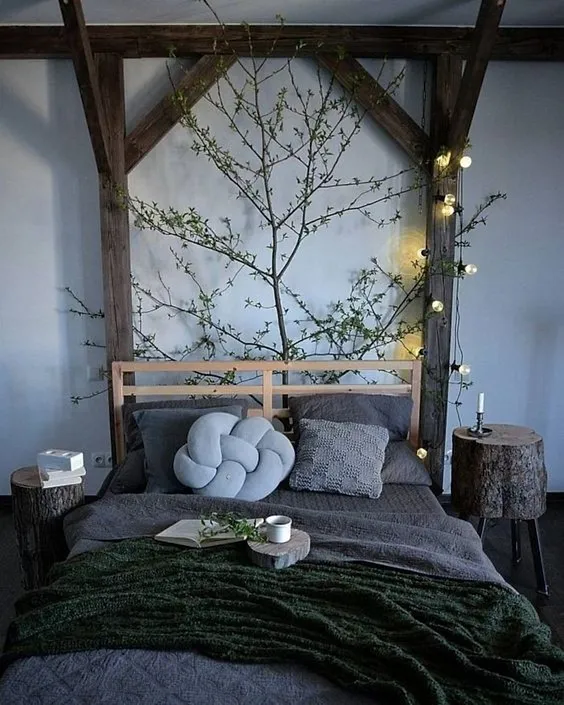 24. Pictures of Farm Animals or Farmlands
For pictures and wall art, choose artwork that portrays scenes of farm life. Be whimsical in your choice to add some fervor to the room.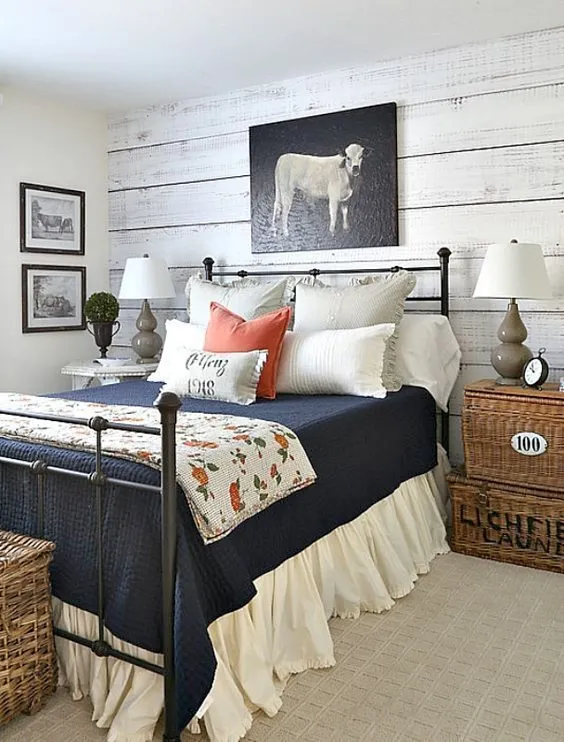 25. Make Use of Space Beside Windows
If you are lucky enough to have a large space in your bedroom and some significant space around the window, transform it into a seating area.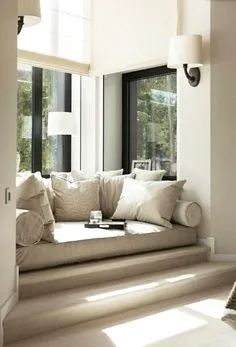 26. Wooden Chests Could Serve as Nightstands
Ditch the traditional nightstand and go for a wooden chest or an antique trunk to perch your night lamp. Add vintage pieces to complete the tableau.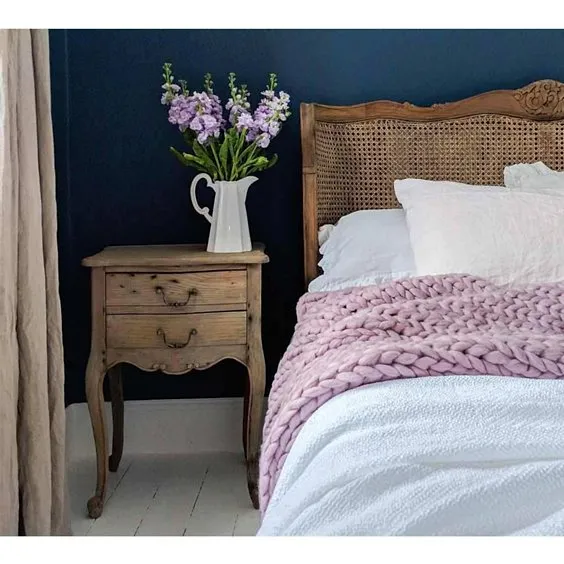 27. Use Large Mirrors
Most country homes had dedicated large-sized mirrors, which reflected the space and ethos of the room. Feel free to add one to your walls with intricate detailing to brighten up the room.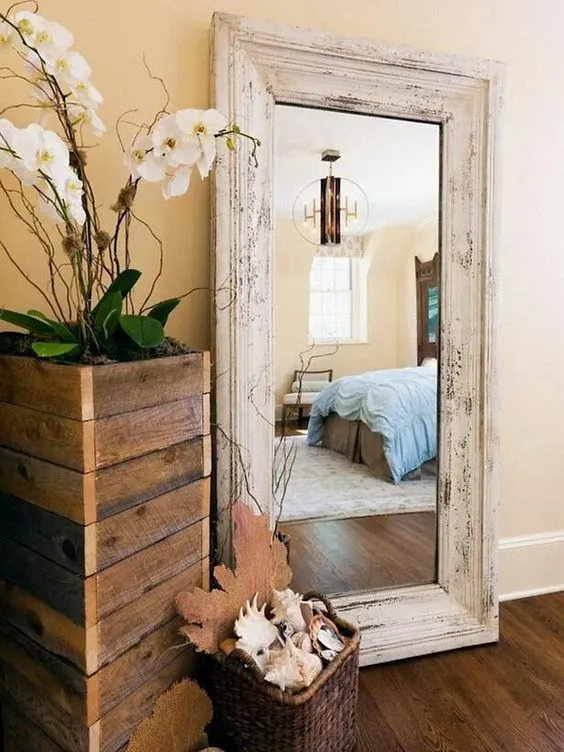 28. Sliding Barn Doors
If you want to save space, add the country panache, then switch to a sliding barn door. Paint it in a light hue and leave it rough around the edges to lend the country appeal.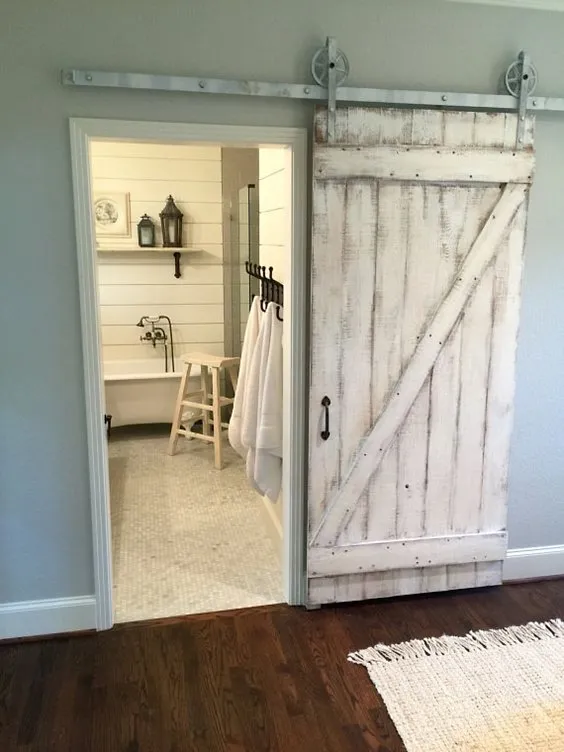 29. Gingham Styling
Red and white gingham is a country classic theme that completely matches the farmhouse look. Opt for gingham drapes or gingham-covered cushions to make the room look lively and chic.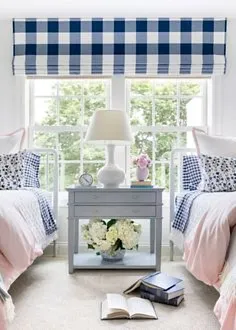 30. Decorate with Household Items
Country-styled bedroom designing often means throwing in household items for home décor. White dinner plates in a symmetrical pattern on the wall, buckets and baskets on the floor for storage, and recycled milk cans for flower vases are just some ways to style the bedroom.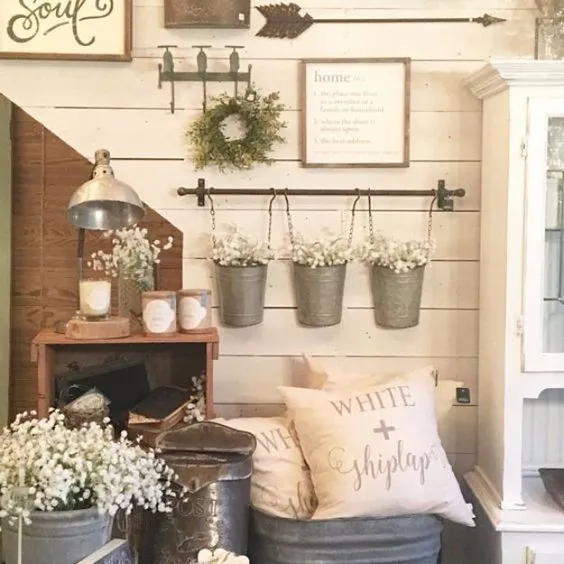 If you have moved to the beautiful wild countryside and wish to match your home décor with the landscape, there are several ways to incorporate it. Rustic trends and farmhouse styling are current decorating trends in interior décor. If you are looking for the perfect country-style bedroom, there are several ways to create one unique to yourself. More than decorating, country décor themes rely a lot on history, relics, and the necessity of reinventing, reusing, and recreating. The ideas above are great to bring the charming rustic style to your bedrooms. Our gorgeous and inspirational ideas will suit any room – large or small and will let you rest in rustic style.
Also Read:
Monsoon Inspired Bedroom Decorating Ideas
Romantic Bedroom Decorating Ideas for Couples
Bedroom Plants That Will Keep You Fresh