Beautiful DIY Chandelier Ideas You Can Make Yourself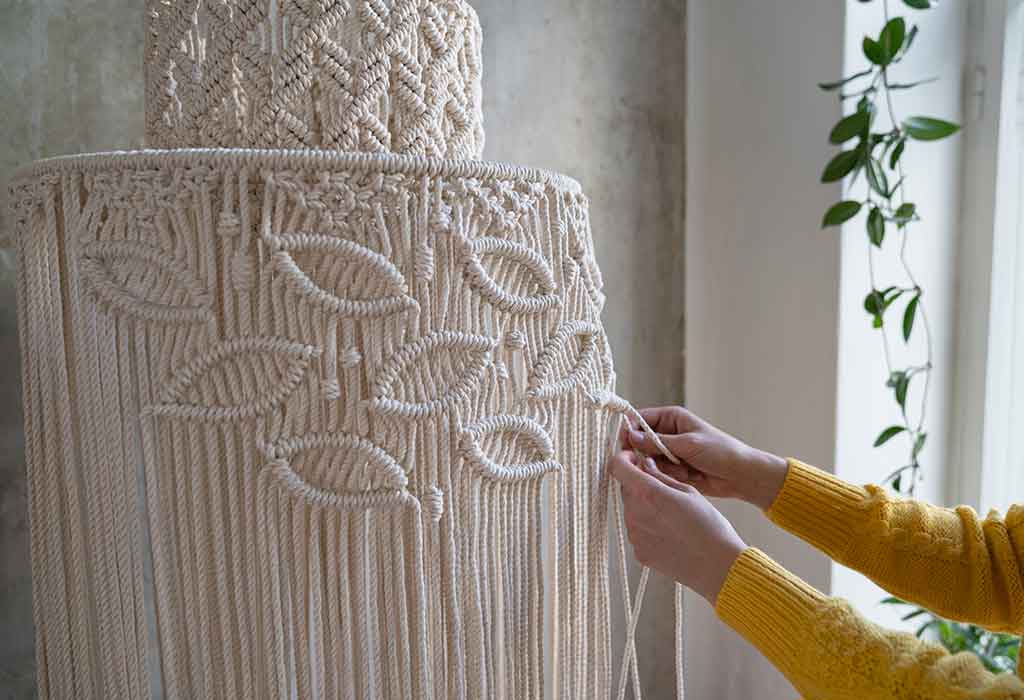 In this Article
The first thing that catches your eyes when you enter a room is a beautiful and elegant ceiling fixture. There is always a chandelier for everyone. Whether it is an extravagant branched chandelier for your dining room or a funky piece for your kid's room, keep reading to find your best fit…
10 Creative Homemade Chandelier Ideas
Been looking through the home décor aisles and online stores but could not find a chandelier that doesn't burn a hole in your pocket? Or, because it is a pandemic, and you are home all day, you are looking to engage in some activity and be artsy? Whatever your reason, if you want totry your hand at DIY chandeliers, you are at the right place. Here are the top 10 ideas that are simple yet have a charm of their own.
1. Mason Jar Chandelier
The mason jar chandelier will not only be easy but also a fun DIY. They are versatile, as they can be designed in multiple ways to suit the rest of the décor or suit your specific taste. From vintage-styled ones to contemporary styles, there are a wide variety of designs to choose from. To add a dash of color, one can also use shaded mason jars like red, turquoise, and green to add a dash of color. The number of mason jars to include would depend on the number of light bulbs you would like. These chandeliers would look good in the kitchen aisle, along the corridor, outdoors, the garden, or the porch.
2. DIY wood bead chandelier
These charming chandeliers complement the boho look a lot of us dig these days. They might look intimidating to make, but once you have fixed a design and size that would suit you, a DIY beaded chandelier is relatively easy to bring together. The basics would require beads (the numbers of which would depend on the size of the light fixture) and a wire gauge. Add further dimensions by playing around with the size of beads. Add different shapes like circles with quilting loops, squares, and rectangles with photo frames, and this DIY wood bead chandelier will be a bang!
3. Shell Chandelier
Remember the enthusiasm with which you collected seashells at the beach? Only to return home unsure of what to do with them. Well, now no more! Whether it is out of love for the sea or a souvenir from a memorable trip, this seashell chandelier is sure to be a head-turner. All you would need is thread/wire, glue, and seashells. You can adorn the empty parts of the chandelier further with crushed conch shells.
4. Paper Capiz Chandelier
If bringing the sea to your home is a desire, but you do not have enough seashells to bring together a chandelier, these wax paper faux capiz light fixtures might be your catch! Economical and classy never looked like better companions before this under $10 ironed wax and parchment paper capiz chandelier. With some hot glue and an old lampshade, you can find yourself a luxe chandelier.
5. Musical Chandelier
If you have old vinyl records or CDs, do not discard them – instead, turn them into a fancy chandelier. The light fixture will not only be modish but could be planned to tell a story of your own. You can segregate the records according to the sequence of dates you acquired them on or combine similar genres. This chandelier could become a topic of conversation at parties you host! It is easy to make with a hot glue gun, sturdy strings, and bulbs of your liking.
6. Wine bottle chandelier
These are another one on the list of upcycling household materials and adding value to them. Decide on the number of bottles you want to add based on the size of the light fixture to suit your space. This fixture can get a little tricky, as you need to be careful while cutting the glass, if required. Drill a wooden plank to make holes that suspend the wine bottles, add socketed Eddison bulb through the glass bottles, and viola! You have a chandelier!
7. Metal Pipe chandelier
Both copper and brass can be used to do this project. It can be a bit technical in comparison to the other ideas. You would require a quick run to the hardware store to assemble this chandelier with a sleek look. Once you select the base design, the number and length of pipes, the washer, nuts, and bolts can be decided. A tip would be to get spray paint to paint the pipes unless you dig the raw, rustic look.
8. Cutlery Chandelier
If you find yourself wondering what a 'cutlery' chandelier is, wonder no further. This light fixture can be made up of a combination of cutlery like spoon, fork, cups, and saucers. Metal brass spoons and forks are beautiful when bound together around a hoop and are easily found at the dollar store. Vintage cups and saucers have also been used. Ideas revolving around using broken cups and saucers are a cult favorite as they promote the idea of upcycling what otherwise would be thrown away.
9. Yarn lampshade
Bright and beautiful, these ceiling fixtures are easy to DIY. Their versatility lies in the fact that you can try different shapes and colors. You can also modify the design with something as simple as tassels and fringes by layering yarns or a more intricate pattern. These fixtures are DIY's that your kids can help you make too. They are fun and more suited for the kid's bedroom.
10. Ombre paint chandelier
These shades can be made using paint sticks or paint swatch papers, just about anything you could create a color gradient with. These paint chandelier options are economical to make and single-handedly uplift the look of your room. You are sorted to begin your DIY project with some glue, some shaded paper, a few light bulbs and .
Simple yet exquisite, aren't they? Call up a friend or gather your family and kids, and begin with the DIY project. Indeed you must have found the one design that fits your needs perfectly. What are you waiting for? Go ahead and place your order at the art and supply store; bring 'light' and joy to your life…
Also Read:
Ideas to Decorate Home With Flowers
Beautiful Homemade Wall Decor Ideas
How to Decorate your Room With Fairy Lights