Back-of-the-door Storage Ideas to Store More Without Taking up Space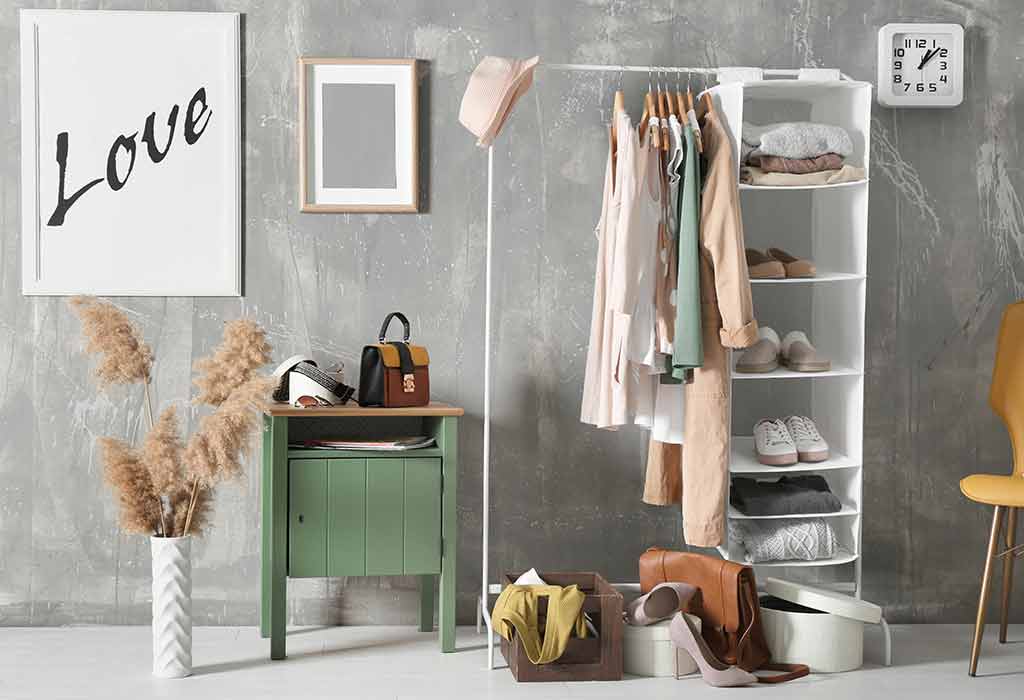 In this Article
In these challenging economic times, finding cost-effective and practical back-of-the-door storage solutions is more critical than ever. We all have clutter in our garages and basements, but what are we supposed to do with it? How can we get rid of unnecessary objects without having to sift through the mess to find anything we might need later? Some innovative new over-door storage ideas are simple to apply and save you a lot of time and effort.
Creative Behind-the-door Storage Ideas
Why not try some innovative behind-the-door storage solutions if you have a storeroom in your house that is becoming messy, crowded, and full of garbage? Unorganized storage areas or attics may rapidly devolve into a dumpster or trash can.
When it comes to organizing, back-of-the-door shelves may be a fantastic option for people with limited space. Wardrobe and room doors are often neglected, mainly when they serve to hide garbage that has been collected inside them!
Using these innovative over-the-door hanging rack ideas, you can transform your garage from a cluttered catastrophe to a clean, tidy, and well-organized area. By implementing creative ideas for behind-the-door storage solutions, you can convert any garage into a playroom for your children or a place to relax with your friends.
There are many creative behind-the-door storage options available, so you should be able to find a method to make your attics a secure, clean, and tidy location to keep your belongings. Fashionable designs and tools are available in various options to suit a variety of lifestyles and storage needs.
1. Back of Door Shoe and Sock Shelves
In most cases, the pouch-style back-of-the-door shelves are large enough to hold a pair of leather shoes. However, in some instances, they can only keep one pair of shoes per compartment. Dirt is prevented from collecting through them, and you can still view the entire shoe. They are helpful in other house rooms and the kitchen for household equipment, gadgets, and other things. You might easily conceal these by just closing the door behind you.
2. Show All Your Accessories
Say goodbye to the jewelry box because we've discovered a much more elegant method to organize and showcase all of your accessories. During travel, you can safely store valuables in the velvet-lined inside, which features mirrors on both sides and is accessible by zippers.
3. Organize your Closet's Back Surface
With this top-to-bottom organizer, you can change the vestibule or entry closet's back surface entirely! The overhanging rack, among other things, serves as a convenient spot to hold everything you need, such as headgear, gloves, purses, sunglasses, and keys.
4. Biodegradable Bin Surrounds
These three containers will provide additional storage space in any room or closet in your home. They use existing dedicated storage space by adding extra storage for daily necessities such as cleaning products, napkins, and even interior decoration items.
5. Extra-Large Pantry
With the aid of this clever over-the-door pantry rack and organizer, you'll be able to extend your pantry out the doorway. You can modify the 5-tiered frame to accommodate various condiments, tastes, and culinary essentials, making it a versatile storage solution.
6. Organizing File Folders
Use this easy file sharing over the door organizer to increase the productivity of your home office, and then use it to liven up the child's craft room with this clean alternative. You may utilize four primary colors with any décor.
7. Keep Kitchen Preps Simple
To optimize storage space, place extra cookie sheets, baking tins, and chopping panels on the back of the cabinet door. When you use the super-duper hooks and polyurethane padding to open and close your doors, they will close smoothly without harming the surrounding surface.
8. Fashionable Drying Hanger
Parachute ropes secure this clever drying hanger from the top of your toilet door to the bottom of the doorway. There are two sizes available. Defined columns can be utilized to create a beautiful, clean, yet practical design.
9. In Honor of the Shoe-only Fashionista!!
Although shoe racks are highly effective and provide good aeration, they primarily display the bottoms of footwear and are thus prone to dust accumulation over time. Increase the number of shoes kept in a sector by allowing them to move on and off frames.
10. An All-Purpose Organizer with Multiple Uses
With the aid of this intelligent accessory container that goes over the door, you can keep your attachments in perfect shape. You can also store your bandanas, sashes, caps, and ties and adjust them to an appropriate length and style using these extended pegs.
Use the above-mentioned behind-the-door storage solutions to keep your requirements in your living space. You can also declutter your garage, storeroom, or attic by storing valuable items that you do not often use. If you keep your things in this area regularly, you will find them easier to locate when you need them.
Also Read:
How to Make a Storage Bench
Storage Tips for Small Apartments
Under the Staircase Storage Design Ideas