Awesome Paint Color Ideas for Your Home Ceiling Because It Is The Fifth Wall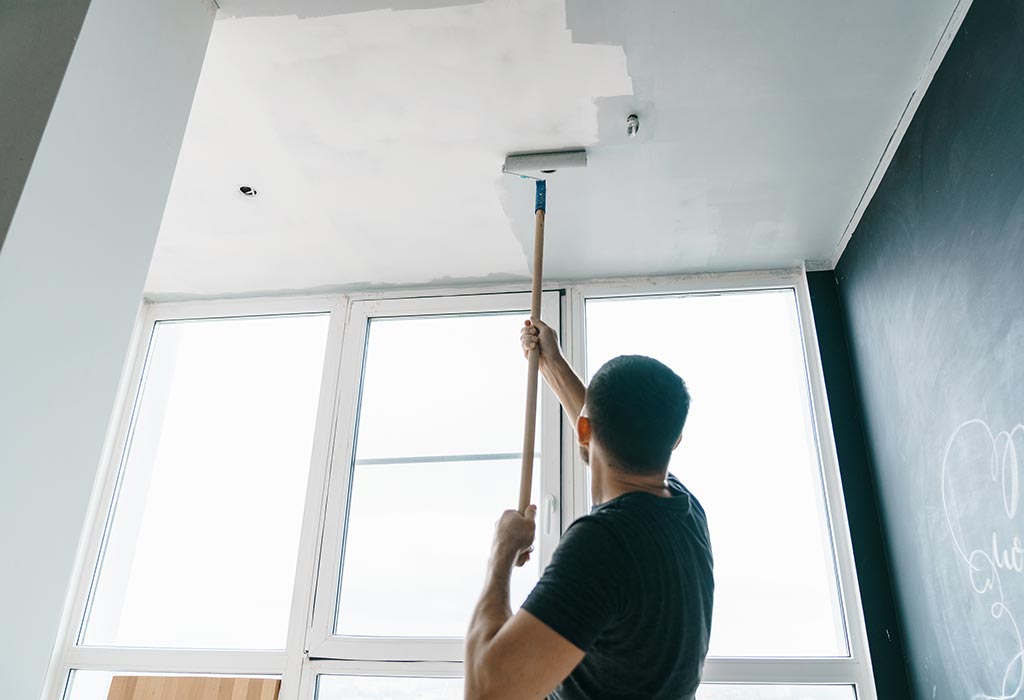 The ceiling is often called the "fifth wall," as it completes the look and feel of an enclosed space along with the other four edges or surfaces. The ceiling is as important as any other wall. While white works most of the time, there is a good reason to choose other colors. For many, the color of the ceiling is an afterthought. However, interior designers are now thinking out of the box and adopting new shades for the ceiling.
Designers are now opting for soothing shades for the ceiling to showcase its beauty and complement the rest of the walls. If you like to stick to the traditional white, there is nothing wrong with it. But if you wish to experiment, then there are neutral, serene, soft, or off-beat statement-making shades that could elevate the appeal of your room. One look at your ceiling during a stressful moment could well be your road to peace and tranquillity!
Giving your ceiling a chance to don a different color needs a design process. It is no doubt that painting your ceiling can elevate your space. Any color on your ceiling could shift the vibe of the space from drab to bright and enigmatic. So if you opt to paint your ceiling, it is the best way to draw the vision and bring a sense of drama and design to the room. We have shortlisted a few ideas to help you revamp your ceiling and spill some effervescence to the fifth wall.
Best Colors To Consider For Your Ceiling Paint
1. Stone Gray
A grey painted ceiling could be your answer to a shiplap ceiling in your house if you have one. It will go particularly well if you have chosen to have white walls to create a contrasting effect. A beautiful warm gray is a perfect choice for a light and airy feel. Grey neither makes the ceiling look too bright and bold but still creates a refreshing effect.
2. Traditional White
White for the ceiling is more of a fatal attraction and not just because it adheres to tradition. Homeowners love white for a range of reasons. The ceiling reflects the light trickling into the room, and white can change the amount of light that falls into the room. Painting the ceiling white also creates an illusionary effect and adds to the depth of the room. Most importantly, it is easy to use and touch up as most cans merge with the existing paint, and there is less possibility of errors being revealed.
3. Overall Color
If you have a favorite color, you can consider it for all the walls, including the ceiling, walls, and cabinets, to engulf yourself in a color warp. Soft shades like apple green are soothing and can be lived with on a daily basis. It can also be broken up with fixtures of furniture and fabrics.
4. Lighter shades
A light shade above eye level can go to great lengths in helping to visualize a raised ceiling. It is a great idea to paint the ceiling a lighter shade or a lighter variant of the wall color. It offers a subtle contrast and adds depth to space while seamlessly blending the colors. Contrasting colors will also enhance the size of the room while offering it an open and airy look.
5. Opt for bold dark shades
Going for darker and bolder shades could help soften the space. Dark blue or navy blue offers a regal appearance, absorbs the light, and eliminates the dullness from the edges. It is a great option for the bedroom as it creates a relaxing feel and lends it a cave look and feel.
6. Mellow Yellow
Yellow has the same effect as white on a ceiling. One can hardly ignore it as it pops out, announces itself, and reflects all the light. Pair with light-colored walls to max the effect.
7. Classic Combination
Blue and white is the classic combination that has been a popular choice among designers. If you have a porch, then go for a blue porch ceiling with white walls. Pair with indigo and white upholstery on the furniture to create a relaxing space in your home.
8. Black is the New White
Most people shy away from black as a color on their walls. They fear it will make the room eerily dark. But there is a way to incorporate black and give the room a sophisticated look. If you have an exposed basement ceiling painted black, it will make your space a nice contemporary room. If you are the creative sort who loves to sketch, paint, sculpt or write, then a room with a black ceiling could be the answer to your creative roadblock.
9. Red Ceiling
If white is a safe color and black is bold, try choosing the other end of the spectrum. Opt for a dramatic, striking, and over-the-top fiery red for your ceiling. It can do wonders to an otherwise dull room, especially if the room has a lot of natural light. Red ceilings go well with grey walls, beige walls, and even white walls. Red need not be a bold red. It could also be an off-beat shade of red like burgundy, cherry red, or crimson.
10. Patterns
A stenciled pattern or a striped pattern can really adorn the ceiling, especially in a bedroom. If you have a chandelier in the living room, then a striped or fancy pattern could offer a lacy effect to the ceiling. The color scheme chosen could be lighter than the walls to balance the other colors.
Tips and Tricks for Choosing Paint Color for Your Ceiling
When picking a color, you can refer to a color wheel to see the entire range of neutral shades complemented or influenced by primary shades. Neutral colors need not be boring.
Adapt the paint color to the furniture and fixtures in the room. Do not try to match the fixtures and furniture to the paint color.
Look at your favorite artwork and pick cues for color from them.
If you have picked a color, then look at different shades of the color. For example: if you pick blue, look at different shades of blue- light, dark, navy blue.
Consider how the color will play with the other colors on the walls and ceiling of adjacent rooms.
With the introduction of brilliant technology, some wonderful paint applications will help you picture your room with a certain color. You can actually see the impact the color you choose will have on your room in the application and a realistic view.
Always buy a small sample of the paint and paint a small patch. Let it dry, and watch your reaction to it for a few days. Observe the impact of the color during the morning, afternoon, and night to understand the impact of the same.
Often overlooked, ceilings can offer a blank canvas when redecorating your home. The "fifth wall" lets you experiment with colors and patterns to transform the complete look of the room. If you are looking for a project to spice up your home, you should consider painting your ceiling as the next one. Just bear in mind the size of the room, lighting, and the type and shade of paint you choose could have a big impact on the end product. This is where you need a designer's input and few important tips. The above-mentioned ideas and tips could prove to be your starting point, and you could then build on your instinct to develop your ceiling into the most talked about feature in your home.
Also Read:
Best Front Door Color Ideas
Trendy Interior Wall Paint Ideas
How to Choose Paint Colors for Your Home