Awesome Boho Living Room Ideas for Home Decor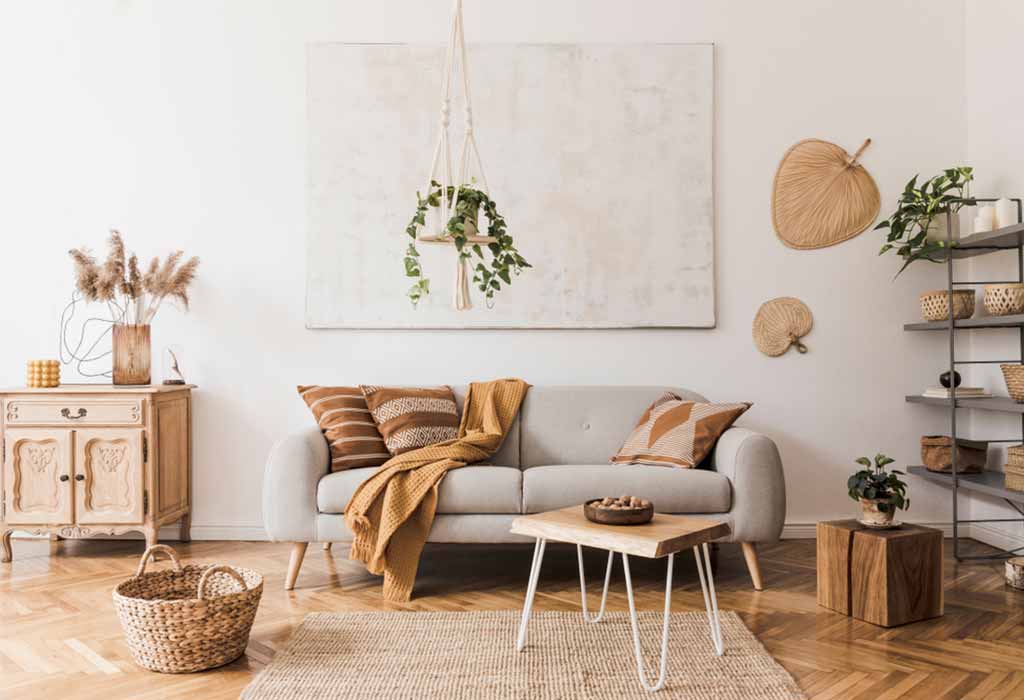 In this Article
Your Bohemian living room will showcase your exclusive creativity using different textures, patterns, unique color schemes, and eclectic accessories. We compiled some awesome Boho-style living room décor ideas for you. Take inspiration and design your dream Boho-inspired living room that suits your personality.
Top 15 Boho Living Room Decor Ideas
Bohemian living room décor ideas involve creativity with your personal touch. Here are some tips;
1. Add a statement rug.
Whether it is a minimalist bohemian living room or a Boho chic living room, no Boho-inspired living room design is complete without a fabulous rug. You can go for a statement rug in earthy tones or vibrant colors to inject coziness and life into your living room.
2. Add timber and greens.
A color palette consisting of timber with greens is the perfect match for a Boho-inspired living room. This easy color scheme requires furnishings in timber color enhanced with similar earthy tones.
3. Add the natural touch of jute.
Use heaps of jute to add a natural touch to your living room. A stylish jute rug in a circular or rectangular shape along with jute pouffes will do the work. Decorate in a color palette of light timber tones to compliment the natural look.
4. Simplistic white
For people who prefer fewer colors and a simple living room, a white décor is perfect. Plenty of whites used in the living room will keep the décor minimalistic with a bright look. To add a warm touch to the décor, add a fireplace with red brick framing or some cushions in vibrant colors.
5. Add a full-length mirror.
Full-length mirrors are a design concept reserved for bedrooms. However, you can create depth in the living room by using them. A full-length mirror creates the illusion of space in a small living room.
6. Go green.
For a natural feel without using more plants, go for a green color palette. Green is the primary color of the Boho décor ideas. Using a cozy green couch with a timber-colored table and other pieces of décor gives the perfect Boho vibes.
7. Brown leather with timber
A brown leather-like couch is a perfect addition to a Boho living room. Decorate the room with other Boho elements such as a patterned rug, timber-and-glass table, jute pouffes, hanging light, and plants.
8. Add artistic plates.
Instead of usual art prints, add a unique touch with colorful plates. A few special pieces added to a wall to create a focal point will change the overall look of your living room.
9. Choose an earthy palette.
The key feature of a Bohemian-style living room is the earthy color tones. Use the standard earthy colors in all items, from rug to wall color and furnishings to furniture. Add a splash of color with art prints and cushions.
10. Add a warm touch.
To design a Boho farmhouse living room, use a warm color palette. Keep your rug, art prints, cushions, and poufs in warm tones. With large Bohemian living room furniture in timber tones, everything will tie up seamlessly.
11. Add patterns and textures.
Make a bold statement by using a variety of patterns and textures. Incorporate patterns from earthy tones to bright blues to black and white with plenty of greens. Different textures such as velvet with linen or jute with fur with a melange of colors and patterns create a warm living room.
12. Use loud colors.
Use loud colors furniture such as a bold blue couch or yellow coffee table to make that maximalist Boho statement. Add in yellow-and-green pouffes with a multi-colored rug, green plants, and vibrant art pieces to complete the look.
13. Add nature-inspired prints.
Decorate your walls or shelves with nature-inspired prints. Nature-inspired art will add a unique creative dimension to your living room, and it blends perfectly with the greenery.
14. Create levels with plants.
Create levels with the clever use of plants. Use a small stool to create the illusion of height to a large plant in one corner of the living room. This added detail creates interest and dimensions to the living room.
15. Go au natural.
Boho living rooms are all about comfort. Create a cozy and relaxing living room using a natural color palette with a mix of dried flowers and greens around the room.
Boho designs are all about creativity with personal touches. Use any or a few of these Boho living room décor ideas to design your dream living room.
Also Read:
Best Aesthetic Room Ideas That Are Trending
Theme-based Makeover Ideas for Your Living Room
Budget-Friendly Home Decorating Ideas
?>