Attractive And Low-Maintenance Front Yard Landscape Ideas for Your Home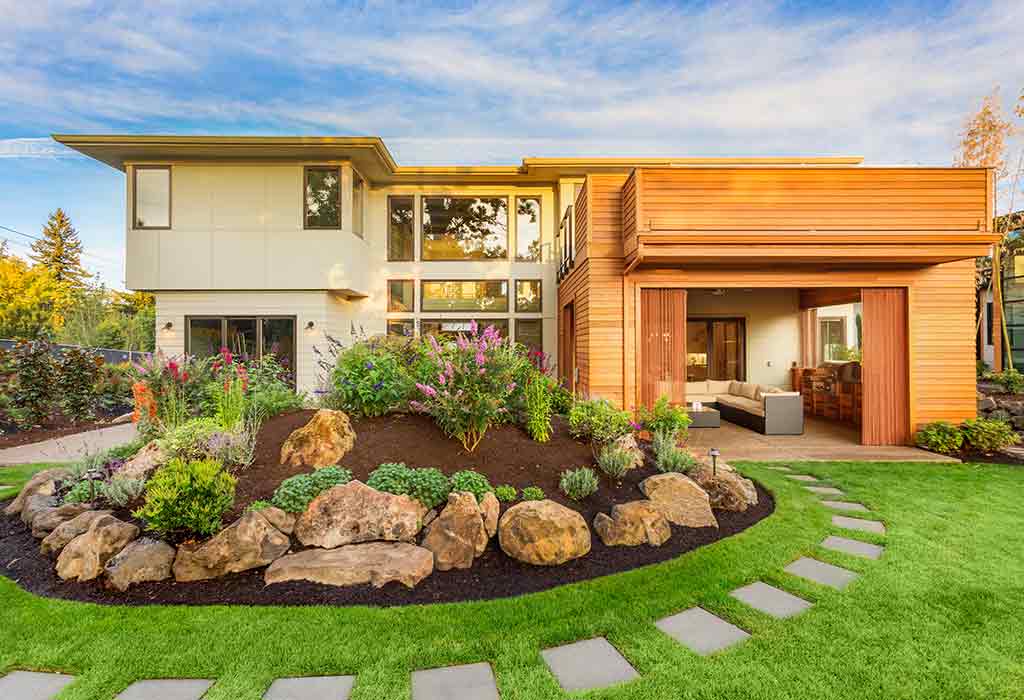 In this Article
Thanks to social media and increasing home prices, inspirational photos of front yard and back yards of homes have emphasized the importance of owning well maintained and manicured lawns. A landscaped and well-designed front yard highlights the beauty and architecture of the house. It also increases the value of the home. To maintain an attractive yard may seem a mammoth undertaking. However, there are some creative, low-cost, and low-maintenance ideas for landscaping the front yard that will completely change the face of the exterior of your house. Your home could now be the cynosure of all eyes pacing across the street, and maybe the most liked on Pinterest or Instagram.
Simple Front Yard Landscape Ideas
Front garden ideas are mostly universal. Most front yard landscape designs include a mixture of seasonal flowers, evergreens, and other landscaping features. Combining these can give one all-year-round greenery and the freedom to add or delete flowering plants as the seasons change.
It is vital to keep your level of engagement and the environment in mind when planning the landscaping of your front yard. With a little know-how and time, you could be just a few steps away from creating the front yard that will be your neighbor's envy. Below, we have a list of cherry-picked front yard landscape designs that could serve as an inspiration to renovate your front yard.
1. Floral Borders and Window Boxes
One of the best landscaping ideas for the front of the house; colorful borders with flowering plants will liven your front yard. A mixture of annual and perennial flowers adds a wonderful pop of color. Lined by evergreen bushes, they offer greenery that makes the design appealing. Window boxes with flowering plants or just plants draw the visitor's eyes to the home itself.
2. Rose Bushes
Roses are evergreen flowers, and a lined front yard with rose bushes could be a sight for sore eyes. A sight of instant beauty, rose bushes are classic yard improvers. Easy to care, they are also wonderful landscape ideas for small front yards.
3. Rustic Elements with Small Flower Beds
Add accent details like an old vase or rustic garden ornaments amidst your flower beds. Add a few large rocks to give the front lawn a beautiful finish.
4. Water Feature
One may not have enough space for a detailed water feature, but you could add a tiny fountain almost anywhere with a little creativity. Pick up an underutilized space for a fountain. Incorporate a recycling water fountain between flower beds as an alternative to a pond or a large fountain.
5. Stoned Pathway
An easy and smaller version of landscaping ideas for the front yard with rocks; a stoned pathway will enclose your flower beds and give it an asymmetrical look.
6. Retro Lights
Lighting alone can enhance the beauty of your front yard by several leaps. If you have a wonderfully laid flower bed lined by a stoned pathway, just fit in some retro light fixtures (available in most garden centers or home furnishing stores).
7. Elevated Flower Bed Made of Stone with Flowering Plants
If you are lucky to have a tree in your front yard, raise an elevated flower bed made of stone. Surround the tree with flowering plants that will become the focal point of your home.
8. Planted Wheelbarrow in Cottage Style
A shabby chic wooden wheelbarrow planted with petunias, ivy's, or any hanging basket flowers that spillover from the sides will lend your front yard a cottage-style look.
9. Display Planters
Garden centers are filled with earth-toned or ceramic platers that lend a naturalistic effect and go well with any landscaping. You could plant large bushes, towering flowering plants, or cacti in front.
10. Tiered Front Garden
If you have space in your front yard, then raise a tiered stone enclave to plant flowers and shrubs in them. It creates a leading look and also creates an alluring look to your front yard.
11. Simple Evergreen Plants
One can never go wrong with this idea. Low-maintenance and easy to install, they are the traditional choice for an important reason- they look good all year round. They do not require much attention and help you turn your tiny front yard into a restful place with minimal effort. Some evergreen shrubs you can choose are Green Mound Boxwood, Creeping Mahonia, and China girl Holly.
12. Flowered Vintage Cycle
Just pick up an old cycle or a vintage one if you can source it ( a flea market or an antique shop could be where you could find one) and convert it into a flowering arena. Just place some containers with flowering plants in the front and rear. You could add signposts to spruce up the look.
13. Water Feature Amidst a Flower Garden
A water feature in the middle that runs like a stream will make your outdoor space a posh outfit. It also serves another purpose as it waters your plants with minimal effort. The rocks will lend a natural look.
14. All Seasons Flowerbed with Evergreen and Annuals
Mix different varieties of flowers that bloom in different seasons. This will ensure that there is a constant display of a riot of color throughout the year. Intersperse evergreen bushes with summer and spring flowers to create a lush backdrop. The hue of colors will complement the home, and the addition of window boxes will enhance the appeal.
15. Garland of Greenery
If you have a veranda in front of your house, you could plant some climbers that will creep into the entrance and add to the foliage planted just outside the house. These go well with the planters and stoned flower bed ideas to give it a country-style look.
16. Mediterranean Water Fountain
Recreate the baroque style of architecture in your front yard with a Mediterranean-styled water fountain. Plant few annual flowering plants around the fountain to make it look you are living in the Roman or Victorian era.
17. Easy to Update Potted Border
If you are an amateur or novice gardener, it is best to keep your front yard simple. Minimalist in investment and maintenance, you can invest in potted plants and swap them for new plants as the season change. You could throw in some gravel amidst the pots to give it a rugged look.
18. Climbing Flowers and Plants
If you do not have a lot of space to decorate your front yard, then create one around the outside walls of your house. Just invest in some flowering plants that are climbers or vines like Star Jasmine, Bougainvillea, or Wisteria.
19. Hydrangeas Bushes
Hydrangeas are flowers that can spruce up any front yard. With immense flower heads, hydrangeas parade an old-fashioned charm, especially in summer! Not high on maintenance; they need some pruning from time to time.
20. Mini Front Garden with Drought Tolerant Plants
Contrary to popular belief, cacti and succulents could prove to be a show stopper in your front yard. Large cacti and colorful succulents planted within an enclave of decorative stone could be a budget front yard design.
A well-designed front yard adds a touch of resplendence and value to your house. With some creative front yard landscaping ideas, you can update the look of your house entrance. The first point of connection to your house, the front yard, needs to resonate with your personal image. Being the most visible part of the property, it is natural that you would want it to look beautiful and to invite. Be it a small flower bed, planter, rock garden, or an artistic water fountain, there are several ways to landscape your front yard. Choose from any of the ideas above and get your creative juices flowing.
Also Read:
Lucky Plants That Will Bring Good Luck
How to Brighten Up Your Home With Flowering Plants
Top Decorative Indoor Plants to Have in Your Home