Apart But Together: Sussanne Khan Talks About Co-Parenting With Hrithik Roshan During the Pandemic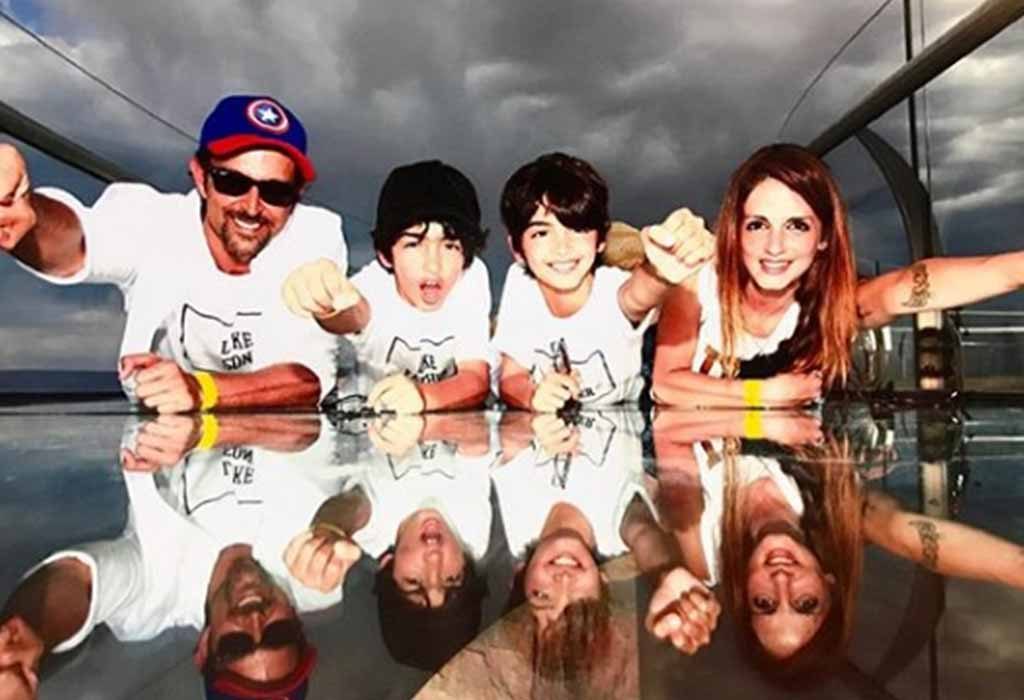 Parenting young children with your spouse during this coronavirus pandemic can be a bit of a stressful task in itself, as your kids have no other outlet to their undying energy and imagination except the four walls of your home (and maybe the society!). You have to constantly come up with ways to keep them entertained and occupied, as well as ensuring that they are able to fulfil their academic requirements.
Imagine doing this without a partner to help out! In case you're wondering how separated or divorced parents are caring for their kids during the lockdown, Sussanne Khan, daughter of Sanjay Khan, has weighed in with her experience of co-parenting her two sons with ex-husband Hrithik Roshan.
Sussanne and Hrithik separated in November 2014, ending a 13-year long marriage and a childhood companionship of 17 years. However, both of them have maintained that they are still close friends, are respectful towards each other, and are very committed to the parenting of their sons, putting their needs and interests above all else.
This sweet post by Hrithik in November 2018 talks about his relationship with Sussanne, and what they hope to teach their sons.
https://www.instagram.com/p/BqmfnSAHmAe/?utm_source=ig_embed
In a recent interview with Vogue India, Sussanne opened up about the co-parenting strategies that the duo follow. Firstly, they decided to live together under the same roof. Sussanne moved into Hrithik's home for the duration of the lockdown, so that she could be present for their two sons, Hrehaan, aged 14, and Hridhaan, aged 12.
"When COVID-19 was declared a pandemic and the news was out that a lockdown would be imperative, Hrithik and I decided that staying together in the same home would be the intelligent and soulful decision for our sons, and for us," she said.
https://www.instagram.com/p/B-JlJZvH0bC/?utm_source=ig_embed
She then talked about sitting together as a family and making a list of activities (that they aptly named 'quarantivities' – how cute!) that they can do each day. The idea behind doing this, she said, was to find ways to keep their minds nurtured, their bodies strong, and their hearts warm.
For example, one of these ideas, thought up by Hrithik, is to have 1 hour of quiet reading time for at least 5 days of the week. Sussanne loves this hour they spend as a family, with each person reading their own book, sitting quietly around the room, nurturing their brains.
Another such idea is their 6 p.m. workout sessions, led by someone who, according to Sussanne, is 'the best trainer on the planet' – Hrithik himself!
"Some days we focus on core training, other days on functional training or cardio. We earnestly follow the sets he gives us and the burst of endorphins post these sessions has helped us greatly to not just stay healthy, but happy as well," she said.
https://www.instagram.com/p/B-NUUwxnOEg/?utm_source=ig_embed
Another aspect of life that Sussanne Khan has found joy in is getting to work with her hands again. Having had very little time to do so before the lockdown, she now enjoys doing household chores – something that she finds very therapeutic, she says – as well as gardening, baking, chopping vegetables, kneading dough, and cooking and experimenting with new recipes.
"Everyday activities force us to acknowledge and appreciate what we have—from laying the dining table for lunch and dinner, to washing your own clothes, gardening on your terrace or sketching, drawing and painting," she observed. "I hope to include some of this in my schedule even when there is no lockdown." We hope so, too!
Sussanne also gushed about her two sons and their achievements, of which she is evidently very proud. Both boys are very inclined towards music, and father Hrithik Roshan has given them wonderful opportunities to pursue their interest. Both Hrehaan (14) and Hridhaan (12) are at Level Four in Guitar from Trinity College London. Hrehaan even has a band, called Bandaid, with his school friends, and they have regular online jam sessions with their guitar teacher. The brothers are also learning to play the piano by themselves through online apps.
Hridhaan, Sussanne said, is an artist, with "this unique talent of drawing incredible doodles and anime. He is so detailed and focused that it never fails to amaze us. Watching him draw soothes my mind."
https://www.instagram.com/p/B0Be9P3JaUL/?utm_source=ig_embed
It is quite evident that Sussanne and Hrithik are very proud of their children, and are doing their best to provide for them, protect them, and be attentive, loving parents. Talking about what lies ahead, for them as well as the general world around them, Sussanne thinks that life will be different and the world will have changed. She believes that people and families will want to be closer. But, we must continue to do our duty and contribute to society.
"The best teacher is experience; our boys are becoming more aware of this too. In the meantime, we will continue to stay home and try to be better while doing our best work," she said.
https://www.instagram.com/p/B_Y_Z-ejHA9/?utm_source=ig_embed
So, to all separated parents out there, we believe that you can make it work, if you put your children's needs above all else! Parenting is the hardest job in the world, but your loving little one can make it feel like the easiest. Don't worry – you've got this!