Amazing Facts & Information About Ruth Bader Ginsburg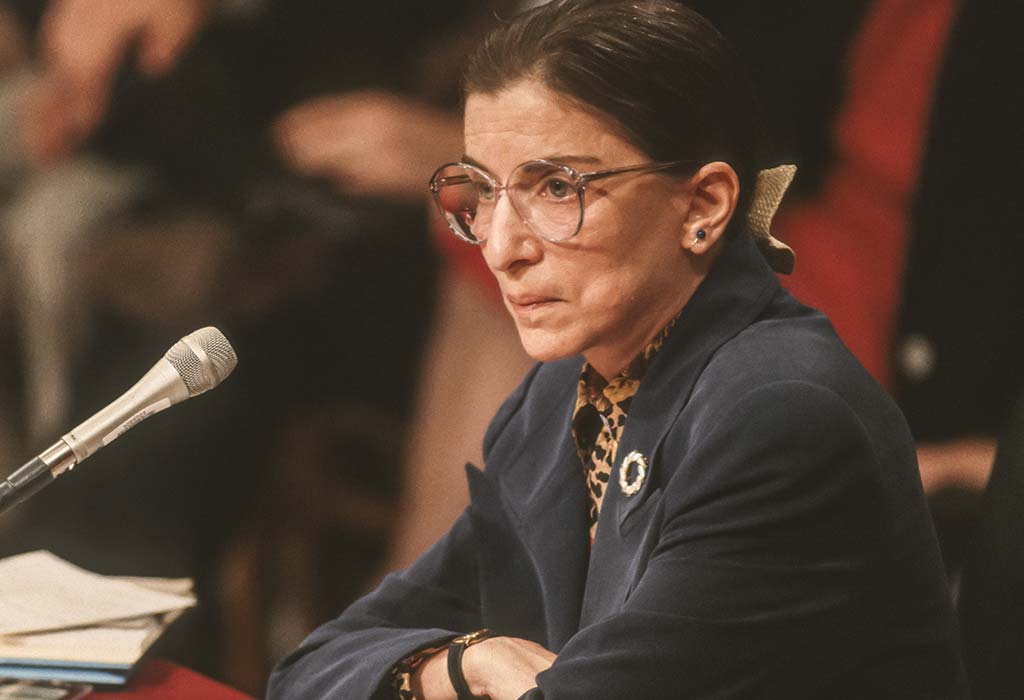 Ruth Bader Ginsburg who passed away at the age of 87 in the year 2020 has left a legacy behind. She was an American lawyer who served as an associate justice of the Supreme Court for 27 years. She fought for gender equality under the law and was an inspiration (and still is) for young girls and women.
Ruth Bader Ginsburg led an exceptional life, whether it was battling for the interests of the underserved or serving as a role model for a generation of women. She once said, "Real change, lasting change, happens one step at a time." And we couldn't agree more with her. She is an inspiration, but there's so much about her that you might not be aware of. Read this article to learn more about Ruth Bader Ginsburg, her struggles, accomplishments, and more, and share this information with your kids. They should have strong role models in life!
Who Was Ruth Bader Ginsburg?
Ruth Bader Ginsburg was popularly known as RBG. Ruth Bader Ginsburg was born in 1933 in Brooklyn, Newyork, who went on to become the second female justice of the US Supreme Court in 1993. She studied at Rutgers University Law School and Columbia University, where she was the university's first female tenured professor. During the 1970s, she was the head of the American Civil Liberties Union's Women's Rights Project, and in 1980, she was called to the United States Court of Appeals for the District of Columbia. After Sandra Day O'Connor, she became the second female justice in 1993, the first Jewish justice since 1969, and the first female Jewish justice ever. From 1993 till her death in 2020, she continued to advocate for gender equality.
Why Is Ruth Bader Ginsburg a Role Model?
Ruth Bader Ginsburg is a role model for both men and women due to her numerous achievements in life, irrespective of facing adverse conditions in her life. Born as Joan Ruth Bader, she married Martin Ginsburg, a classmate, after graduating from Cornell in 1954 (at the top of her class!). She was one of nine women in a cohort of 500 at Harvard Law School two years later. When her husband was diagnosed with testicular cancer, she attended his lectures and wrote notes to continue his research, all while juggling her own coursework and raising their daughter Jane. Martin recovered and went to work for a law firm in New York City, and Ruth followed him to Columbia Law School, where she graduated first in her class. She was the first woman to be a member of both the Harvard and Columbia Law Review. She was the first Jewish woman and the second woman to appear in the US Supreme Court. Ginsburg is the second of only four female justices in US history since being nominated in 1993. Ginsburg received the nickname 'The Great Dissenter' after her tenure on the Supreme Court for composing explosive, impassioned dissents while her fellow judges made rulings she thought were regressive. In 2015, Ginsburg said, "I like to believe much of my dissents will become law someday."
She fought for a lot more than just women's rights. Ginsburg was also an advocate for the LGBT community, undocumented immigrants, and disabled persons. She also advocated for the freedom to vote to be expanded. Therefore, it's no wonder she has been and will continue to be a role model for many years to come.
What Did RBG Do for Women's Rights?
Throughout her life and career, RBG fought for Women's Rights. In fact, most people remember her as a feminist figure. At the start of her career, she campaigned for pay parity for herself and her colleagues in academia. Despite her excellent qualifications, she had difficulty seeking work. Ginsburg said, "I struck out on three grounds: I was Jewish, a woman, and a mother." Through her hard work, eventually, she became the second woman to teach law at Rutgers University after serving on the Columbia Project on International Civil Procedure. Ginsburg discovered her calling here, co-founding the still-running Women's Rights Law Reporter, the first law journal dedicated to women's rights. Ginsburg and other female staff filed an Equal Pay Act lawsuit after discovering that their male co-workers were paid considerably more than they were. They were victorious.
Ginsburg was the first female tenured professor at Columbia Law School in 1972. She campaigned with her female colleagues to receive the same retirement packages as their male counterparts. She was one of the founding members of the ACLU's Women's Rights Project. Then she started litigating sex abuse lawsuits with the help of the American Civil Liberties Union. Her policy was to take on winnable lawsuits to gradually overturn institutionalized sexism against women by establishing new legal precedents. Ginsburg tried six cases in front of the Supreme Court before taking the bench and won five of them.
Who Nominated Ruth Bader Ginsburg to the Supreme Court?
In 1980, Ginsburg accepted President Jimmy Carter's nomination to the United States Court of Appeals for the District of Columbia. She was on the bench for thirteen years before being elected to the Supreme Court of the United States on the nomination of Bill Clinton in 1993.
Other Amazing Facts About Ruth Bader Ginsburg
Here are some facts about Ruth Bader Ginsburg that you can tell your kids.
She was born on March 15th, 1933, in Brooklyn, New York. Her parents named her Joan Ruth Bader.
Her parents were Nathan and Cecelia Bader. Ruth Bader grew up in a low-income, working-class neighbourhood in Brooklyn. Her family was Jewish and her mother was the one who taught her the importance of good education and the value of independence.
Ginsburg started using the name "Ruth" outside of her family in kindergarten to help her teachers differentiate her from other students called Joan.
While attending Cornell University, she met Martin David Ginsburg and got married to him on June 23rd, 1954. They were married for almost 56 years till his death in 2010.
RBG's education is as vast as her achievements. She studied did her B.A. from Cornell University in 1954, attended Harvard Law school from 1956 to 1958, and did her L.L.B. from Columbia Law School in 1959.
She had two children, Jane Carol and James Steven.
In August 2010, Ruth Bader Ginsburg received the ABA Medal, the highest honour of the American Bar Association.
On October 23, 2019, Ginsburg received the Berggruen Prize for Philosophy and Culture for her services to social justice and equity.
In August 2020, she got selected for that year's National Constitution Centre's Liberty Medal.
RBG died on September 18, 2020, due to complications resulting from metastatic pancreatic cancer.
Ruth Bader Ginsburg lived a life that inspires one all. Despite facing many adversities both in her personal and professional life, she continued to work harder every single day and is an inspiration to many. We hope you liked the information and facts about Ruth Bader Ginsburg covered in this article. Do share them with your kids to inspire and motivate them to work and study hard, and do the right thing in life.
Also Read:
Tips to Achieve a Perfect Work-Life Balance
Habits of Successful People That Will Help You in Your Life