Amazing Christmas Horror Movies That Aren't For The Faint Hearted!
In this Article
On Christmas, a traditional movie night is you and your dear ones sitting with a mug of hot cocoa, watching a heartwarming Christmas classic. But for the dedicated horror fans, here are some scary Christmas movies.
Best Scary Christmas Movies
Here is a list of some fantastic horror movies to watch this Christmas:
1. Gremlins
Release Year – 1984
Directed By – Joe Dante
Synopsis
A gadget salesman comes across a store in Chinatown while looking for a special Christmas present for his son. The shopkeeper reluctantly sells him the "mogwai." How is it related to the gang of Gremlins tearing up the town on Christmas Eve?
2. Black Christmas
Release Year – 1974
Directed By – Bob Clark
Synopsis
An unidentified caller incessantly harasses a sorority house with demonic noises and creepy phone calls. These sorority sisters are then haunted by gruesome murders committed by a perverse killer on the loose.
3. The Dorm that Dripped Blood
Release Year – 1982 (H4)
Directed By – Stephen Carpenter, Jeffrey Obrow
Synopsis
Three college students give up their Christmas vacation to clean a deserted dormitory and get stalked by a crazed killer.
4. Better Watch Out
Release Year – 2017
Directed By – Chris Peckover
Synopsis
Ashley travels to a suburban home to babysit her 12-year-old son Luke on Christmas and has to fend off intruders.
5. Jack Frost
Release Year – 1996
Directed By – Michael Cooney
Synopsis
Jack Frost, a notorious serial killer, meets a bizarre accident on his way to his execution. He is transformed into a mutant snowman who begins to kill in gruesome ways.
6. Silent Night, Deadly Night Part 2
Release Year – 1987
Directed By – Lee Harry
Synopsis
A sequel to the 1984 film Silent Night, Deadly Night, this Santa Claus horror movie is about a teenager committing murders while dressed as Santa with his younger sibling carrying on in his footsteps.
7. ATM
Release Year – 2012
Directed By – David Allen Brooks
Synopsis
Three people are trapped in a small kiosk with an Automatic Teller Machine by a murderous assailant.
8. P2
Release Year – 2007
Directed By – Frank Khalfoun
Synopsis
A garage security guard helps Angela out when she has car trouble and invites her to dinner. When she refuses, he knocks her out and takes her captive.
9. Silent Night, Deadly Night
Release Year – 1984
Directed By – Charles E. Sellier Jr.
Synopsis
This scary Santa movie is about an orphan raised by nuns who grows up to be a toy-store Santa Claus that kills.
10. Red Christmas
Release Year – 2017
Directed By – Craig Anderson
Synopsis
A widow invites her children to her remote estate to celebrate Christmas. Amid the celebrations, they are suddenly faced with a hideous killer out for revenge.
11. Wind Chill
Release Year – 2007
Directed By – Gregory Jacobs
Synopsis
In one of the best Christmas ghost movies, a young woman hitches a ride with her classmate to her home. Driven off the road and stranded on a remote highway, they are haunted by the ghosts of the dead.
12. The Gingerbread Man
Release Year – 2005
Directed By – Charles Band
Synopsis
A psychopath executed for murder rises from his grave as a delicious but deadly gingerbread man due to an ancient curse.
13. Sint
Release Year – 2010
Directed By – Dick Mass
Synopsis
Based on the good-hearted Saint Nicholas, this Xmas horror movie portrays the Bishop as cruel and bloodthirsty. On every full moon on December 5th, this medieval legend comes alive and kills.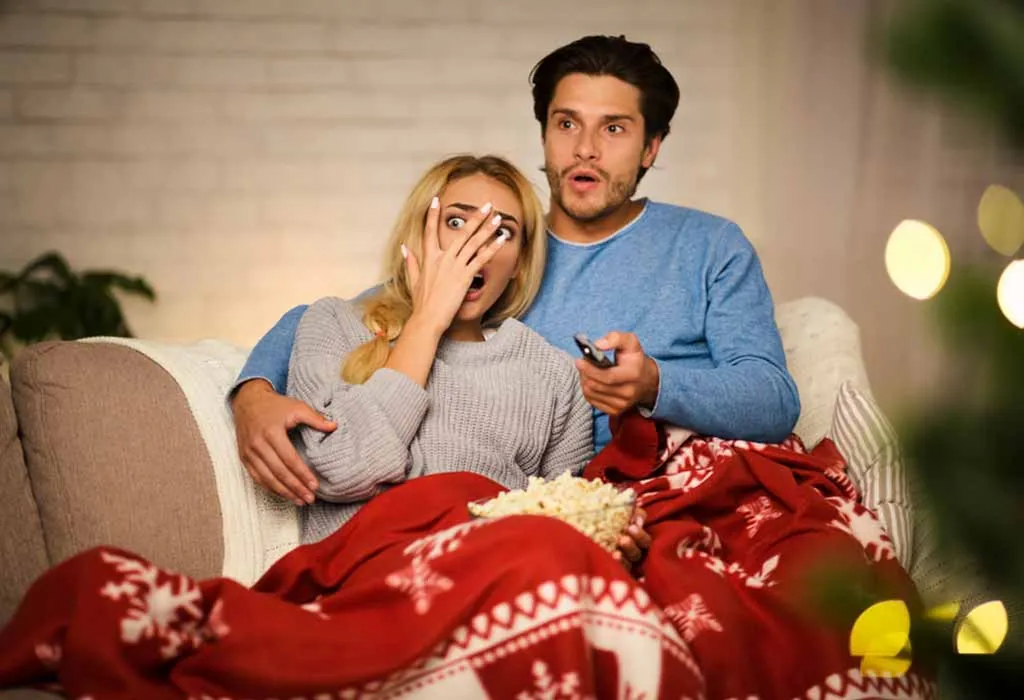 14. A Cadaver Christmas
Release Year – 2011
Directed By – Joe Zerull
Synopsis
During Christmas, a dark force is working on building an army of living corpses. An unconventional band of heroes, comprising a janitor, drunk, bartender, cop, perp, and a security guard, must stop them.
15. A Christmas Horror Story
Release Year – 2015
Directed By – Grant Harvey, Steven Hoban, Brett C. Sullivan
Synopsis
Christmas is not the season of joy in Bailey Downs, a small town that finds itself suddenly plagued by zombie elves, evil spirits, and Krampus — the anti-Santa Claus.
16. Anna and the Apocalypse
Release Year – 2018
Directed By – John McPhail
Synopsis
As a zombie apocalypse threatens the town of Little Haven on Christmas, Anna and her friends have to slash and sing their way to survival only to realize that civilization is falling apart.
17. The Lodge
Release Year – 2020
Directed By – Veronica Franz, Severin Fiala
Synopsis
Two children are left alone in a remote winter cabin with their father's girlfriend, Grace, on Christmas. Soon they are trapped as horrifying events unfold, summoning specters from Grace's past.
18. All Through The House
Release Year – 2015
Directed by – Todd Nunes
Synopsis
An insane masked Santa-Slayer is in town to hunt the town's most notorious and feared home, leaving behind a bloody trail of mutilated bodies.
19. Rare Exports: A Christmas Take
Release Year – 2010
Directed By – Jalmari Helander
Synopsis
This Santa horror movie revolves around a young boy named Pietari and his friend, Juuso, who think that a mountain drilling project has uncovered the tomb of Santa Claus. However, this is an evil and monstrous Santa.
20. Treevenge
Release Year – 2010
Directed By – Jason Eisener
Synopsis
Cut down by foul-mouthed lumberjacks, terrorized and screaming in pain, a group of Christmas Trees decides to strike back on Christmas Morning.
21. Krampus
Release Year – 2015
Directed By – Grant Harvey, Steven Hoban, Brett Sullivan
Synopsis
Max turns his back on Christmas when his dysfunctional family has a clash during the holidays. As a result of the lack of Christmas Spirit, the demonic force of Krampus is unleashed to punish the non-believers.
22. Secret Santa
Release Year – 2015
Directed By – Mike McMurran
Synopsis
A group of college students plans a liquor party and a game of Secret Santa. But there is a killer in town who has brought presents for everyone, good and bad.
23. Do You See What I See
Release Year – 2016
Directed By – Justin McConnell, Serena Whitney
Synopsis
This scary Christmas movie is about two sisters who throw a house party during the Christmas season. But they are unaware of a deadly invader soon to crash their festivities.
24. Krampus: The Reckoning
Release Year – 2015
Directed By – Robert Conway
Synopsis
A little girl called Zoe has an imaginary friend Krampus, the dark companion of Saint Nicholas. Krampus is then unleashed to seek out the naughty people and punish them on Christmas by torturing them and dragging their souls through hell.
25. A Christmas to Dismember
Release Year – 2016
Directed By – Alex DiSanto
Synopsis
School's most popular clique finds themselves barricading themselves from a deadly Santa who wants to hack, slash and unwrap them. They must outsmart him or end up dead in their stockings.
A holly jolly Christmas makes the perfect backdrop for a horror film. Get your blankets and hot chocolate ready, fasten your seatbelts, and let these movies transport you to a gnarly, nasty, and not-so-jolly Christmas…
Also Read:
Christmas Movies to Watch With Your Partner
Best Christmas Movies for Children
Best Hallmark Christmas Movies